A pair of curved rammed-earth walls hide this holiday home by Wood Marsh on Victorian vineyards
Australian architecture studio Wood Marsh has designed a holiday home that is hidden by a pair of curved rammed-earth walls on a rural landscape surrounded by vineyards in Victoria, Australia.
Located on a site overlooking the Mornington Peninsula, which is approached by a long winding drive through an established vineyard, the project acts with curved walls and hide its functional volumes that are placed in between these walls - which ensures privacy for owners of the house.
Named Merricks House, the client's brief called for a large, flexible family home of a high quality with a sense of solidity and materials that age well with minimal upkeep.
The scope of work also included building new facilities for the property managers, as the studio explained.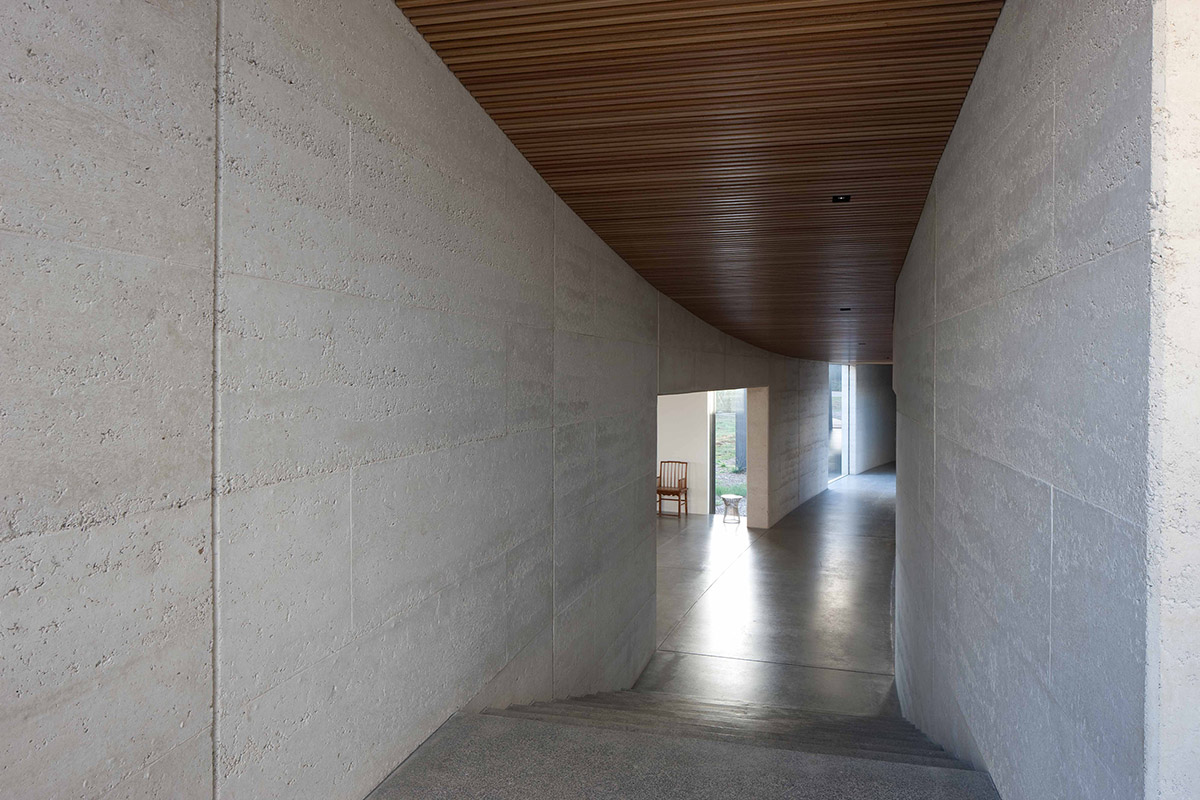 The key design principle of the house is to create various "in-between" spaces, providing shelter and intimacy against the often harsh coastal environment.
Its program includes: a kitchen, a dining area, bedroom, bathroom, store, garage, lounge area, living room, study room, terrace, powder room, pool, spa, pond, courtyard.
Entering between tall earth walls, a long corridor curves beyond view as the timber ceiling drops into the distance. Upon reaching the lowest point of the corridor, large windows slice through the earth walls to reveal a dramatic view south across the vines to the ocean beyond, to the north a dark strip of water cuts through a courtyard reflecting the sky.
Further along the central spine, the ceiling arcs up and the view unfolds as two large living spaces intersect the corridor. A staircase ascends beyond, and appears to hover above the vines.
A discreet opening accesses a further volume beyond. Containing main bedroom, ensuite and private terrace, the elevated space affords views over the hilltop to the valley beyond.
The house was designed as a holiday and weekend residence, three bedroom wings are accessed through discreet openings in the central corridor.
"Allowing autonomy between visitors, this layout assures the house doesn't appear empty when not fully occupied," said Wood Marsh.
"Six bedrooms accommodate a growing family with a range of spaces that can be enjoyed in differing weather conditions."
"As such a range of terraces and courtyards appear between, or within the timber volumes, providing varying degrees of shelter. A basement cellar provides storage for wine including that produced on the property," the studio added.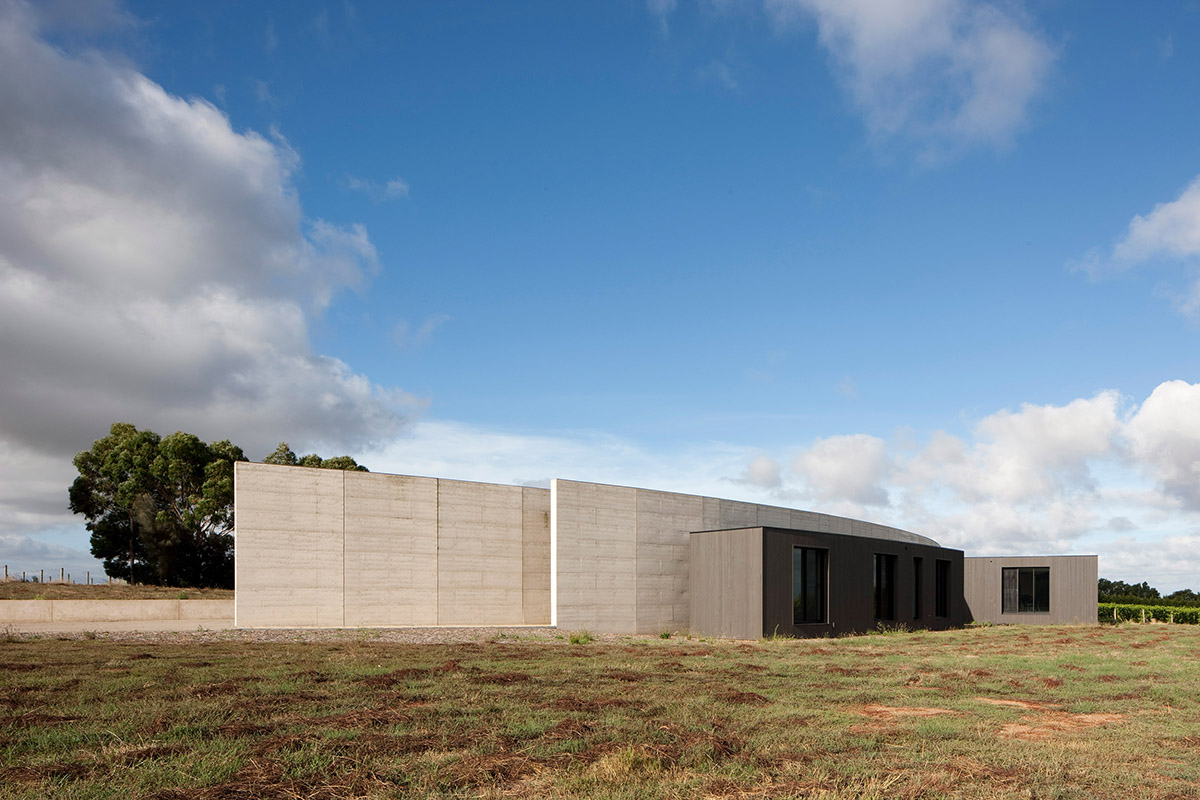 The studio used a restrained palette of textures and colours that echo the burnt timbers and sun-bleached earth of a harsh Australian environment, contrasting against the verdant manicured vineyard.
The bold charcoal and off-white exterior gives way to a warmer more neutral interior palette to complement the client's substantial art collection.
Wood Marsh worked with a structural engineer and rammed-earth contractor in early design process to ensure the seamless integration of services, openings and frameless glazing with the rammed earth.
A landscape plan was developed that, when implemented will add further complexity to the act of concealing and revealing views through and across the landscape.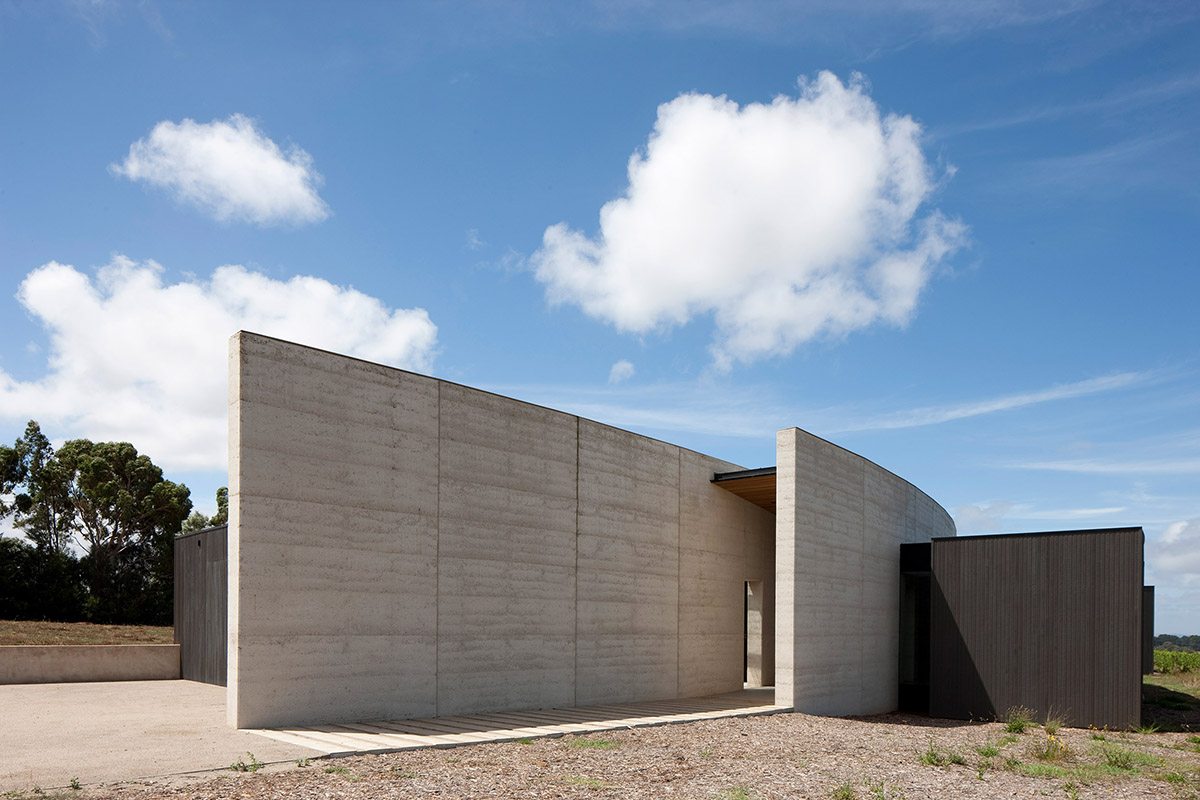 Timber pergolas and external blinds are used as screening devices, mediating sunlight as it moves across the house. Thickened walls allow deeply recessed windows, shaded from the summer sun and provide opportunity to recess window frames to achieve a thermal break.
Natural materials with a low embodied energy rating are used throughout the building. All spaces are cross ventilated and each building volume can be heated and cooled independently depending on how the house is occupied. The building utilises the insulation properties of rammed earth.
The property is not connected to mains water, all rain water is harvested and used throughout the house. Water collected in the dams is used for irrigation. All sewerage is treated on site.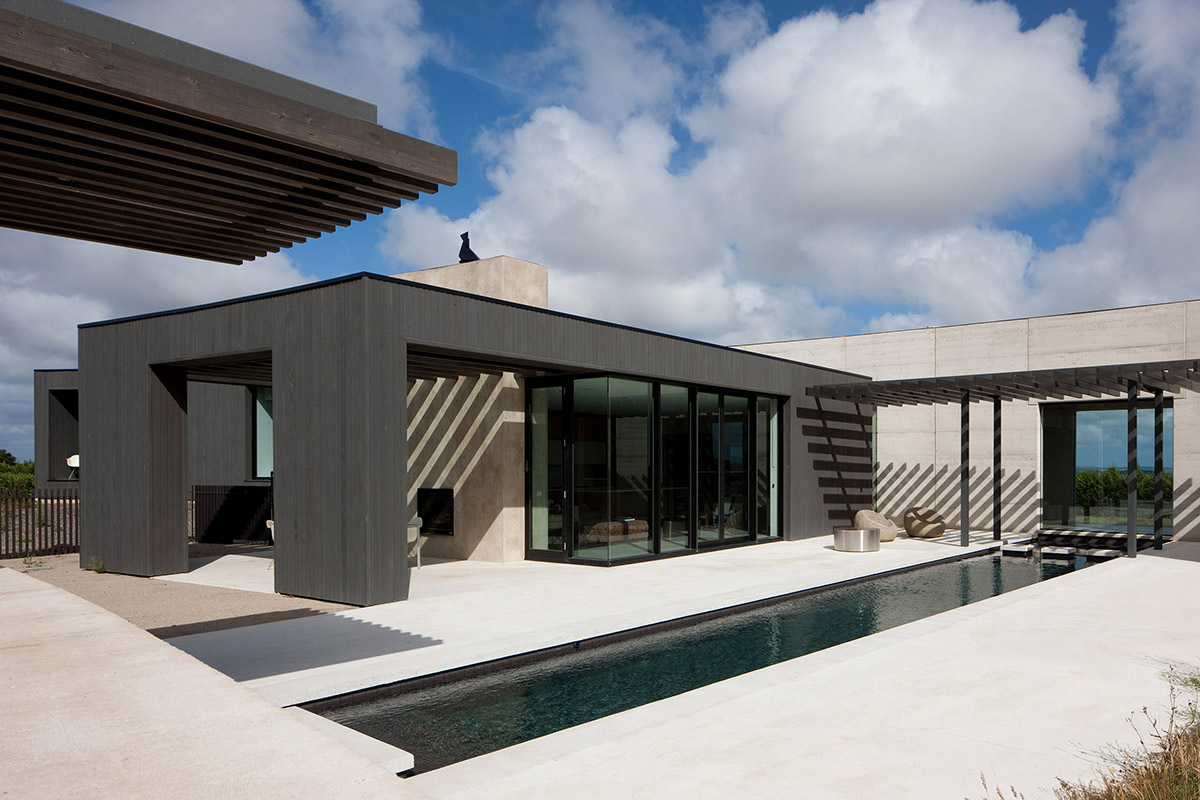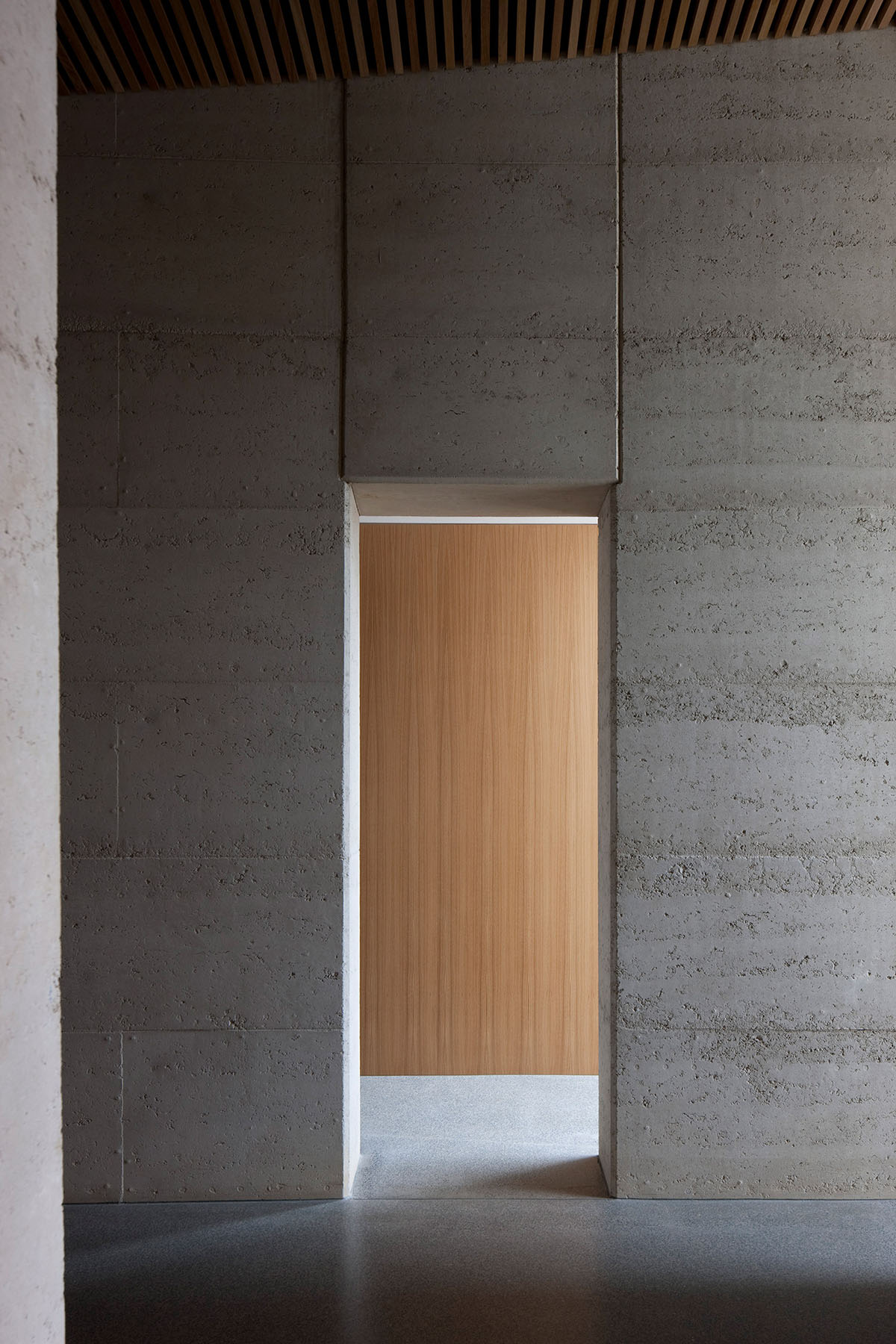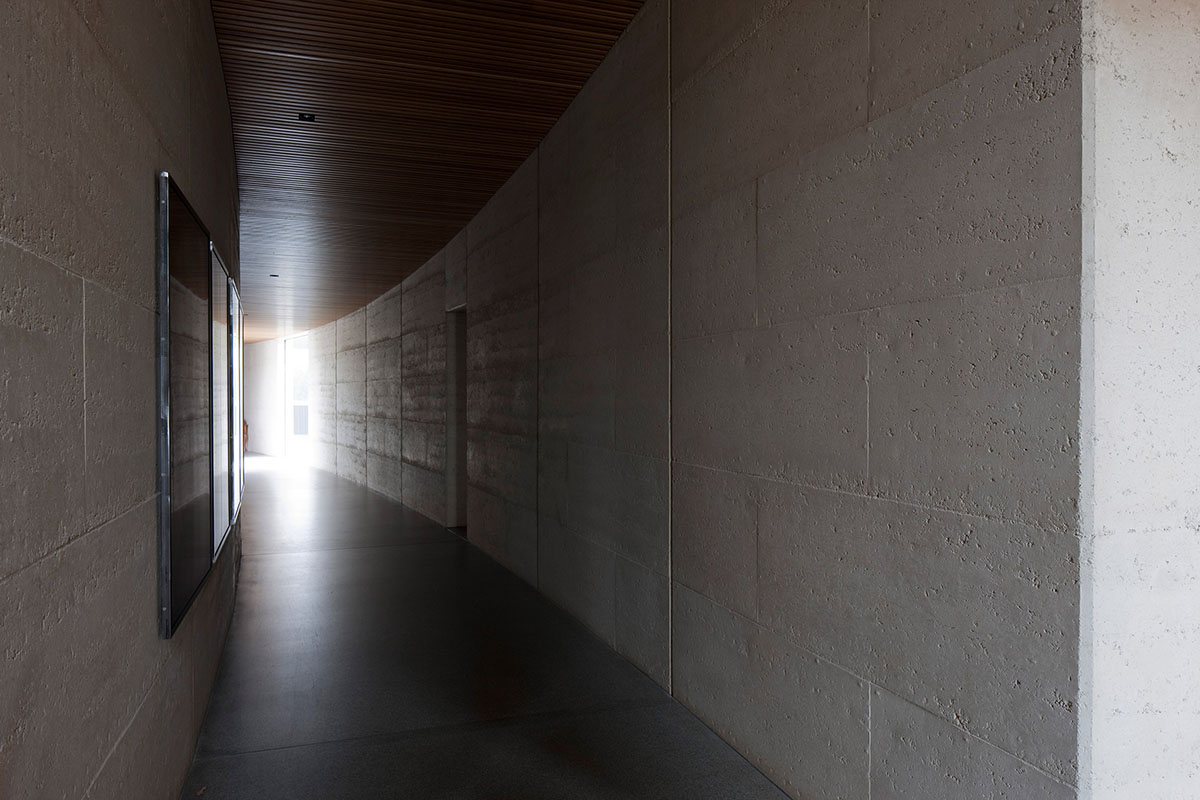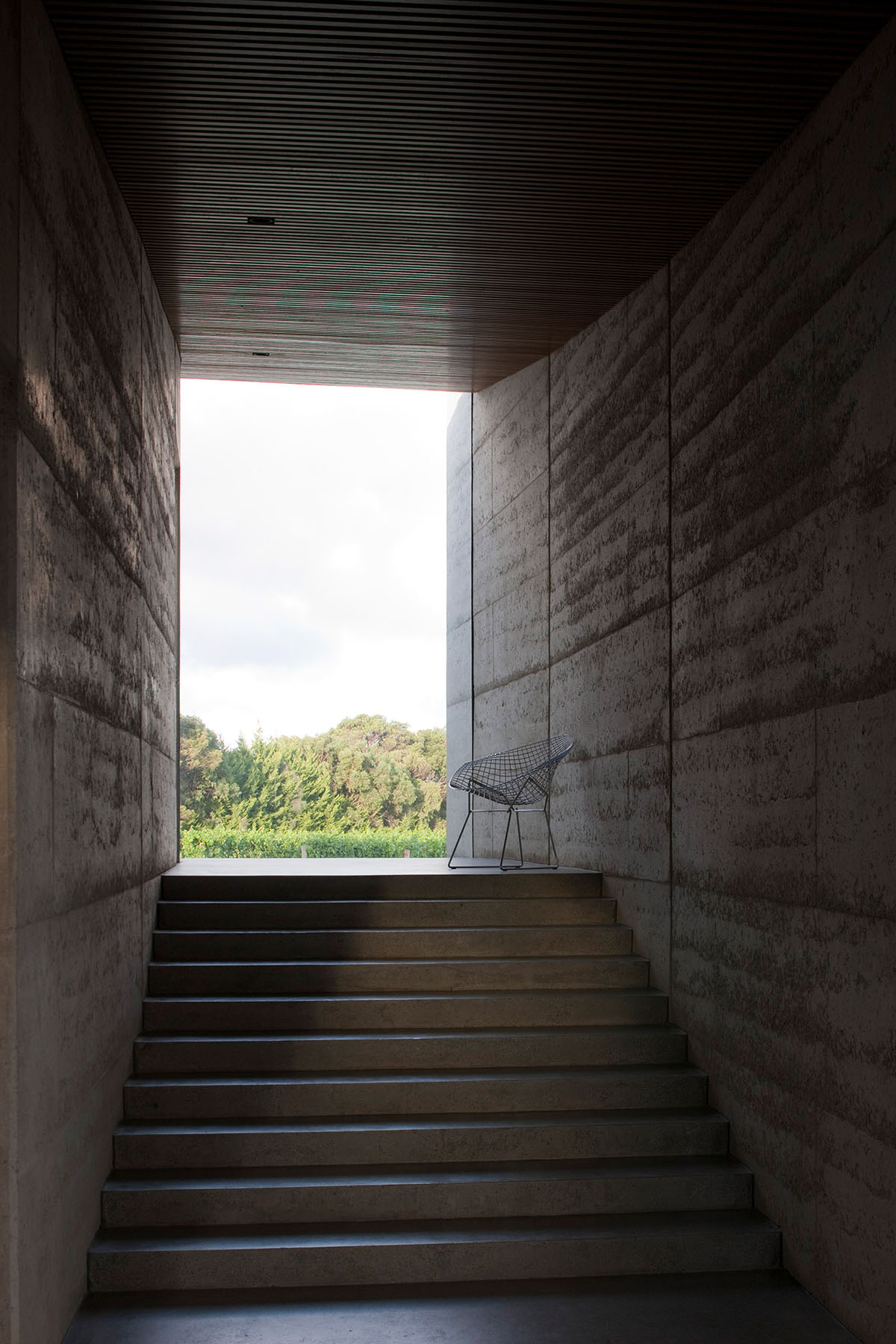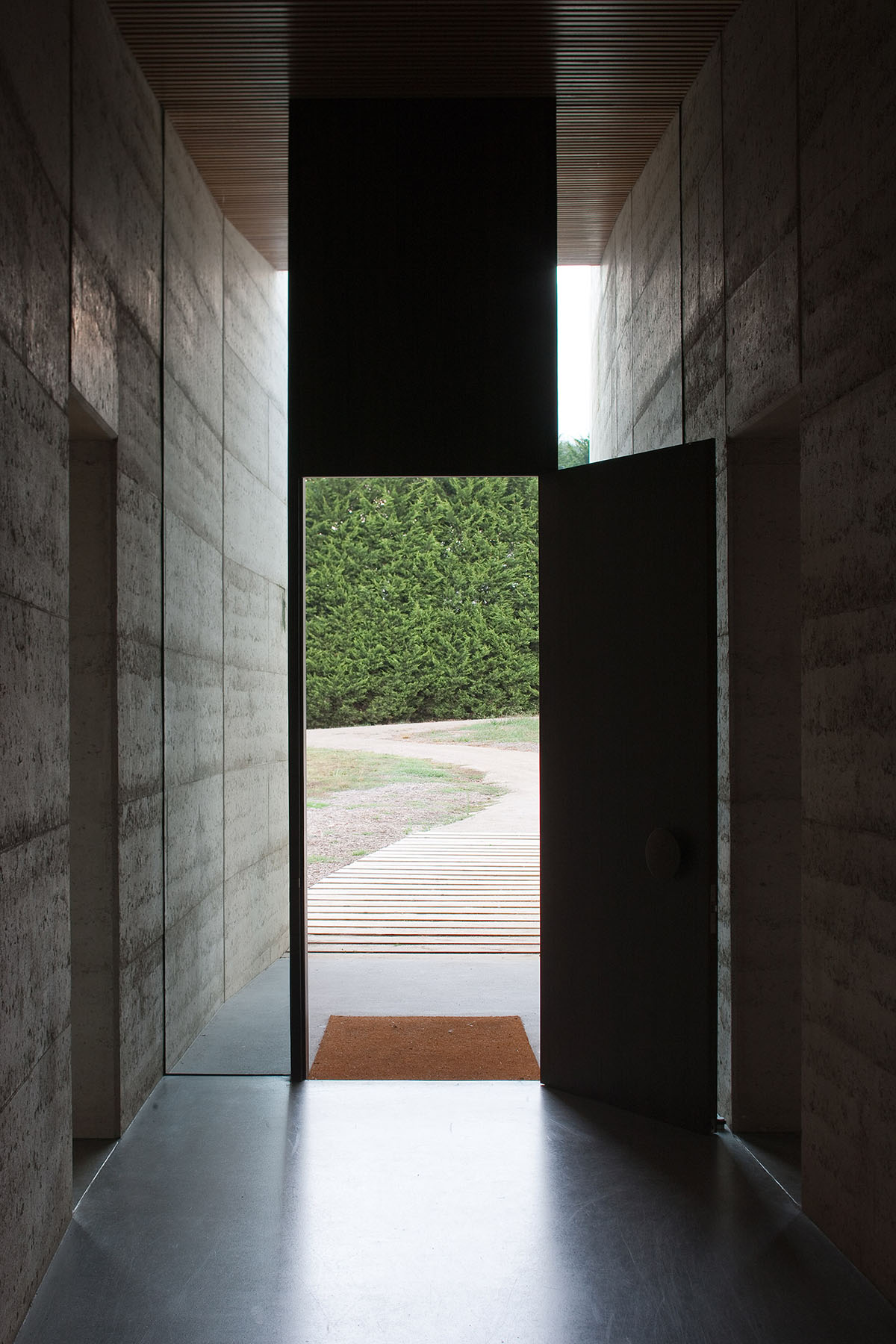 Image © Peter Bennetts
Image © Peter Bennetts
Site plan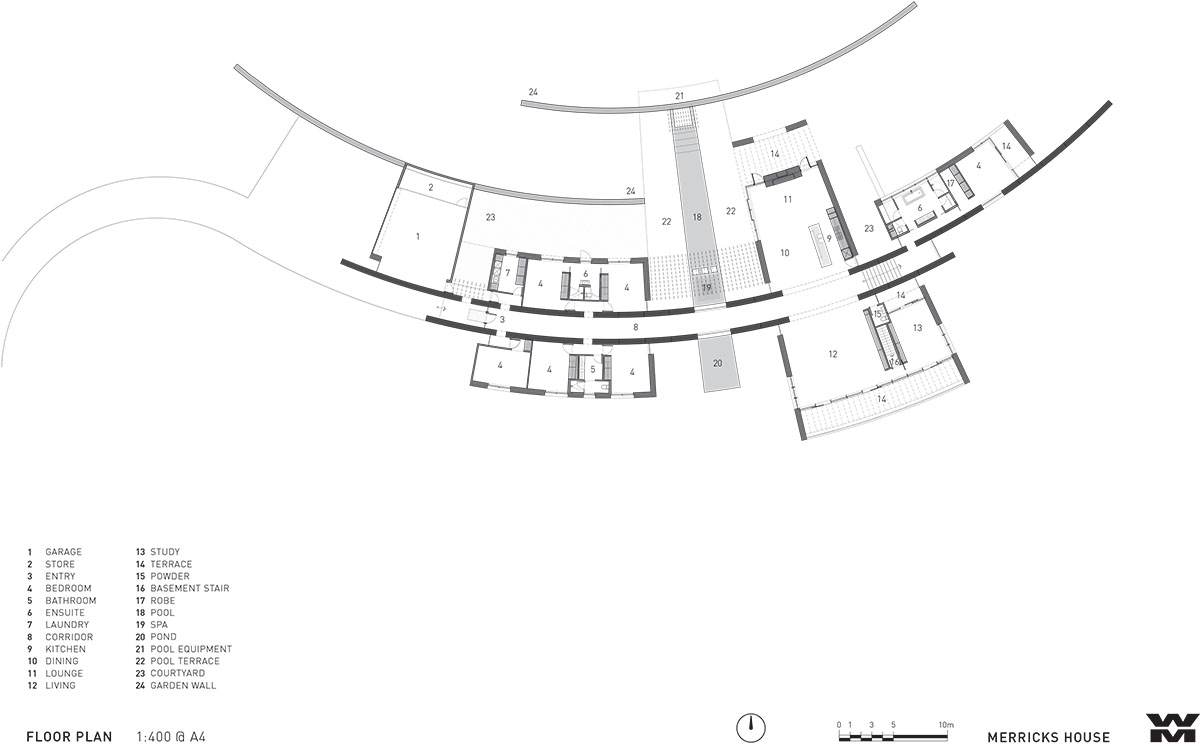 Floor plan
Sections
Wood Marsh was founded by Roger Wood and Randal Marsh in 1983, and their early philosophical and aesthetic ideals have been sustained to inform their architecture throughout the ensuing decades.
The firm centred around residential architecture. Wood Marsh has office in Melbourne.
Wood Marsh recently completed Towers Road House in the Melbourne suburb of Toorak.
Project facts
Project Name: Merricks House
Project Location: Mornington Peninsula, Victoria, Australia
All images © Jean Luc Laloux unless otherwise stated.
> via Wood Marsh