Joy House featuring concave roofs is elevated on the rocks to create secret garden in Brazil
Brazilian architecture firm Studio Rodrigo Ferreira has designed a family house on the outskirts of Goiânia, which is known with full of valleys and rich native vegetation in Brazil.
The house, named Joy House (or Casa Joy), was designed for a lady on her mid 70s and her family to serve as a retreat for all of them. The house, featuring concave roofs, is directly connected to nature and designed to a particular stylish use of light.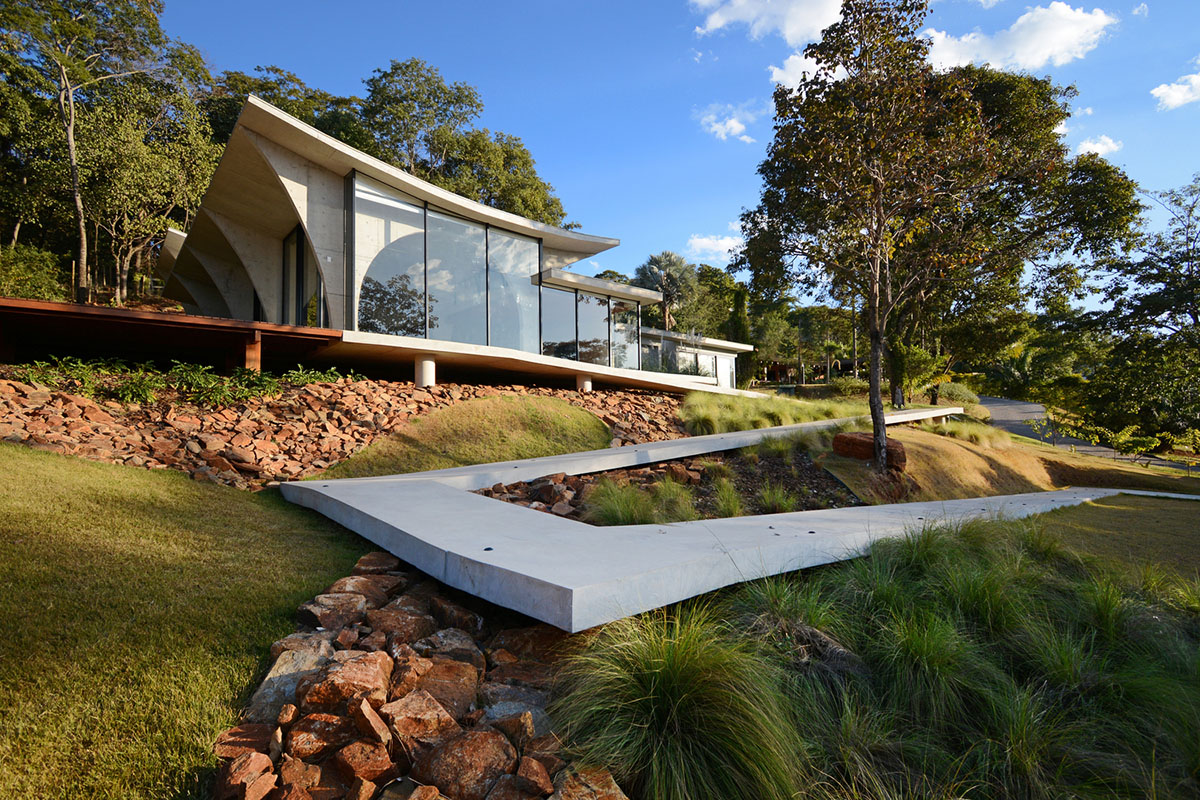 Covering 370-square-metre area, was divided into two main volumes, the larger volume serve for the main functions, including kitchen, living and dining room and bedrooms, a smaller volume is arranged in the opposite direction of the plan and raised by columns on the natural rocks - which is also connected to a secret garden in between volumes.
The studio was concerned about accessibility and light for the house, so they created "a concept of large voids to facilitate freedom of movement and allow all environments to be fluid, integrated into the natural external vegetation."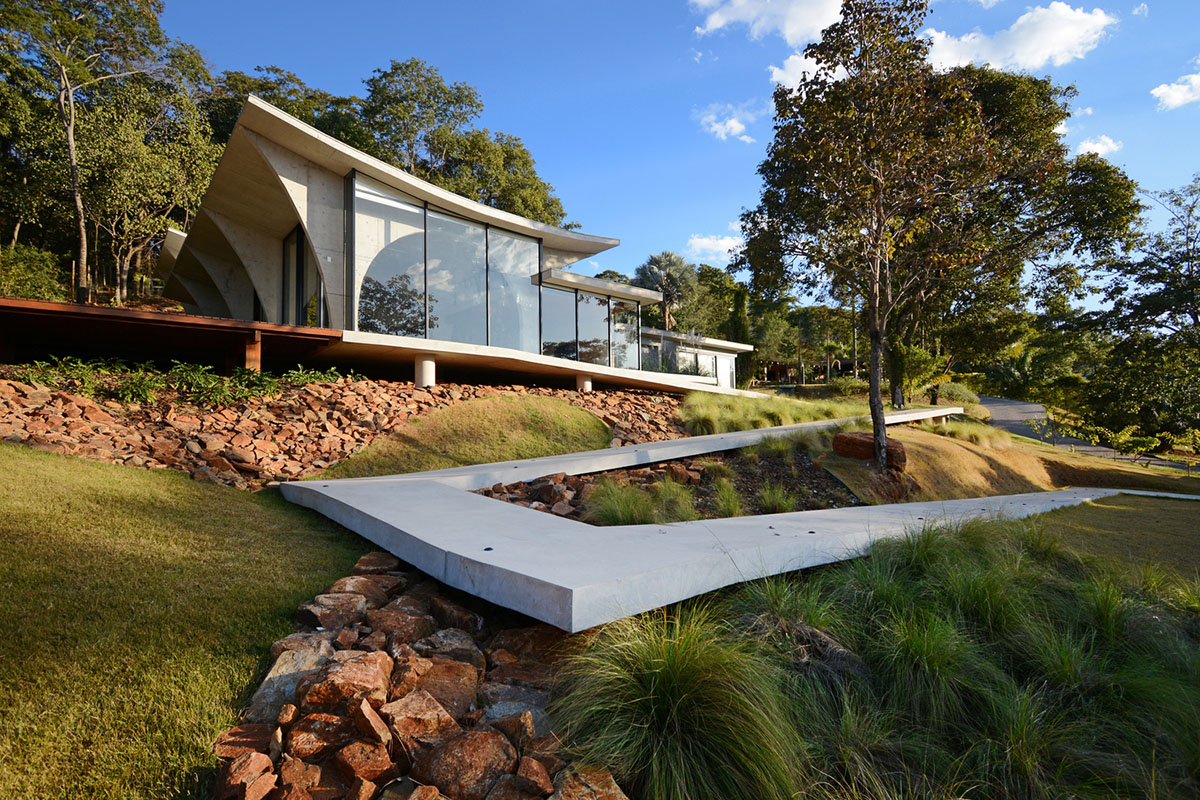 "With a steep slope, the terrain was divided into three thirds. The third on the middle was used to the house, located at a height of 4m from the zero point of the street, to privilege the view of the valley."
"The front third was allocated for the main access, and filled by a large concrete ramp in a "zigzag" format. The back third was reserved to the vegetation," said Studio Rodrigo Ferreira.
The house presents organic and smooth lines, with a striking feature as a concave roof that rests on six vaults interconnected by a massive concrete slab of variable thickness.
The roof's curves were inspired by a bird's flight. In the arches gallery the architects placed the living room, kitchen and balcony, the ceiling height is double and the lighting lit from the floor draws attention by creating a bath of light on the slab, with shadows and playful scenes resulting.
The private areas are arranged in the lower block, and each room has its own private bathroom and winter garden. The service and leisure areas are connected at the back side of the house, where a 2.5m high and 25m long natural stone wall is located, a surprise not shown in the foundation project.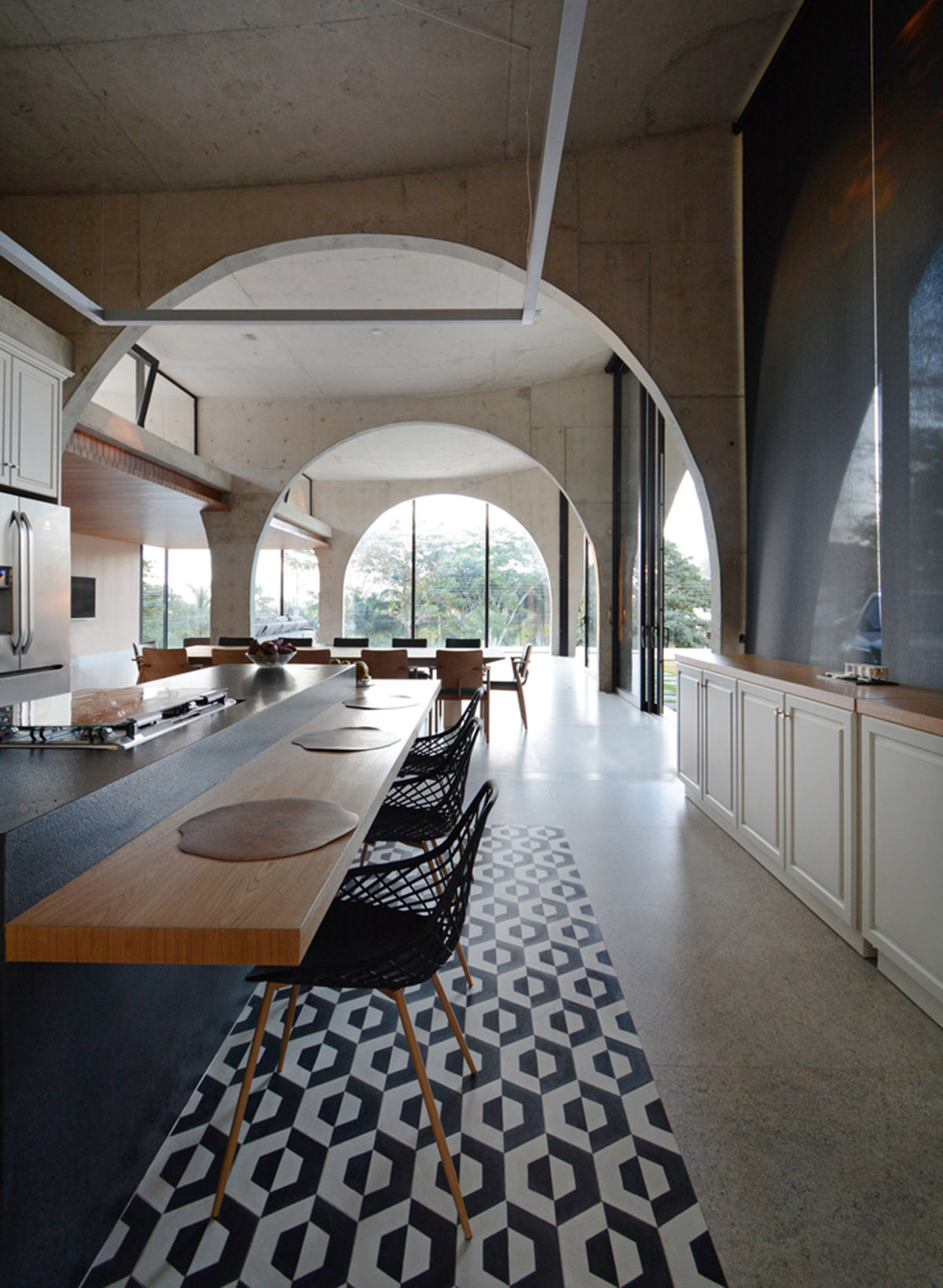 "This stone wall was treated as a sculptural element, not to mention the water that mines from it, creating a fresh, unique and surprising atmosphere!".
"Moreover, a white tile panel resembling a stunning blue and golden flock of birds was designed by the artist Iêda Jardim, and further enhanced the design of the leisure sector."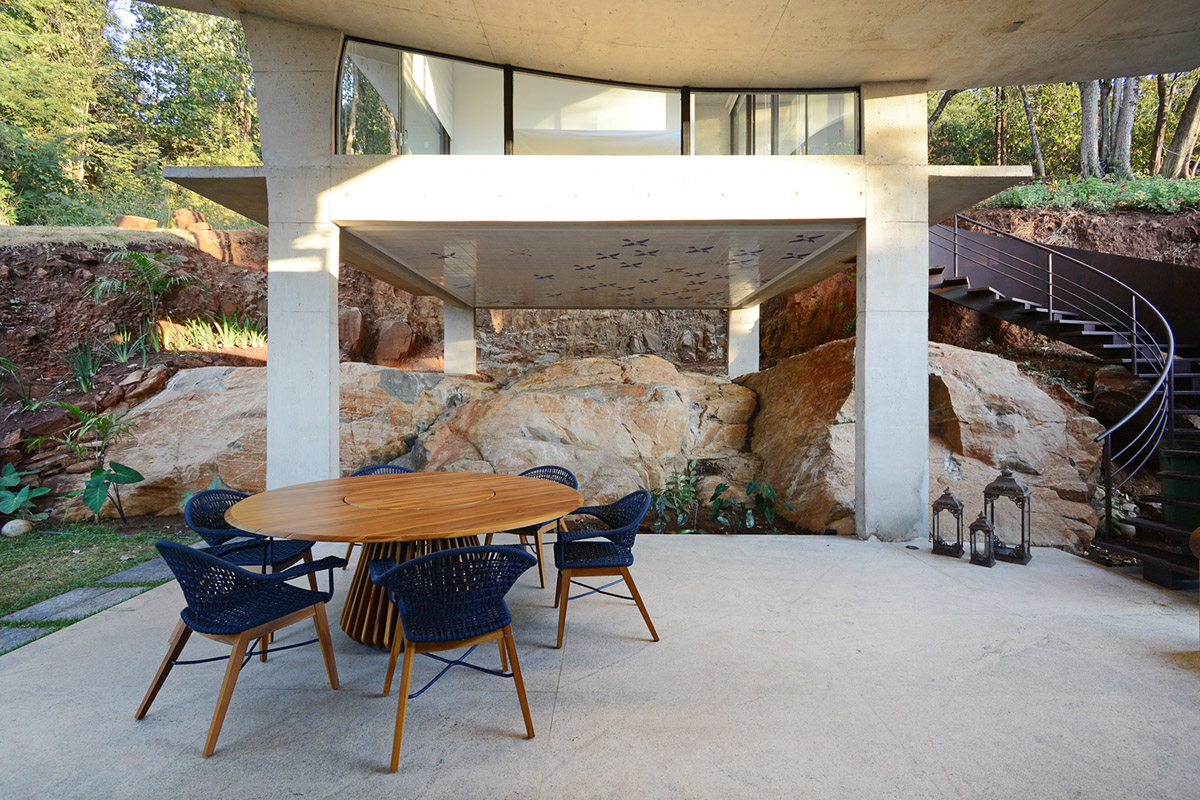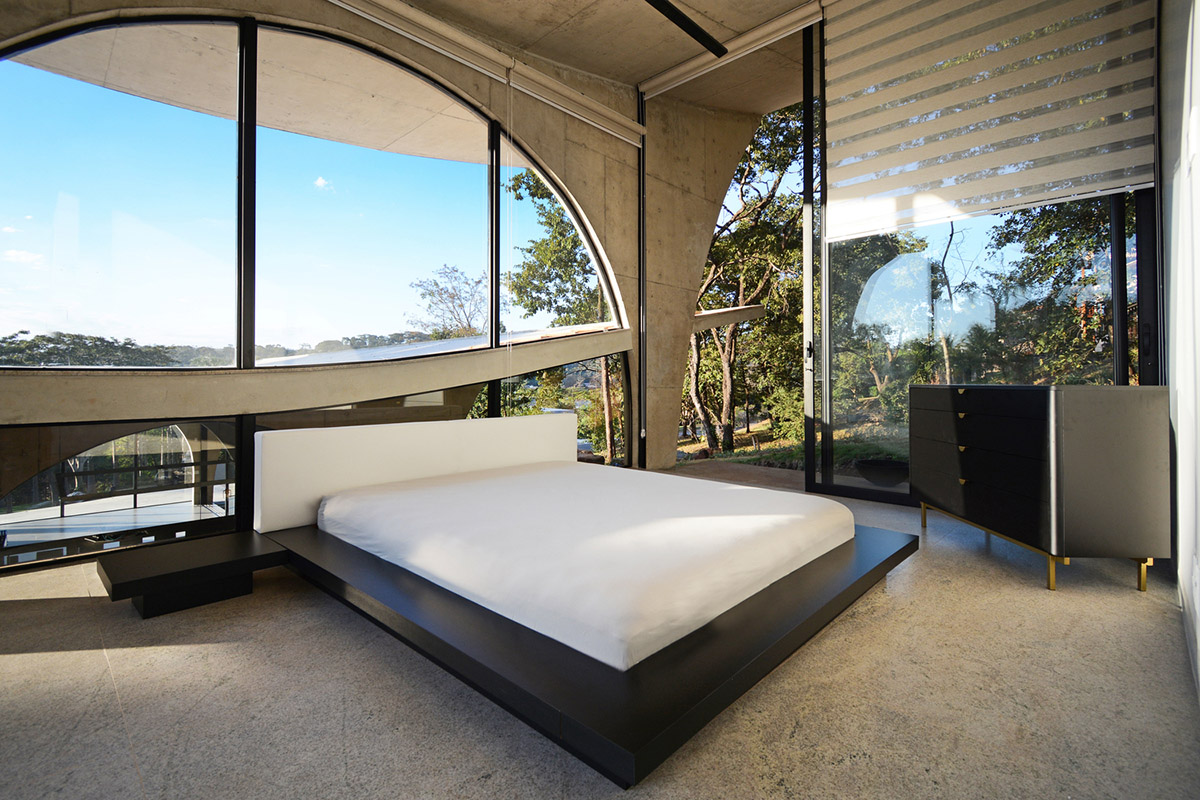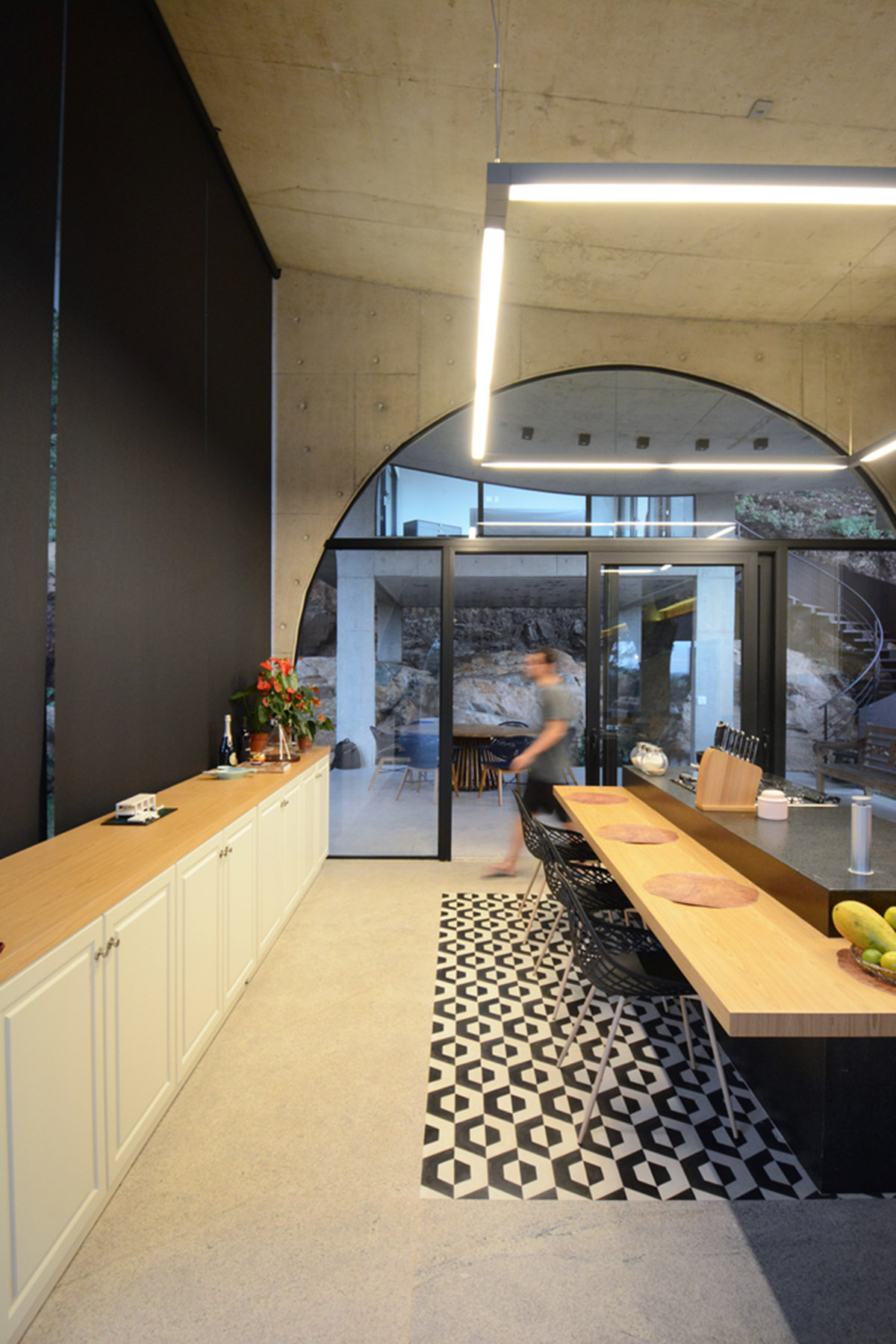 Project facts
Project name: Joy House
Architects: Studio Rodrigo Ferreira
Location: Brazil
Size: 370m2
All images © Marcus Camargo
All drawings © Studio Rodrigo Ferreira
> via Studio Rodrigo Ferreira