SO-IL installs green metal netting that creates hammocks and space for birdfeeders in Atlanta
New York-based architecture and design studio SO-IL has installed a green-colored metal netting that creates hammocks underneath and space for birdfeeders in Atlanta.
The project, named Murmuration, has been installed in front of the plaza of the High Museum of Art designed by Renzo Piano. Piano completed the extension of the High Museum of Art in 2005.
With this green mesh structure, SO-IL wanted to address to Atlanta's singular cityscape that is known for its abundance of trees.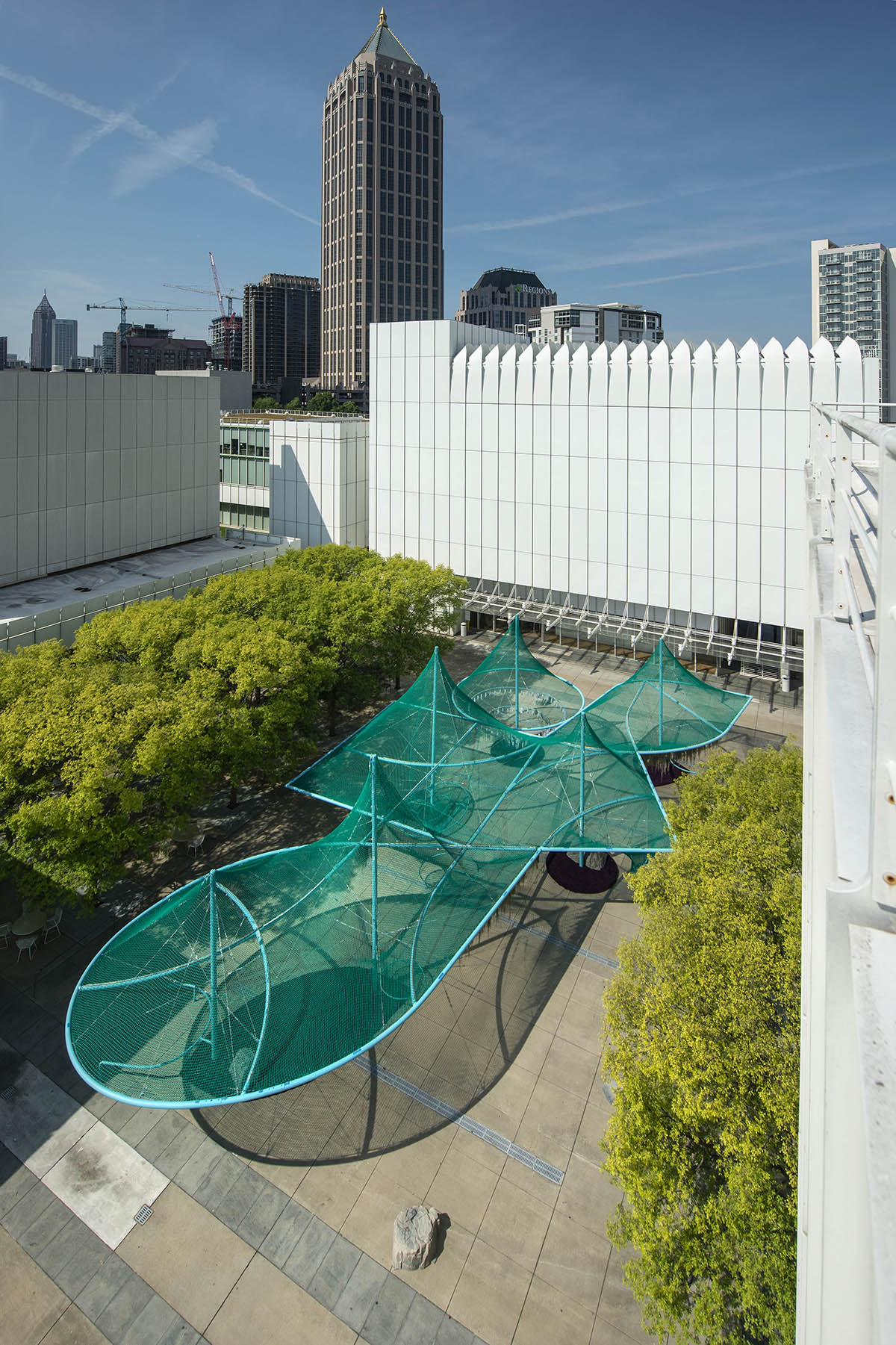 Murmuration, covering a total of 218-metre-square area, gives references to Atlanta's relationship with the natural world by also using the lens of bird migrations. The studio turns this contextual elements into a one-piece structure with hammocks, space for birdfeeders, seating elements.
The architects created six poles that are pulled out in ascending form - the poles are carried by steel columns where they also create another green mesh towards downwards. Then the green netting is stretched in a linear form that extends within the plaza.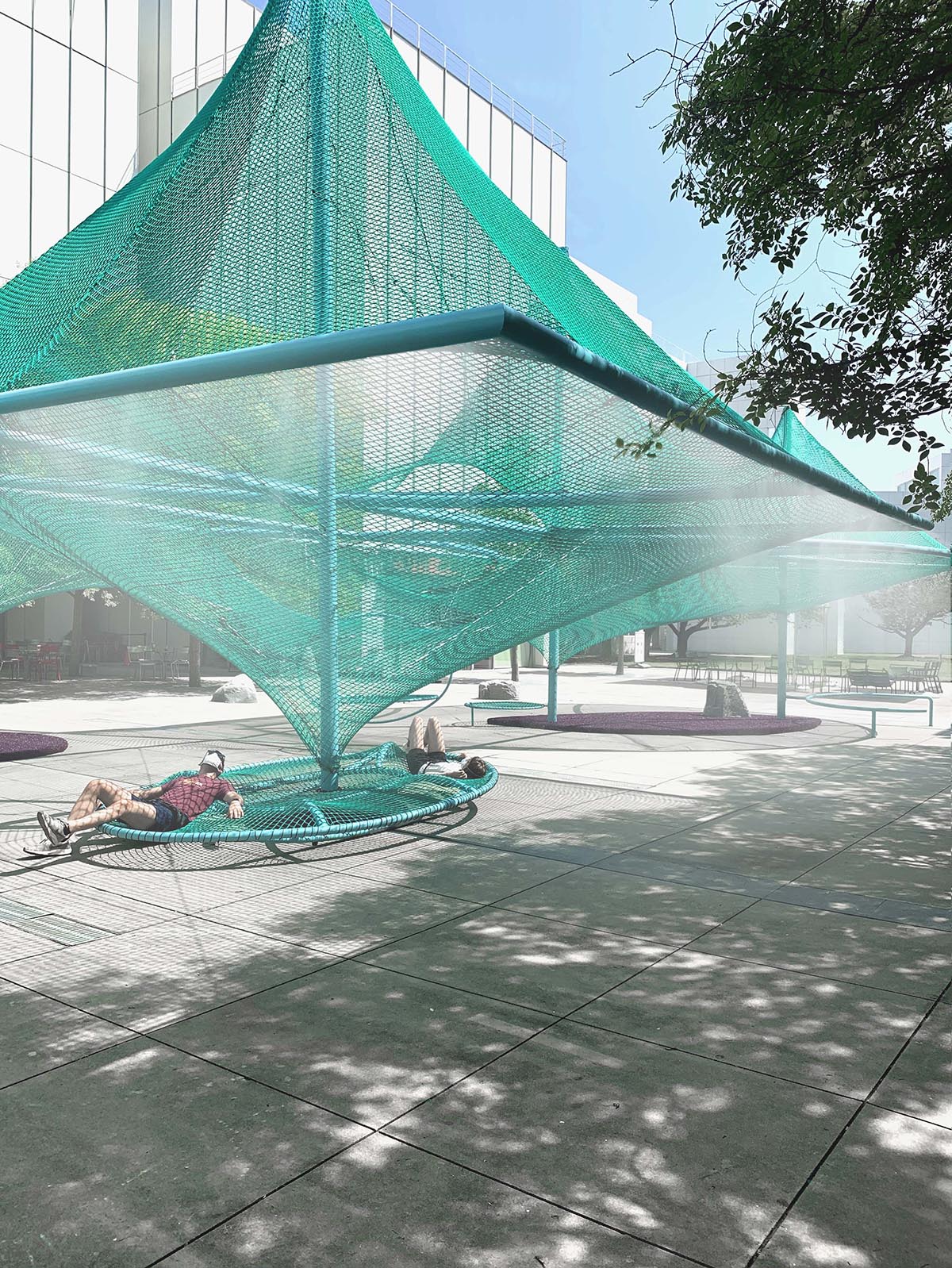 "As they cross the Piazza, guests are enveloped by a foliage-filled mesh canopy suspended from a steel framework, evocative of the tree canopies found throughout the region," said SO-IL.
"We worked with Atlanta-based engineers Uzun & Case to develop a constellation of metal frames suspended from six poles and wrapped in agricultural netting, which gives the installation its shape."
SO-IL's sculptural arrangement echoes the form of a bird murmuration, a flock of birds, momentarily suspended in midair.
The canopy is strewn with ample birdfeeders, seating perches, and other playful elements to encourage interaction, observation, and awareness.
As the studio describes, the experience is designed to spur conversations around biodiversity, extinction, and cohabitation.
The city's canopy provides shade, cleans the air, and helps reduce stormwater runoff. Creating a sustainable future for Atlanta includes maintaining or increasing the number of trees.
The architects explained that "In its title and concept, Murmuration also directly advocates for conservation efforts toward birds, questioning their loss and the terms for our future environment."
The structure was fabricated and fully erected in Mexico before being shipped to Atlanta. As such the installation can be deinstalled and reinstalled in future locations and create its own migratory path.
SO-IL's temporary installation can be seen until November 29, 2020 at the plaza of the High Museum of Art.
Concept sketch
Concept sketch
Model view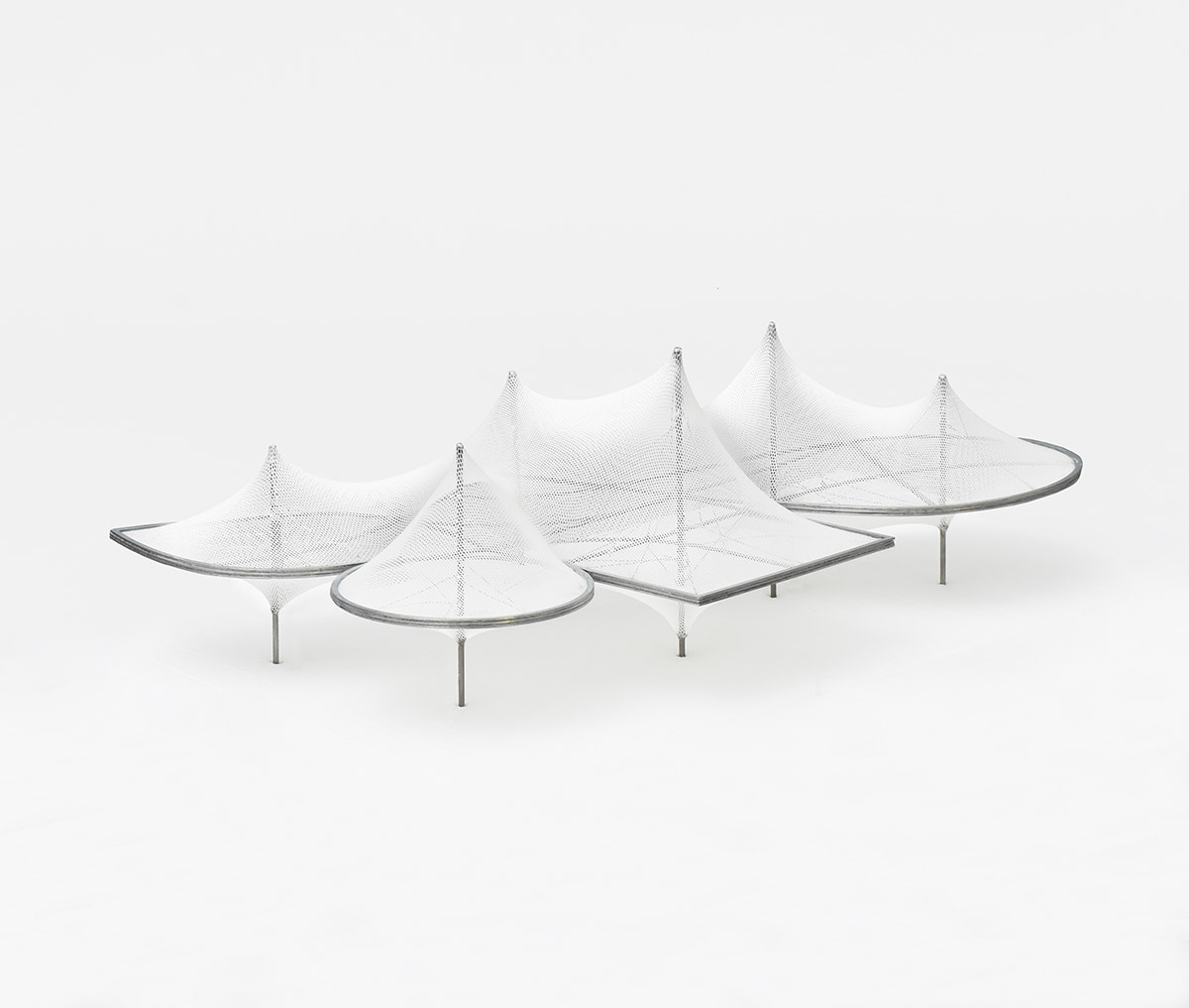 Axonometric model view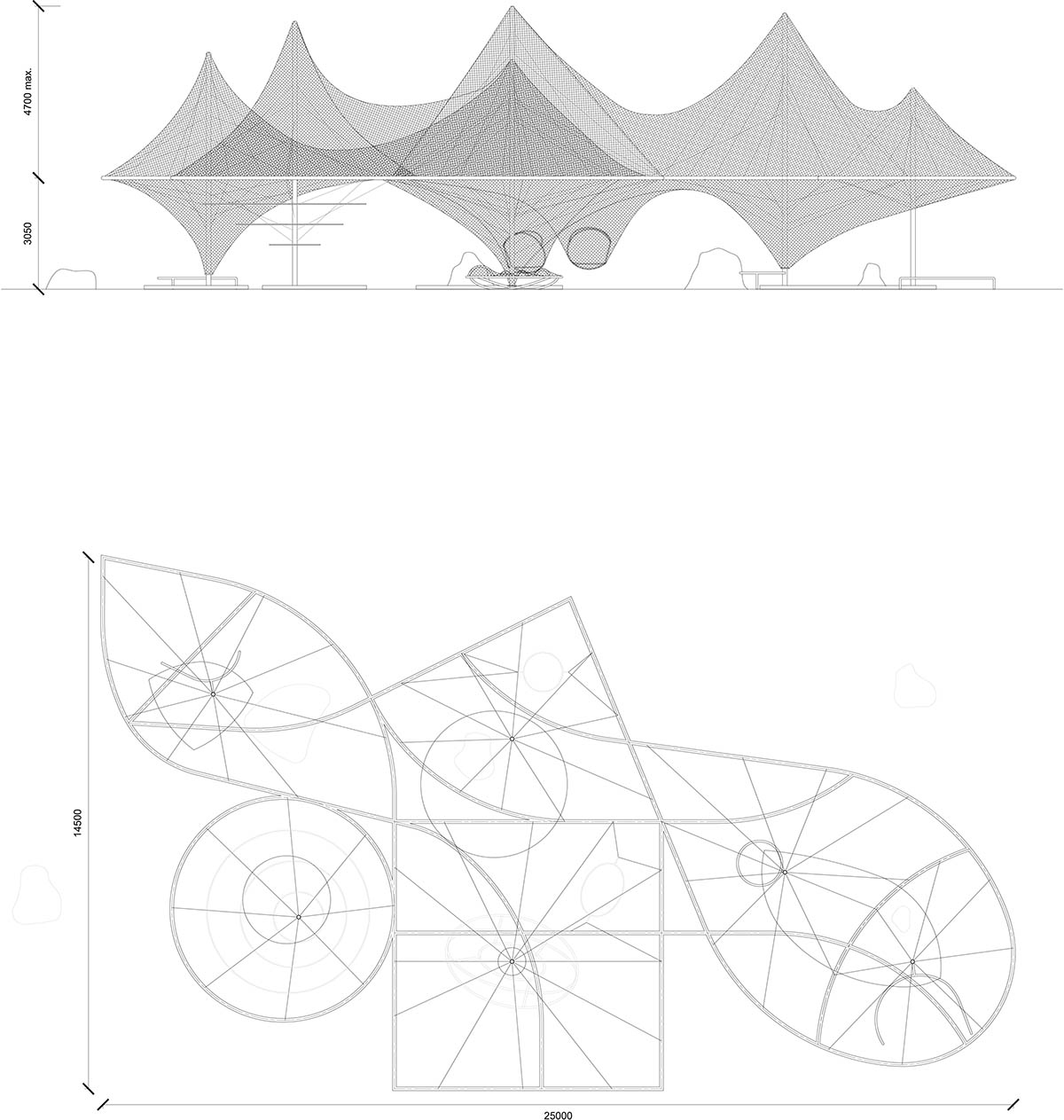 Plan and elevation
SO-IL (Solid Objectives – Idenburg Liu) is the New York-based architectural firm founded by Florian Idenburg and Jing Liu in 2008.
The studio creates cultural projects and temporary pavilions, their well-known works include the winning design Pole Dance for the MoMA PS1 Young Architects Program in 2010 and Breathe - MINI Living, Milan, Italy, 2017, an installation - wrapped with a hand-made nylon webbing for Exhibit Columbus in Columbus, Indiana, and the Jan Shrem and Maria Manetti Shrem Museum of Art, Davis in 2016.
SO-IL also created Beeline, "a poly-functional civic arena" at the Amanda Levete-designed MAAT Museum in Lisbon, which can be visited until January 11, 2021 at MAAT.
Project facts
Project name: Murmuration
Architects: SO-IL
Client: High Museum
Location: Atlanta, USA
Program: Public seating, outdoor interactive environment
Completed: 2020
Project area: 218 m2
Design Team: Florian Idenburg, Ted Baab, Andrew Gibbs, Ray Rui Wu Collaborator:
Structural Engineer: Uzun + Case, Atlanta, GA, USA
Fabricator: Factor Eficiencia, Mexico City, Mexico
All images © Fredrik Bauer
All drawings © SO-IL
> via SO-IL