Art Village envisioned as cartoon-like place where people enjoy and don't feel in self-isolation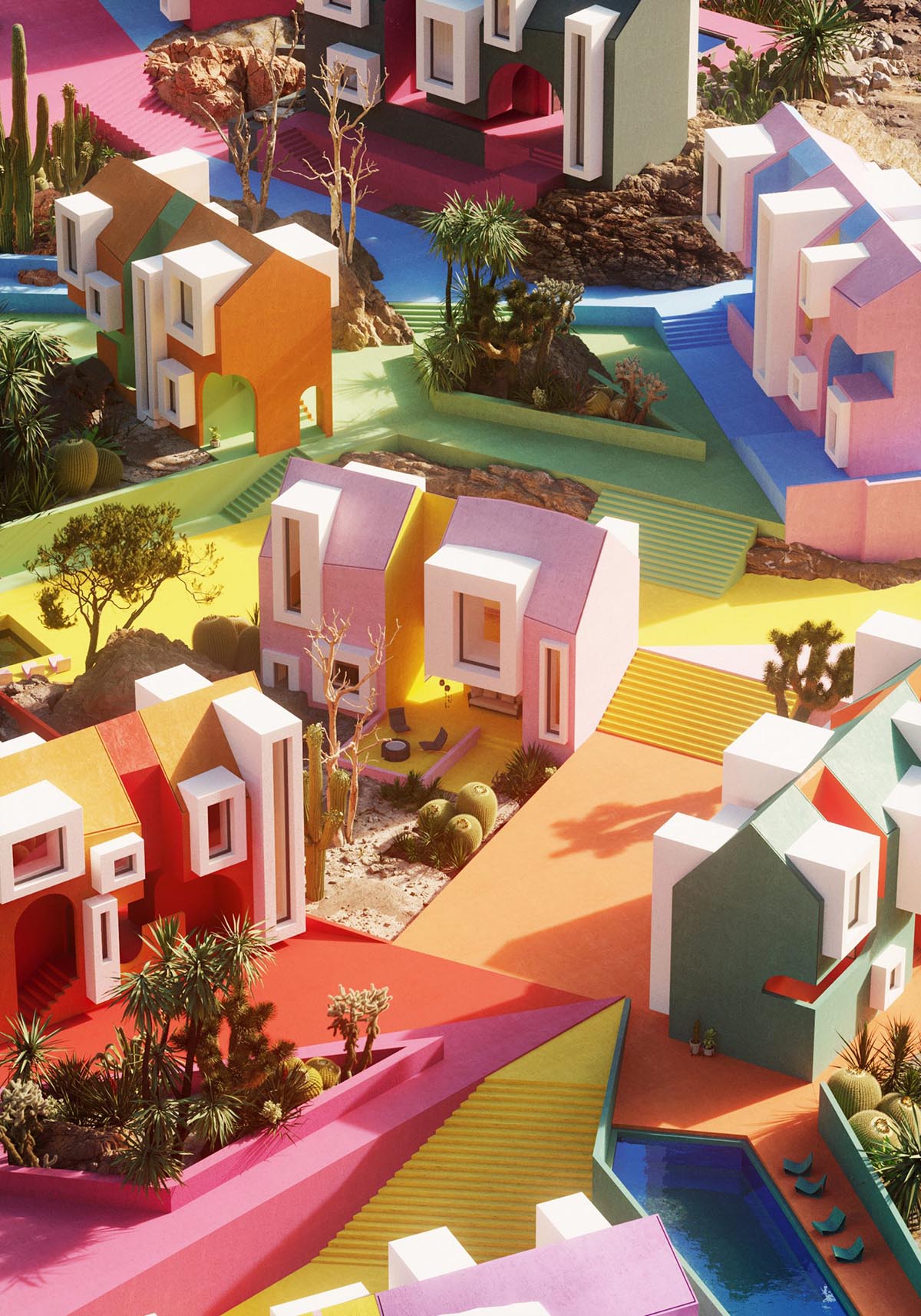 Moscow-based architect Davit Jilavyan and designer and visualizer Mary Jilavyan have created an art village in a desert of Mexico where people enjoy, feel love and don't feel themselves in self-isolation and under depressed feelings during the pandemic.
Envisioned as a continuation of Sonora House, a new colorful Sonora Art Village is composed of several group of villas enriched with private swimming pools, geometric-shaped colorful landspace, big cactuses and playgrounds.
In this community village, villas are designed with protruding volumes and arch-formed entries and small private gardens that make feel users in a colorful and utopian world to boost happiness to some extent.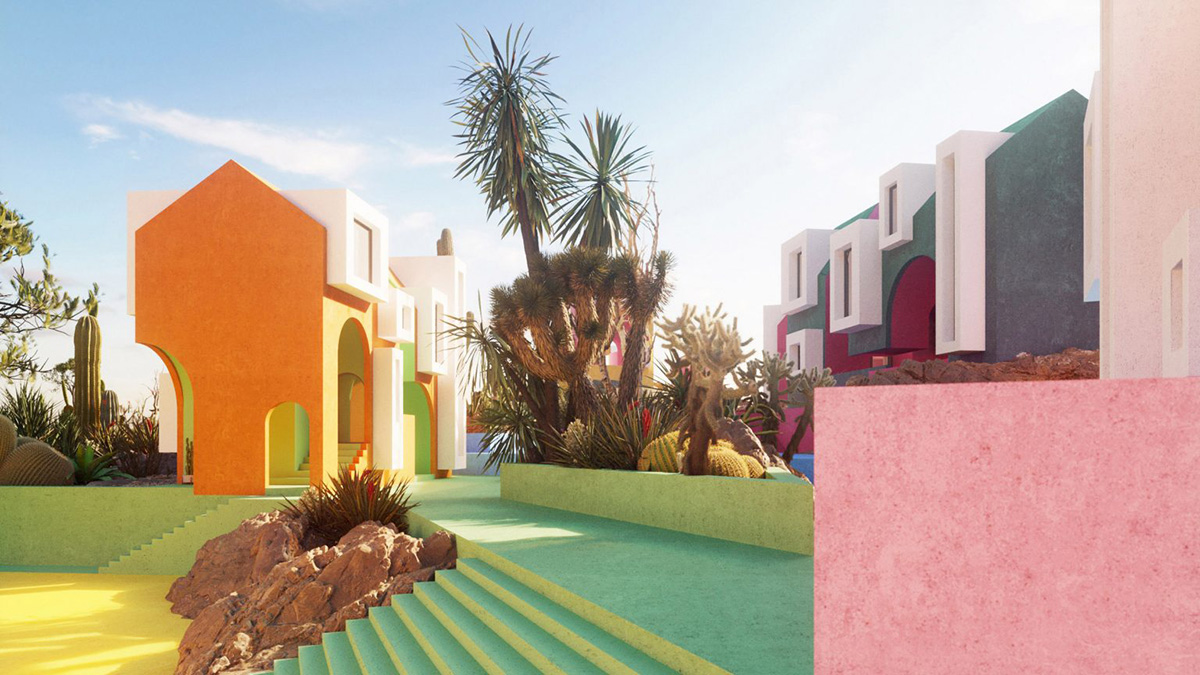 "We wanted to create a place where people can come and feel for a while in a completely different place, far from the grey reality, to feel in some bright 3D space, or even a cartoon. It's a place free from prejudice," said Davit Jilavyan and Mary Jilavyan.
"There's no place for racism, sexism, humiliation. We tried to create a completely different atmosphere that would exude joy, love, happiness."
"Sonora Art Village is an explosion of our emotions, it's what we lack in reality," explained the architects.
Davit Jilavyan is an architect and designer, while Mary Jilavyan, who is sister of Davit, is a visualize artist. They work together in many projects in Moscow.
For Sonora Art Village, the duo are inspired by the works of great masters Ricardo Bofill and Luis Barragan. "Their buildings are still very relevant, people take photos of them, shoot in the movies, do something similar, using some elements, and we are among them. This is not just ordinary architecture, but a work of art," said Davit Jilavyan and Mary Jilavyan.
"We do not put ourselves in line with these masters in any way, but in the name of the project 'Sonora Art Village' we wanted to show that our project is not just guest houses, but an art. Every house is like a sculpture."
In Sonora Art Village, the architects' aim was to do something as simple as last time, but unusual.
"Thanks to the way our house was warmly welcomed for the first time, we thought that maybe we should continue this idea, and came up with a whole village of similar houses, where people can relax."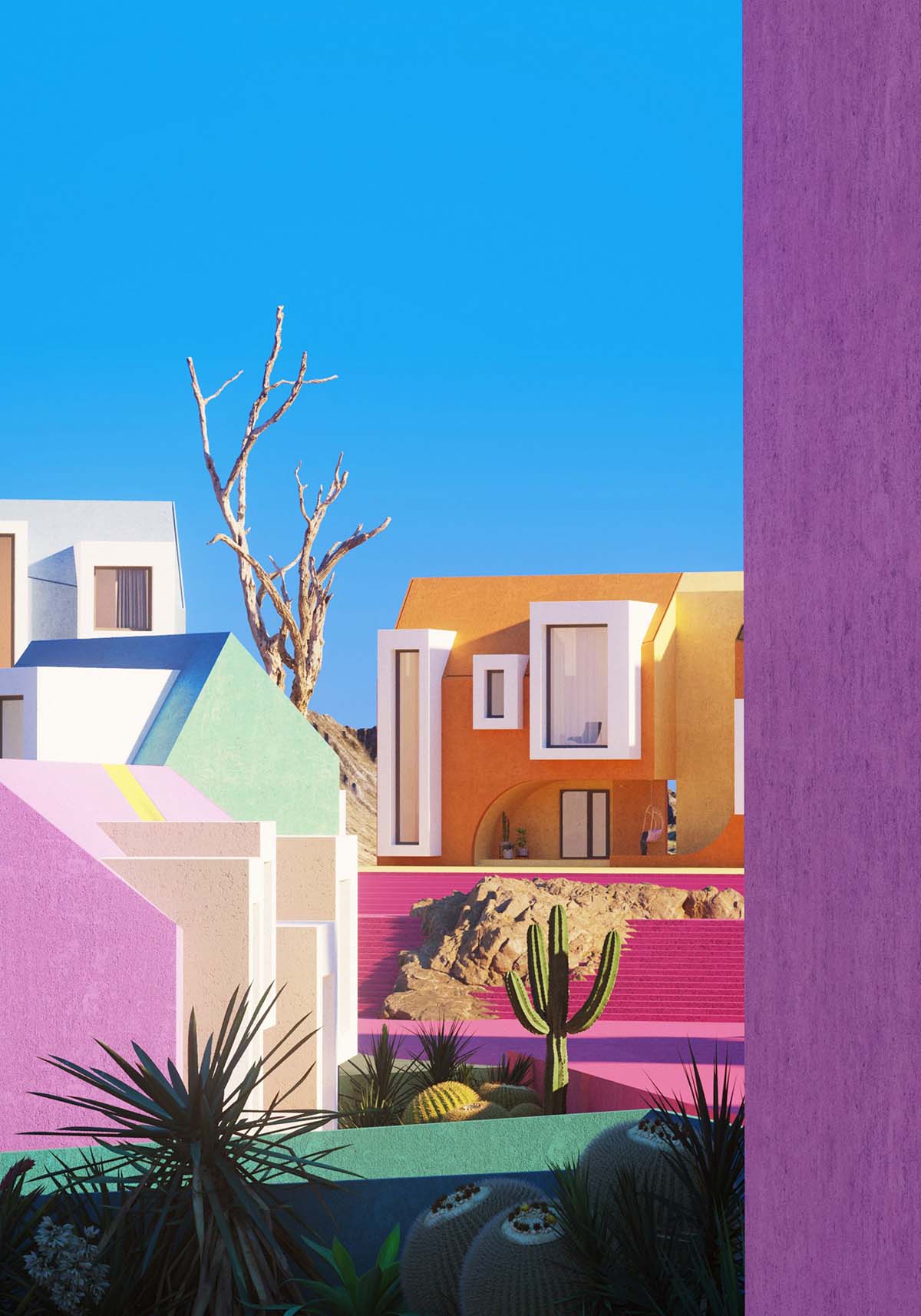 While describing the project, the architects said: "In Sonora Art Village there is no clear system, the houses are located chaotically, each house has its own colorful path."
"Cardinally, the house has not changed, there are changed the overall dimensions, there were houses of medium size and very small."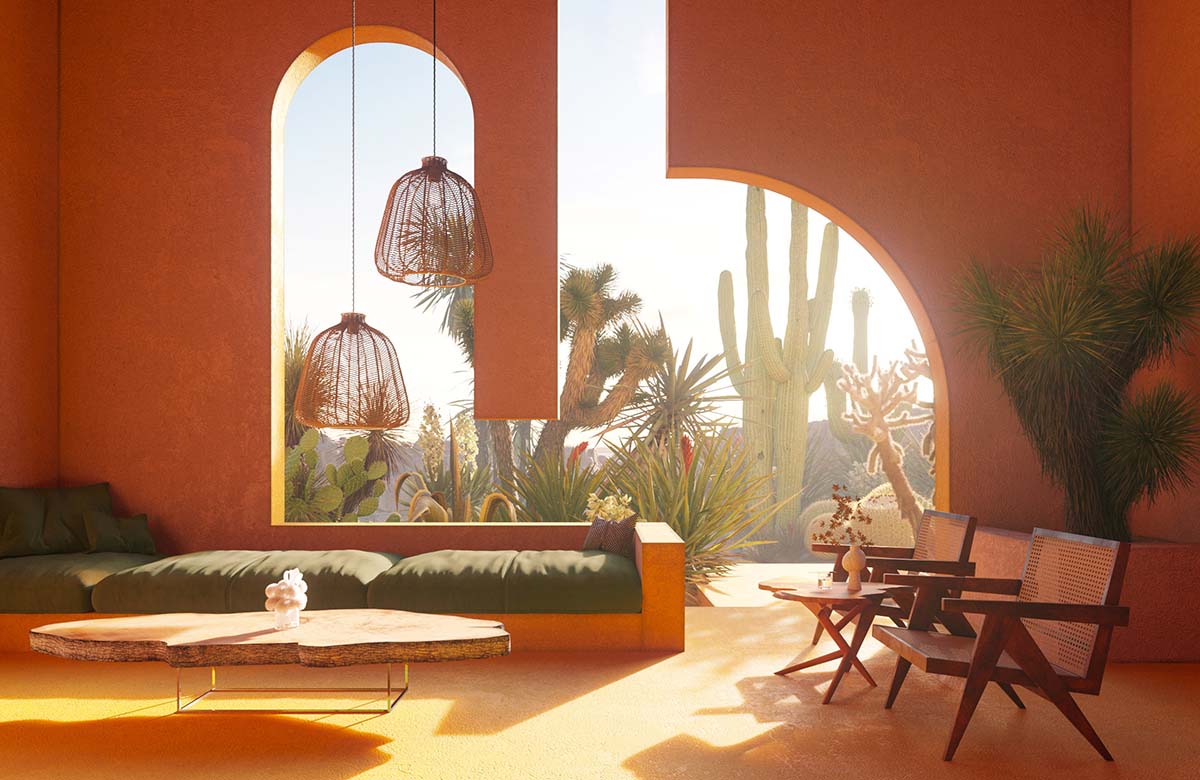 The interiors of each villa are designed a dream-like villa and some of them are highlighted with cut-out forms for the windows of villas. Thanks to this cut-out forms, users are able to feel themselves in the nature.
Some of villas consist of mezzanine floors to provide an extra space for relaxing and joy, while the furnitures and fixtures inside are kept as minimum as possible. Color is the major element in these houses to trigger emotions, all the spaces function like a cartoon.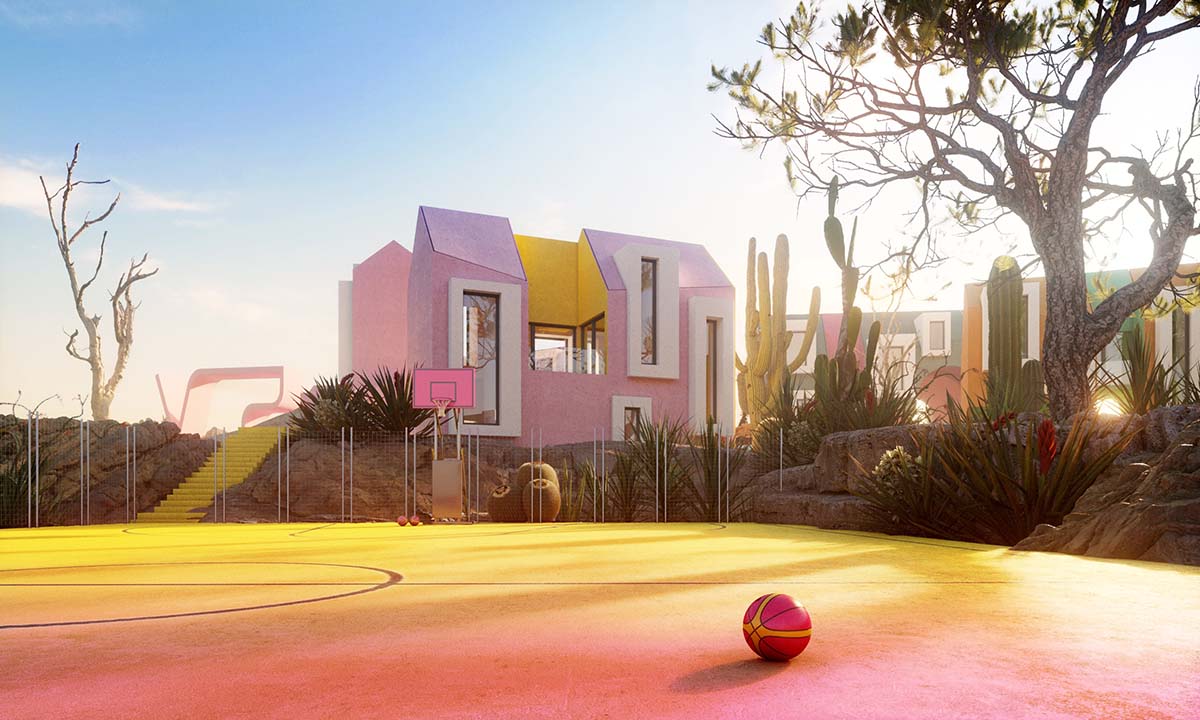 "With regard to geometry, we began to use semicircular arches, passageways, small overhanging volumes. Some houses are higher, some are lower, so the village has a lot of small stairs, which makes it feel like you're going up and down in a game like Super Mario," added the duo.
"The windows by the houses are as chaotic as they used to be so that more natural light penetrates. The houses which are located on the slope have their own swimming pools and also have one large pool for common use.
"In the aisles between some houses there are flowerbeds with large vegetation. It's kind of an oasis, but still with cacti. Big cactuses. We love cactuses."
The houses still have nighttime lights in their colors. At night, this place turns into a light installation and the sky is painted in different colors.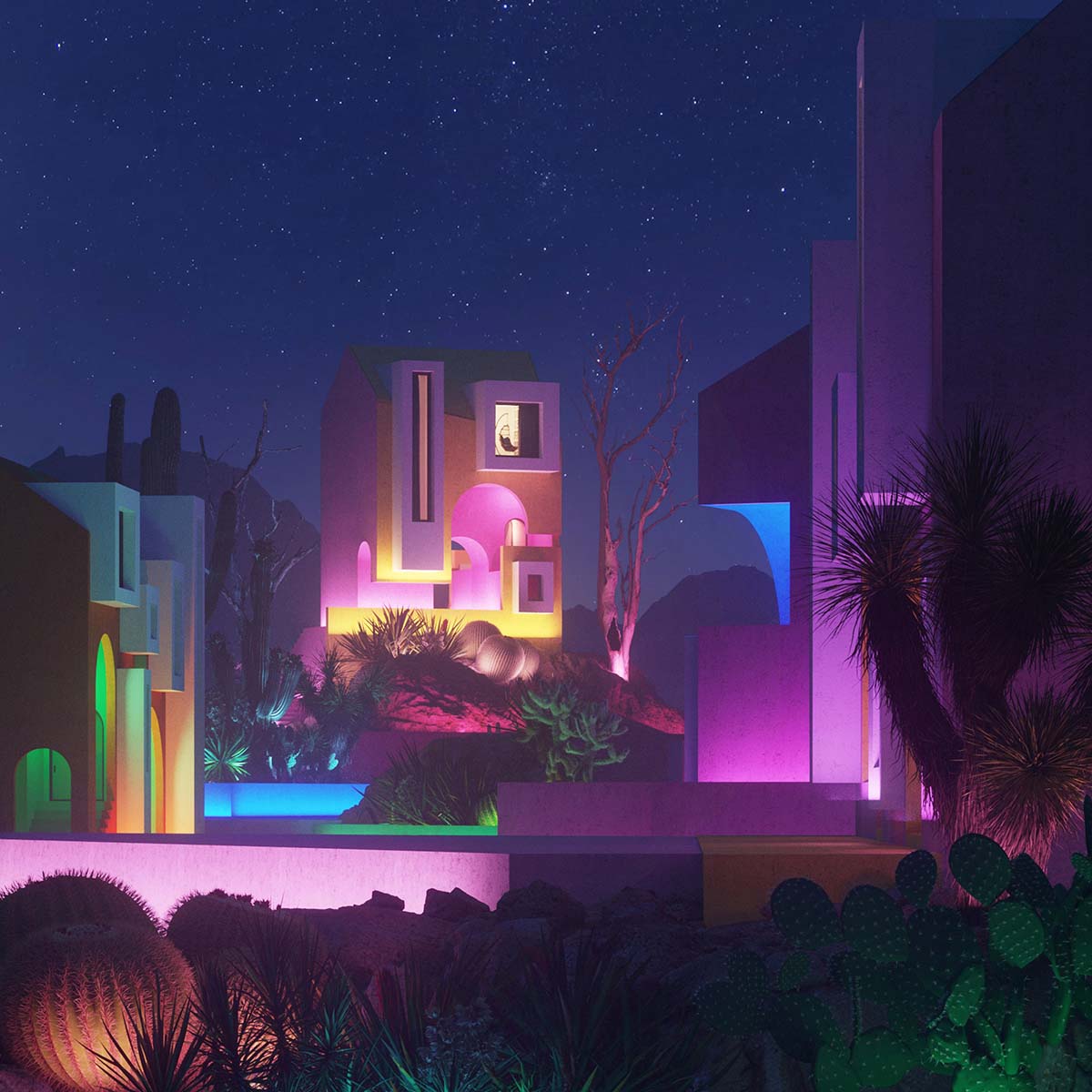 By the way, at home everything is not in the usual pink and yellow color, the architects have made a different combination of colors, but each uses two colors and our classic white window volumes.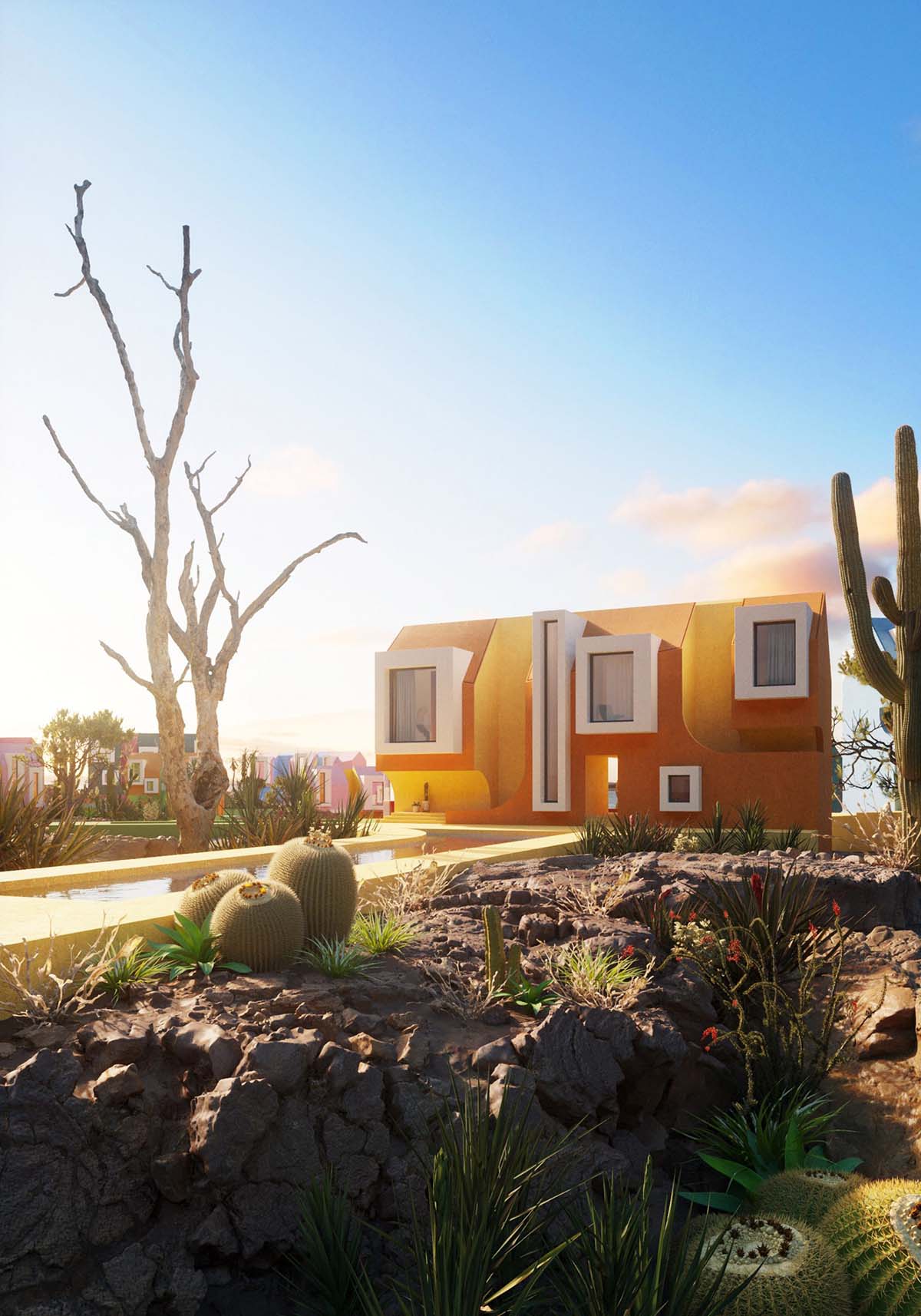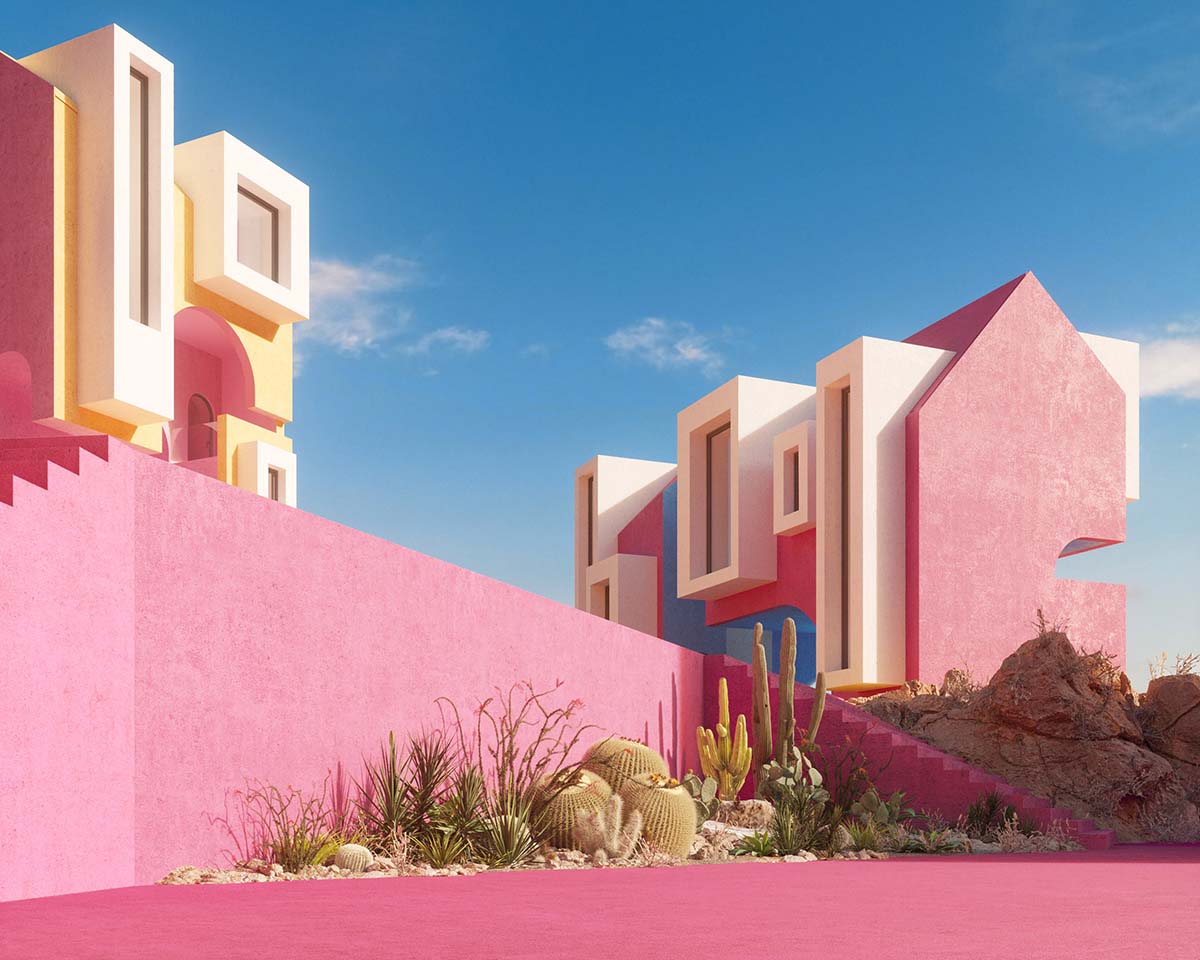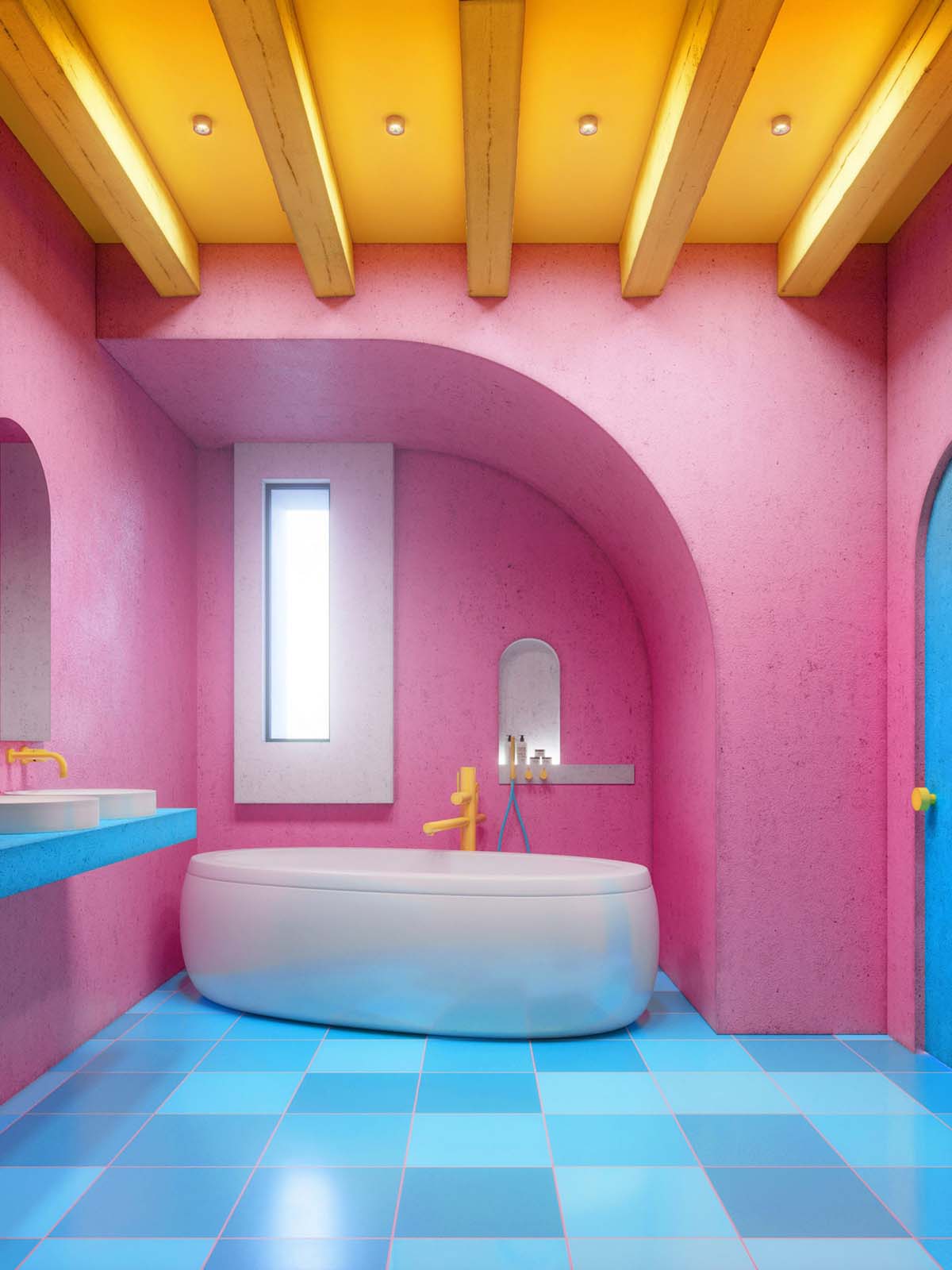 All images courtesy of Davit Jilavyan and Mary Jilavyan.
> via Davit Jilavyan & Mary Jilavyan