Guy Eames talks on "green construction" in Russia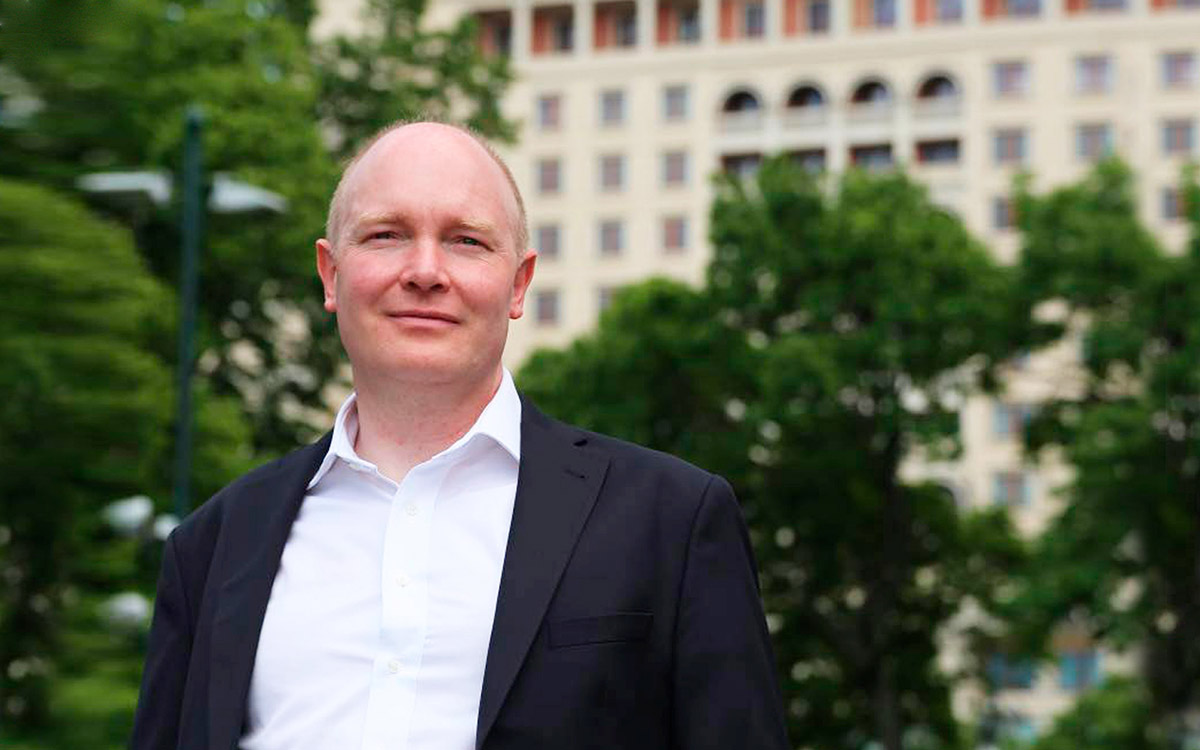 The Open International Architecture and Urban Planning Competition for the development of a master plan for the territory adjacent to the Almetyevsk Reservoir on the Stepnoy Zay river in Almetyevsk, Repubic of Tatarstan was initiated by the Administration of the city of Almetyevsk and PJSC TATNEFT named after V.D. Shashin.
The competition is supported by the Government of the Republic of Tatarstan. The operator of the Competition is the Agency for Strategic Development CENTER.
The competition purpose is to prepare a master plan that ensures the revitalization of the land area adjacent to the Almetyevsk reservoir on the Stepnoy Zay river in the city of Almetyevsk, and its transformation into a landmark public space for the city's residents, broadcasting the mission and image of Almetyevsk as a city with a high standard of living, recognized as such from outside the city.
The subject of the competition is the land in the north of the city of Almetyevsk, covering an area of more than 1700 hectares, including about 270 hectares - sections of the forest area outside the city limits, adjacent to the Almetyevsk reservoir on the Stepnoy Zay river in the city of Almetyevsk, Republic of Tatarstan. Competition format: international, two stage, open.
The three finalists who develop the final bids will be paid a fee totaling 2,500,000 rubles, including all taxes and fees. Following a meeting of the jury, the finalists, will receive an additional payment in accordance with prize distribution, including all taxes and fees, in the following amounts:
- Winner – 4,000,000 rubles.
- Second place – 2,000,000 rubles.
- Third place – 1,000,000 rubles.
The total Prize Fund, including all taxes and fees, will be 14,500,000 rubles.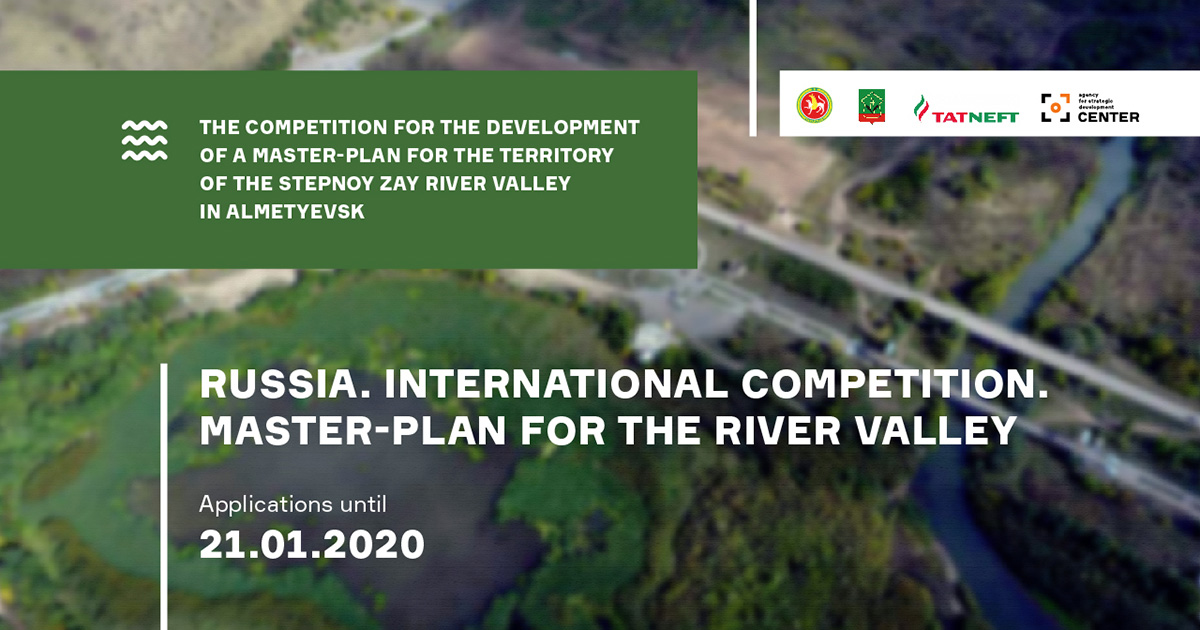 Companies from all over the world showed their interest in the competition. In total, 243 applicants from 48 countries, 6 continents were registered. 44 participants submitted their applications, elaborated according to the conditions, to the Organizing Committee of the competition. They include 115 companies: 9 individually, 106 - as part of 35 multinational consortia. Among the participants are companies from 37 cities of 16 countries.
According to the results of the first jury meeting, there are three finalists:
- Consortium led by IND Architects (Moscow, Russia) / Members: Bureau B+B (Amsterdam, Netherlands), JTP Studios (London, UK), ARCHdesant (Kazan, Russia), Knight Frank (Moscow, Russia).
- Consortium led by OBERMAYER Consult (Moscow, Russia) / Members: OBERMEYER Planen und Beraten (Munich, Germany), Kushman & Wakefield (Moscow, Russia).
- Consortium led by IQ Studio LLC (Moscow, Russia) / Members: GMA (Edinburgh, United Kingdom), ASWStudio (Moscow, Russia; London, United Kingdom), AECOM (Edinburgh, United Kingdom), Alphabet City (Moscow, Russia).
---
The Agency for Strategic Development CENTER has released an interview with Guy Eames, International Curator of the competition for a master-plan for the territory adjacent to the Almetyevsk reservoir on the river Stepnoy Zay in Almetyevsk, Republic.
Guy Eames is the international curator of the competition, a well-known specialist in the field of green construction, who heads the largest association in the field of green construction in the Russian Federation - the Green Building Council in Russia (RuGBC) and actively promotes the implementation of international and Russian environmental standards in architectural and construction industry.
"Russian Oil Major seeks green solutions for its home city in Russia"
Tatneft, Russia's fourth largest oil producer, has launched an international competition to attract the brightest ideas for a 1800 Hectare "eco park" on the edge of its home city, Almetevsk (pop 150,000).
The three finalists include well-known British and German architects and engineers. The Agency for Strategic Development CENTER has arranged an interview with the International Curator of the competition, Guy Eames, Chair of the Russian Green Building Council to find out more.
A.S.D.C.: Is this the first project of its kind?
Guy Eames: Its certainly the first one in Russia that I have heard of and rather a turning point. Globally the clean energy transition and appreciation of a wide range of "green" solutions is well established among oil producers. Environmental regulation in Russia is strict but a shift towards sustainability is very refreshing and for me the opportunity to engage is exciting.
The project is a competition for a vast 1800-hectare (4400 acre) masterplan, to enhance and develop a reservoir, wetlands and a hilly forest area on the outskirts of the city. On a tour I was shown the hippodrome – where local children learn to ride for free, a series of ski slopes and jumps, a village and the beautiful forested area. The project challenges architects to create a holistic nature resort, hosting an innovation centre and college, areas for recreation and more comfortable housing. The area is pretty much cut off from the rest of the town at present, so another task is to integrate the two using innovative transport solutions.
What really gave me hope was firstly the fact that not only was the brief drawn up demanding sustainable solutions but also the three finalist teams were selected based on their previous experience and projects – many of which are European and are eye-wateringly sustainable! They have a rich profile of projects to enhance and re-create the public realm and are highly creative, work with environmental organisations to create new places which have a "Biodiversity net gain". They bring fresh perspectives to the project, reflecting current thinking in their countries.
A.S.D.C.: How established are "sustainability" and green technologies in Russia?
Guy Eames: Environmental technologies are surprisingly common in Russia but are applied very differently to the UK for historical and economic reasons. District heating is the norm and trolleybuses and trams can be seen across Russia – using electricity to power vast transport fleets. Recently trolley buses have even been equipped with lithium power packs, to extend their routes far beyond where the overhead power cables run. Traditionally recycling was the norm with rewards for bringing in old books and newspapers to recycling points. Russia has a huge potential to produce many materials which could cover future demand for sustainable construction, these include composites, organic based construction materials (Russia was the world's largest hemp producer until the 1970's and has ideal growing conditions to supply hemp also as a replacement for PET), foamglass insulation and many more.
Many sustainable solutions are being developed at innovation centres such as Skolkovo near Moscow, which has nearly 2000 start-ups, many of which offer unique environmental solutions. Sustainability as a concept is relatively new but growing quickly, as both locally-based multinationals and local corporates embrace the concept. In property hundreds of projects are now registered to benchmark buildings to the BREEAM and LEED standards.
A.S.D.C.: How involved are UK companies in Russia and what are the prospects?
Guy Eames: Despite politics, UK companies are welcomed in Russia and some are thriving. Concretecanvas is a good example, producing concrete in rolled up "canvas" form, ready to lay out and literally "just add water", produced in the UK and Russia. UK owned data centre IXcellerate is a good example of a success in its area with highly efficient data centres, the IT & Telecom sector continues to cooperate, as Russia has strong competencies, the FMCG industry manages to offer consumers many UK goods and services. Dozens of companies are listed on the Russo British Chamber of Commerce site.
In construction many famous UK architects have designed and built across Russia, Zaha Hadid being one of the most successful, Arup and Aecom are present. In the sustainability field the large consultancies are making strides with increasing reports based on the UNSDGs. Personally, I have been involved with the localisation of BREEAM in Russia and introducing training courses for graduates (BREEAM AG) as well as a pilot One Planet Living in Tarusa, Russia's first "eco-town". The Foreign and Commonwealth Office also support many great initiatives in this field of peer to peer cooperation. British figures are often featured as speakers at key events across the country, including the Moscow Urban Forum, Moscow Climate Forum, Forum 100+ and others. Due to its huge cultural heritage and vast national parks (some covering the size of the UK!), potential for eco tourism and bringing sustainability to historic buildings is significant. Jacqueline Gibson, Blenheim Palace's sustainability advisor has visited Russia several times over the last 2 years. Russian landscape architects collaborate closely with their UK colleagues and know details off by heart of many of the UK's heritage sites!
There is an appetite presently for more "eco-innovation", both from the corporate and public side. This is an area which, in my mind, has a huge potential. Russia is the largest country in the world and only 3 hours flight away from the UK. As we can see from the Masterplan competition in Almetevsk, British know-how can fit nicely into the curiosity for sustainability solutions of all kinds.
A.S.D.C.: Are sanctions and security an issue?
Guy Eames: The sanctions introduced on an EU, UK and Russian level (from the respective authorities) are certainly a hindrance and need to be observed. On the whole, however, they concern investment in the oil and gas industries, munitions and other industries not related to sustainability. If in doubt the DIT can offer advice. Security I have found is not an issue, the streets are safer in the major Russian cities compared to their UK counterparts.
Each country has its ways of doing business, Russia is moving very quickly to a cashless society and this is reflected by the appointment of the Michael Mistustin as Prime Minister, after his digitalisation of the Tax Service, which is a world leader, including digital receipts and real-time fiscal reporting! Obviously doing business abroad always has risks and nobody should have illusions, but I would not say that the Russian reality outshines its image.
A.S.D.C.: Is Green Building a growing industry in Russia and which standards are used?
Green Building is growing in Russia after its "launch" in the preparations for the 2014 Winter Olympics in Sochi, where the UK based BREEAM standard was chosen as the international benchmark for 10 of the key Olympic projects. Today BREEAM is Russia's most popular standard used in several hundred projects (registered and certified). The Russian Green Building Council (RuGBC) was registered in 2009 and recently celebrated its 10th year anniversary. Projects and events for sustainable construction are announced almost daily in Moscow and are spreading to major cities such as Kazan, St Petersburg, Ekaterinburg etc.
Hundreds of students have signed up for BREEAM AG courses offered by the country's leading construction university – the Moscow State Construction University MGSU, where the University President, Valerie Telichenko is a great supporter and last year gave a lecture attended by around 1000 students. Office developers O1 Properties have certified their whole portfolio of 14 buildings in Moscow to BREEAM, whilst IKEA, the owner-operator of over a dozen "Mega" shopping centres (each larger than Westfield) has likewise chosen BREEAM for all of its centres. A record delegation of over 30 specialists from all over Russia, made its way last week to UK's "Futurebuild" exhibition to explore new cooperation with UK companies in the Green Building Sector. Among those companies visited were those working on the Almetevsk project.
Top image: Guy Eames, courtesy of Guy Eames.