Valentino Gareri designs low-cost modular school with triangular geometry for Africa
Italian architect Valentino Gareri has proposed a low-cost modular school surrounded by triangular-shaped modular elements in African regions.
Valentino Gareri has created a modular prototype for an educational building for African regions, made with local materials and construction techniques.
Gareri takes inspiration from the local art patterns and vernacular architecture of Africa, which is made by hay triangular roofs. The architect came with an alternative proposal to create a self-sufficient building for education.
All the required spaces for the educational building are fitted into a 1 storey-height volume made by modules or 42 square meters each. Each module corresponds to an ideal classroom of 20 or 25 students connected by a central corridor.
The adopted typology is a court building where all the classrooms and main spaces are distributed around an internal outdoor courtyard.
"The building is surrounded by modular elements with a triangular geometry. They have structural function and provide support for the roof," said Valentino Gareri.
"Each element contains a planter-box where vegetation can grow and, through wires trellis, spread out on top of the roof providing a sustainable sunshade and reducing the building internal heating."
"Photovoltaic and solar panels can be installed on top of each triangular module and produce electric energy," the architect added.
Local references
The perimetral triangular elements work also as rain-water collectors. Under each planter-box there is a water tank (traditional local tanks can be used).
Each module can collect a total of 1-m3 of rain-water, which can be re-used for the vegetation irrigation and for the pre-school needs, such as toilets and kitchen.
Design process
According to the architect, "the triangular shape is the best to provide these functions and sunshade protection still allowing daylight to come into the classrooms."
Multiple configurations
The modular nature of the proposal allows the possibility for future school extensions by adding one or more modules.
The aim is also to provide a prototype of modular, sustainable and self-energy efficient component which can be adopted also for different functions, such as medical center units, workshop spaces, temporary accommodations for doctors and teachers.
Typical module plan classroom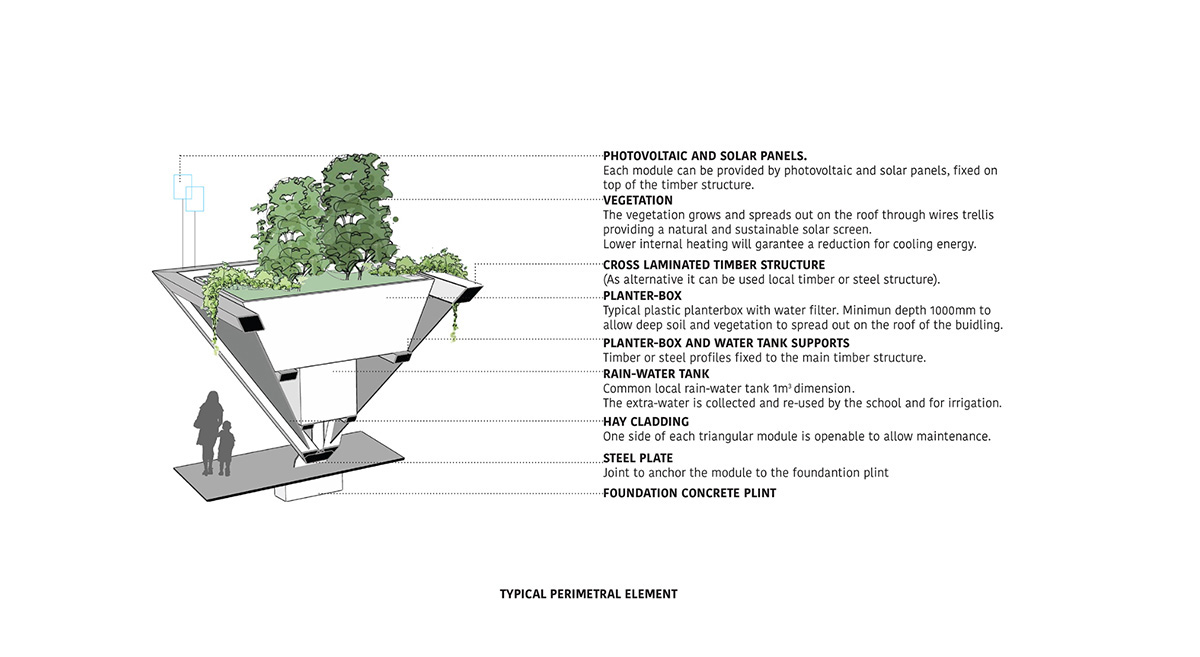 Perimetral element axonometric
Sustainability section
All images © Valentino Gareri