'Haiku' Writing Competition Series 2.0: Call For Entries
'Haiku' Writing Competition Series 2.0 is the sixth initiative of the Architectural Journalism & Criticism Organization, India founded by architect Pappal Suneja to spread awareness about this subject and sow the seeds of inspiration to explore and write about Architecture and allied fields. As per the curator, Journalism & Critical Appreciation in Architecture should reciprocate to the trending techniques. Our prenominal existence in the moment of time is not merely enough to amount for the utterance of spoken or written of the present. The architectural writings serve as reflections at a future day and it needs to be taken ahead at the forefront.
Here, Haiku means a Japanese poem written in English of seventeen syllables, in three lines of five, seven, and five, traditionally evoking images of the natural world.
You can pen down an architectural experience of yours in 17 syllables in all!
Less is More! Try it Out!
Themes for the Competition are as follows:
1. Cultural Thing
What is it that you possess and is at your side in these tough times of Global Pandemic Crisis? An unnoticed 'thing' being a part of your culture, tradition or life style does exist. The meaning of which has changed all together due to the recent social distancing measures. If 'things' can speak, what message shall it convey to you?
2. Time Travel to an architectural era
Dive into the journey of nostalgia to the gothic gargoyles of the city. In the romanticism of coffered domes, spires, buttresses, ornamented windows, arches; in short travel to the timeless architectural styles- making the quieter times louder than before. What is it, which we will wish evermore again?
The competition is open to all. To register follow this Link, one can send a maximum of 5 entries with a single registration. Entries (Haiku write up along with the Photograph [both separately] of 300dpi and Minimum 1200 x 800 px) need to be emailed to [email protected] till 30th May 2020, 11:59 pm.
Here are a few Sample 'Haiku'
Image © Twinkle Kataria, Balwant Sheth School of Architecture, Mumbai.
Image © Radha Iyer, School of Environment & Architecture, Borivali (w), Mumbai.
Image © Sabu Francis
Jurors Panel for the Competition comprises of
Prof. Krishna Rao Jaisim, Principal Architect Jaisim-Fountainhead
Ar. Sabu Francis, Principal Architect, Sabu Francis & Associates
Ar. Pappal Suneja, Research Scholar, Stiftung Bauhaus Dessau, Germany
Ar. Sangeet Sharma, Partner, S D Sharma & Associates, Chandigarh
Ar. Maria Aslam, Editor- in- Chief, Architecture - Design - Art (ADA) Magazine
Curatorial Assistant:
Twinkle Kataria, Balwant Sheth School of Architecture, Mumbai.
For Queries, Contact: [email protected]
(Note: International applicants interested to participate, can drop an email to know the Paypal details for registration)
Winning Prizes for the Competition are
Citation (A set of mentioned Books):
-'Architectural Musings: I Do' by Prof. Krishna Rao Jaisim (Autographed Copy).
- 'A Place in the Shade': The New Landscape & Other Essays
- 'Poetry & Architecture' curated by Pappal Suneja (Autographed Copy).
Special Mention (A set of mentioned Books):
- 'Castles in the Air' by Sangeet Sharma (Autographed Copy).
- 'The Architecture of Happiness' by Alain de Botton
- 'Just Give me some space' by Suha Riyaz Khopatkar (Autographed Copy).
Besides this, all the entrants shall be sent E-Certificate attested by all the jurors and the winning entries shall be featured on an online architectural portal. Also, the best entries shall be complied in the form of a book with ISBN No. after the successful run of all the Series.
For more Information, Visit the Facebook Page of the Organization.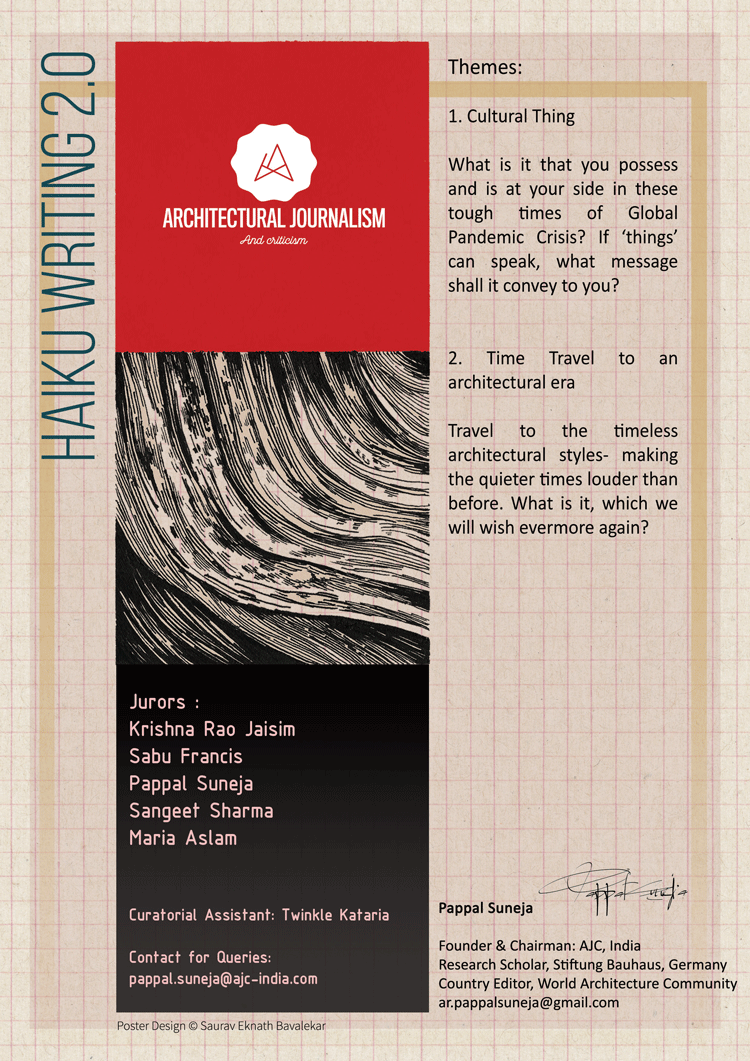 Top Image © Twinkle Kataria
Other Images As Mentioned