Call for Entries - CEPT Essay Prize 2020: Urbanising Asia and World Knowledge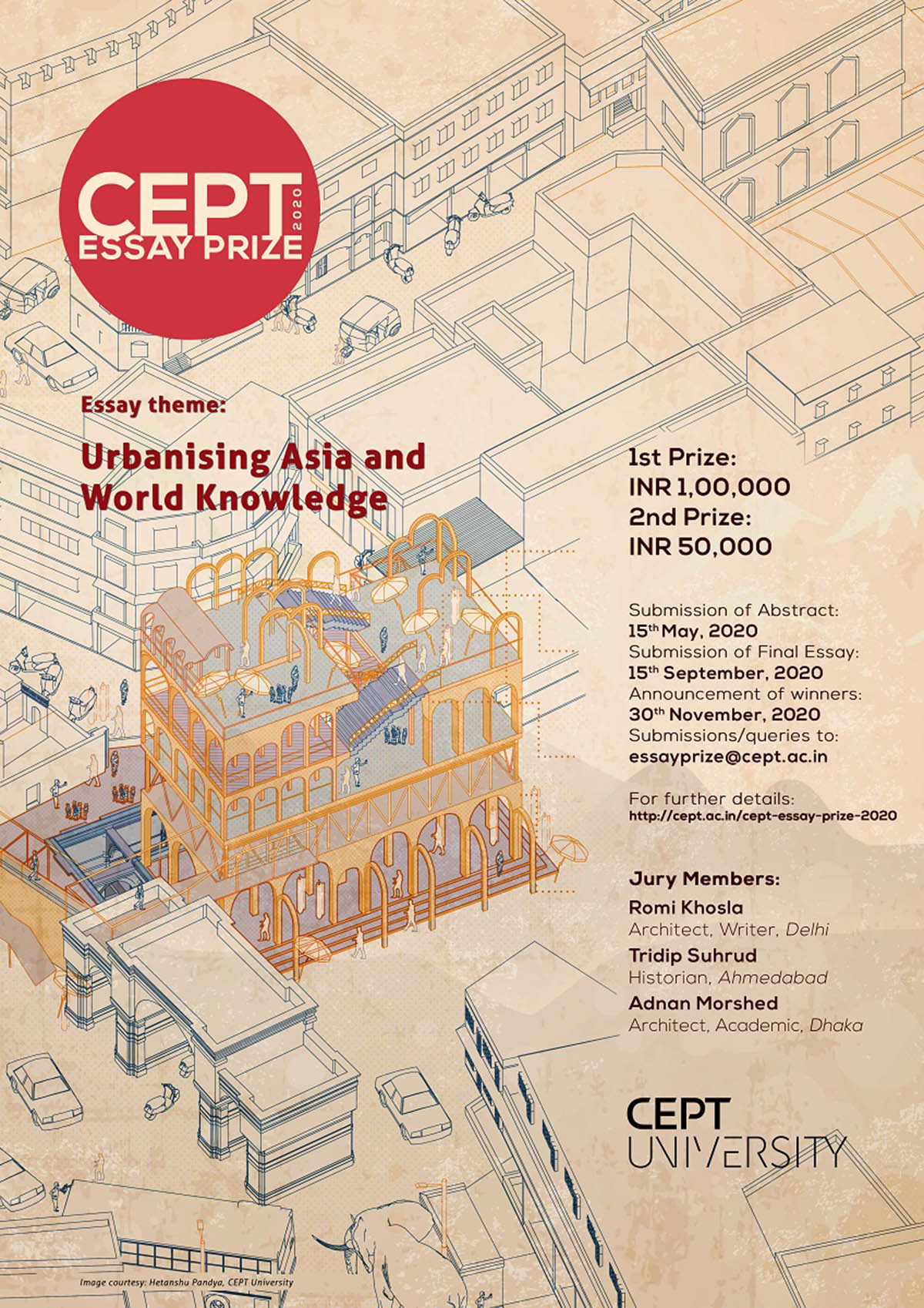 Pen it Down
The third cycle of the CEPT Essay Prize 2020 invites you to explore a particular urban condition from anywhere in Asia to understand the nature of networked knowledge production about habitats and cultures, people, and world-views. Parallel and interconnected geographies are the important operative ideas as compared to the older imagination in banal binaries such as 'East versus West'. Urbanity is no longer imagined only through lived physical fabrics but as much as through cinematic, virtual, and purely cultural experiences; the city could be regionally expanded or located within a single neighborhood wholly as Kaiwan Mehta proposed in Alice n Bhuleshwar or city living could be about 'distributed-urbanity over economic-cultural landscapes of migrations' as he further proposes. The essay should explore specific conditions and examples for models of knowledge production that allow important insights in habitat patterns, cultural transformations, economic patterns, sociological formations, and the construction of newer world-views.
Eligibility:
Graduates from any allied areas of architecture and planning, up to the age of 30 years.
Individual Submissions Only.
Any candidate can apply to the CEPT Essay Prize for a maximum of two cycles; however, those who have been awarded the first or second position in any cycle are no longer eligible to apply for a subsequent cycle.
Please refer to the document, click here for all technical writing guidelines.
Details of the Competition:
The essay competition will be held in two stages.
First, we invite participants to submit an essay abstract of about 800 words.
A panel of four experts will blind review them and shortlist 45 entrants.
The selected participants after being duly informed will be required to submit a long-form essay of 3000 words, which will be blind reviewed by a panel of three eminent jurors.
Timelines:
First abstracts: 15th May 2020
Announcements of the final selection of Abstracts: 15th Aug 2020
Submission of final Essays: 15th Sep 2020
Announcement of winners of the Essay Prize: 30th Nov 2020
All submissions: [email protected].
Prize:
First Prize: INR 100,000
Second Prize: INR 50,000
For more details about the Essay prize, click on the website.
Image courtesy of CEPT
> via CEPT University