'Haiga' Writing Competition by AJC & ADA: Cycle Extended till 31st August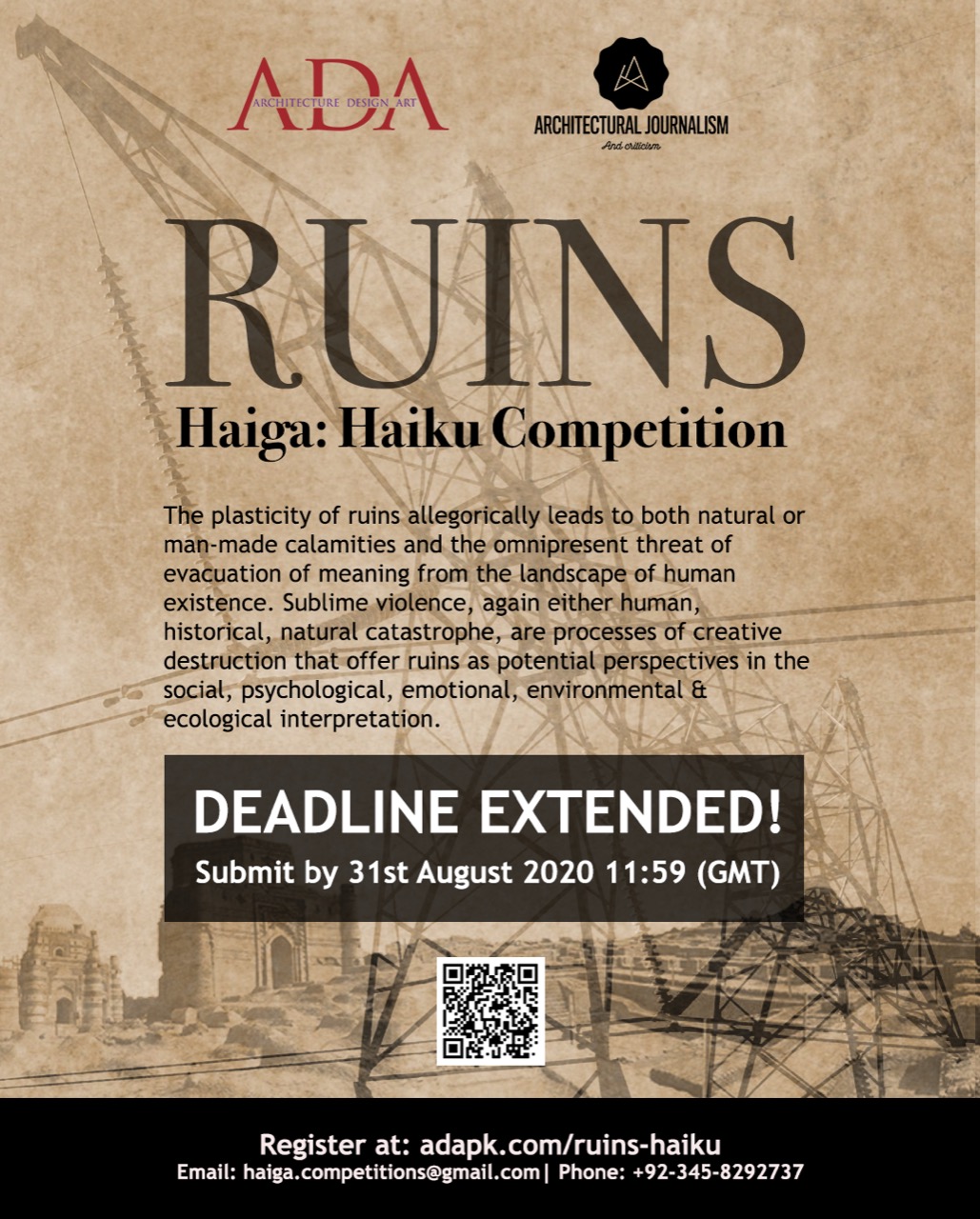 'Haiga' Writing Competition Series (1st cycle) themed 'Ruins' is a joint initiative of Architecture-Design-Art Magazine and Architectural Journalism & Criticism Organisation. This International Competition calls for Ideas from across the globe as per the following brief.
Theme: Ruins
The plasticity of ruins allegorically leads to both natural or man-made calamities and the omnipresent threat of evacuation of meaning from the landscape of human existence. Sublime violence, again either human, historical, natural catastrophe, are processes of creative destruction that offer ruins as potential perspectives in the social, psychological, emotional, environmental & ecological interpretation.
The Competition is 'Open to All' – students, professionals and others.
Submission Guidelines -
- Submissions are open to all enthusiasts and are welcome from all parts of the world.
- Maximum 2 entries per registration are allowed. Follow the link to Register
- The Haiku should be accompanied by an Illustration/Photograph (either it should be self-clicked or the proper credits of the Photographer should be mentioned.)
- Each Haiku should have 17 syllables divided, in three lines of five, seven, and five syllables respectively.
- The entry should be sent to the following email: [email protected] with the subject line: 'Haiga' Competition, 1st Cycle – Name of the Participant as a jpeg/png file with 14pt, Arial font, single-line spacing Haiku text typed upon the Illustration/Photograph.
And the Haiku text (.doc file) + Illustration/Photograph attached separately without the haiku written/typed upon it as well with minimum 300 dpi and Image size of not less than 2 MB.
- The submission should include the payment screenshot as attachment in the email.
- Medium of Submission is English Language.
- All entrants must mention their social media handles with the submission (Instagram, Twitter, and Facebook)
- The submission should be an original work of the entrant and will go through a plagiarism test.
- In addition to three winners, Honorable mentions if assigned by jury shall be featured.
Timeline -
Submission window for Cycle one opens on 3rd July 2020 – 31st August 2020 (11:59 pm, CEST/ 2:59 am PKT/ 3:29 am IST)
Important Dates
- Standard Registration till 30th August 2020, (11 Euros/950 INR)
To register, follow the link. International participants can drop in an email to follow the instructions.
- Submission deadline: 31st August 2020 (Monday)
Curators
- Maria Aslam, Editor-in-Chief, Architecture - Design - Art (ADA)
-Pappal Suneja, Founder, Architectural Journalism & Criticism (AJC)
For Queries, Contact: [email protected]
Jury Panel
- Katja Klaus, Research Associate, Bauhaus Dessau, Germany
- Herve Matin, Graphic Designer & Artist, Paris, France
- Rupa Raje Gupta, Architect & Researcher, New Delhi
- Javed Jabbar, Screenwriter & filmmaker, Pakistan
Winning Prizes
All winners and honorary mentions will be featured in the upcoming publication of Architecture-Design-Art Magazine.
Selected works will receive the following publications
- 'The courtyard Wada of Maharashtra' by Rupa Raje Gupta
- 'If stones could speak' by Iftikhar Salahuddin
- 'Myriad Disciplines of Architectural Writing' by Pappal Suneja
- Poetry & Architecture, Competition Series, 2018-19 & Architecture-Design-Art Magazine Issues
Besides this, all winners and honorable mentions shall be sent E-Certificate attested by all the jurors and the entries shall be featured on multiple architectural web portals.
For more updates, Visit the Instagram handle of ADA & AJC
All Images © Architecture-Design-Art Magazine
> via Architectural Journalism & Criticism Organisation & Architecture-Design-Art Magazine