Goldsmith designs floating chicken farm and factory in Rotterdam
Goldsmith has unveiled design for a floating urban chicken farm and factory in Rotterdam, the project comes after the studio's previous floating dairy farm which aimed to enhance the boundaries of farming within the city.
The new project, named Floating Farm Poultry, is set to be built in Rotterdam and will combine a poultry for 7000 hens on top, submerged LED cultivation below, and an evocative factory that will facilitate the processing of products from both farms in the middle.
Designed as a stacked landscape, the facility will include fresh eggs and crops which are combined into a new range of products, leading to a new type of agricultural building.
The studio aims to reduce ecological footprint by following circular principles which will be followed on all levels of the farm. "The mostly submerged level of crop production keeps a constant temperature and recirculates warm humid air," said the office.
"An efficient air and energy system greatly reduces emissions of poultry dust and nitrogen."
The design is conceived as transparent as possible with its technical installations, process and and production which is arranged in two levels, the lower part consists of three concrete pontoons.
Each level showcases its own process via the products and materials used - concrete is used for its general materiality, while upper level is made of transparent glass and translucent polycarbonate panels.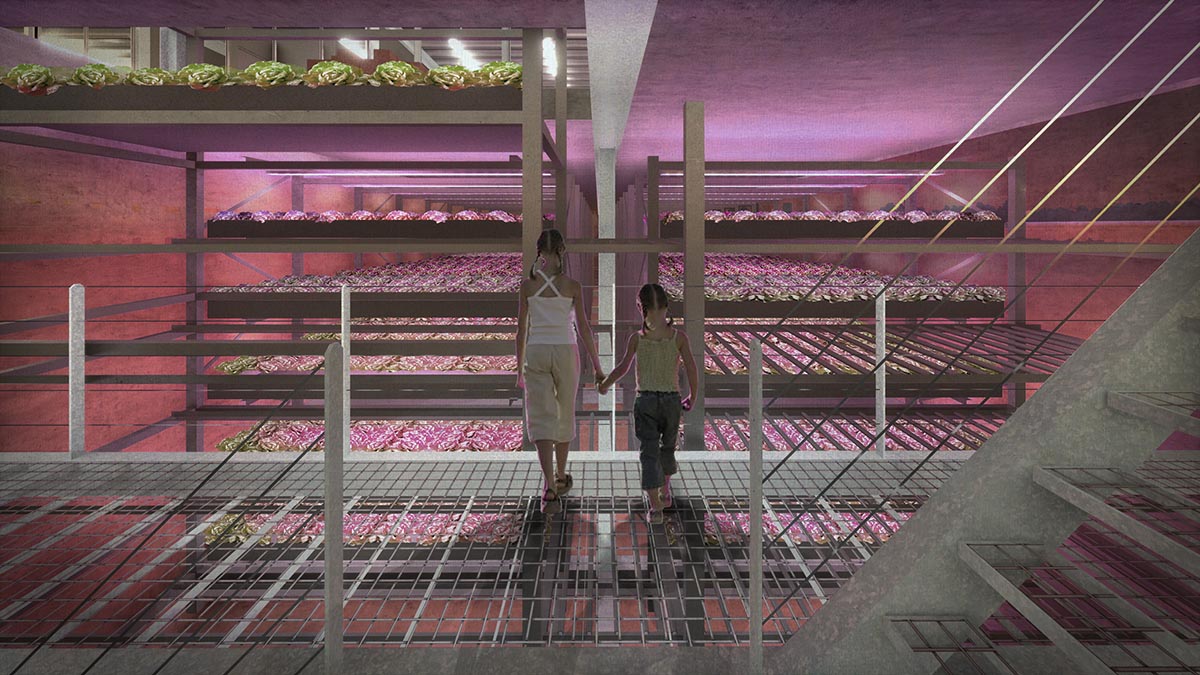 Chicken manure will be dried into fertiliser granules for consumers. A frame of pv cells articulates the architecture and generates a high percentage of the necessary electricity.
It also ensures protection from the sun for the hens underneath. The entire process will be able to be seen by visitors along the route them through each level of the farm without disturbing the processes.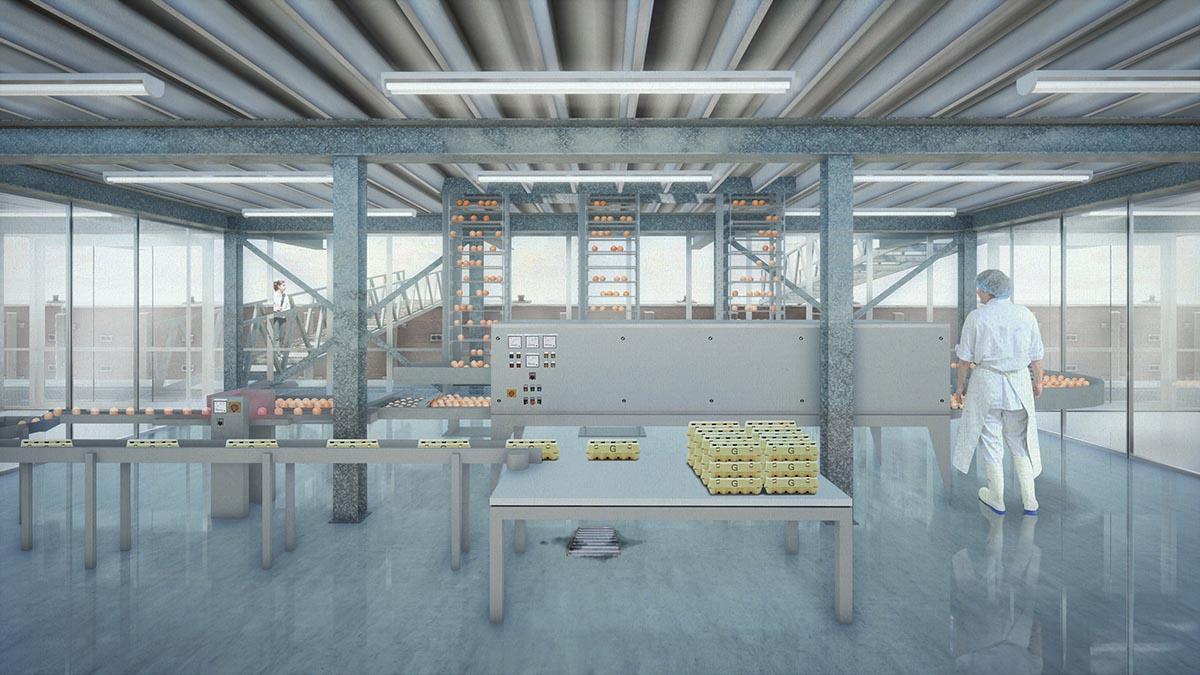 "The floating farm poultry is the subsequent step in the planned "foodstrip" that will offer a wider variety of agricultural products," said Goldsmith.
"Besides that, this second farm will connect to a number of circular flows that are already present on site. the realisation of the floating farm poultry will hopefully strengthen the position of both farms within the city's urban ecology and the M4H (merwe-vierhaven) developments."
"Not only as a new function for a previously abandoned area, but mainly as a recognisable icon within a city district under development," the studio added.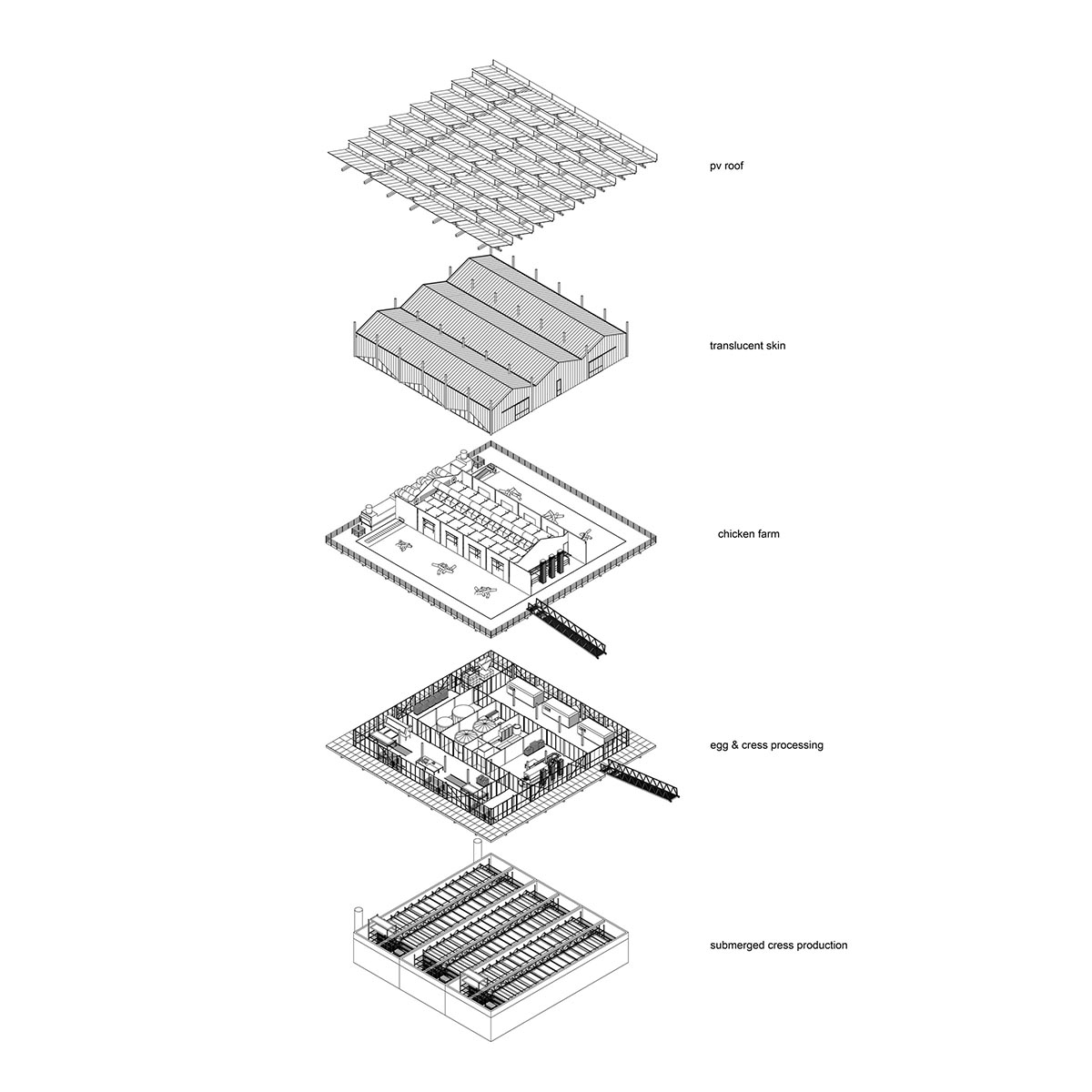 Project facts
Project name: Floating Farm Poultry
Architects: Goldsmith
Program: Poultry farm, LED cultivation, egg & crop factory
Location: Merwehaven, Rotterdam
Size: 3,500m2
Year: 2019- now
Client: Floating Farm Holding BV
All images courtesy of Goldsmith
> via Goldsmith