KINK Restaurant, featuring bold and dark interiors, opens with Kerim Seiler's neon light installation
A restaurant, bar and in-house culinary laboratory, KINK Bar & Restaurant has been opened in a restored industrial building, nested in the sociocultural centre Pfefferberg, host to various galleries, artist studios and event venues. The interiors of the bar & restaurant combines industrial looking with vintage additions in a bold and dark color palette.
The new restaurant features Swiss artist and architect Kerim Seiler's large-scale site-specific neon light installation.
Building on its vast adaptive space and eight-meter-high ceiling, KINK brings together contemporary art, modular design and world gastronomy, to offer a both multifaceted and deeply personal visitor experience.
Located in the heart of Prenzlauer Berg's multidisciplinary cultural venue Pfefferberg, KINK brings together a bar, restaurant and in-house laboratory for its visitors.
Sustaining a constant dialogue with contemporary art and design, the wide room is reinvested through a selection of contemporary installations and works presented throughout the restaurant and bar.
At its core, suspended from its high ceiling, Swiss contemporary artist Kerim Seiler's Spaceknot (Pfefferberg) – a large-scale site-specific work consisting of over 100 meters of red neon tubes – elegantly loops through the space.
Rethinking the void "as his canvas," the artist transforms what appears to be a two-dimensional twisted knot into a multi-dimensional space-embracing sculpture. The contrasting glow of its interconnected segments plays with the architectural scale of the room, thereby creating an all- inclusive immersive atmosphere.
In constant conversation with the work, the post-industrial atemporal setting combines classic and vintage elements with contemporary design features and objects.
Separated into three spaces – a vast main room, a gallery and a window- enveloped "Glashaus" – the different levels allow for distinct functions and ambiances. The vast room fans out from its focal point, the central open kitchen and bar designed by Berlin studio Hidden Fortress combined with sitting areas as a single overlapping, merged space for staff and visitors alike.
Deploying the height of the room, the side mezzanine looks out onto the lower floor, revealing German artist Philipp Emanuel Eyrich's wall-embracing metalwork, in dialogue with Berberlin handcrafted rugs, inspired by North African Berber culture, and a set of Roche Bobois signature modular Mah Jong sofas.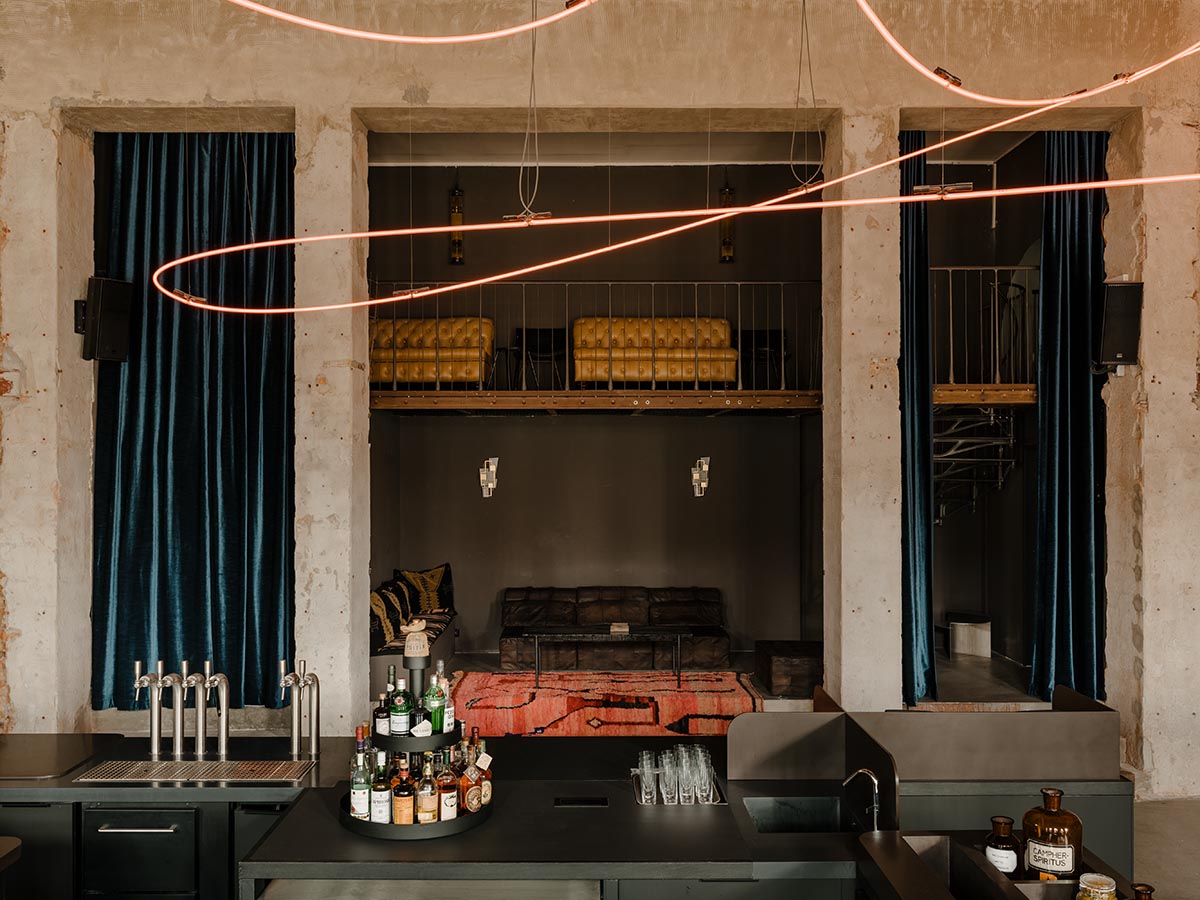 Upon entering from the surrounding beer garden – Berlin's second oldest dating from 1850 – and through the 19th-century French wing doors, the resulting space breaks from the rules of formal spatial disposition, taking down barriers and encouraging visitors' experimentation with – and experience within – the space.
An affirmation of founders Oliver Mansaray and Daniel Scheppan's experimental and synergetic approach, the in-house laboratory – nested in the wall and projecting onto the bar– acts as an open workshop where modern techniques and culinary expertise and experience come together.
Building on the influence, exploration and fusion of international food and drink cultures, Italian chef Ivano Pirolo, most recently chef de partie at two-Michelin-starred FACIL in Berlin, and Indian-born bar manager and mixologist Arun Puvanendran work together to offer a progressive and complementary selection of creative dishes and beverages.
As they revisit processes ranging from fermentation and sous-vide to distillation and infusion, kitchen and bar combine sustainably- and ethically-sourced seasonal products and extract select oils and essences, ultimately assembled in both traditional and inventive drinks and assorted dishes.
With cocktails ranging from a twist on a Classic Margarita to a contemporary version of a penicillin mixed drink, paired with a deconstructed taco or Chicorée filled with minced lamb and mole, they seek to share an expressive form of gastronomy, one based on distinct micro-influences and a belief in the "art of serving."
Sharing a longstanding passion for the discovery and fusion of international food and drinking cultures, Mansaray and Scheppan built on their respective careers in engineering and design to launch KINK in 2019.
They explain: "We don't build walls. We tear them down. We bring together what belongs together: kitchen and bar. Not only do we create a unique space where restaurant and bar see eye-to-eye, we unite culinary and cocktail art into one cohesive experience."
Drawn to – and drawing from – the cultural ambition of Pfefferberg, they highlight the importance of art and design as part of the space: "We cherish art that interrogates, moves and stimulates exchange. Art reveals differences – and similarities."
Located in a former mid-19th century brewery, Pfefferberg was founded in 1990 as an initiative from local residents, bringing together social, cultural and commercial activities – the latest addition being KINK, hosting a year-long programme of concerts, dance and theatre performances and a variety of multidisciplinary events.
Reinvesting the decaying site, Pfefferberg's, and KINK's, vision is deeply related to the immediate vicinity of Prenzlauer Berg, an area of the city long divided by the Berlin wall, where lingering sentiments of segregation and displacement are reflected in the urban structure and architectural landscape.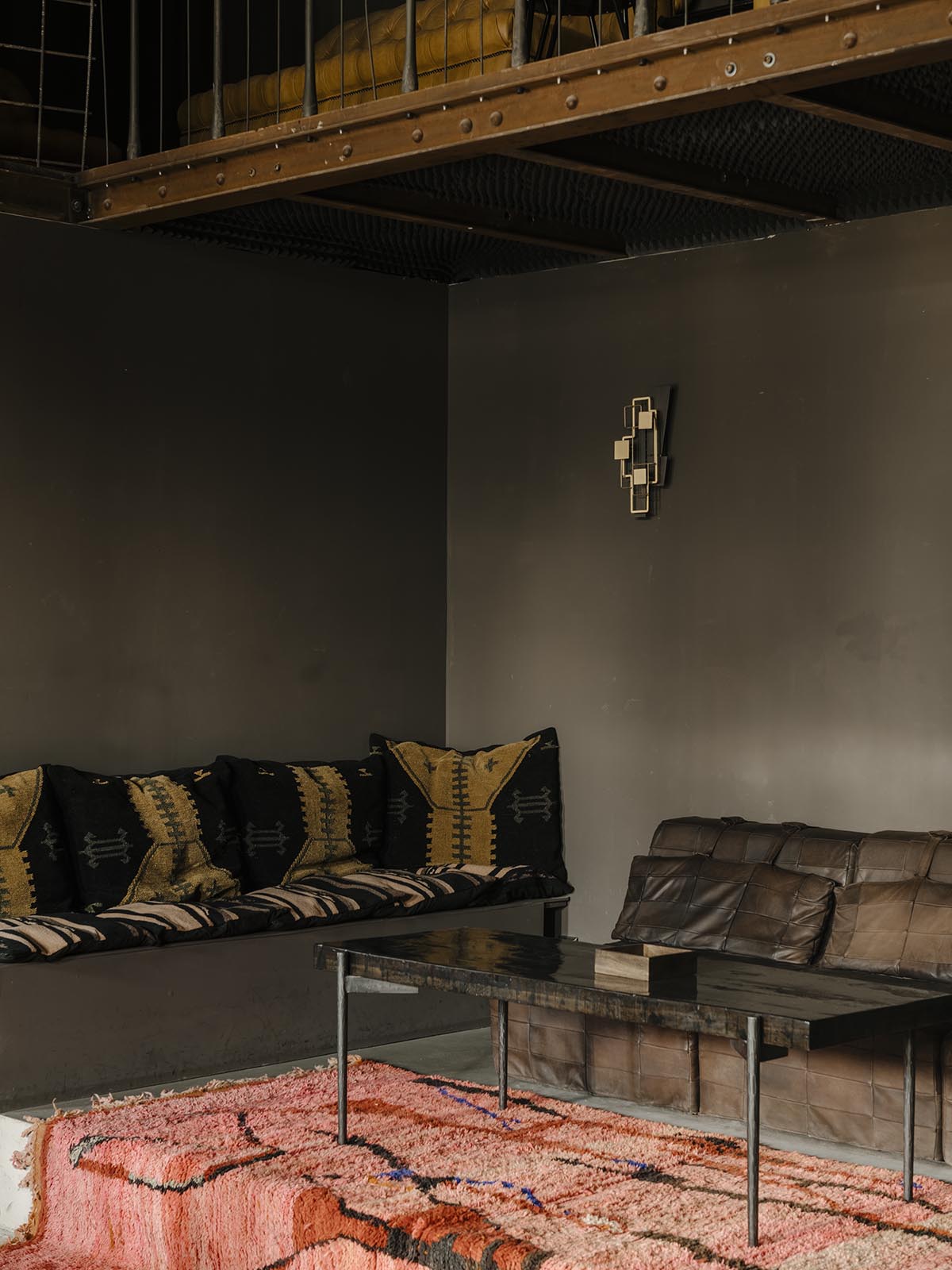 Pfefferberg connects a variety of spaces, from artists' studios including Olafur Eliasson and galleries such as Aedes Architekturforum, to concert and dance halls.
Both rooted yet relieved from this historical legacy, KINK acts as a sociocultural space for healing, reconstruction, and discovery – its very name embodying a combination of bliss, "and a touch of nonsense," as described by Mansaray and Scheppan.
KINK Bar & Restaurant's spacious bar area, lofty gallery and private dining room also welcome a cultural programme ranging from electronic, house and disco DJs to classical music performances, and a monthly Lab Day hosted by the bar manager and chef inviting guests to discover and share culinary ideas. The space can also be booked for private events.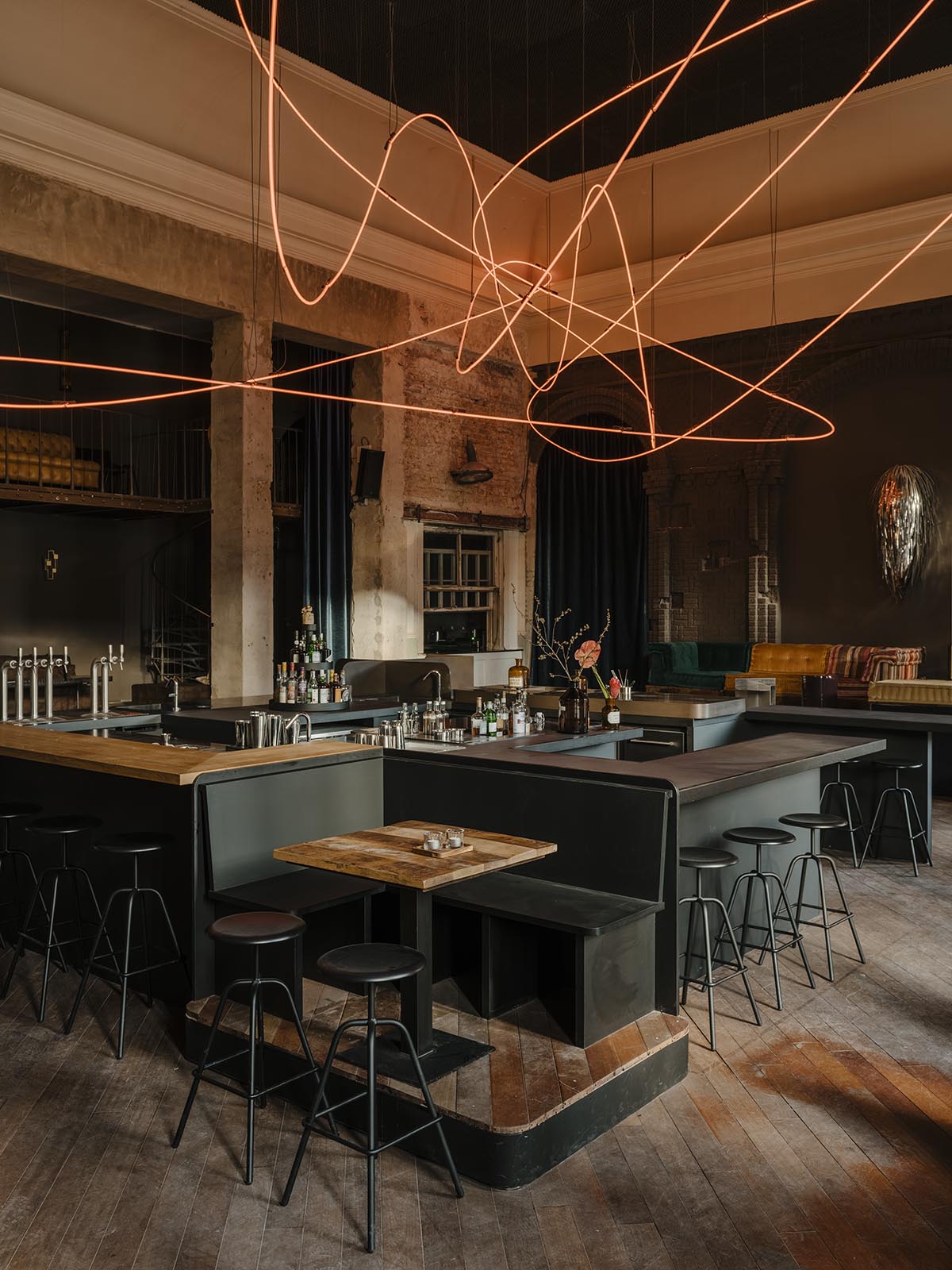 All images © Robert Rieger, courtesy of Kerim Seiler.
> via KINK Bar & Restaurant