Portuguese International Film and Architecture Festival "Arquiteturas" postponed to 2021
The 8th edition of Arquiteturas, the first international film festival in Portugal, has been postponed to June 1-6, 2021 due to the Covid-19 pandemic. The event was originally scheduled from June 1 to 6, 2020 in Lisbon.
Nevertheless, the festival announced the complete film program selection information on their website.
The theme is "Bodies Out of Space". It aims to reflect on the social construction of space connected with a thread that circulates within its own narratives of domination.
Narratives also of identity that is often stolen or forced into bodies. Against some current assumptions, we see this perceptual paradigm – an epitome of the vision of our times – as fundamentally social, spatial and corporeal.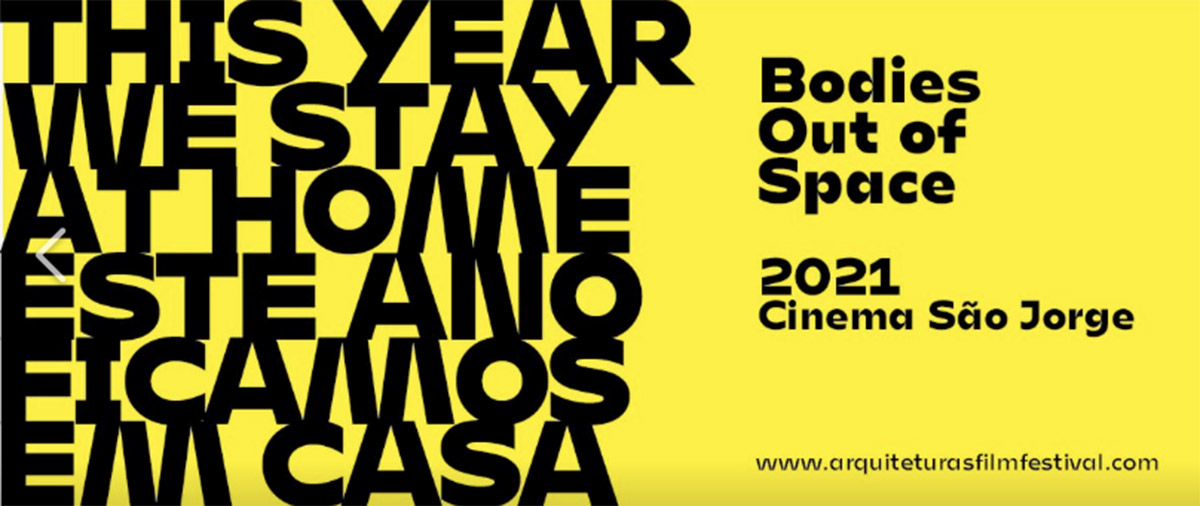 Architecture works along administrative, economic, political and structural powers that control, segregate and colonize, actively mapping the spatial territories inhabited by our bodies. Now, to be fair, this isn't only a grim interpretation of the field, it is a call for actively thinking about our own spectator responsibility as we move through this maze of inequality as direct descendants of exploration of space and bodies.
Sofia Mourato, the festival director invited the journalist and producer Marta Lança to curate the festival's invited country (ANGOLA) program of films, masterclass and site-specific activities.
"Each day one wakes up in a Luanda of resistance. The confluence of times and regimes is visible in colonial architecture, from the slave houses to tropical modernism, from soft Portuguese to neo- liberalism, through the Asian skyscrapers of the new centralities," said Marta Lança.
"Any Angolan would make an unmissable biographical film. A country with little cinematographic production that is a hotbed of wonderful stories waiting for a camera to reveal them," added Lança.
In the meantime, Arquiteturas team decided that this break was a great opportunity to look back at the festival's last seven editions and provide viewers staying indoors worldwide with a selected retrospective of free streaming films. Each film will be released every Friday, running until next year's edition, and can be viewed for one week.
This initiative aims to provide visibility to the films and the makers and their contribuition to initiating great discussions trought their build environment stories. A live Q&A with the filmmakers, producers or authors will be announced whenever this is made possible, via the festival's Instagram and Facebook pages.
The first film of the retrospective is Misleading Innocence (tracing what a bridge can do) and it will be available for free streaming from 12-19 June on the website.
Image produced by the CCA, courtesy of CCA
This film, conceived by Francesco Garutti, directed by Shahab Mihandoust, and produced by the Canadian Centre for Architecture (CCA), explores the story of the planning and politics of a series of overpasses on Long Island, commissioned in the 1920s and 1930s by Robert Moses.
Video courtesy of Sha Mi Do
"How and to what degree can a project's intentions be deliberately concealed? What are the deviously designed effects and the unplanned political consequences of the agency of the artifacts that surround us?" – Francesco Garutti.
All images courtesy of Arquiteturas unless otherwise stated.
> via Arquiteturas