A short film by Building Pictures explores the movement of Lisbon Wood designed by Plano Humano
Building Pictures has released a short film of the project Lisbon Wood, exploring the movement of the project designed by the architects Plano Humano - the project was completed in 2019.
The film begins with aerial images of Av. António Augusto de Aguiar, in Lisbon, where the project is located. The facade of the building stands out by the use of wood.
Plano Humano Arquitectos used shutters and installed in the harmonium system, open or close the compartments to the incidence of sunlight, resulting in a dynamic and flexible facade throughout the day. In the film, viewers can see this feature, accentuated by sound design.
After revealing the façade, the film leads the viewer into the building, consisting of 14 apartments and 2 commercial spaces, as well as a leisure area with SPA, indoor pool and gym. In the end, the film shows again the facade and its lighting.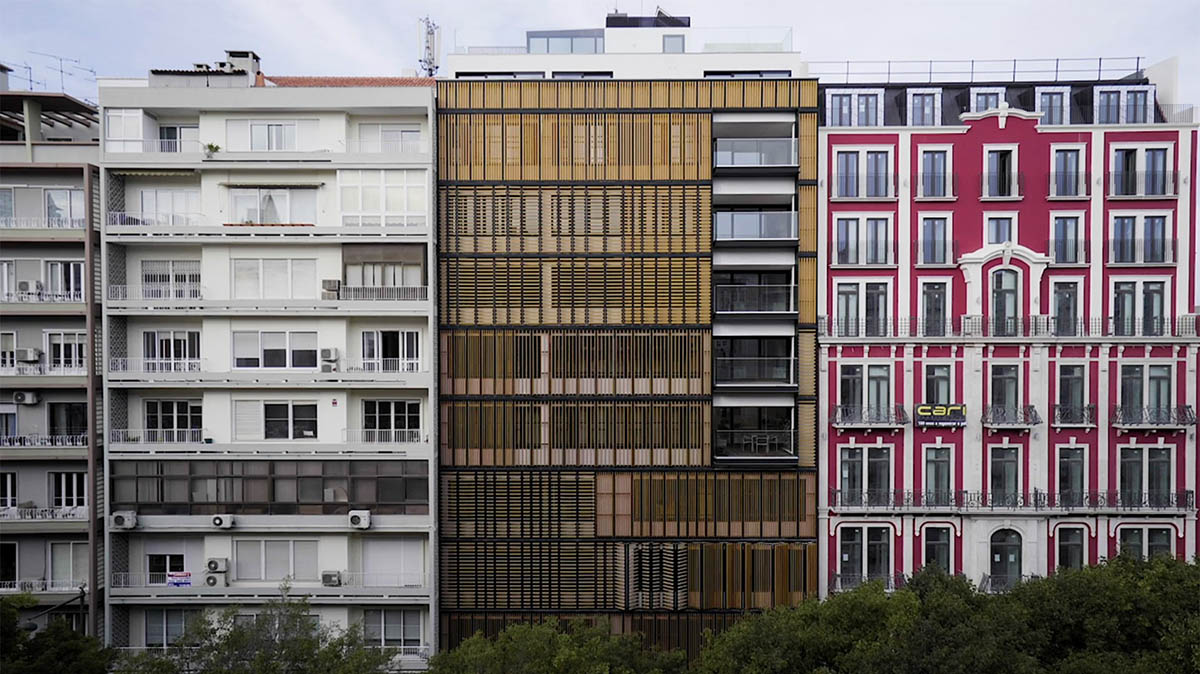 The Lisbon Wood project arises from the total rehabilitation, with expansion, of an existing building, built in the 70s, located at Av. António Augusto de Aguiar, one of the main avenues in Lisbon.
It has in its functional program 2 commercial spaces and 15 apartments of types from T0 to T4. It also provides parking spaces, a leisure area with SPA, indoor pool, gym, and outdoor garden.
From the taste the studio has for wood, as well as the activity of the promoter himself, linked to the wood industry, a concept of wooden facade emerges, which characterizes the architecture of the entire building, and which gives rise to the name of the real estate project.
The design of the elevation, a fundamental and differentiating element of the proposed architecture concept, established the implementation of a system of shutters, in a harmonium system, which allows opening or closing spaces to direct sunlight. This entire system is completely automated and controlled by the home automation system of the apartments.
The shutters are made of anodized aluminum structure, covered by steel elements, and covered in Thermowood type wood, light, structurally stabilized, and low maintenance.
In terms of elevation composition, it was intended to achieve a more unified aspect, while implementing a strategy for harnessing and controlling solar gains.
The shutter system aims to make the elevation dynamic, allowing the life and use required by the interior space to be transmitted to the space and exterior aspect of the building, which will always vary from apartment to apartment, dictating different circumstances of opening or closing the shutters, and therefore giving a constant dynamism to the façade.
Video facts
Direction & Production: Sara Nunes, Building Pictures
Camera: Sara Nunes
Post-production: Sara Nunes; Juarez Braga
Sound Design: Ana Pedro
Graphics: Juarez Braga
Music: Slimheart by Blue Dot Sessions
Extra: Maria Gonçalves
Location: Lisboa, Portugal
All images, video stills by Building Pictures
> via Building Pictures