ADFF streams 4 films on creative design geniuses between May 17-20

The Architecture & Design Film Festival (ADFF) is returning to a screen near you with the second edition of ADFF:Online.
From May 17-20, ADFF will present a selection of films celebrating the life and work of four creative geniuses/studios (Eileen Gray, Jorn Utzon, Bruce Goff and Ant Farm) who consistently thought outside of the box to produce designs that would stand the test of time. There are also a few cameos by our colleagues Michael Sorkin and Bill Menking.
Each film will begin at 8pm EST (and again at 8pm PST) with a live introduction from special guests and end with a director Q&A. Tickets are $1.99 and available for purchase here.
Please find the full schedule:
May 17 – Gray Matters + Q&A w/ director Marco Orsini
May 18 – The Man & The Architect - Jørn Utzon + Q&A w/ director Lene Borch Hansen
May 19 – Space Land Time: Underground Adventures with Ant Farm + Q&A w/ Ant Farm co-founder Chip Lord & directors Elizabeth Federici, Laura Harrison
May 20 – GOFF + Q&A w/ director Britni Harris
ADFF:ONLINE May 17 - Gray Matters
Gray Matters
2014 / 76 min / Ireland & USA
Director: Marco Orsini
"Gray Matters explores the long, fascinating life and complicated career of Eileen Gray, whose uncompromising vision defined and defied the practice of modernism in decoration, design and architecture. Her reputation bloomed in the early 20th century with her traditional lacquer work, then became a critically-acclaimed and much sought-after furniture designer and decorator before reinventing herself as an architect, a field in which she labored mostly in obscurity. Apart from the accolades that greeted her first building (which were persistently and perversely credited to her mentor), her pioneering work was done quietly, privately and to her own specifications. But she lived long enough (she died in 1976 at age 98) to be re-discovered and newly-acclaimed. Today, with her work commanding extraordinary prices and attention, her legacy remains elusive, contested and compelling."
Jørn Utzon's Sydney Opera House.
ADFF:ONLINE May 18 - The Man & The Architect: Jorn Utzon
The Man & The Architect - Jørn Utzon
2018 / 90 min / Denmark
Directors: Lene Borch Hansen, Anna von Lowzow
"This documentary about Jørn Utzon tells the personal and emotional story about the world-renowned architect and his unique gift. Behind him stood the love of his life through 70 years, Lis, without whom Jørn would not have become the architect and man he was. His story is told by the people who were closest to him for decades: his children, close colleagues, and friends, all of whom share anecdotes and personal experiences. He greatly inspired the people he worked with, and meeting Jørn Utzon had a profound effect on their lives. The film is a portrait of a devoted humanitarian and a sensitive and loving soul."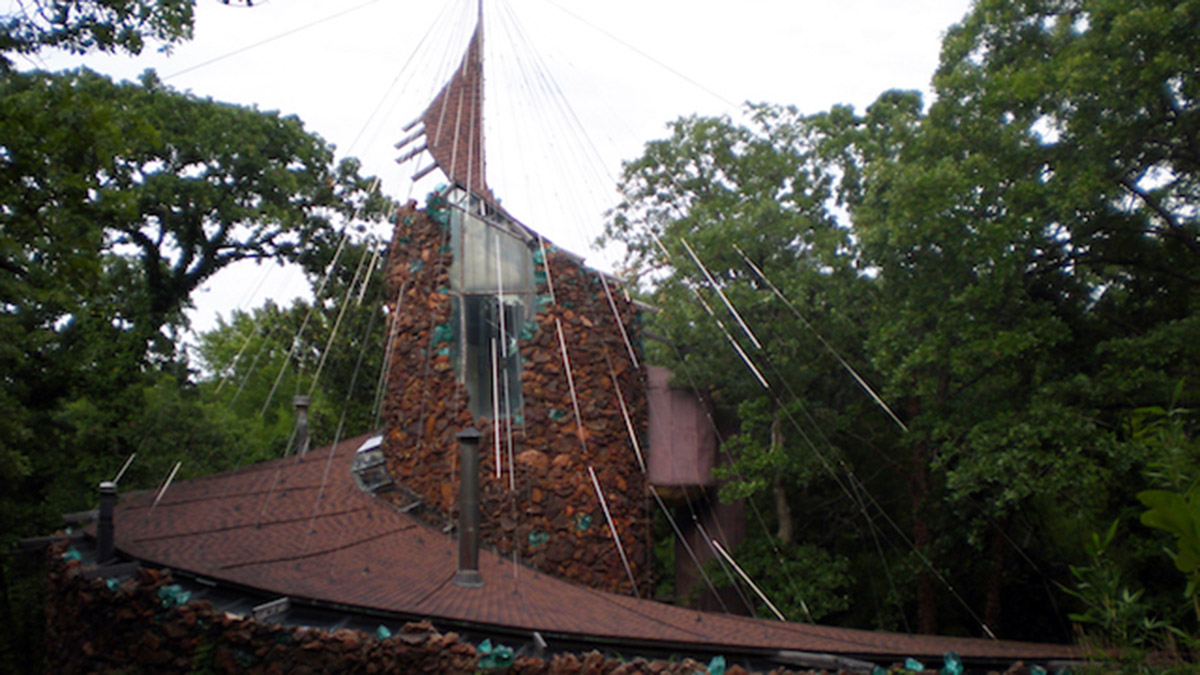 ADFF:ONLINE May 20 - GOFF
GOFF
2019 / 96 min / USA
Director: Britini Harris
"Bruce Goff was one of the greatest American architects of the 20th century. His unconventional perspective challenged stigmas about the Midwest's inability to produce innovative work. A peer to Frank Lloyd Wright, his work had a profound influence on the next generation of architects, including Phillip Johnson and Frank Gehry. However, Goff's willingness to explore original forms often solicited polarized perspectives of his work. As a result of establishing his practice in an otherwise conservative landscape and his unabashed desire to experiment with the possibilities of form, much of his work has been left to decay or forgotten altogether. GOFF explores the life of an iconoclast and chronicles the events that led to the destruction and renewed interest of his memory and dwellings."
ADFF:ONLINE May 19 - Space Land Time: Underground Adventures with Ant Farm
2011 / 78 min / USA
Directors: Elizabeth Federici, Laura Harrison
"This is the first film to consider the work of the 1970s avant-garde architecture, graphic arts, and environmental design firm called Ant Farm, best known for its iconic land-art piece, Cadillac Ranch. Radical architects, video pioneers, and mordantly funny cultural commentators, the Ant Farmers created a body of deeply subversive multi-disciplinary work that questioned the boundaries of architecture and everything else in the process. Incorporating breathtaking archival video, new footage shot over ten years, and animation based on zany period sketches, Space Land Time is about the joy of creation in a time when there were no limits."
All images courtesy of ADFF
> via ADFF