Wutopia Lab creates layers of green hills on the facade of a bookstore in Wuhan
Shanghai-based architecture practice Wutopia Lab has completed a new bookstore in Wuhan, China. Named Hubei Foreign Language Bookstore, the 9,506-square-metre building was renovated from the existing Foreign Language Bookstore built in 1980s.
Hubei Foreign Language Bookstore is a symbolism architectural renovation for Hubei Changjiang Publishing & Media Group. After two and a half years of design and construction, it opened at the end of 2019.
Façade
Remold symbols with symbolism
"Bookstore, the best place in the world"
Traditional Chinese architecture is a collection of signs filled with symbols, metaphors, prophecies, fables, legends, myths and charms. Different Chinese people use diverse signs to understand architecture, thus establishing the relationship and significance of selves, buildings and sites in space, time, memory and history.
However, since modern architecture (not just modernist architecture) became mainstream, signs have become insubstantial, the relationships between people and architecture gradually becomes alienated. When we investigated people's impressions of the Hubei Foreign Language Bookstore which established 40 years ago in response to the need for Reform and Opening, no one remembers exactly how its initial appearance looked like, they confuse the bookstore that have undergone several alterations and renovations on the timeline.
It is said that "it's a lighthouse and my window into the outside world. It helps me understand that there are mountains beyond the mountains. It's the light of the city." These words with symbols or metaphors convinced us that the Hubei Foreign Language Bookstore was once a cultural symbol. These prompted us to remold the symbol, Hubei Foreign Language Bookstore, with a positive and understandable symbolism, to re-establish a cultural and memory relationship with Wuhan people.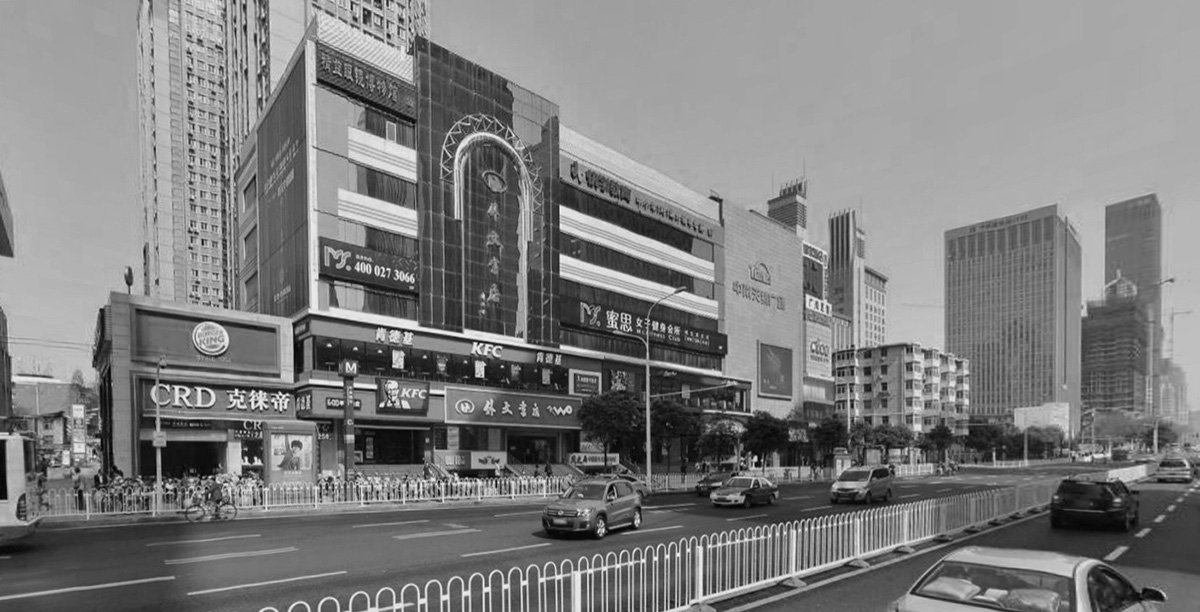 Foreign Language Bookstore before Renovation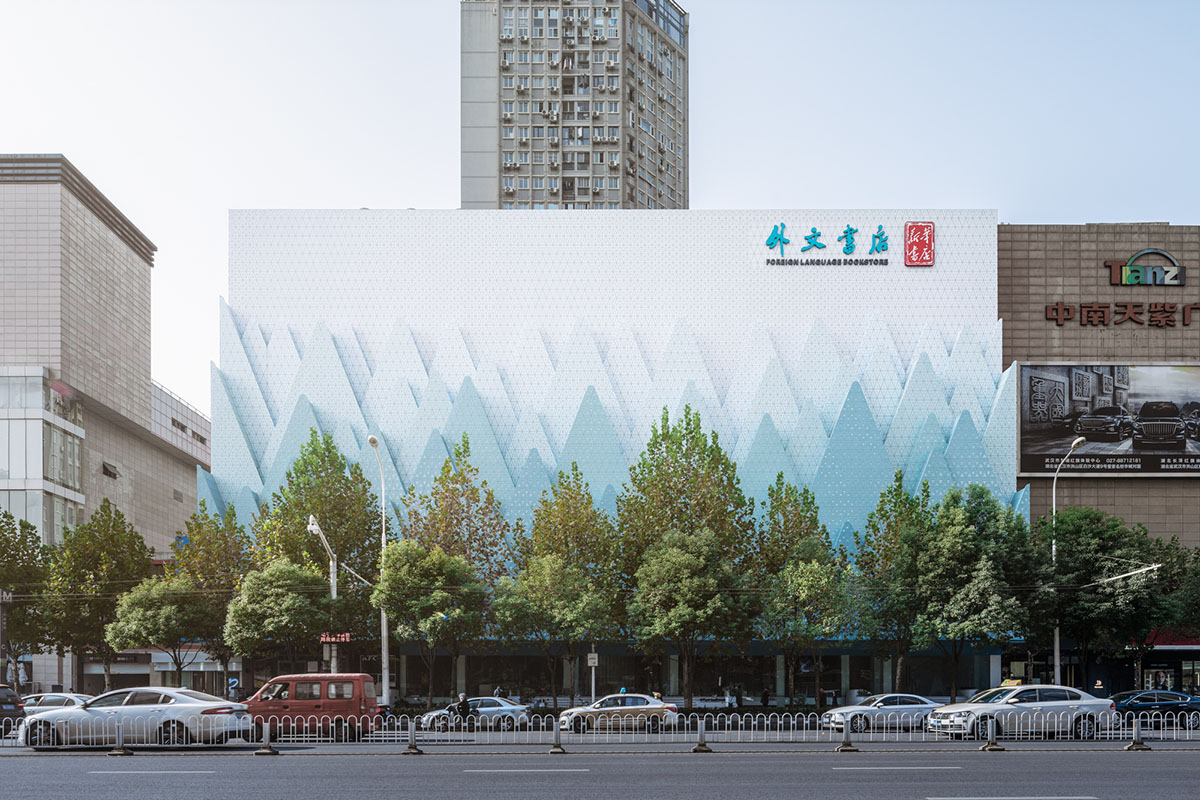 Foreign Language Bookstore after Renovation
Mountains beyond mountains
Wutopia Lab's team decided to use perforated aluminum plate to create the atmosphere of layers of green hills, act as the background of the street trees and symbolize the new life of Hubei Foreign Language Bookstore. The new façade of the bookstore is also a manifesto, the abstract green hills open a window on the increasingly crowded Zhongnan Road and link the numb daily life to a whole new world.
Façade detail
Light
The façade of green hills separates the street view of Zhongnan Road with Hubei Foreign Language Bookstore. Bookstore should always be such a place in city, like the lighthouse light up our life. At the center of this "new world", light is more fully expressive of our spiritual pursuit than any material form.
Therefore, the studio created a light cone that runs from the roof to the first floor. It allows the changes in weather and time to permeate all corners of the bookstore with the pouring light. It is a landscape that symbolizes knowledge, and even represents human emotion. It creates an unreal experience in real site. It is the pyramidal cells of the bookstore, arousing ordinary people's awareness of site and space, and thus stimulating readers' imagination.
Light cone from roof to ground
Life
The light cone as a sacred space inspired the studio to perceive time and life with stillness and light. One of the most free and easy is the Chinese view of life, the so-called reincarnation of everything, the word of "life". From the roof garden to the basement, the spaces have planting areas of different sizes on each floor. They run through, forming a green dark line to echo the bright light cone. Einstein once said that "life is fragile, short and full of illusions."
The architects also try to create illusions of "eternal" to resist this painful realization. However, from Chinese perspective, life is clearly optimistic. Everywhere in the pessimistic exclamation of others, the Chinese can always read their confidence to the future. This green symbolizes vitality; such a world is worth us fighting for.
Light cone
Creating a new view of time is the little ambition of the architect
People once thought that time ruled the death, doom and disappearance. "When our world today is defined by precise timers, everyone is always anxious about unavoidably moving to the end. So we want to create a slower view of time in the world of bookstore to soothe this anxiety," said the architects.
The idea inspired by the facade makes Foreign Bookstore a concrete expression of "one day in the mountain, one year in the mortal world". Readers revel in rich reading in the bookstore, admired the beauty of the moment with satisfaction and temporarily forgot about the flight of time.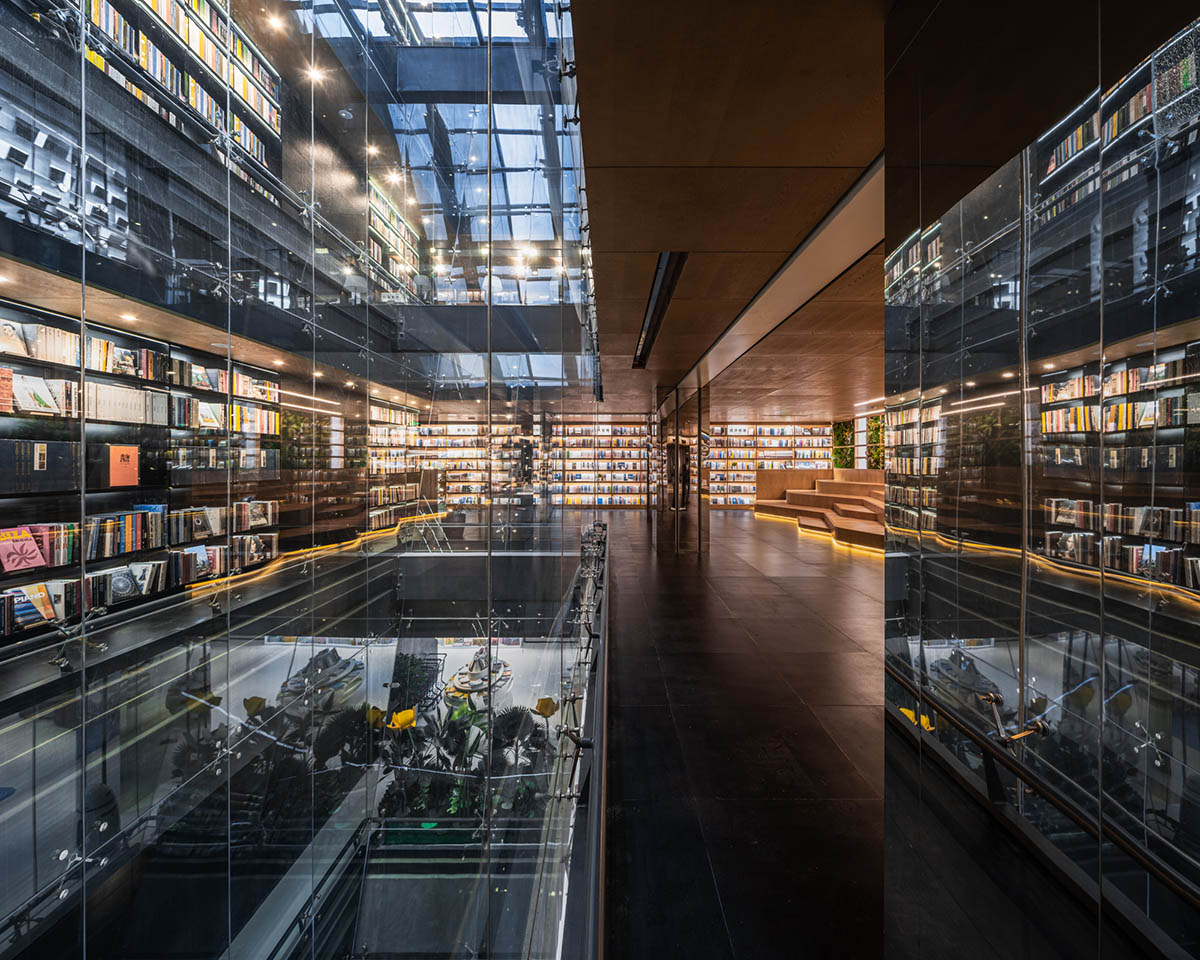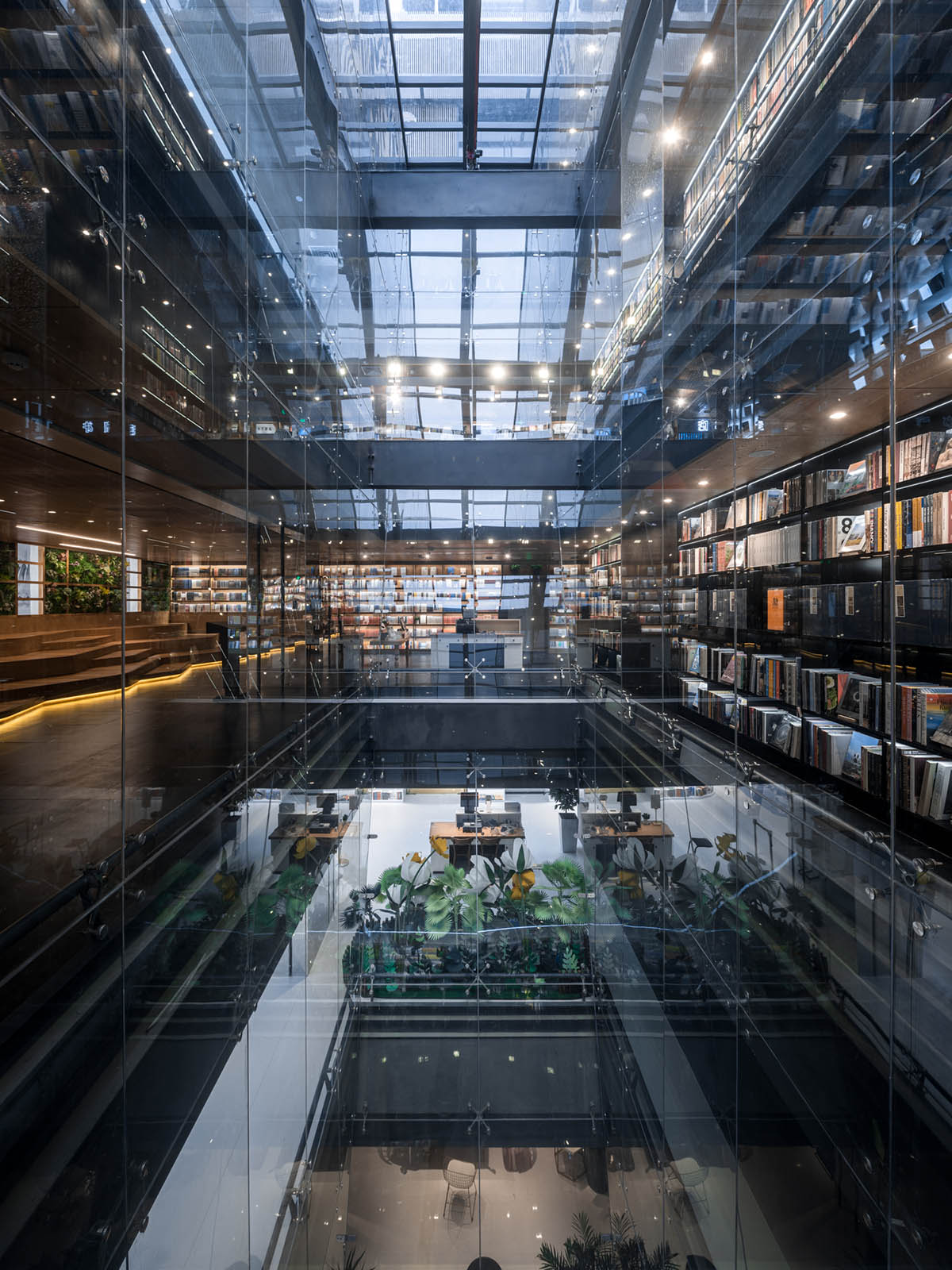 Light cone within bookstore
Bookstore is a world
No vibrant world will be a single and simple system. The bookstore has a total of 10,000 square meters, with one basement level and seven floors above ground. The light cone is the center and it is surrounded by book world. Around the light cone is the core of the bookstore. From the first floor, there are urban art living room, 24H study room, children's library, humanity reading room and silk road reading room, art reading room and the future reading room, and the bookstore on the roof displaying rare books. On both sides of the core area are life-related spaces derived from bookstores.
Starting from the basement are creative cuisine, cultural and creative area, coffee, living technology area, fast food, picture book museum, talent training center, teahouse, miniature art gallery, exhibition, classical furniture, photo gallery. Bookstore is a complex system that are constantly growing and updating. Therefore, Hubei Foreign Language Bookstore is not only a bookstore, but also a cultural and creative combination of lifestyle and aesthetics.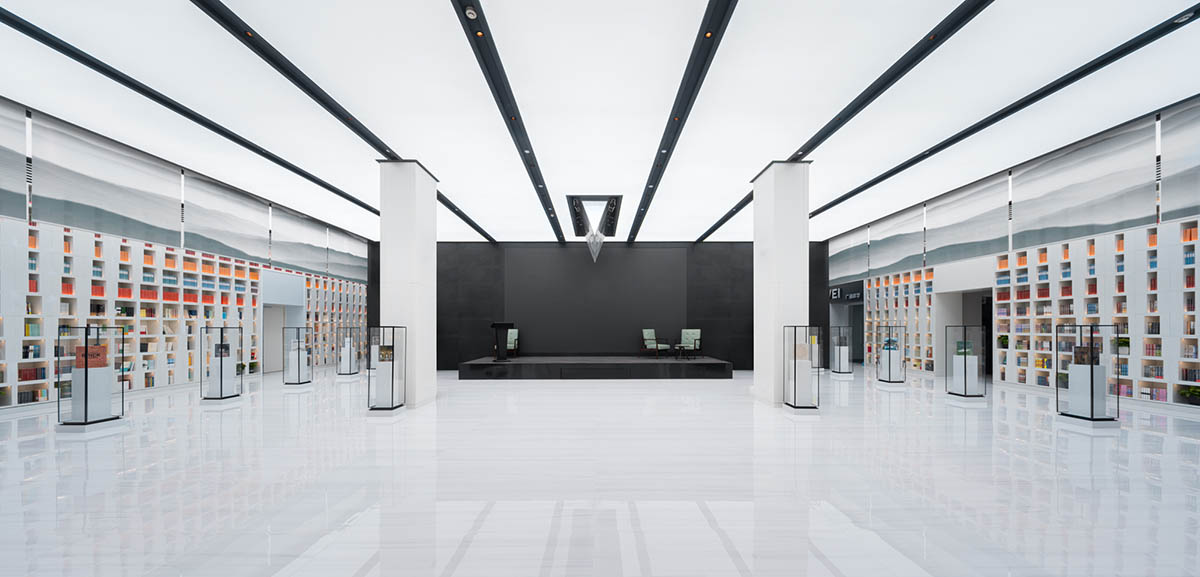 Lecture hall
Lecture hall's bookshelves
2nd floor - reading room
Lecture theater
Art gallery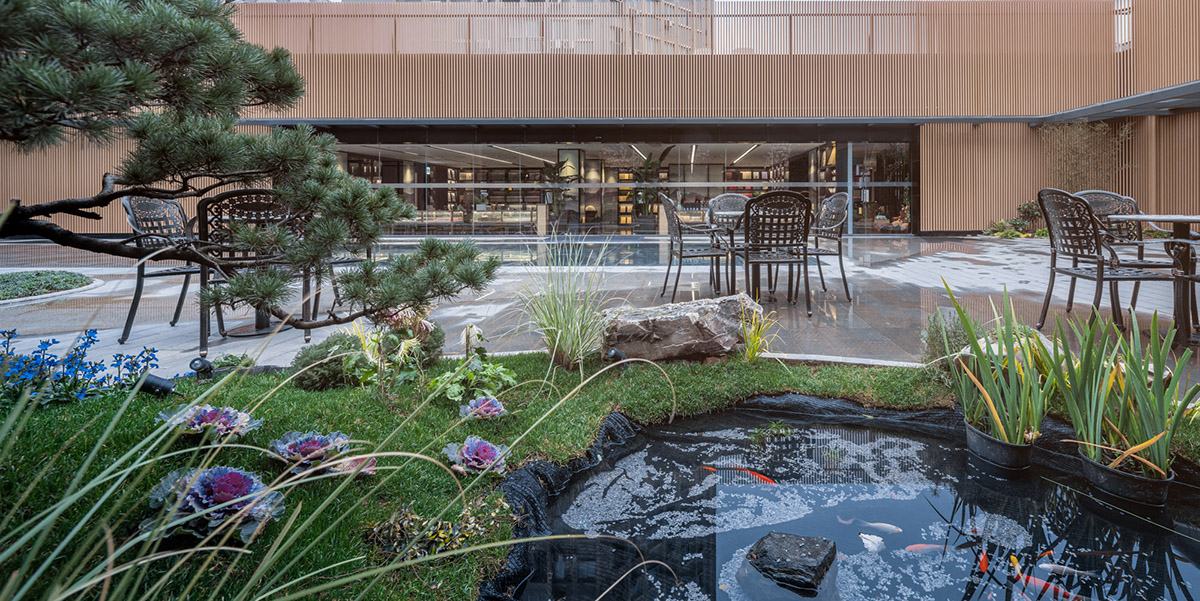 7th floor - roof garden
Aerial view
1st floor plan
4th floor plan
7th floor plan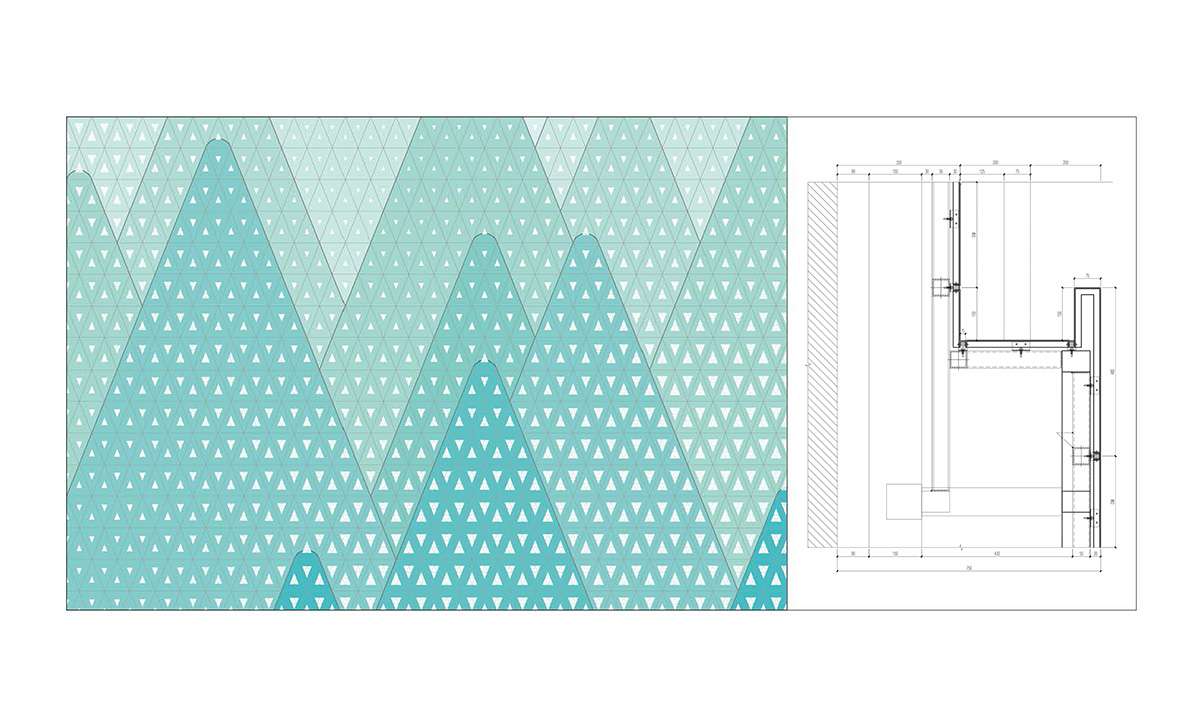 Facade detail
Light cone detail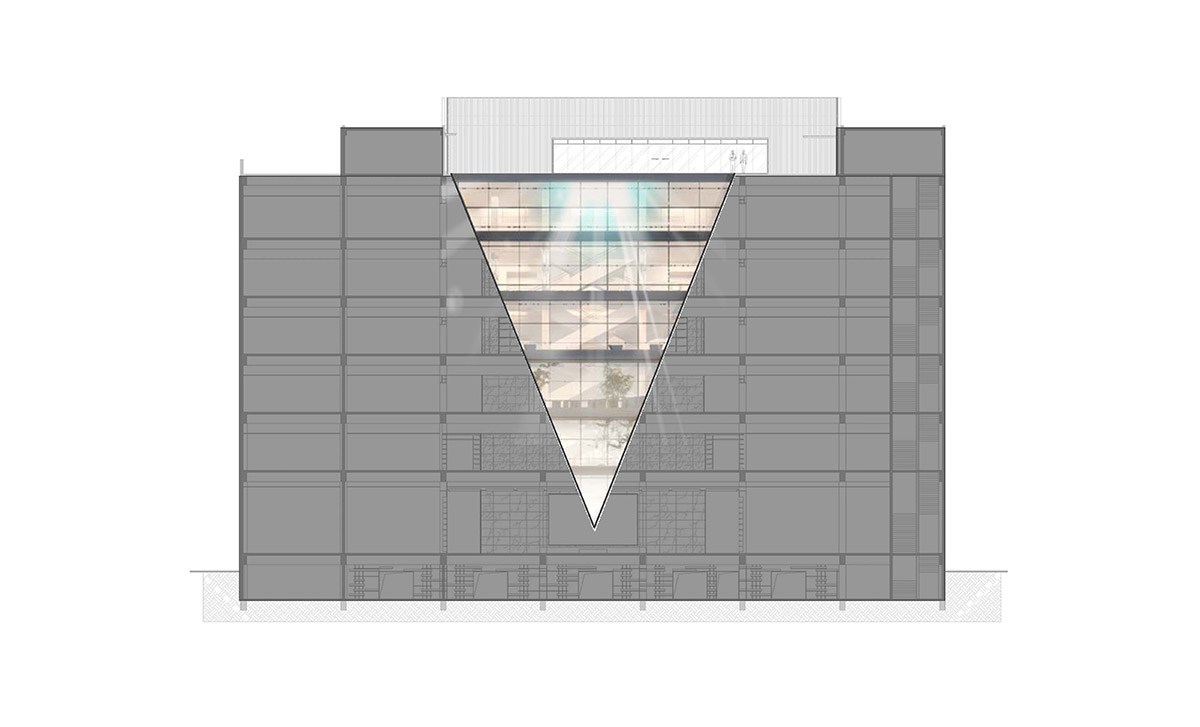 Light cone section
Project facts
Design Firm: Wutopia Lab
Chief Architect: YU Ting, MIN Erni
Project Architect: LIN Chen
Project Manager: PU Shengrui
Design Team: LV Jie, WANG Lei, LU Liyuan, ZHU Jianming, FENG Yanyan, GU Yining (Internship)
Design Consultant: TOPOS DESIGN
Structural Design Consultant: ZHANG Zhun, CHEN Xuejian
Lighting Consultant: ZHANG Chenlu, CAI Mingjie
Branding Consultant: MIU Meng, YANG Jiaxin, WU Linghui, ZHOU Mutong
Client: Hubei Changjiang Publishing & Media Group Co., Ltd, Hubei Xinhua Bookstore Group Co., Ltd
Construction: Jiangxi the Third Construction Co., Ltd.
Building Area: 9506m2
Project Location: Wuhan, Hubei Province, China
Design time: 2017.11 to 2018.11
Construction time: 2018.11 to 2019.12
All images © CreatAR Images
All drawings © Wutopia Lab
> via Wutopia Lab