Tadao Ando Architect & Associates reveal design for He Art Museum in southern China
Tadao Ando Architect & Associates have revealed design for He Art Museum (HEM) in southern China. It will be the first art museum dedicated to celebrating southern China's regional Lingnan culture, which has been set to open on 21st March 2020. The inaugural exhibition of the art museum, which is titled "From The Mundane World", will be curated by Feng Boyi.
HEM is conceived as a gateway into southern China's regional Lingnan culture and arts, including Cantonese opera with theatrical face painting and intricate and distinctive Cantonese cuisine.
Its remarkable collection of Lingnan School paintings showcases the indigenous style of painting originally created by artists living in the three coastal provinces of Guangdong (also known as Canton), Guangxi and Hainan, an island in the south China sea.
Image © HEM
Tadao Ando extensively researched China's ancient history and Lingnan's architecture to inform HEM's design. Ando holds a persistent attitude in cultural infusion by drawing inspiration from the local architectural and cultural context in Shunde. Named after the museum's founder He Jianfeng, "He" in Chinese also carries multiple meanings: harmony, balance, fortune and union. Ando has drawn from these connotations and Lingnan architecture's technique of spatial integration for HEM's design.
Tadao Ando's Design Script for He Art Museum. Image © HEM
"I want to create a museum that can synthesize southern China's rich diverse cultures that stretches many millennia and the influences that birthed Lingnan architecture. I imagined HEM as an energetic central anchor point to all the artistic and regional custom, climate, landscape and civilisation in Lingnan," said Tadao Ando.
"I hope HEM can become the heart of Lingnan culture, not just in Shunde but the whole Greater China. I look forward to seeing the artworks and programmes activate the building, stimulating provoking thoughts with high quality spaces and art."
Throughout history, Lingnan's architecture has been heavily influenced by Jiangnan styles, a delta region in the immediate south of the Yangtze River and comprises scenic water towns such as Hangzhou and Shanghai.
Tadao Ando's Design Script for He Art Museum. Image © HEM
Jiangnan has a reputation of "Venice in the East" with traditional two stories buildings built next to waterways and canals, low perimeter walls and openness to scenic vistas and nature. Lingnan has a naturally similar terrain and adopts Jiangnan's architectural characteristics such as central skywells, waterside pavilions and musing gardens to compliment the landscape.
In addition, ancient Chinese cosmology and philosophy believed the sky was round and divine; the earth was flat and square – this has had a profound influence on ancient architectural theories and design. Many civic and religious buildings were circular to reflect the idea of a "round sky"; imperial city planning, numerological and spatial arrangements were driven by these ancient Chinese cosmology and philosophies – many of these buildings are preserved even until today in the Lingnan region.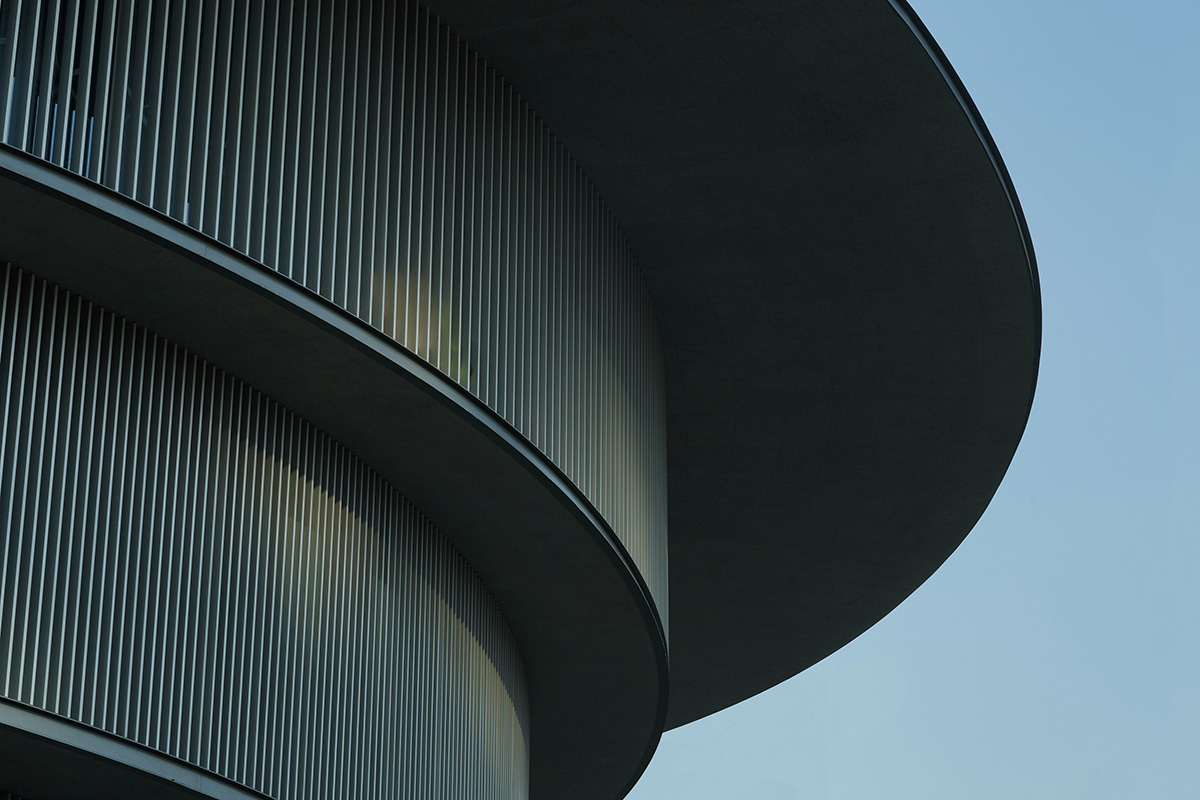 Partial View of HEM. Image © HEM
In HEM's design, Ando draws inspiration from ancient Chinese cosmology, philosophy, western style's use of light and Lingnan's terrain. Throughout western architectural history, architects have been skilful at the use of light such as those seen in churches; this has had a deep impression on Ando and his approach to design.
The central skywell floods each floor of exhibition spaces with natural light, creating spaciousness, clarity and a symbol of hope. The circular form gives a nod to the traditional Chinese architectural principles and creates a modern interpretation that can reinvigorate architectural heritage from both the east and west.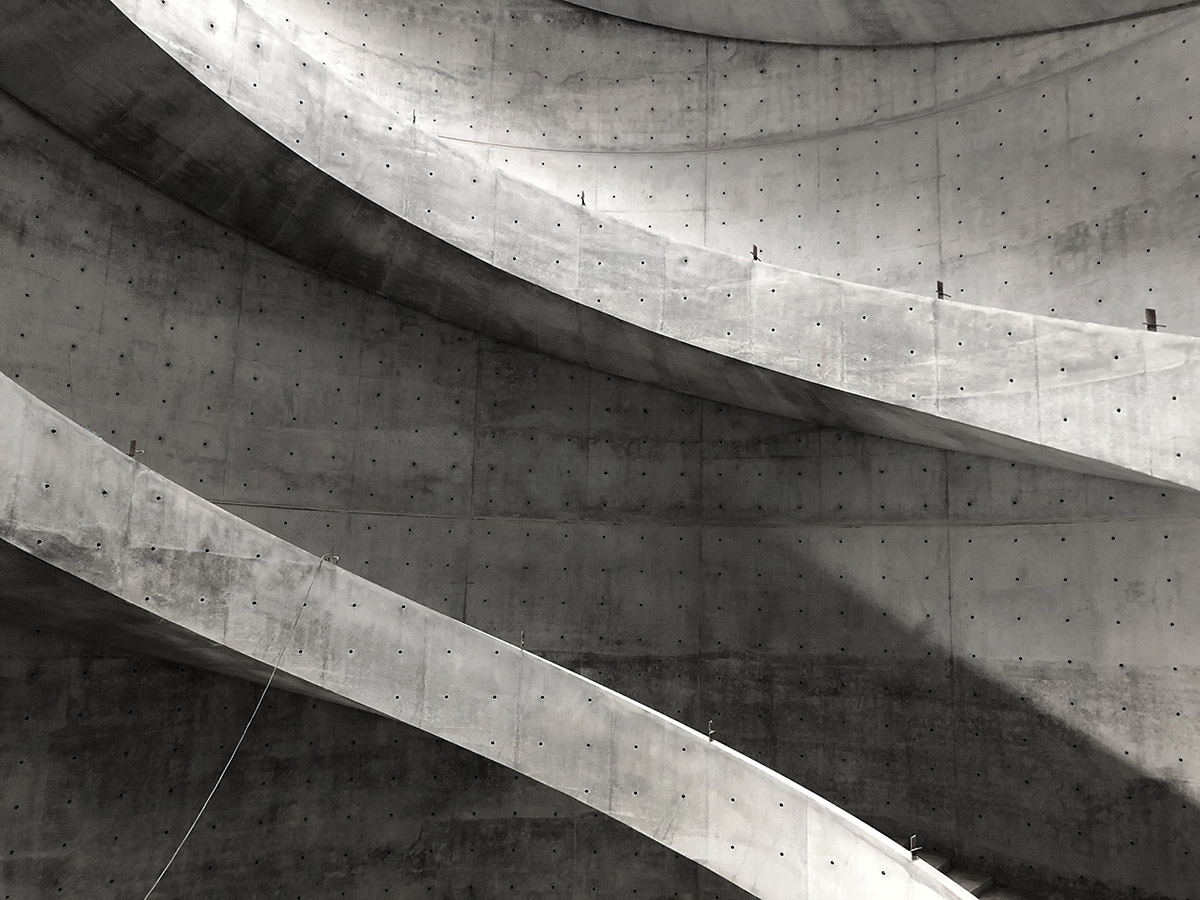 Partial View of HEM. Image © HEM
In the central skywell, a 'double-helix' pair of staircases takes visitors from the ground floor to the fourth floor – when two people simultaneously walk up or down the stairs, it creates a dynamic geometry of rhythm and the movement creates a kinetic human dialogue in itself.
All floors of the exhibition spaces are circular except for the square gallery on the ground floor, which also accommodates an open plan bookstore and a café. Additionally, a 300-square-meter flexible education space can double up as a place for quiet studying, socialising or events.
A pond is wrapped around the building which mimics Lingnan's heritage of waterside pavilions and as a symbol that subtly gestures its geographic location on the Pearl River estuary. Visitors can access the museum via a pathway, creating a journey of mindfulness, tranquillity and a moment for contemplation.
Partial View of HEM. Image © HEM
The first exhibition in the rotating programme, From the Mundane World, examines the ecology between humans and their environment, patterns of civilisation and mass consumption, and reflects on the fast-paced urban transformation that China and its people are experiencing.
In addition, other temporary exhibitions will display archives of rare Lingnan art, offering visitors a glimpse into indigenous Lingnan culture. Major works by international contemporary masters such as Pablo Picasso, Damien Hirst and Yayoi Kusama will also be showcased; as well as promoting Chinese modern art with works by Qi Baishi, Chang Dai-Chien and many more.
Partial View of HEM. Image © HEM
Lingnan region encompass an expanse of 39 cities, two autonomous regions of Hong Kong and Macau and border Vietnam. The English translation of Lingnan means 'South of the Ranges', referring to the region south of the five mountain ranges that separate the Yangtze River from the Pearl River.
HEM is served by Guangzhou South High-Speed Rail station and within proximity to four international airports, trainlines are directly connected to Hong Kong via key cities in the region.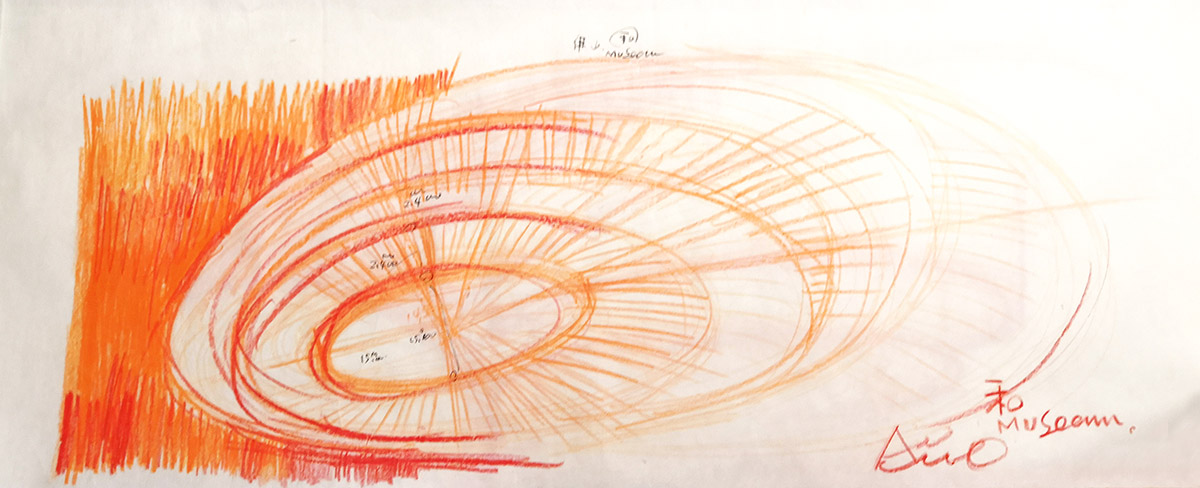 Sketch of HEM by Tadao Ando
Top image: Architectural Rendering of HEM © HEM
> via HEM