JK House, New Delhi forms a distinct Urban Landmark
Located in an uber-dense Delhi locale, JK House forms a distinct citified benchmark. The building design by Conarch Architects is both functional and expressive in nature with its lively sculptural facade, rich in simplicity and proportions. The backlit geometrical surfaces transform a mundane building corner on a busy street into a point of interest and heighten the excitement of the onlooker.
Built on an urban infill site and situated within four-minute walking distance from a transit hub, the project is appropriately sited to benefit from the city's growing mass public transit system. The building design takes advantage of the proximity to the available alternative transportation system by minimizing the onsite area dedicated to parking. For a building accommodating about 350 employees, the project provides for code minimum parking of 25 stalls only.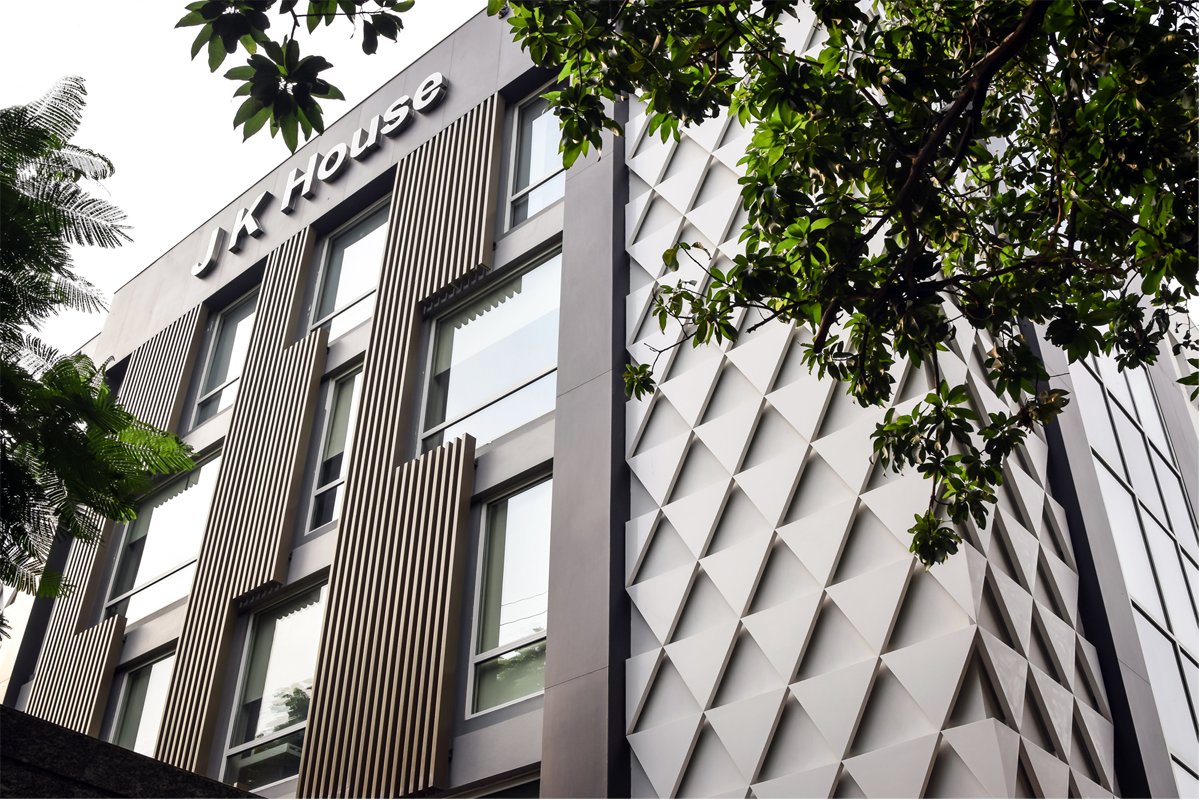 The structure comprises of six full stories wherein the floor plates are combinations of open-plan offices, individual offices, and conference and meeting rooms. The stilt and basement floors have service areas, break out spaces and parking. On floors above, are the office units with meeting areas and open-space workplaces. The roof area is greened and partly designed as a roof terrace.
Based on the interactions with the client, J.C. Chaudhry, the primary goal was to create a positive, comfortable and productive work environment. Characteristic of Delhi's urban area, the site is a long narrow rectangle with existing built properties on three sides, with front, rear and side setbacks. The long narrow rectangular site poses a challenge to naturally lit workspaces at lower levels and areas away from exterior walls. Given the critical role daylight plays in occupant mental and physical health, a generously sized atrium was introduced in the middle to light the building from within. Low height desk partitions, light material finishes and full height glass partitions help daylight penetration in deeper areas of the floor plate. The building emphasizes occupant comfort with ample daylighting, natural materials, breakout spaces and a large landscaped terrace.
The interior workspaces are crafted with dramatic angles in the subdued contrasting colour palette to create a sleek, uncluttered and striking experience. The custom lighting, built-in furniture, ceiling and wall design come together as a singular cohesive space to exude warmth required for the ease of business discussions. The muted colour palette and the quiet aesthetic of the straight lines vitalize the participants and enable effective and precise communication. It is where the company's deals are sealed, ideas are formed, and plans are put into action.
Innovative architectural solutions come with a set of equally complex and demanding building construction processes. Transforming a building design into physical reality is a challenge no less. Throughout the construction of the project, Conarch Architects collaborated with RP Realtech Pvt Ltd, who was responsible for construction execution and providing all of the material, labour, equipment and services necessary for building completion.
Project Name: JK House
Client: Sh. J.C. Chaudhry
Architect: Conarch Architects
Principal Architect: S.K. Goel
Location: 32, Pusa Road, New Delhi
Plot Area: 1,350 Sq. Yards
Built-up Area: 40,000 Sq.Ft
Completion Year: 2019
Project Scope: Architectural and Interior design
Turn-Key Builder: RP Realtech Pvt Ltd
Content: Neha Goel
All images © Prashant Dubey, Nitish Goel
> via Conarch Architects