Greenland is melting due to extreme heat waves
Due to extreme heat waves, Greenland is melting and started to see a massive ice loss in the Arctic, according to The Associated Press. Climate change is not abstract phenomenon or murmur, it is real and happening every day even if we don't see it. It is affecting our planet slowly and will hit our live daily lives in the near future.
The first telltale signs have started to appear in Greenland and the AP reported that because of the extreme high temperature records seen in five European countries at the end of July, it started to accelerate the melting of the island's ice sheet in the Arctic.
Image © Caspar Haarløv, Into the Ice via AP.
A new data was also proved by Prof. Jason Box, who is ice climatologist at Geological Survey of Denmark and Greenland, contemplating Greenland, Arctic and global climate issues, he showed us on July 31, 2019 on his Twitter account account how a big ice sheet melt in the middle of a season.
"On the northwestern Greenland ice sheet, 2019 melt to-date is 1.2x that of the previous record melt in 2012," he wrote.
Even if it is realized in a far away of our eyes, Ruth Mottram, a climate scientist with the Danish Meteorological Institute, told the AP that the melting on the ice is growing daily and hit a record 56.5% for this year at the end of July.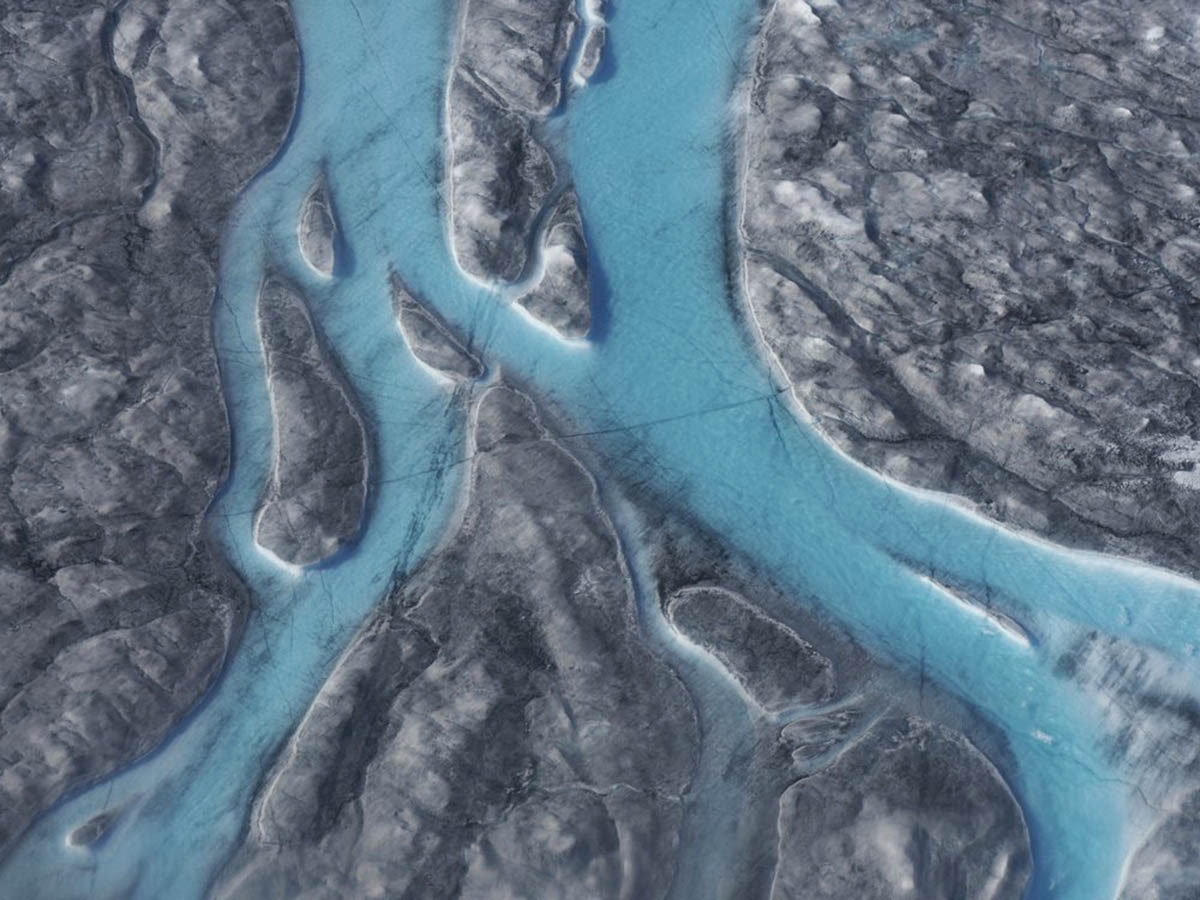 Image © Caspar Haarløv, Into the Ice via AP.
Mottram also added: "More than 10 billion tons (11 billion U.S. tons) of ice was lost to the oceans by surface melt on Wednesday alone, creating a net mass ice loss of some 197 billion tons (217 billion U.S. tons) from Greenland in July."
"It looks like the peak will be today. But the long-term forecast is for continuing warm and sunny weather in Greenland, so that means the amount of the ice loss will continue," she said in a telephone interview from Copenhagen.
The AP also published the recent photos from the Arctic, showing how large rivers of melting water form on an ice sheet in western Greenland and drain into moulin holes that empty into the ocean from underneath the ice.
Image © Caspar Haarløv, Into the Ice via AP.
Reportedly, to completely grasp how much ice is being lost, according to the Danish Meteorological Institute, we understand that from the calculation that a mere 1 billion tons — or 1 gigaton — of ice loss equals to about 400,000 Olympic-sized swimming pools. And 100 billion tons (110 billion U.S. tons) is equivalent to a 0.28 mm (0.01 inch) rise in global sea levels.
In addition, Mottram also explained that as of June 1, 2019 the Greenland ice sheet has lost 240 gigatons (240 billion metric tons) this year. "That compares with 290 gigatons lost overall in the 2012 melt season, which usually goes through the end of August."
According to the AP, a much warm air coming from North Africa and Spain that melted European cities and towns in July, this set a national temperature records in Belgium, Germany, Luxembourg, the Netherlands and Britain.
Image © AP Photo/Keith Virgo
Another images were also taken from Sadelo mountain, also known as Sermitsiaq, can be seen surrounded by Nuup Kangerlua fjord, in Nuuk, Greenland. In the photographs, small pieces of ice float in the water off the shore in Nuuk, Greenland.
The UN's weather agency also warned that the hot air, producing the recent extreme heat wave in Europe, could be headed toward Greenland where it could contribute to increased melting of ice.
Image © AP Photo/Keith Virgo
As a result of these visible results, scientists and climatologists warn that we should take our precautions and we will see the worst-case warming scenario in 2050 if we or other organizers don't take meaningful action to address climate change.
This danger we witness in the very hot season this year, deadly heat waves would be in normal weather in the 2070s, say the scientists.
Top image: Free-floating ice floats into the Ilulissat Icefjord during unseasonably warm weather captured on July 30, 2019 near Ilulissat, Greenland. Image © Sean Gallup/Getty Images.
> via The AP