Penthouse Pāfekuto – Vibrancy between the high rise monotony! by Conarch Architects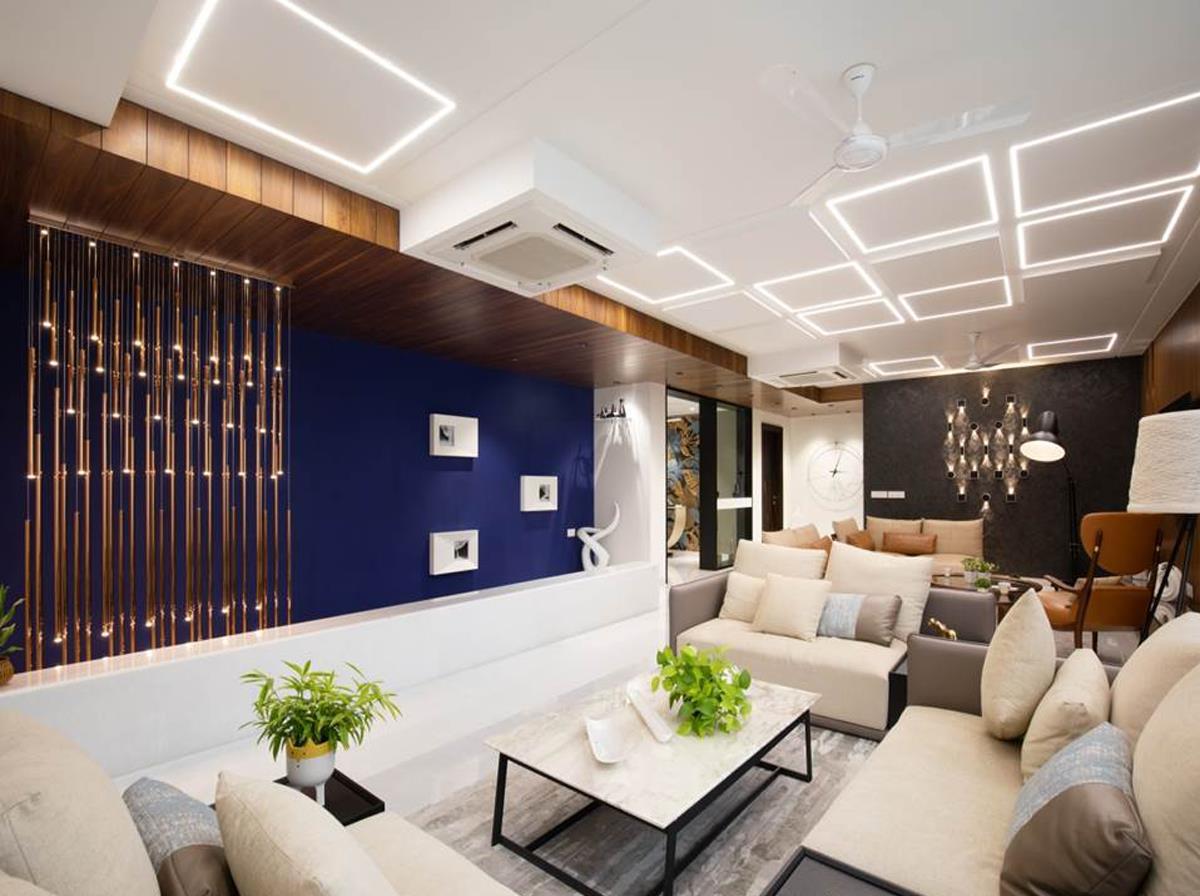 Designed by India's well renowned firm Conarch Architects, Penthouse Pāfekuto is a successfully transformed duo of two high rise apartments into a boot hill to soften the family's frequent visits.
This picture perfect design is an amalgamation of dynamism and flamboyance offering a multi-level space with 8,000 square feet of indoor area and 6,000 square feet of outdoor space spread across three levels.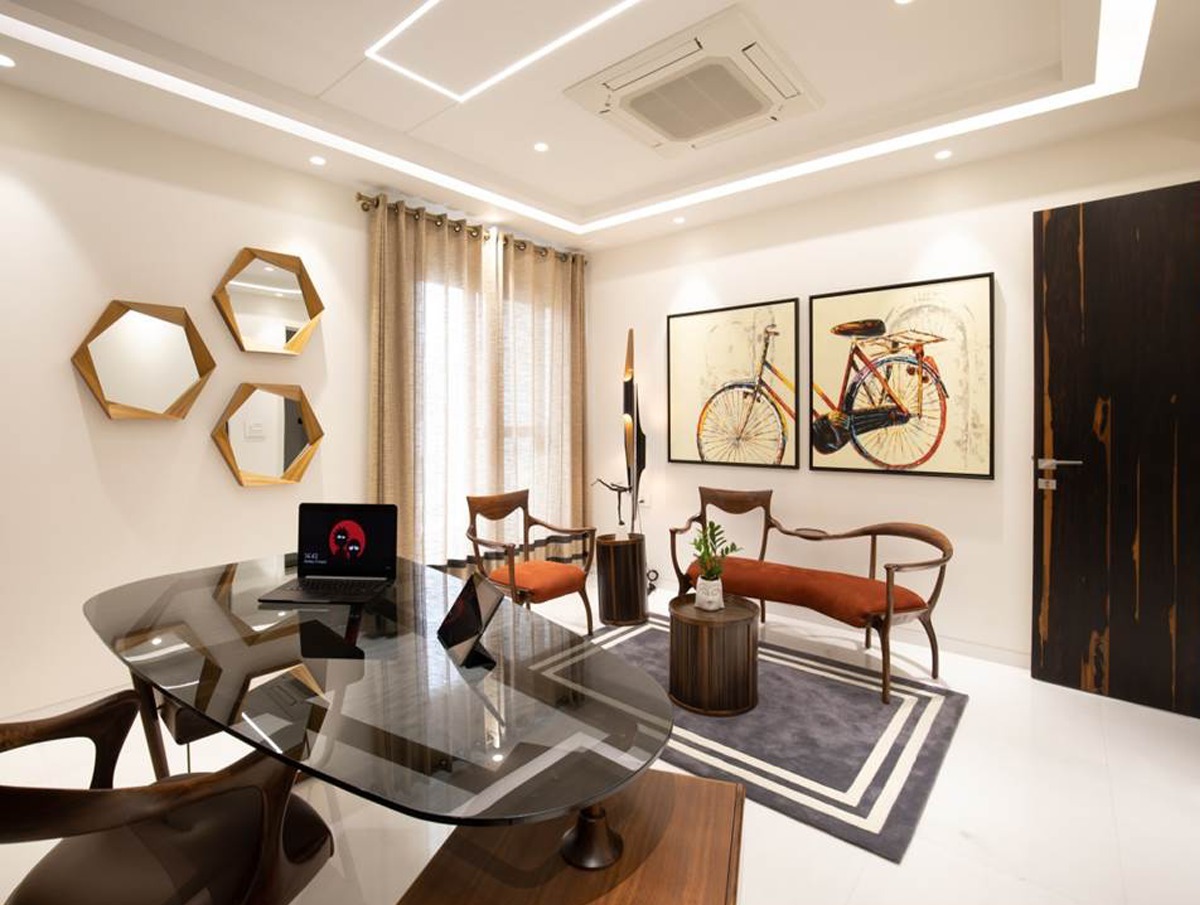 Classic blend of foreground and background. Image © Vibhor Yadav
Image © Vibhor Yadav
Design nuances!
The enthusiastic visionaries manifested generic apartment units into prodigious grandeur honoring the client's needs and lifestyle.
The two apartments were merged together providing a master suite, private work-space, a guest bedroom and sit out area along with a spread out indoor & outdoor living area, a kitchen and three bedrooms in the later which led to funnel effect hence passive ventilation, making the staircase well act as a chimney, restricting the need of mechanical air conditioning to extremely hot days.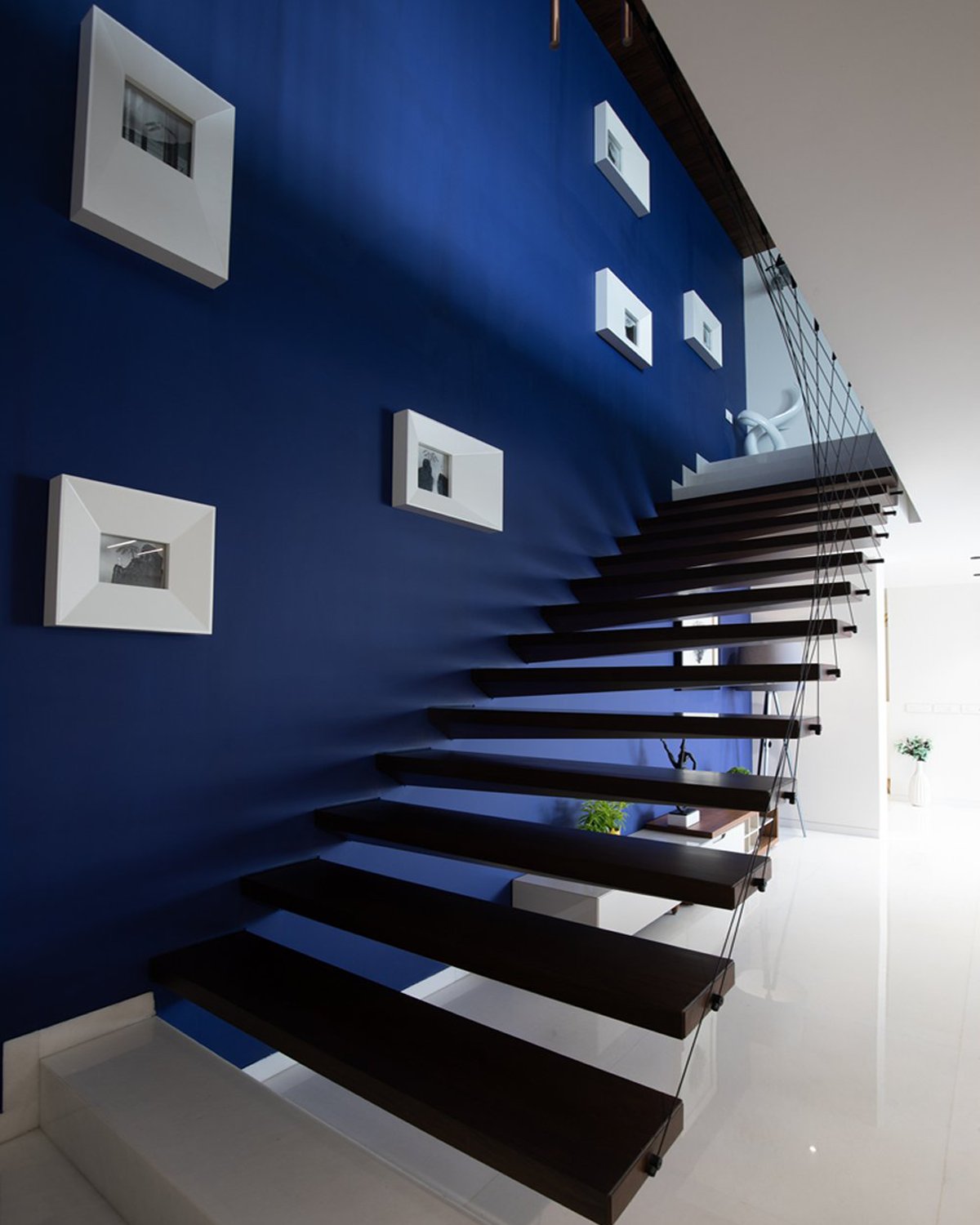 Image © Vibhor Yadav
The point of convergence is the cantilevered floating wood steps with the artistic fall protection in a Prussian blue backdrop characterizing its coherence within the convolution.
Merging spaces. Image © Vibhor Yadav
Multilevel outdoors. Image © Vibhor Yadav
With slender plasticity of a high rise, Penthouse Pāfekuto has unleashed its existence to become a melodious experience for the family. Spaces were transformed having perceptible connections with one another, unifying the indoors with 'green' outdoor terraces via circular niches and materials. Integrating the outdoors led to another benefit of day lighting, illuminating the space with natural light resulted in contributing in energy efficiency in the penthouse. Shading devices and overhangs restricted direct solar radiation, minimizing the heat gain. The diversified duo of the penthouse is extended to magnificent double height outdoor area at both the levels anchoring the humans in the arms of nature.
Terrace installations. Image © Vibhor Yadav
Modern metaphor of Naturescape. Image © Vibhor Yadav
Leading upwards is the admirable roof level terrace unwinding into a gathering place, no less than a play-scape.
The essence of hydroponic living wall along with well-defined plantation comprising of plumeria alba and bonsai trees, green boundaries with ficus black generate the prolonged feeling of longevity with a hope revitalization of an ecosystem.
Ar. S.K. Goel and Ar. Nitish Goel along with their team have created a master piece where one can rejuvenate themselves from the fast pace of life.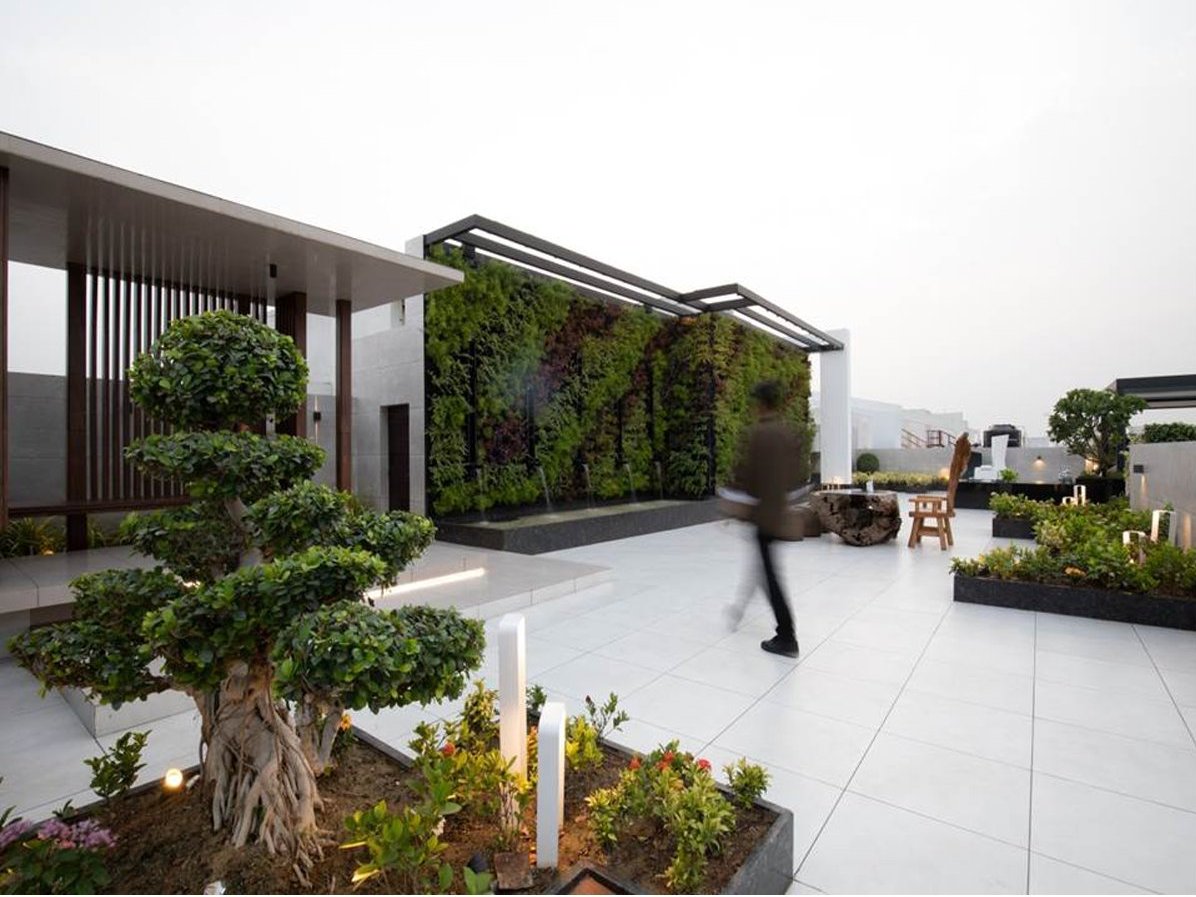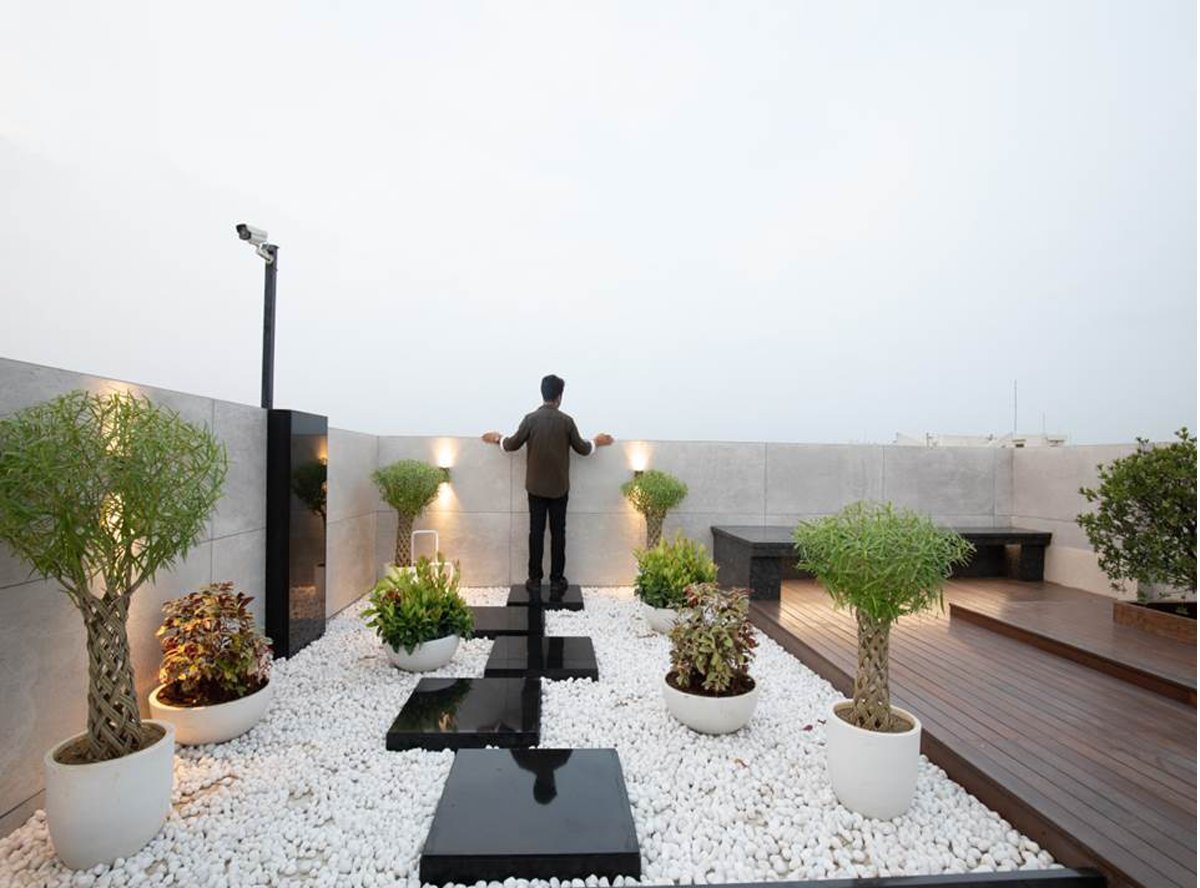 Homogeneous green spaces. Image © Vibhor Yadav
Project facts
Project name: Penthouse Pāfekuto
Architect's Firm: Conarch Architects
Project location: VVIP Addresses, Ghaziabad, Uttar Pradesh, India
Completion Year: 2018
Gross Built Area: 18,900 Square Foot
Principal Architect: Ar. S.K. Goel
Project Lead Architect: Ar. Nitish Goel
Project Team: Pushplata Dinkar, Tanya Kumar, Usha Narain, Suman Singh.
Photo credits: Vibhor Yadav, Conarch Architects
Top image © Vibhor Yadav
> via Conarch Architects