Frank Gehry designs iceberg-like office complex for Warner Bros HQ in Burbank's Media District
Frank Gehry has released design for a new office complex in the Burbank's Media District, California, the acclaimed architect will expand Warner Bros' current building in Burbank's Media District.
Warner Bros is a global entertainment company in all forms of entertainment and their related businesses across all current and emerging media and platforms. The company will now expand its studios into two Frank Gehry-designed office buildings adjacent to its main lot in the Burbank Media District.
The company will purchase a portion of The Burbank Studios and be the sole and long-term tenant of the two buildings Worthe Real Estate Group and its partner Stockbridge Real Estate Fund will develop, which will combine state-of-the-art technology with a dynamic work environment in order to accelerate the Studio's competitive advantages.
A pair of iceberg-looking office buildings will try to "recapture a feeling of old Hollywood splendor," according to Frank Gehry. The 800,000-square-foot (74,000-square-metre) complex will be a new iconic addition to Burbank.
"Once upon a time, Hollywood Studios had an important architectural presence in the city – they were like monuments to the movie-making process. With this project, I was trying to recapture that feeling of old Hollywood splendor," said Gehry.
"We wanted to create a 21st century version that would have a strong and unique identity for Jeff Worthe and for Warner Bros."
"We created large open floorplates with the single goal of creating the highest quality office space. From the freeway, the buildings are composed as one long sculptural glass façade that creates a single identity like icebergs floating along the freeway. On the studio side, the metal punched façade is terraced to relate to the scale and character of the existing studio buildings," Gehry added.
In recognition of Warner Bros.' 100th anniversary in 2023, groundbreaking is expected to take place in the fall of 2019, with construction of both phases expected to be completed by 2023.
Occupancy of Phase I is expected to be completed in 2022, and Phase II occupancy will coincide with the Studio's centennial celebration in 2023, reflecting Warner Bros' commitment to sustainability and environmental responsibility, the buildings will be built to LEED Certification standards.
Dubbed as Second Century Project, the office complex will consist of a seven-story building of approximately 355,000 square feet (33,000-square-metre) and a nine-story building of approximately 445,000 square feet (41,000-square-metre).
"Collaborating with Jeff Worthe on this project has been special for me. He is curious and open to ideas. He takes the time to explore ideas with a thoughtfulness toward the community and those who will inhabit the building. He understands and promotes the idea that architecture has value. I hope that we have created something that works well for Warner Bros. and that is respectful of the community around it," Gehry continued.
"We are thrilled that Warner Bros.' long-term plan includes an exciting new vision for their campus in Burbank," said Emily Gabel-Luddy, Mayor of Burbank. "This commitment further reinforces our City's standing as the Media Capital of the World."
As part of this collaboration, Warner Bros will purchase The Burbank Studios property, exclusive of the land on which the two Gehry buildings are to be built (which will be owned by Worthe Real Estate Group and Stockbridge). The Burbank Studios purchase provides Warner Bros with additional production office space and eight soundstages (with room for expansion), as well as a mill building and a commissary.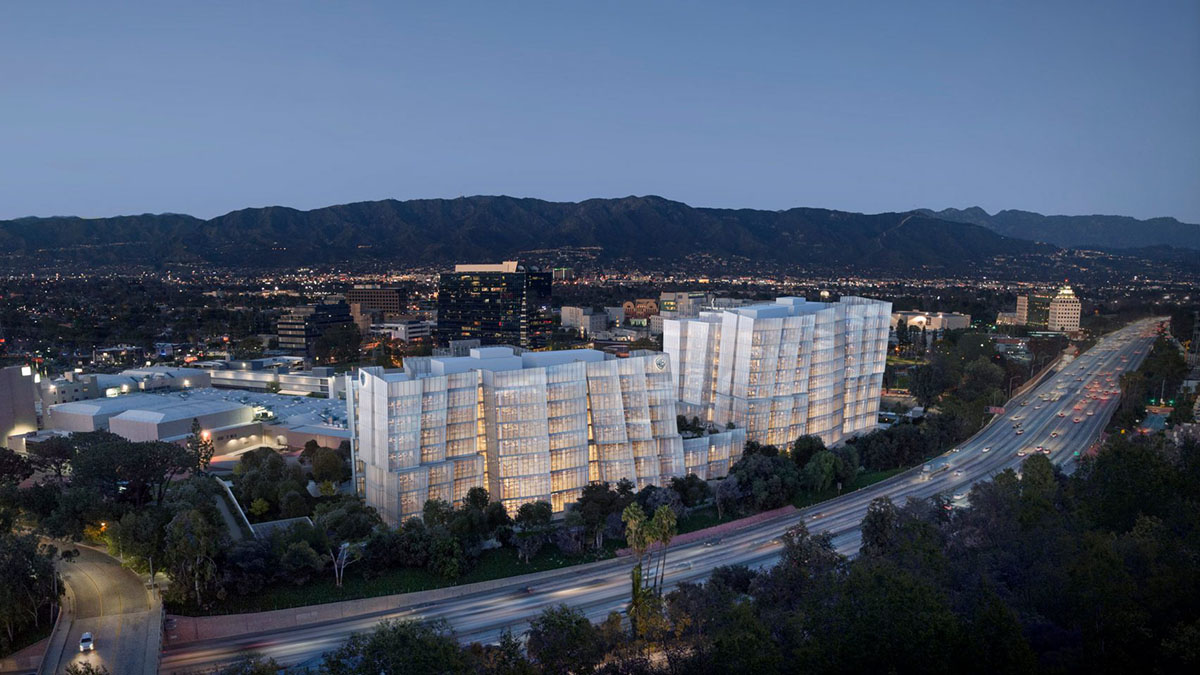 Also as part of this deal, Worthe Real Estate Group and Stockbridge will purchase three office buildings currently owned by Warner Bros.—the Triangle Building (4001 West Olive Avenue), Glass Building (3903 West Olive Avenue) and Wood Building (111 N. Hollywood Way)—as well as the 30-acre Warner Bros. Ranch located on Hollywood Way.
The sale of the three buildings is targeted to take place in late 2019, with Warner Bros, leasing the space back from Worthe/Stockbridge until those employees are moved to the new office space. The sale of the Ranch property and Warner Bros.' purchase of The Burbank Studios are expected to take place in 2023, following Warner Bros' occupancy of the new space. Warner Bros will also move employees from other leased space surrounding the lot to the new campus.
Worthe Real Estate Group/Stockbridge, Gehry Partners, LLP and Warner Bros will work closely with various agencies across the City of Burbank throughout the building process to ensure a compliant, community-conscious build.
All images © Sora, courtesy of Gehry Partners, LLP.
> via Warner Bros