Beyer Blinder Belle renovates historic Times Square Theater with transparent volumes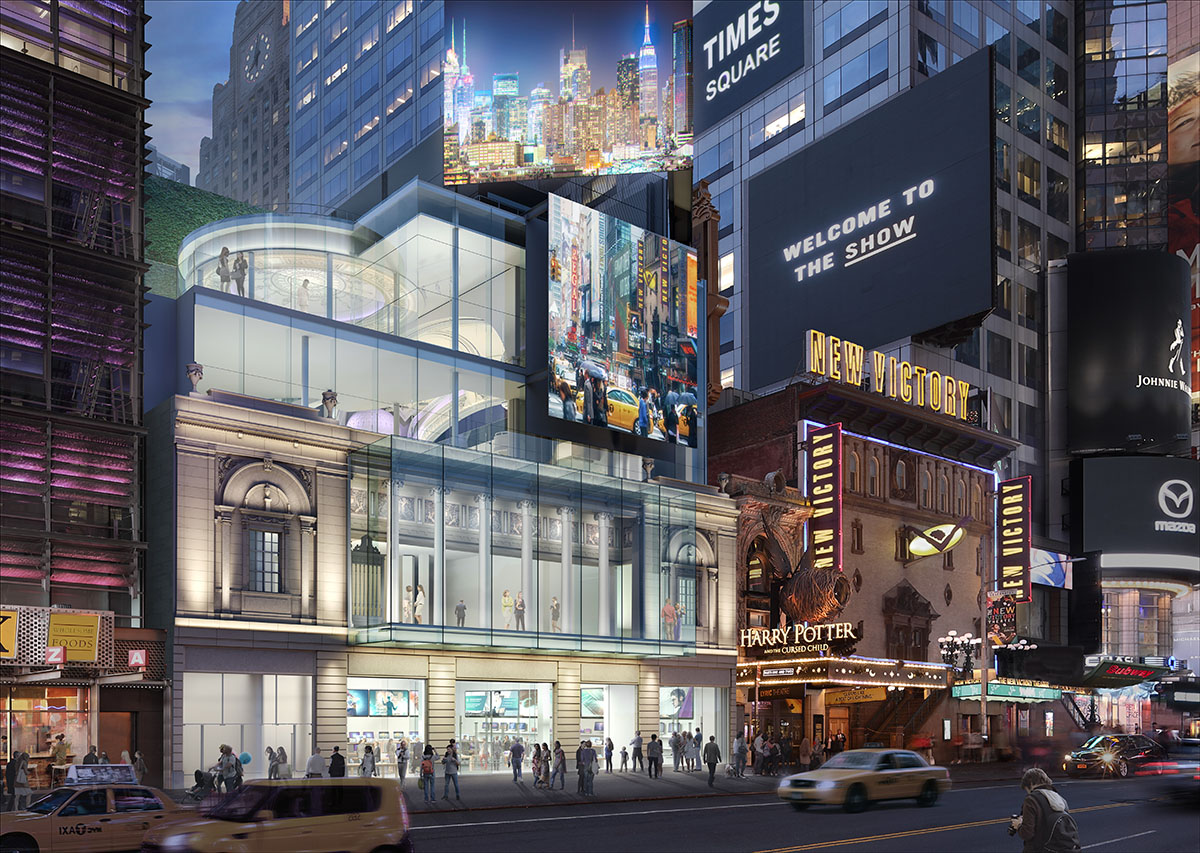 Stillman Development International has released first images to transform the historic Times Square Theater in New York, designed by US architecture firm Beyer Blinder Belle, the 1920s structure will be revived with transparent volumes and more permeable interface to interact with the public at street level.
The $100m redevelopment scheme is developed by a real estate company Stillman Development International and the company aims to transform a long-shuttered Times Square theater into a state-of-the-art store.
"After years of false starts that promised various new enterprises, Stillman will turn the building at 215 West 42nd Street into a "21st century experiential retail" space, stated in a press release.
Fourth floor roof terrace is revived with bulb-shaped transparent hall
Located at 215 West 42nd Street, the landmarked property is the final historic theater along the 42nd Street corridor which will now undergo a complete renovation with fully transparent interface.
The Times Square Theater was originally constructed in 1920 by architect Eugene De Rosa, the neoclassical theatre will be returned to its original grandeur with many of its classic and hallmark elements in place, such as interior neoclassical motifs, a heavily-decorated proscenium arch and a grand dome decorated in plaster relief.
From Times Square Theater, 1979
The complex renovation process involves raising the facade by almost five feet (1,5 meters), and temporarily removing the historic plaster elements to be restored off-site and then re-installed. The architects will add two expansive terraces on the third and fourth floors and few columns, soaring ceiling heights up to 20 feet (6 meters) and a dramatic glass box overhang.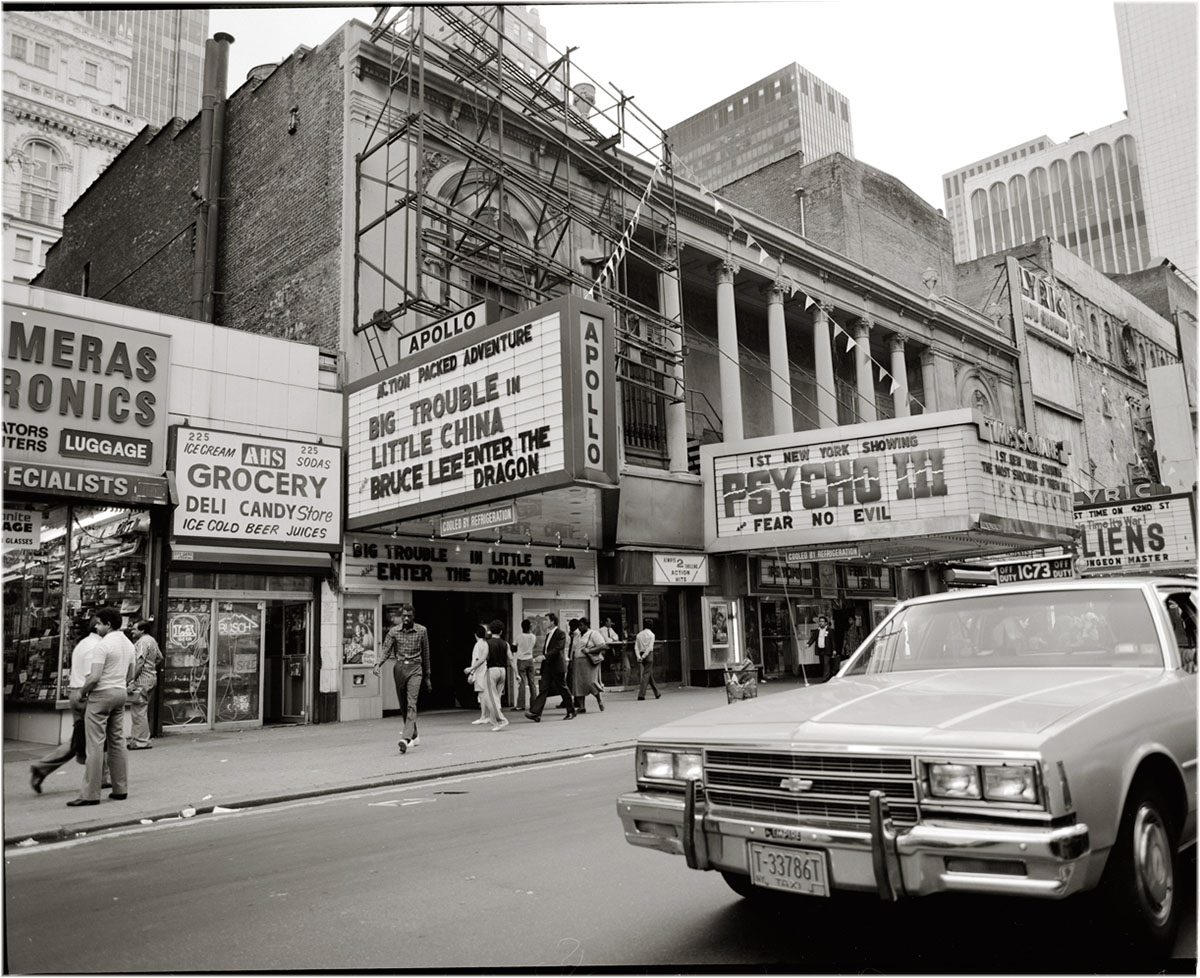 From Times Square Theater, 1986
Beyer Blinder Belle is amongst a team of experts to restore the building's historic fabric while making it commercially useful for the next 100 years. International brokerage firm Colliers is exclusively handling the leasing for the 43,165-square-foot (4,010-square-metre) property.
"We have an enormous responsibility to reinvent an architectural masterpiece and return it to its splendor," said Roy Stillman, president of S.D.I.
"We take great pride in working alongside a myriad of talent to achieve our vision to make the Times Square Theater a vibrant destination. We have assembled an incredible team of artisans and are honored to be a part of the renaissance of the 42nd Street corridor."
Second floor glass box overlooking the street
The former theater is overseen by the state's Historic Preservation Committee and the non-profit New 42nd Street which holds a 99-year lease on the theater. Stillman will sublease the nearly century-old architectural masterpiece with the aim of making it commercially viable for the next 100 years.
New York State and City established The New 42nd Street in 1990 to help give the blighted 42nd Street theaters a new lease on life. Since then, it has helped re-purpose and re-invent the Victory, Lyric, Apollo, Liberty, Empire and Selwyn theaters.
The Times Square Theater's footprint and layout don't meet the production needs of 21st century theatrical use and the non-profit has been searching for the right tenant for years.
Third and fourth floor will be made of historic plaster dome, proscenium, sail arch, and side boxes with canopies, and feature a grand staircase
Stillman Development International's plans "honor and respect the theater's original architecture while incorporating modern elements to achieve commercial viability ideally suited for an experiential retail location."
"Since this category of retail blends the act of shopping with the art of experience, it honors the theater's history as a destination for entertainment and innovation."
"We have met and interviewed more than 100 keenly interested suitors for the theater over the years, but never before have we encountered a development team such as Stillman Development International, LLC. The firm possess an exciting, inventive and forward-thinking approach that we feel is perfect to restore The Times Square Theater to its former glory," said Cora Cahan, president of The New 42nd Street Inc.
From street view, it proposes a dynamic façade configuration that makes inside as perceivable as much
Beyer Blinder Belle, the nation's premier architectural firm specializing in historic buildings including Grand Central Terminal, New York City Hall and TWA Terminal, was commissioned by S.D.I. to lead the restoration of the Times Square Theater.
The firm worked diligently to conceive a plan for a viable commercial enterprise that has the support of the city's Economic Development Corporation (EDC) and the Historic Preservation Committee (HPC), which are responsible for ensuring that the historic façade and interiors meet the city's restoration and preservation requirements.
All renderings courtesy of Stillman Development International
> via Beyer Blinder Belle/Stillman Development International