Fran Silvestre Arquitectos completes opaque guest pavilion within a natural garden of Valencia
Spanish architecture studio Fran Silvestre Arquitectos has completed a guest pavilion in Valencia, Spain - the one-storey all-white pavilion creates a minimum intervention within a natural garden of Valencia. The 70-square-metre guest pavilion was designed as an autonomous architecture conceived as an extension of a project that Fran Silvestre Arquitectos had developed in the studio. The human scale of the pavilion makes it a comfortable space where to experience living in a garden.
Video by Fran Silvestre Arquitectos
Fran Silvestre Arquitectos is known with its minimalist and all-white coloured exteriors and forms that impose clearness, freshness and simplicity in an aesthetic and characterised way. The studio's new pavilion once more pushes the boundaries of conditions living in a comfortable and minimal space.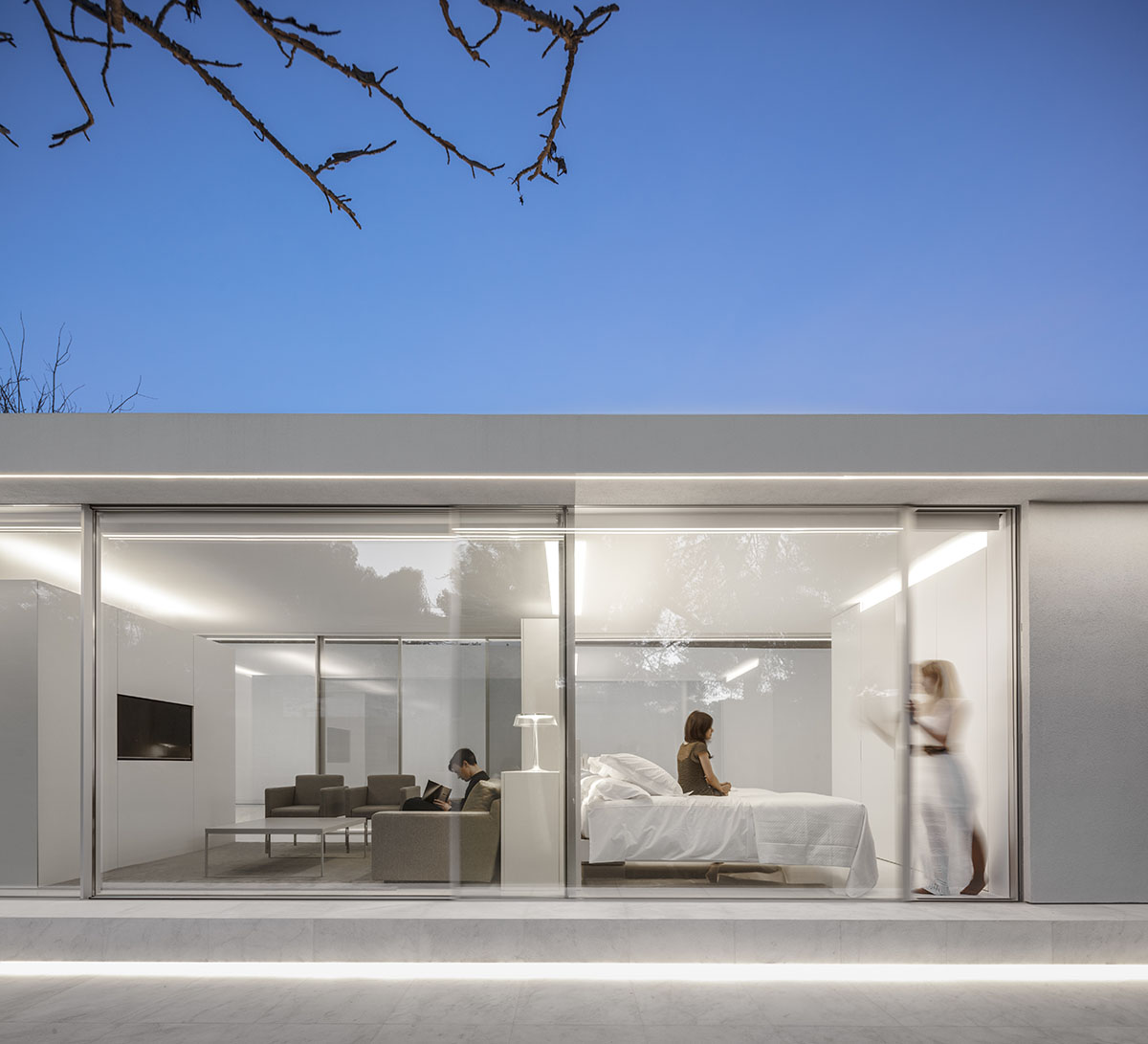 The pavilion consists of two rooms: one bedroom and a living room with a kitchen. There are also two bathrooms, one serving the pavilion and the other one as a support for the pool. Within the premises, the studio's aim is to build a piece - look like an artwork standing alone in the nature - minimizing its impact on the garden from the main house.
This way, the pavilion is located approaching one of the limits of the land, perpendicular to the swimming pool, showing its slimmer and opaque side towards the existing architectures. In the other direction the piece is a passageway, relating to the landscaped space and a sort of courtyard between the pavilion and the wall.
"A centenary olive tree, a liquambar and a pomegranate tree, together with the pool platform, serve as a link between the architecture and the garden. The deciduous liquidambar sieves the sunlight depending on the seasons," saidFran Silvestre Arquitectos.
"By means of the darkening system, it is possible to control the operation of the piece, more discreetly when it is opened to the courtyard, or completely open to enjoy the domesticated nature of a consolidated garden from the deposited pavilion," added the studio.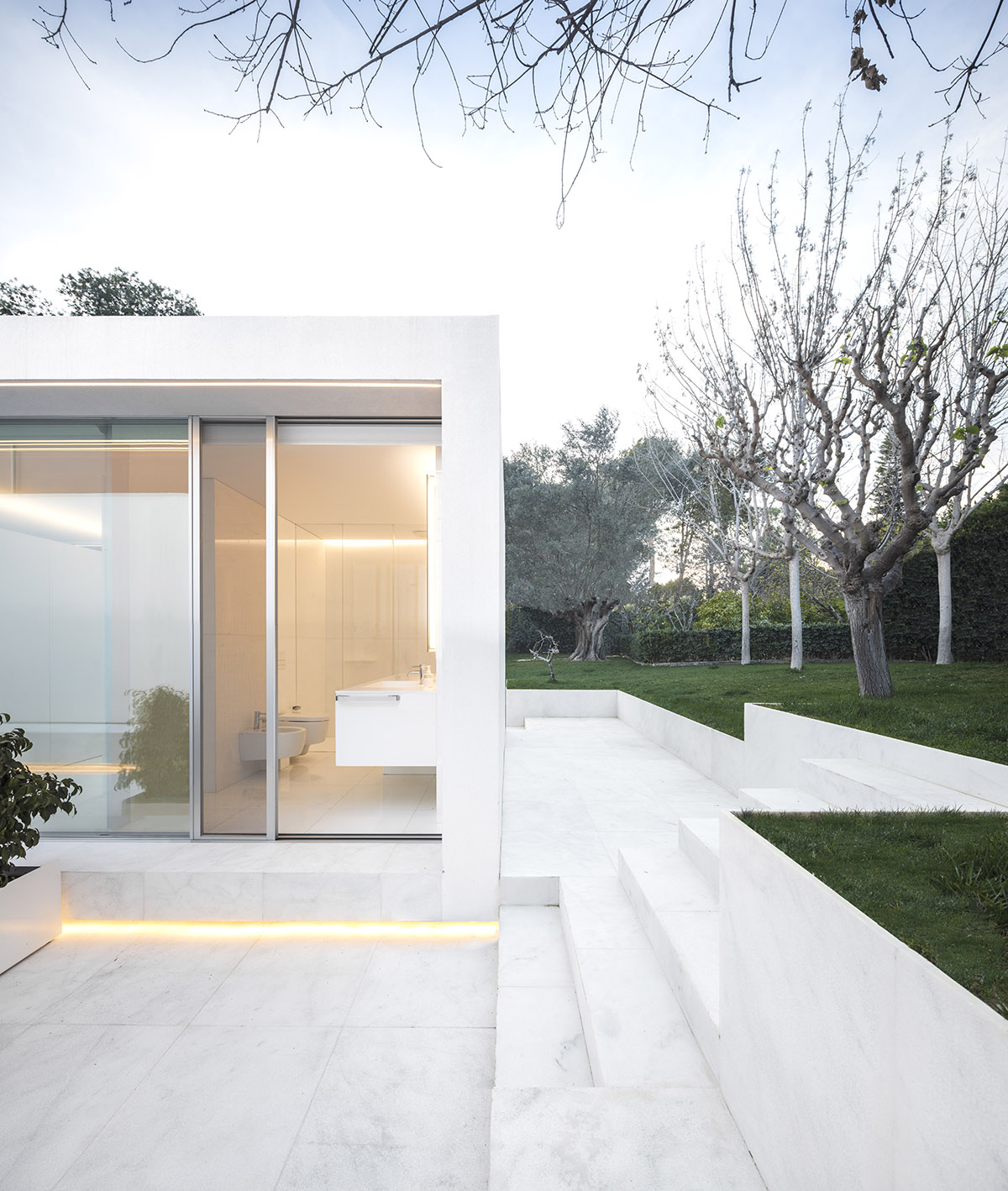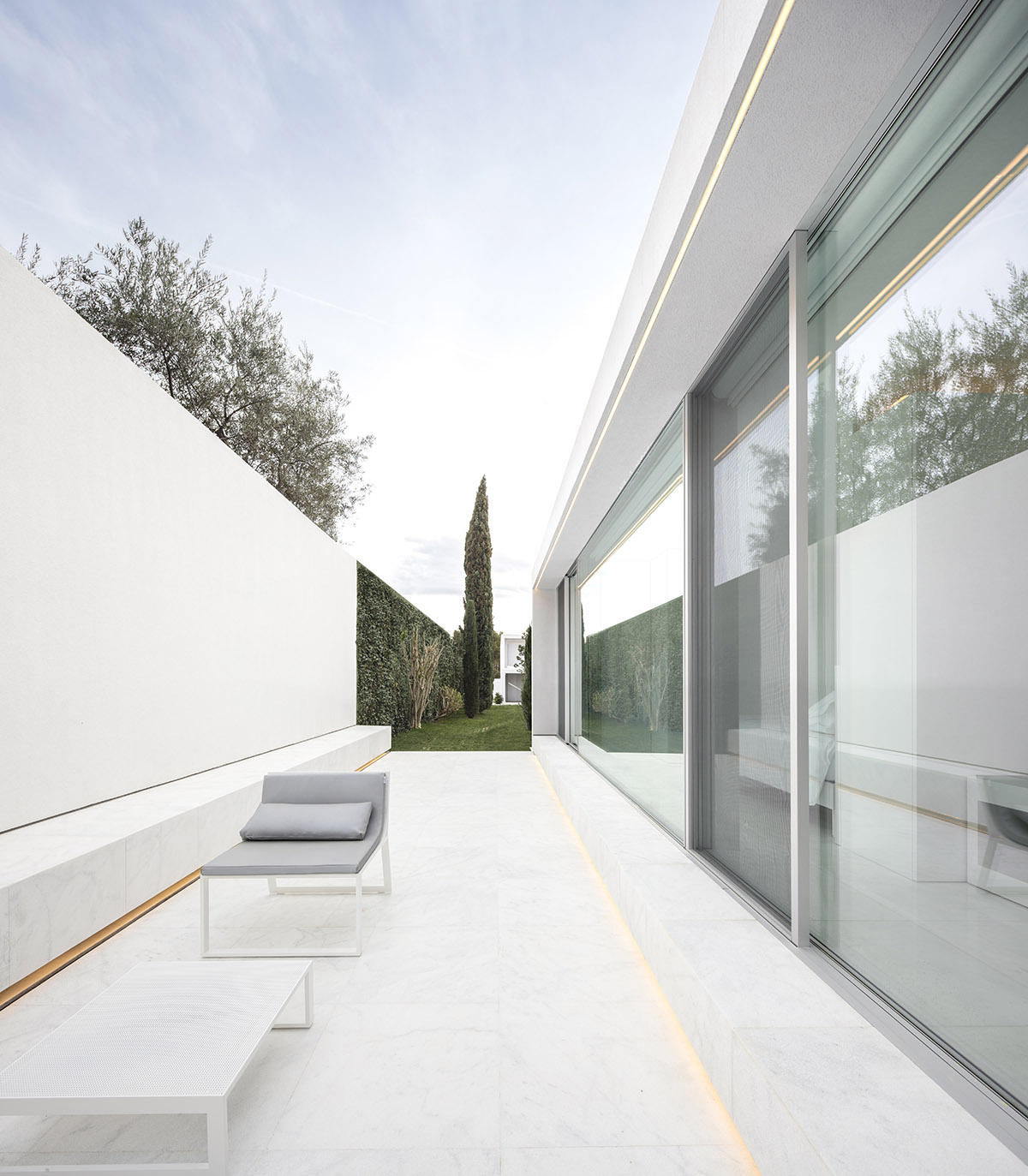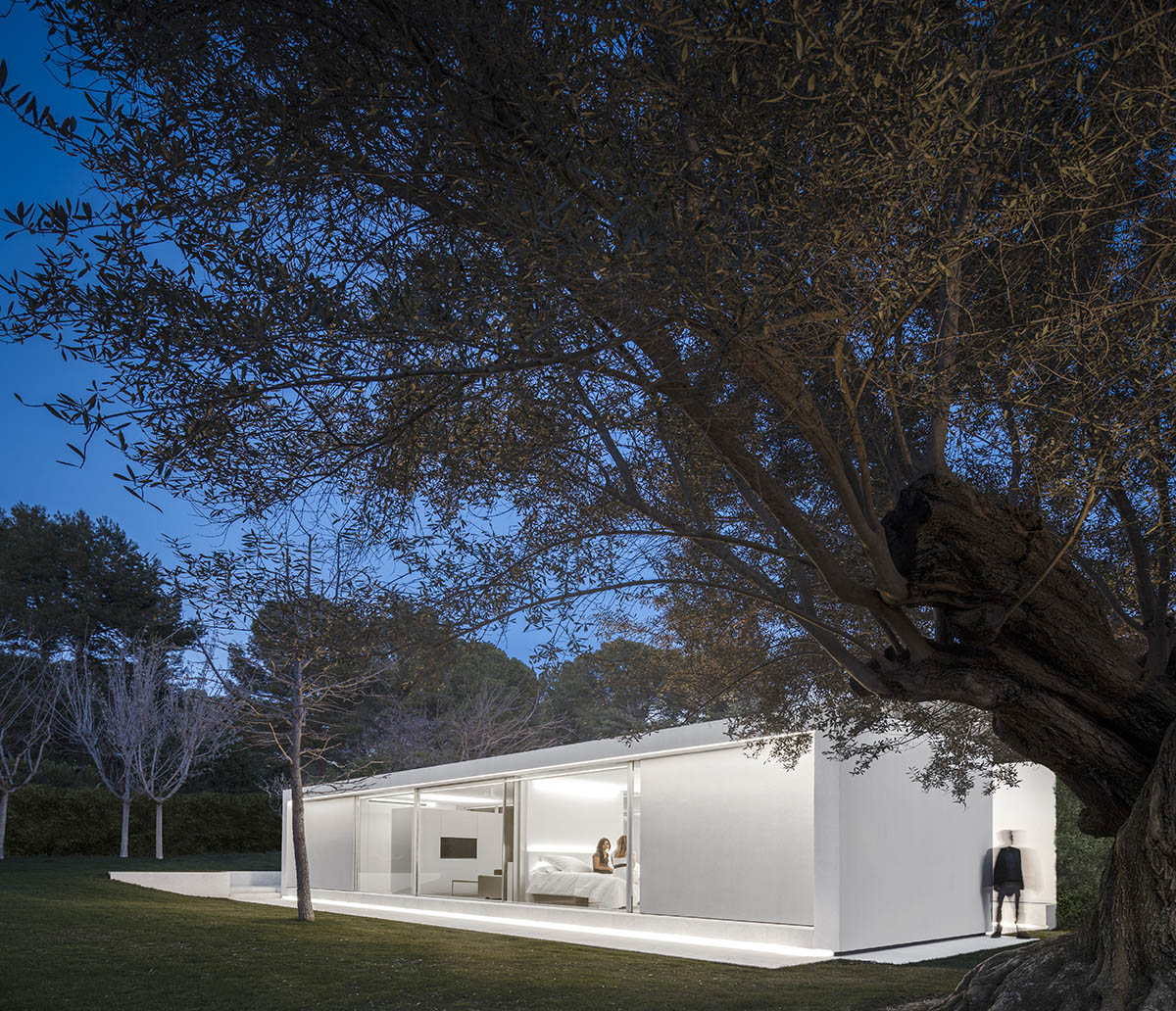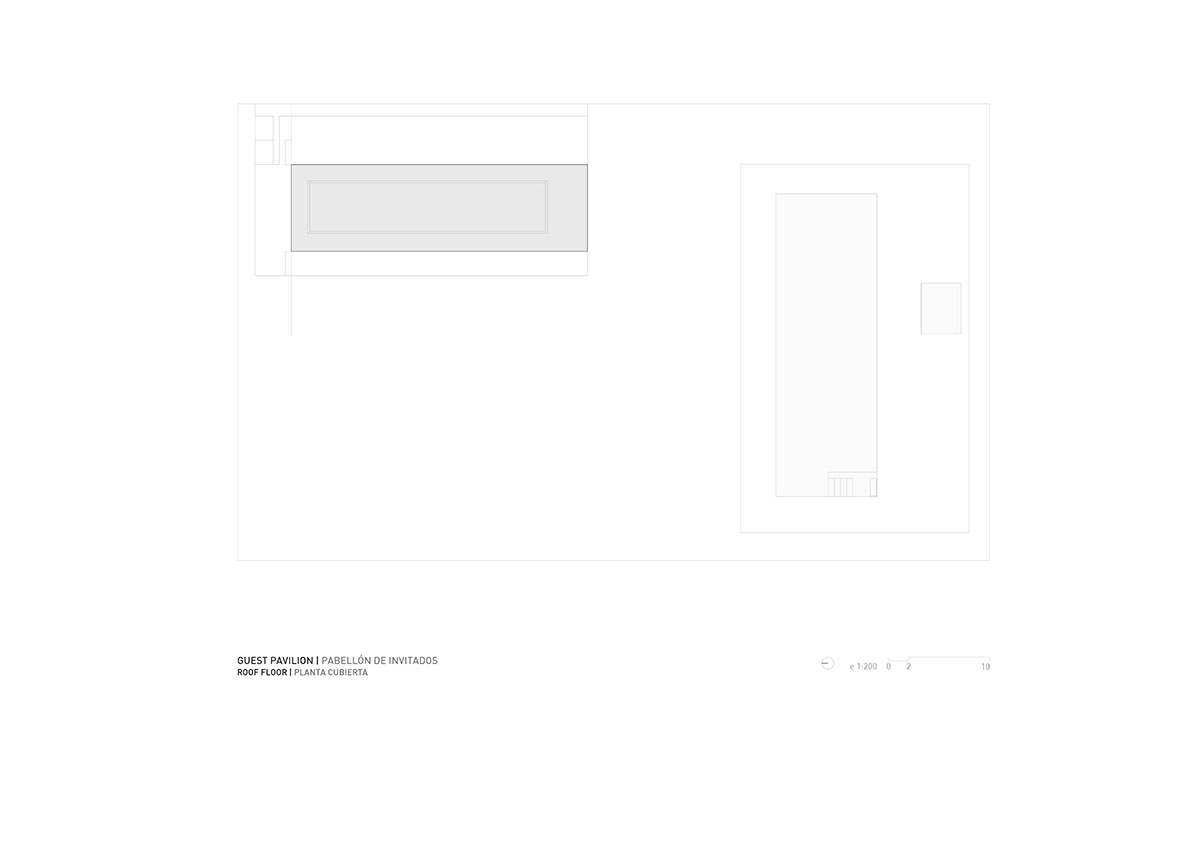 Roof floor plan
Ground floor plan
Ground floor plan
Fran Silvestre Arquitectos recently completed an interlocking private residence on the beach of Castellon, Spain. Another two-storey sliding house, located in Paterna - in an arid Mediterranean climate of Valencia, shows the elegant transformation of a former house designed by Fran Silvestre Arquitectos.
Project facts
Location: Valencia, Spain
Architects: Fran Silvestre Arquitectos
Interior design: Alfaro Hofmann
Principle architect: Fran Silvestre
Collaborating architects: Maria Masià, Estefanía Soriano, Fran Ayala, Pablo Camarasa, Sandra Insa, Santi Dueña, Ricardo candela, david sastre, sevak asatrián, álvaro olivares, eduardo sancho, esther sanchís, vicente picó, ruben march, gemma Aparicio, Jose Manuel Arnao, Rosa Juanes, Aida Pons, Sergio Llobregat, Alessandro Aantapá
Structural engineer: Josep Ramon Solé | Windmill
Project manager: Studio 2
Building engineer: Carlos García
All images © Fernando Guerra | ultimas reportagens FG+SG photography