Book Review: "ARCHITECTURE: Theory, Practice, Research, Pedagogy"
Recently released book "ARCHITECTURE: Theory, Practice, Research, and Pedagogy" is a compilation of presentations made and talks delivered by the author Dr SS Bhatti, a former Principal of the Chandigarh College of Architecture, over several years to varied audiences involving professionals like architects, artists, litterateurs, planners, journalists, sociologists, geographers...and the general public.
The book is like a mosaic of ideas formulated by thinking, feeling, reflecting, and empathizing a staggering variety of concepts and issues through which runs the thread of a relentless quest of truth sought via the majestic means of creativity embodying aesthetic appreciation and artistic creation in four major fields of human endeavour: the Humanities, Art, Science, and Technology.
The anthology of essays in this book were used as power-point presentations in seminars and aim to broaden the canvas of Building Design to make an all-inclusive discipline that truly reflects the growing complexity in the thoughts, words, and deeds of the peoples of the world and the mind-boggling variety of artefacts they continue to create.
The Contents of this book have been classified into the Theory, Practice, Research, and Pedagogy of Architecture and, accordingly, placed in Sections of these titles (Refer Contents below). There are no chapters, and each article has been written to be self-contained though suggesting vital links with various disciplines other than the ones presently dealt with in it. The first article is on History and the last on Architectural Education—with everything else falling between them.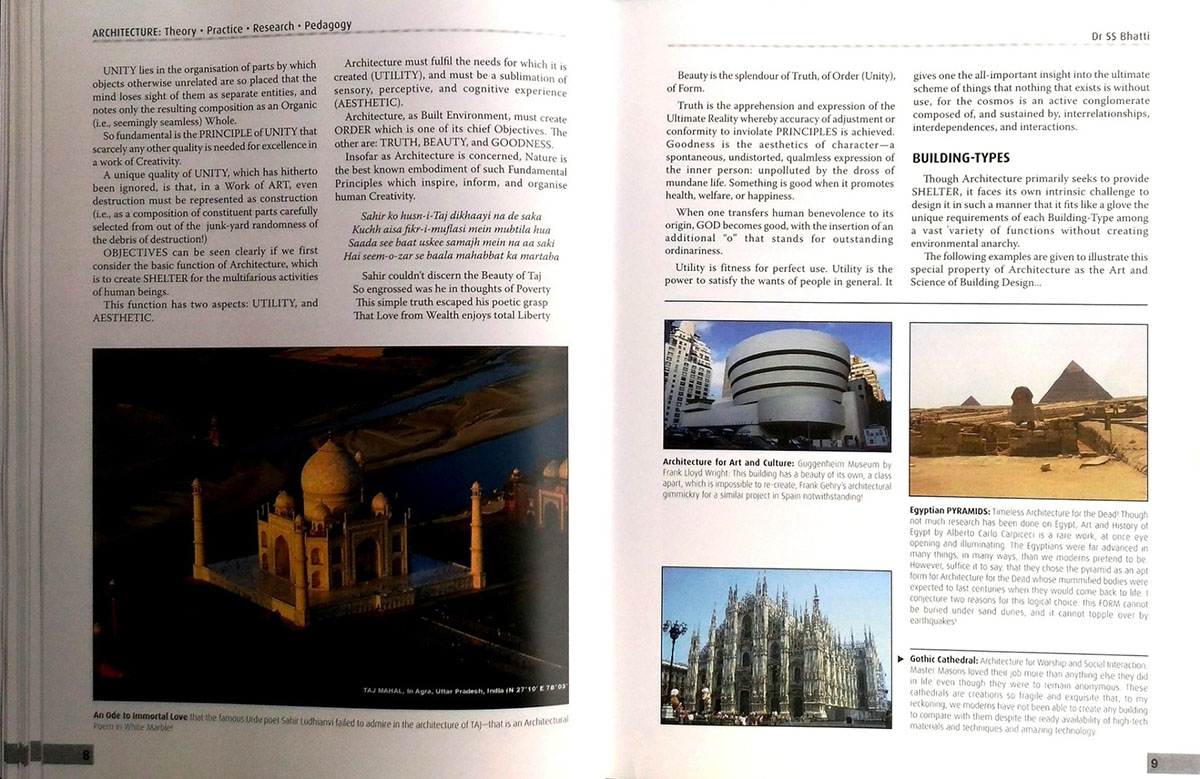 As the title of this book "ARCHITECTURE: Theory, Practice, Research, and Pedagogy" suggests its contents are as different from those of other publications on the subject as its concept, scope, and form. It is the outcome of half-a-century of versatile expertise painstakingly built on long and deep contemplation of the whys and wherefores of what Frank Lloyd Wright called "The Great Mother Art".
The main aim of this compilation has been an attempt to draw the attention of all professionals to the oft-ignored fact that Creativity in Building Design—treated as a matrix of civilisation, besides a social organism and a work of art—is by its very nature a holistic exercise encompassing material of a very diverse nature through which should run the thread of many allied disciplines that architects must anyhow absorb in their sensibilities to elevate it to the cult of Architecture. This fundamental truth must have been at the back of his mind when Le Corbusier declared that "Architecture is not a profession; it's a habit of the mind".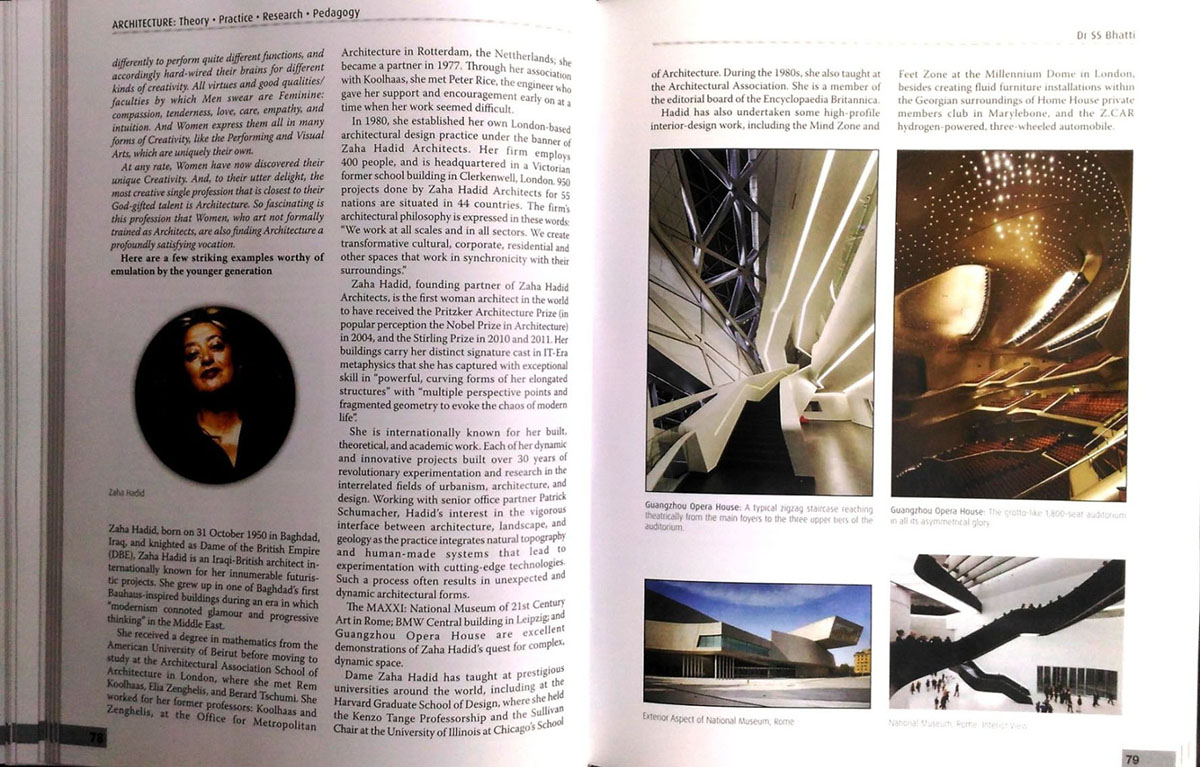 Seen and read in the spirit of a new approach, the Contents of this book will not appear either unwieldy or esoteric. They are intended to pep up inquisitiveness so that the readers may be motivated to expand the horizons of their perceptions to understand and appreciate architecture in its ever-expanding scope in the making of the built-environment that inspires creativity in each individual person—as a grateful reminder of God's illimitable benefaction.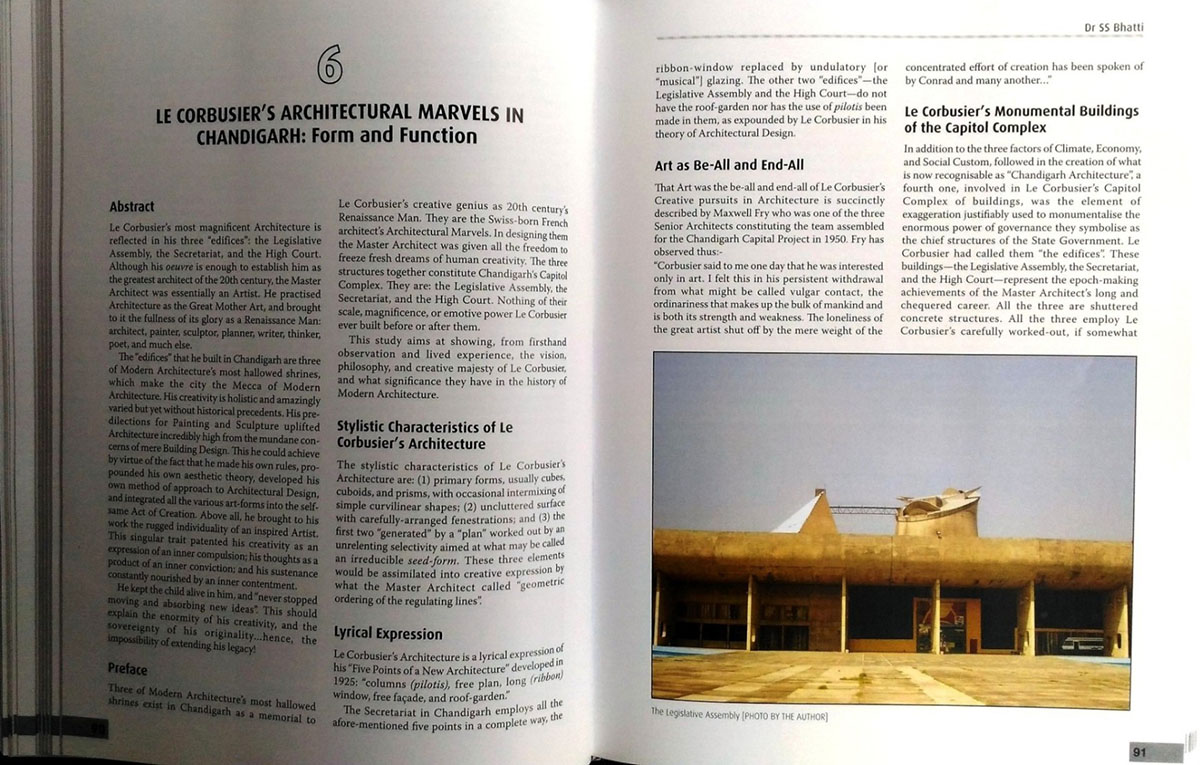 Dr SS Bhatti explains, "Certainly, there will be differences of opinion regarding this new concept and its interpretations. This is all to the good. The idea is not to tell the readers what to think or what is what. If they are stimulated to think for themselves, then my purpose has been accomplished. Everyone has to make their own journey, and discover the Truth for themselves. But that Truth will not be found in this book nor in any other; for the best that books can offer is inspiration, not personal experience. All that I can then say is 'Bon Voyage through the exciting journey into 'Adventure of Ideas'!"
It is hoped that the readers will find this book worthy of their time, energy, and reading.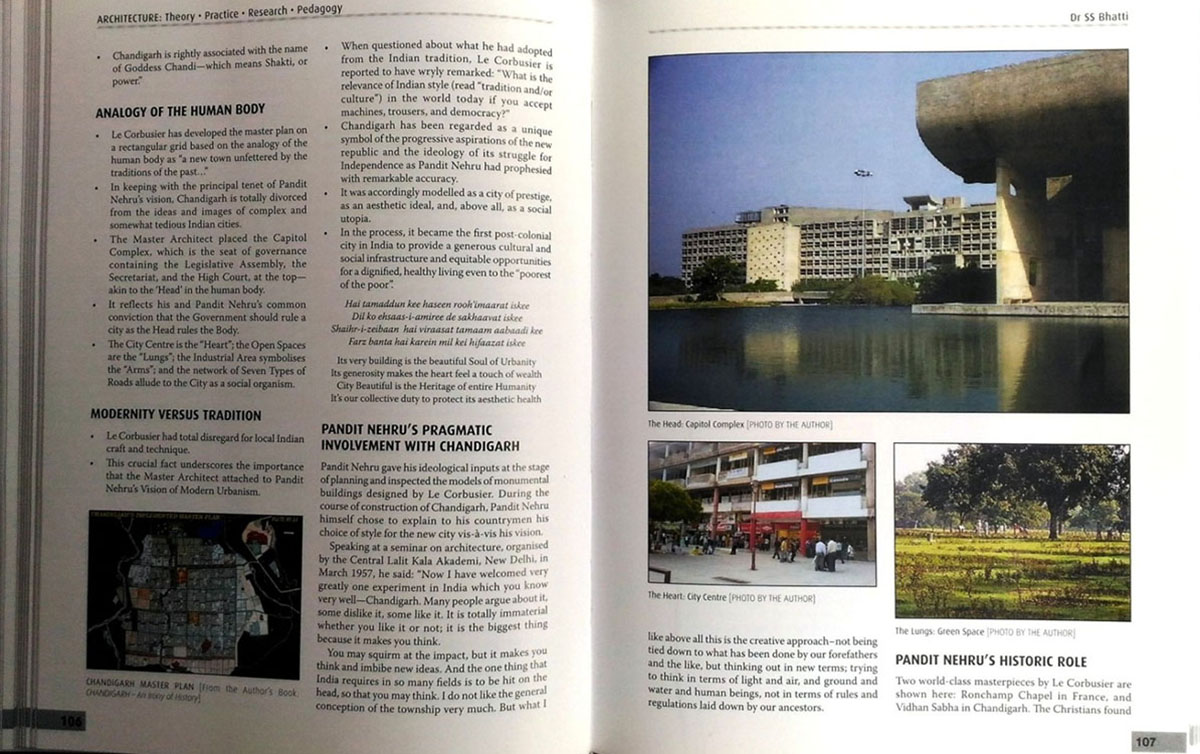 About the Author
Dr SS Bhatti is a founder-teacher, and former Principal of the Chandigarh College of Architecture. He is a very versatile professional pursuing architecture, planning, history, geography, landscaping, ecology, building economics, art, structure systems, poetry, music, criticism, mysticism, etc. Nicknamed "Chandigarh's Mr Versatility", he is a celebrated theorist, practitioner, researcher, and pedagogue in the disciplines noted above. He holds three PhDs in Architecture, Theology, and Sikh Architecture. He has won over 20 awards, including the Indian Institute of Architects' (IIA) Professor MB Achwal Life-Time Achievement Gold Medal for Architectural Education. Dr Bhatti pioneered holistic architectural research in the country with his work: "Rock Garden in Chandigarh—A Critical Evaluation of the Work of Nek Chand" for which he received his Master of Architecture (M. Arch.) degree from The University of Queensland, Australia.
Book details:
Author: Dr SS Bhatti
Hardcover: 282 pages
Publisher: White Falcon Publishing;
Language: English
ISBN-10: 9386210614
ISBN-13: 978-9386210616
Product Dimensions: 21.6 x 1.5 x 27.9 cm
Availability: Amazon
Contents:
SECTION - I: THEORY
1. UNDERSTANDING and APPRECIATING ARCHITECTURE
2. GAP-SEAL: Geography, Architecture, Planning-Science, Engineering, Art, Literature
3. EMERGING TRENDS IN LANDSCAPE ARCHITECTURE
4. CREATIVITY IN ENGINEERING EDUCATION
5. LE CORBUSIER: Corroborative Evaluation of Three Scholars' Critique of CHANDIGARH
SECTION - II: PRACTICE
1. ARCHITECTURE GONE HAY WIRE
2. ARCHITECTURE, JOURNALISM, and ARCHITECTURAL JOURNALISM
3. WOMEN ARCHITECTS: Their Distinct Sensibility and Contribution to the Making of Built-Environment
4. LE CORBUSIER: 20th-Century's Renaissance Man
5. LE CORBUSIER: The Picasso of Architecture
6. LE CORBUSIER'S ARCHITECTURAL MARVELS IN CHANDIGARH
7. CHANDIGARH IN PANDIT JAWAHARLAL NEHRU'S VISION
8. THE MAKING OF THE NEW CITY OF CHANDIGARH
SECTION - III: RESEARCH
1. WHAT IS RESEARCH?
2. CHANDIGARH HERITAGE: Fact, Fiction, and the Future
3. ARCHITECTURE and MUSIC
4. LIGHT is ARCHITECTURE
5. ENERGY EFFICIENCY IN BUILDING DESIGN
6. SAVING CHANDIGARH FROM BECOMING A SHANTY TOWN
SECTION - IV: PEDAGOGY
1. WHAT IS CREATIVITY?
2. WHAT SHOULD AN ARCHITECT LEARN IN ART AND DESIGN TO BECOME A HOLISTIC PROFESSIONAL?
3. JOURNEY OF THE STRAIGHT LINE
4. PLANNING: Learning from the Great Chandigarh Experiment
5. ARCHITECTURAL EDUCATION: A New Model based on 4-D Holistic Creativity
SECTION - V: DESIGN FICTION
1. IMAGINATION EMPOWERS THE PSYCHE
2. FUTUROPOLIS
3. MOVIE THEATRE TO HELP REVIVE THE MOVIES
4. ARCHITECTURE and THE NEW MILLENNIUM: Impending Revolution in Structures
5. ARCHITECTURE: Principles, Practice, Probe, Pedagogy, Promotion, and Patronage
Book Review by Sarbjit Bahga
All images of the book courtesy of Sarbjit Bahga