First interior images revealed for Shigeru Ban's "world's tallest" hybrid timber tower in Vancouver
Japanese architect Shigeru Ban's firm Shigeru Ban Architects has released a new set of images for its new hybrid timber tower in Vancouver, Canada, which is set to be the "world's highest" hybrid timber structure of the world when completed.
Called Terrace House, the detailed interior images of the tower are released for the first time to give a quick impression on what the building will look like once completed. Developed by PortLiving, the project will implement a cutting edge design and material use, and it is designed to use the first innovative hybrid structural system not only in Vancouver, but around the world.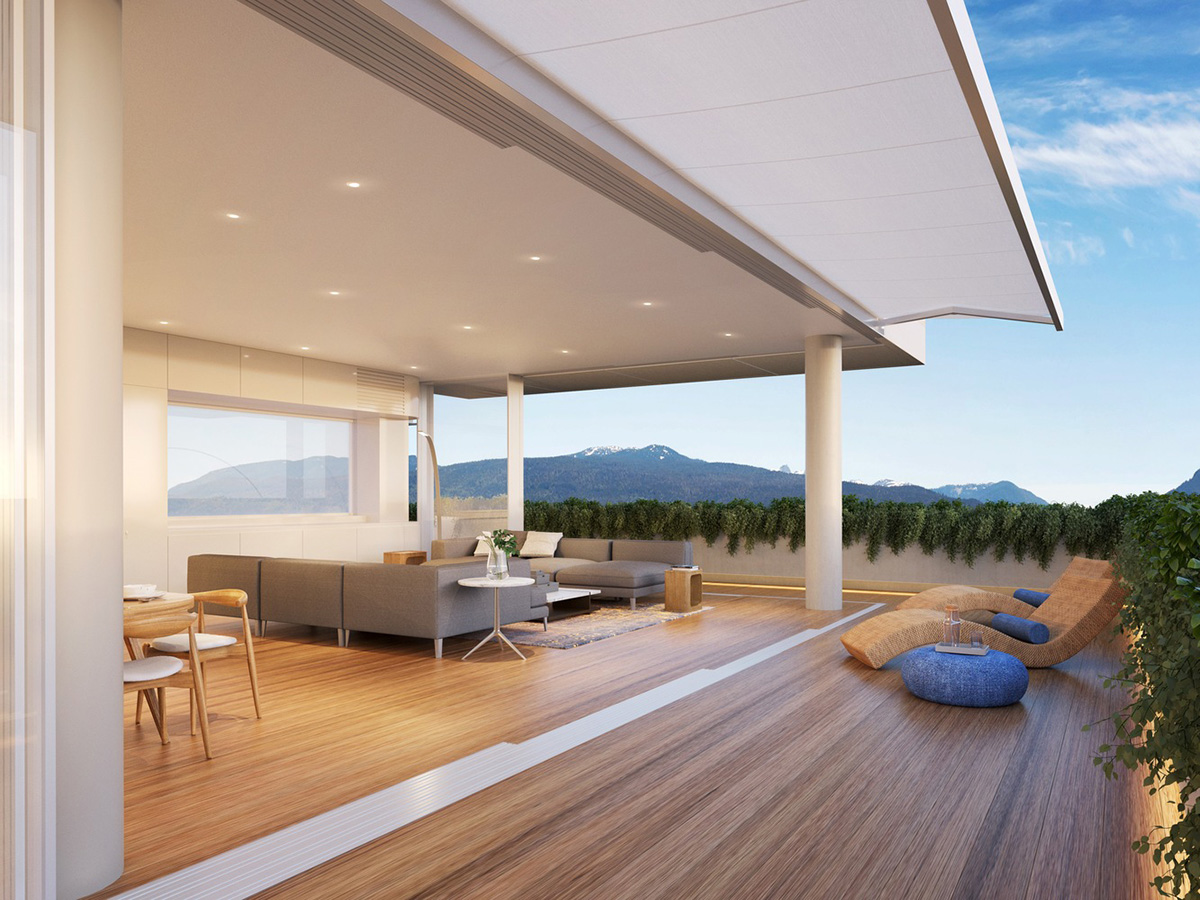 Reaching at 71 meters, the tower will include 20 luxury residences - some of them will occupy the entire floor space while some of them will use multi levels. The top 7 floors will comprise triplex homes overlooking Vancouvers' waterfront.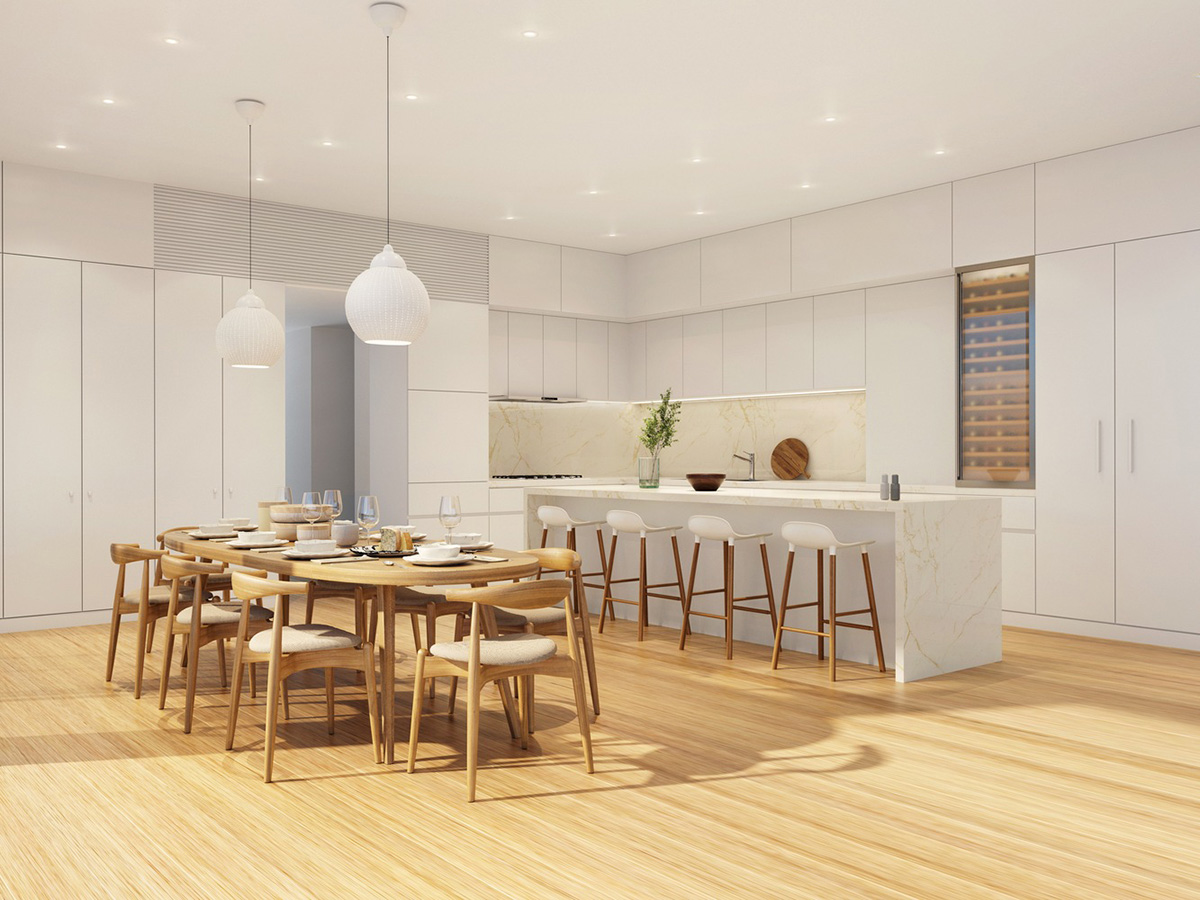 "Terrace House has been thoughtfully executed and planned, drawing on Shigeru Ban's iconic design codes to ensure that each of the 20 homes are individual works of art," said Macario (Tobi) Reyes, founder and CEO of PortLiving.
"The residences each have a full suite of smart home technologies, museum-quality glazing that helps to control temperature and provides UV protection for art collections, and fully-integrated air conditioning and heating systems paired with in-floor radiant heating and cooling that extend onto enclosed balconies, creating comfort and maximizing use of indoor/outdoor living spaces all year-round."
The interior images show Shiageru Ban's simplistic style with clean, minimalist, the use of natural light and warm materials use, concentrating on the variations of materials and pure details.
Ban uses custom fixtures, millwork and details throughout the units - he uses marble counters and polished chrome and stainless-steel fittings in the kitchen's, while keeping the pure aesthetic in the bathrooms with Corian countertops and Thassos marble floors.
All bedrooms are detailed with custom millwork, walk-in closets, and spa-inspired en-suite bathrooms. Ban creates high-ceiling interiors and all interiors reach up to 27 feet (approx. 8 meters) tall.
Each unit with outdoor spaces offer dramatic views of the city skyline, mountains and harbour. Some of terraces, designed as an open-plan, will adjoin the interior spaces with super-luxury bathrooms and be separated via floor-to-ceiling sliding glass door systems, which seamlessly transform interior spaces into larger outdoor rooms.
Each bathroom on the terraces and common spaces will feature a small piece of greenery by Cornelia Oberlander.
The upper levels will be structured by the sturdy Douglas Fir timber frame, which is sourced from sustainably managed forests in the Kootenay region of British Columbia. Some amount of this timber will be used in the unit interiors, creating unity with the white oak and porcelain tile flooring. The sound absorption will be provided by acoustic channels applied in the ceiling. The upper floor units will feature their own winter gardens, furnished with motorized glass-sliding panels.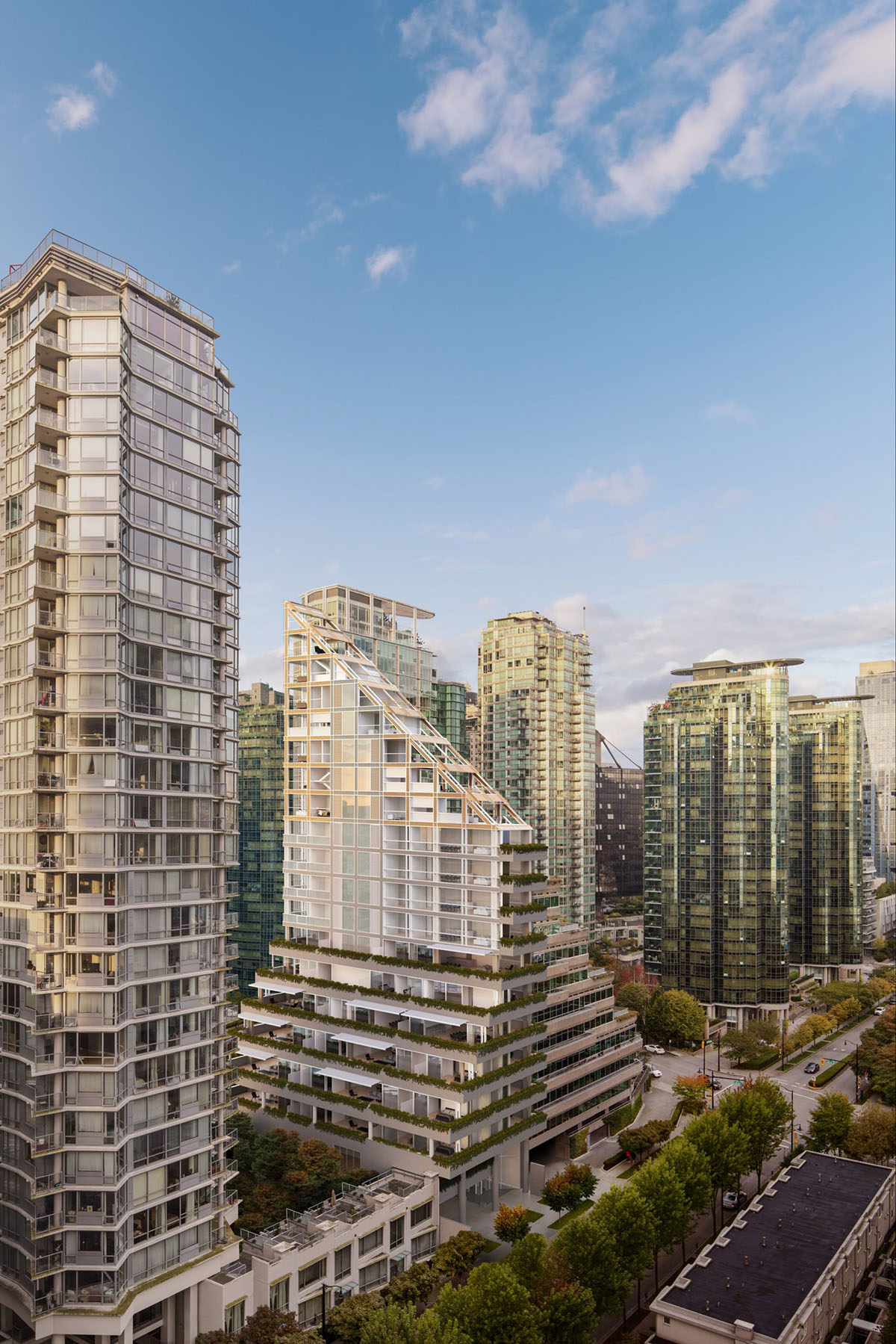 "Terrace House is the pinnacle of modern development and will stand out among some of the greatest residential buildings in the world," added Reyes.
"Shigeru Ban and his team's attention to detail is unparalleled and have ensured that each of these homes is truly unique to any other in Vancouver. To further enhance the ownership experience, residents will enjoy a dedicated concierge team, and a plethora of amenities ensuring a best in class lifestyle," he explained.
Terrace House will be Ban's first tallest timber structure built so far, and his first project in Vancouver. If everything goes on a plan, the project is expected to be completed in 2020.
Shigeru Ban has recently been announced as the winner of the 2017 Mother Teresa Memorial Award for "social justice", he is the first Japanese architect winning this prestigious prize so far.
All images courtesy of Shigeru Ban Architects/PortLiving
> via Shigeru Ban Architects