Indo-Israel Centre Of Excellence For Fruits At Hoshiarpur Ready To Serve Farmers
The Centre of Excellence for Fruits at village Khanaura, District Hoshiarpur, Punjab has been established in sync with the Indo-Israel agreement. It is aimed at making the Punjab farmers aware of the latest technological and scientific advancements in cultivation of fruits. The Centre is set-up on a large agriculture farm of about 27 acres abutting Hoshiarpur-Phagwara road.
Since the main objective of the Centre is to promote horticulture, maximum area has been kept for it. Out of about 27 acres, 24 acres has been reserved for setting up plant nurseries and orchards. Only 3 acres has been kept for necessary building infrastructure.
In the larger 24-acre part of the site, a wide network of paths has been planned which give access to big chunks of land in between. These chunks of land are used for cultivation, both in the open and in polyhouses.
The mini complex of 3 acres has been carved out in one corner on the north-west side. This complex houses the necessary components of the Centre. These include an administrative-cum-guest house block, pack house, workshop, staff quarters, canteen, guard room/retail outlet, etc.
All the buildings, except the pack house and workshop, have been constructed in conventional building materials like brick and concrete. The buildings are either single or double storied and are finished externally in cement plaster and uniform paint to give a harmonious look.
The pack house and workshop have been constructed in hi-tensile, pre-engineered steel structure popularly known as PEB or pre-engineered building. PEBs are the most economical, fast to construct, more precise, easy to construct, and very enduring. The entire complex is linked by a simple network of roads which extends up to the cultivated area.
Out of all the building components in the mini complex, the administrative block is the hub of all major activities. Designed to serve multifarious functions, it houses necessary administrative offices, a training hall for farmers and a conference hall at the ground level. A guest house wing, and plant health clinic and laboratory are accommodated at the first floor level. All these wings are interlinked by spacious lobby which is designed as an atrium having partially double height.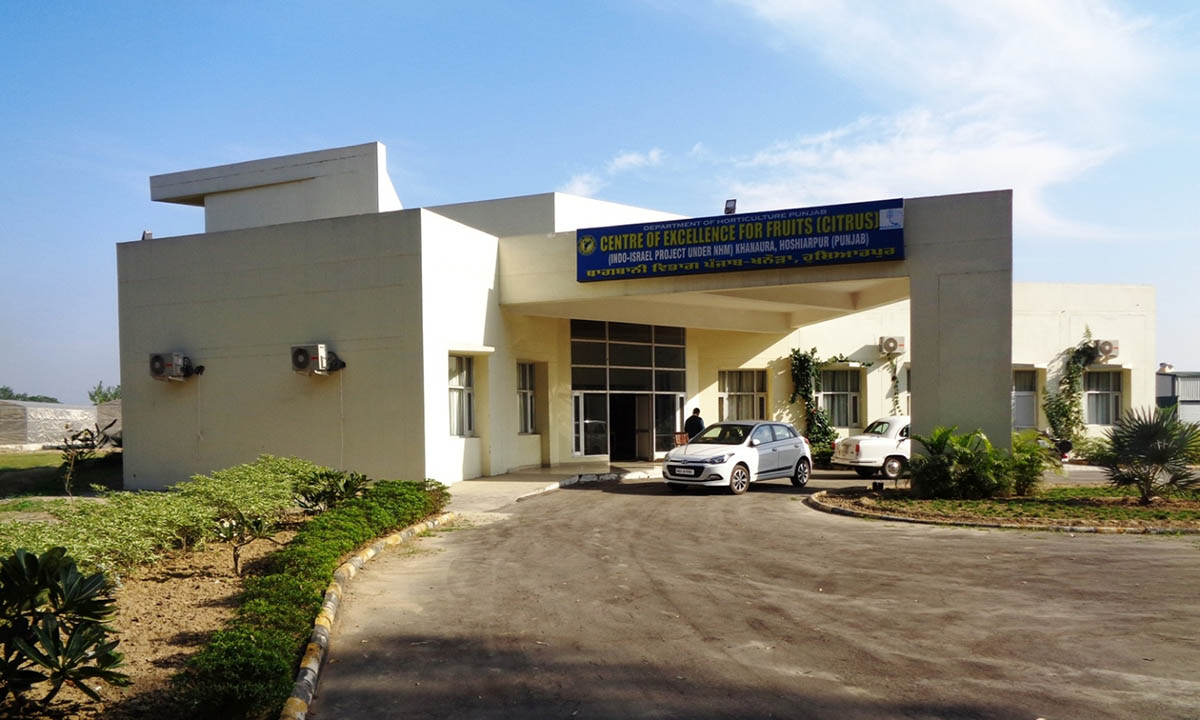 The triangular-shaped lobby accommodates a sculptural staircase in one corner, a seating space in the second corner and entrance in the third corner. In sync with the lobby is a triangular porch which is designed to give the building an inviting entry. The double-storied administrative building is an innovative piece of modern architecture.
It incorporates all the ingredients of modernity like unadorned bold and seamless facades, ingenious play of spaces, volumes, forms, solids, and voids. The complex is a showcase of the architect Sarbjit Bahga's endeavor to bring modern architecture to the remote countryside.
Google image
All images courtesy of Sarbjit Bahga except where mentioned.