VTN Architects placed domed bamboo pavilions harmoniously in Ho Chi Minh City's rich vegetation
Vietnamese architecture practice Vo Trong Nghia Architects has placed a series of locally-made bamboo pavilions harmoniously on Diamond Island of Ho Chi Minh City in Vietnam. The pavilions resembles shining diamonds made of black-coloured thatched roofs, which creates a deep contrast between green vegetation and the structures.
Named Diamond Island Community Center, the projects consists of eight pavilions in total in which two of them are designed with a large scale, and other six pavilions are designed as small bamboo pavilions - are scattered throughout a park with rich vegetation along the river.
Vo Trong Nghia Architects - also known as VTN Architects - is best known with its local Vietnamese architecture made of local materials and construction techniques and the use of green infills as many as possible they can do in their projects - or the projects built across the world.
The Community Center, encompassing 1,450-square-metre area in total, is located adjacent to the newly emerging center of Ho Chi Minh City - called Diamond Island - is a group of condominiums on an islet on Saigon River.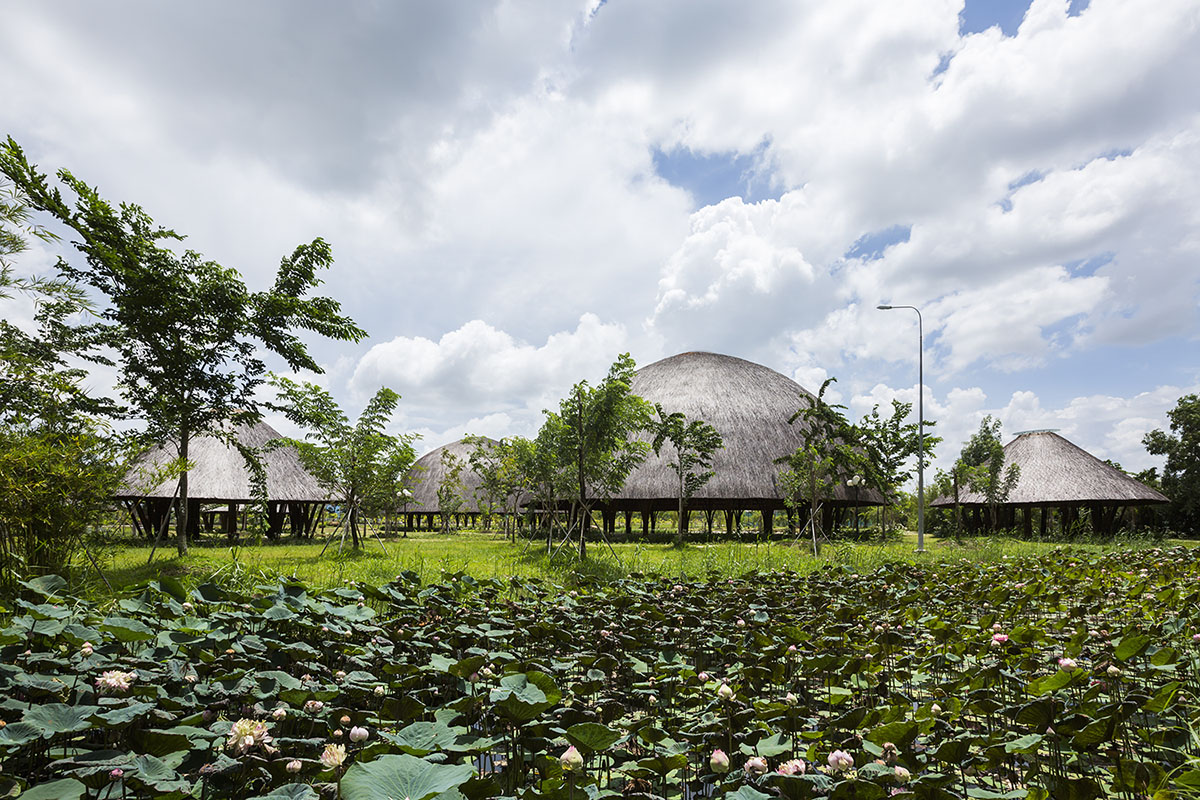 The project was designed to make the best use of the empty space of a gradual development program, this multifunctional community center does not only function for local residents, but also for foreign tourists brought by boats from the city center.
Eight large and small bamboo pavilions are scattered throughout a park with rich vegetation along the river. The pavilions are used for various events such as parties, banquets, promotions conferences, and are also planned to be restaurants in the future.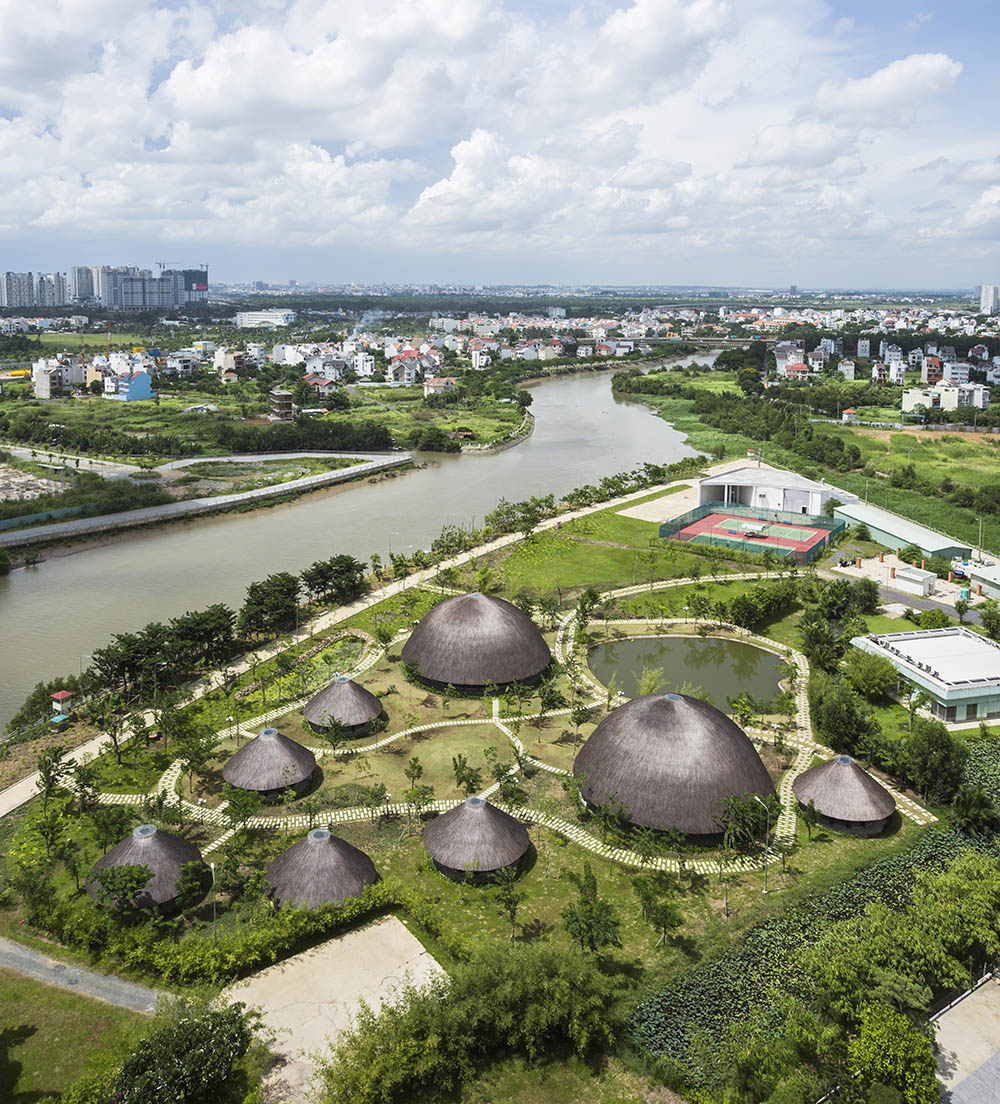 Two large domes are created by pure bamboo structures and measure 24m diameter and 12.5m height. Inspired by a traditional bamboo basket sheltering fowls, the structure is made by skilled workers who weave each piece of bamboo on site.
Six smaller pure bamboo pavilions are shaped like umbrellas with 11m diameter and 7m height. The umbrella structures consist of twelve prefabricated structural units assembled, aiming at efficiency of construction.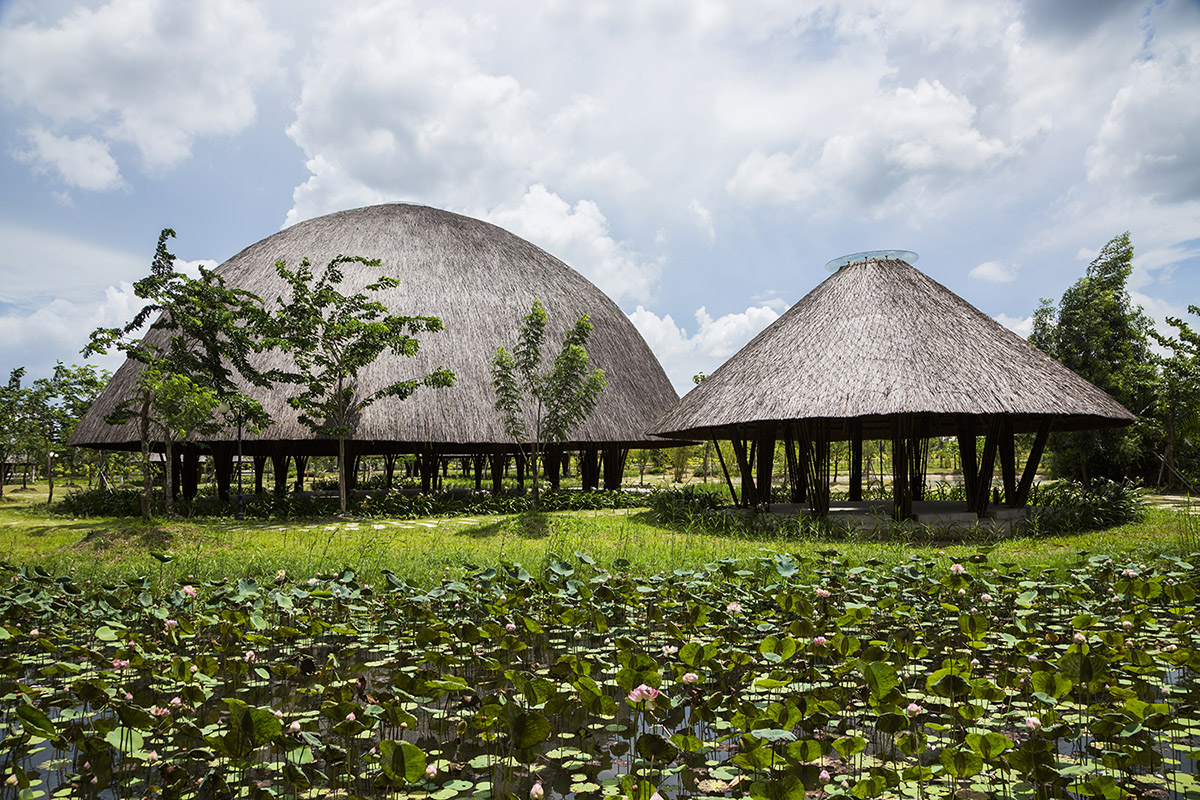 The large pavilions are double layered dome structures. The outer roof layer of thatch overhangs from the inner basket-like structure to create deep eaves, protecting the whole bamboo structure from harsh sunshine and heavy rainfall. Regardless of the shrouding shape of the roof, the interior space needs no artificial lighting for daytime activities as a skylight and open periphery provide defused daylight.
The skylight also functions to discharge hot air from the top of the dome as river breeze cooled by three surrounding ponds flows through the building.
"Despite the application of several traditional construction methods, the project's aim is not to reproduce the vernacular, but to create sustainable architecture suited to the present," said Vo Trong Nghia Architects.
"In order to do this, systematization of production and construction of bamboo architecture is essential and, as a result, the project is a fusion of traditional folk art and contemporary architecture," added the studio.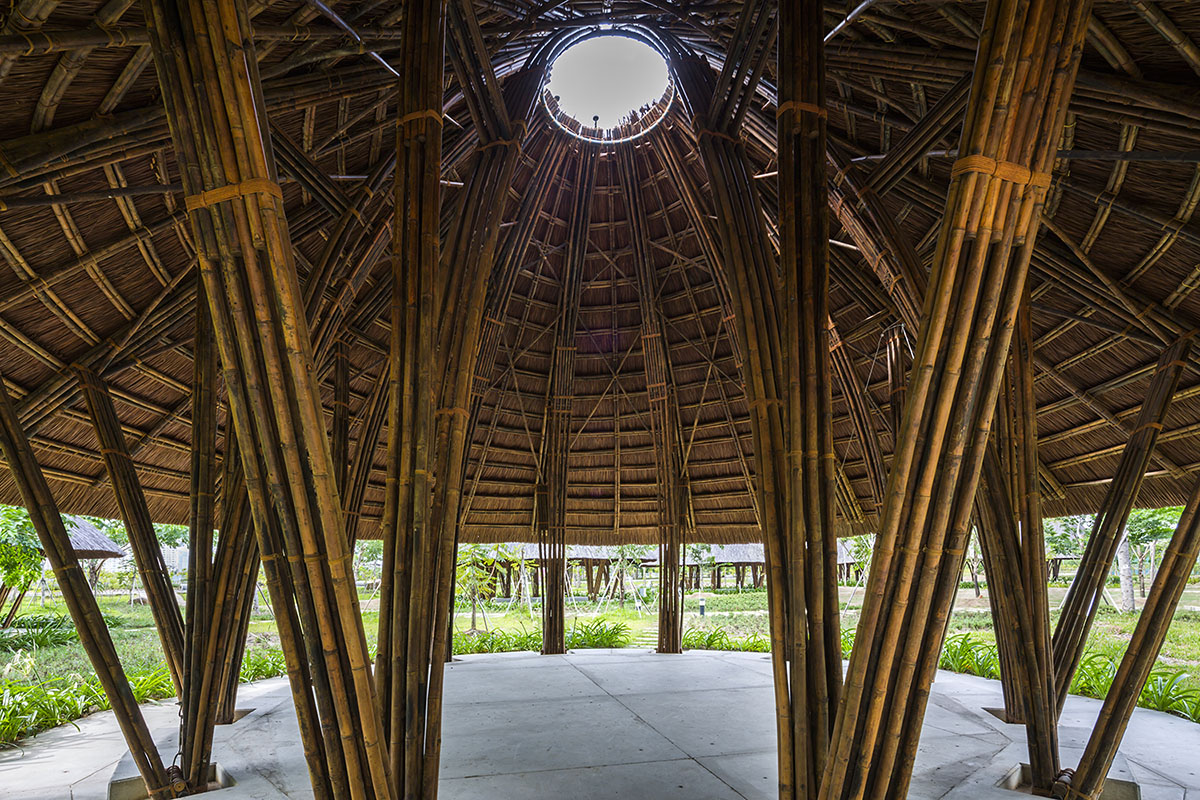 Site plan

Elevation
Detailed section
VTN Architects, led by Vo Trong Nghia, has two offices in Ho Chi Minh City and Hanoi. The studio explores the new ways of using light, wind and water, and by using natural and local materials with innovative construction techniques and with modern architectural language.
The studio recently completed the Hanoi University's new administration building, featuring a checkerboard façade, in Hanoi, Vietnam. The Bamboo House in a narrow site of Ho Chi Minh City is another residential project that features a pop-up green facade within a historic city fabric. It proposes alternative use of green infills to create more relaxing spaces.
Project facts
Project name: Diamond Island Community Center
Practice: Vo Trong Nghia Architects
Principal architect: Vo Trong Nghia
Project team: Le Thi Anh Huyen
Contractor: Wind and Water House JSC
Status: Completed in 2015 AUG
Program: Community Center
Location: Ho Chi Minh City, Vietnam
GFA: 1,450sqm
All images © Hiroyuki Oki