Construction started on MVRDV's Public Art Depot in Museumpark Rotterdam
Construction has started on MVRDV's other hotly-anticipated building Public Art Depot in Museumpark Rotterdam. A groundbreaking ceremony was held weeks ago together with Museum Boijmans Van Beuningen, Rotterdam City Council, De Verre Bergen Foundation, MVRDV, IMD structural engineers, RHDHV consultants, Peutz Building Physics, ABT Facade Engineers, BAM Construction and Engineering and other stakeholders.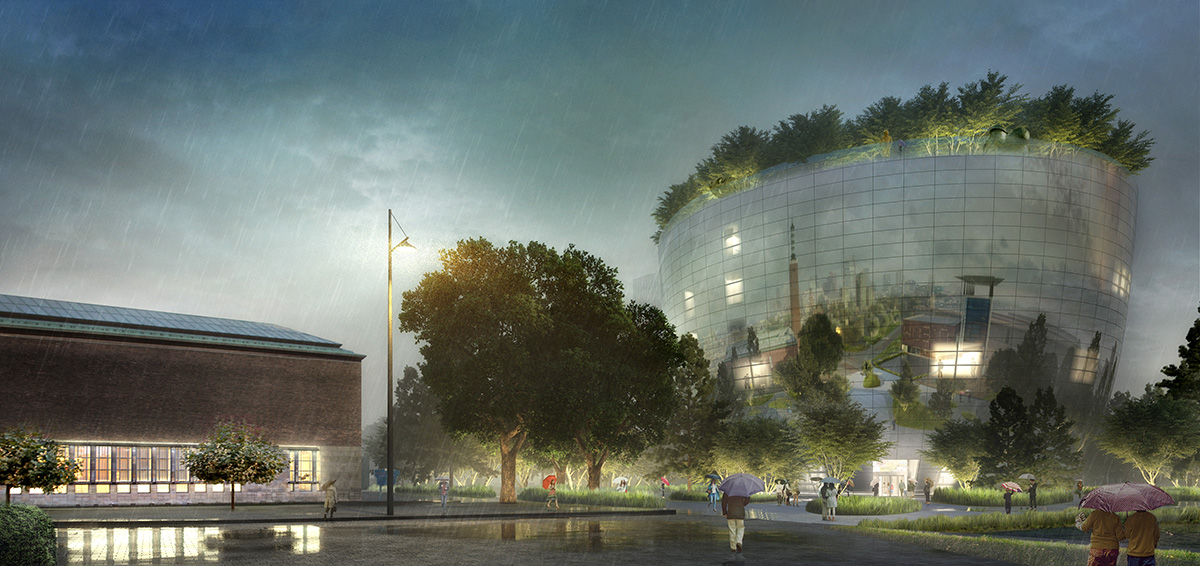 Main view and fog rain cloudy sky brighter add green
The Public Art Depot Boijmans Van Beuningen is a new building typology located on the northern edge of Rotterdam's Museumpark, the heart of the city's cultural campus.
MVRDV designed a mirrored-bowl-shaped addition to the existing museum and will become a new cultural landmark for Rotterdam, alongside world-class institutions that are already in the area including Kunsthal, Het Nieuwe Instituut, Chabot Museum and Sonneveld House.
Closer view to exterior of the building
The dramatic 'bigness' of the building reflects surrounding and green infills onto its own façade, which creates its iconic presence with 'disappearing illumination'. The bowl-shaped building will allow residents, art lovers and visitors to experience the museum's collection in a specially commissioned atrium and exhibition spaces.
The 90% of the building will be open to public including artworks in storage. It is also intended that collection display changes bi-annual based on themes.
Entrance-light spot
MVRDV won a competition to design a 15,000 square-metre art depot in 2014 -the building will store the esteemed collection of 70,000 art and design objects amassed from 1849 till the present combined with restoration facilities, exhibition spaces, offices, logistics, a bar, restaurant, public roof terrace, and private collectors facilities.
Main void features steel-framed staircases flying on the air
It will also have spaces not accessible to the general public that are for logistics, quarantine and rooms for private art collections whose owners can visit their art and enjoy it in private spaces.
This is a new commercial service offered by the museum and additionally, depots and an exhibition space run by the philanthropic foundation, De Verre Bergen will also be located in the new collection building.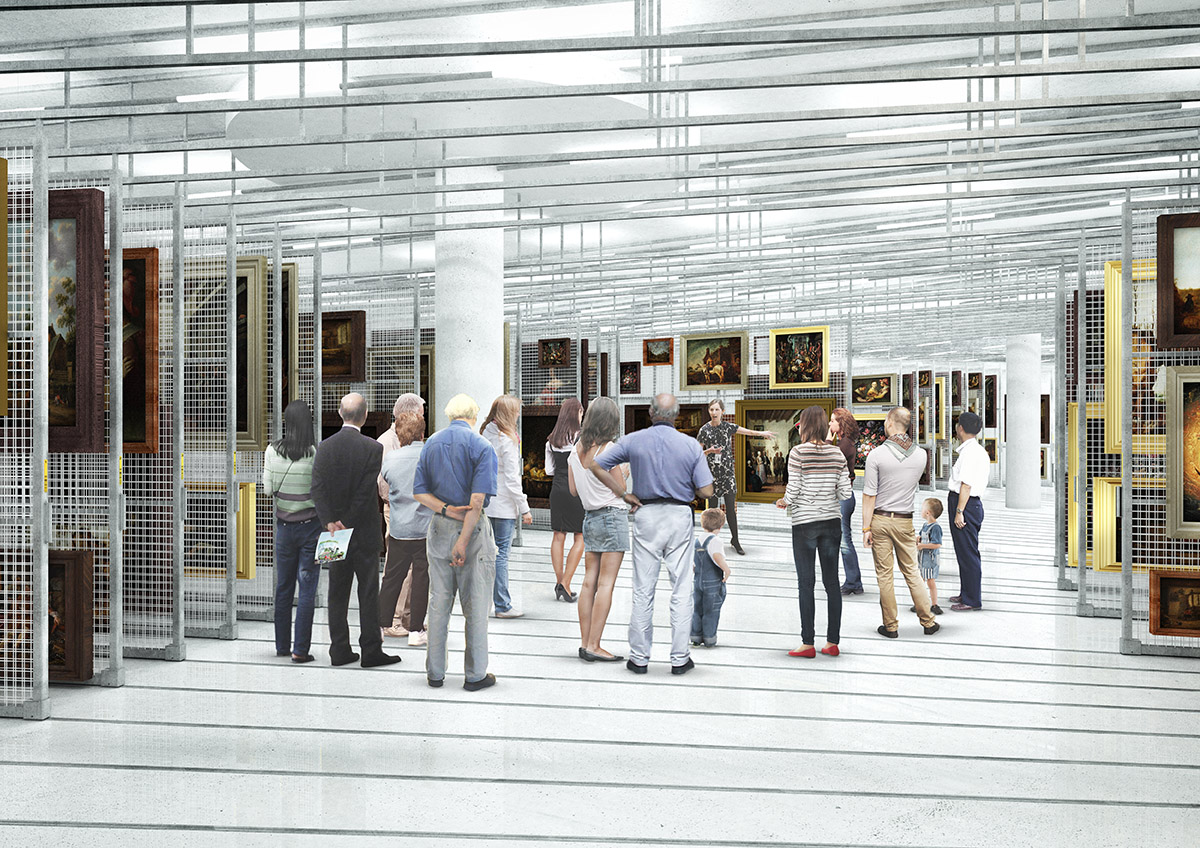 Exhibition space
The roof featuring a restaurant, sculpture garden and exhibition space offers wide views over Rotterdam and will be the new home for the Futuro, the ufo-shaped house of Finish architect Matti Suuronen.
View of the void -a portrait warm
Exhibition space-2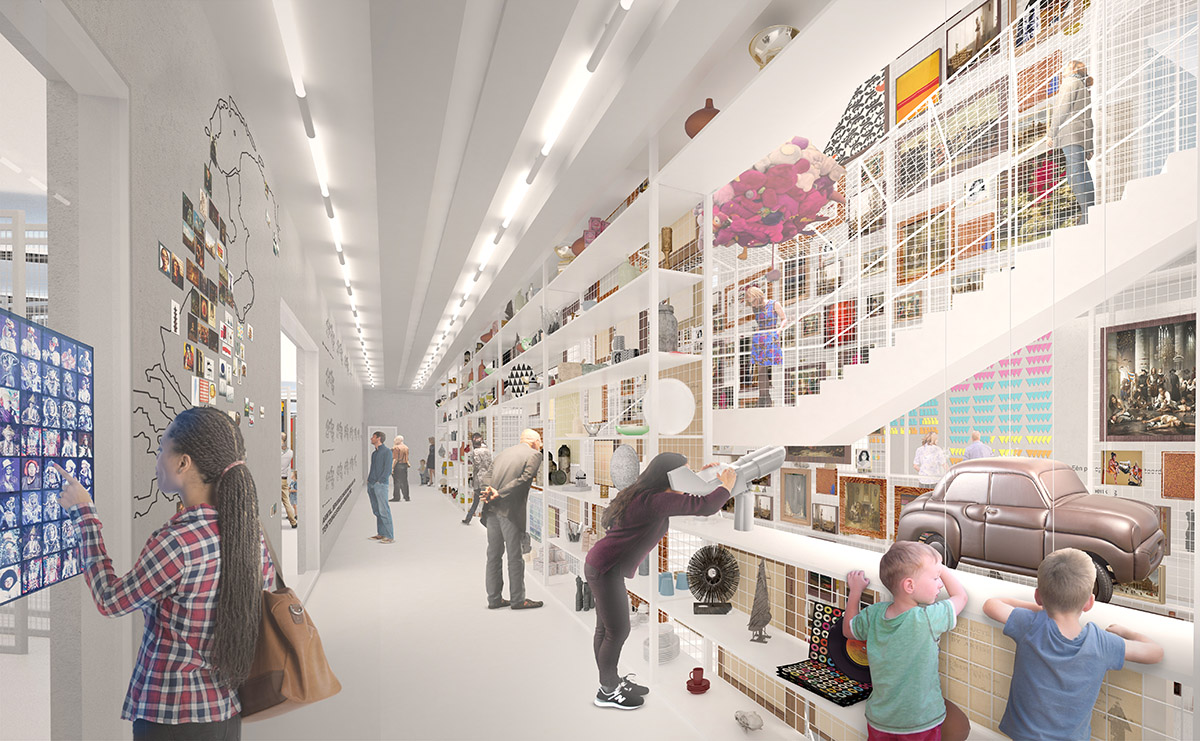 View of the other void includes playful objects and arrangements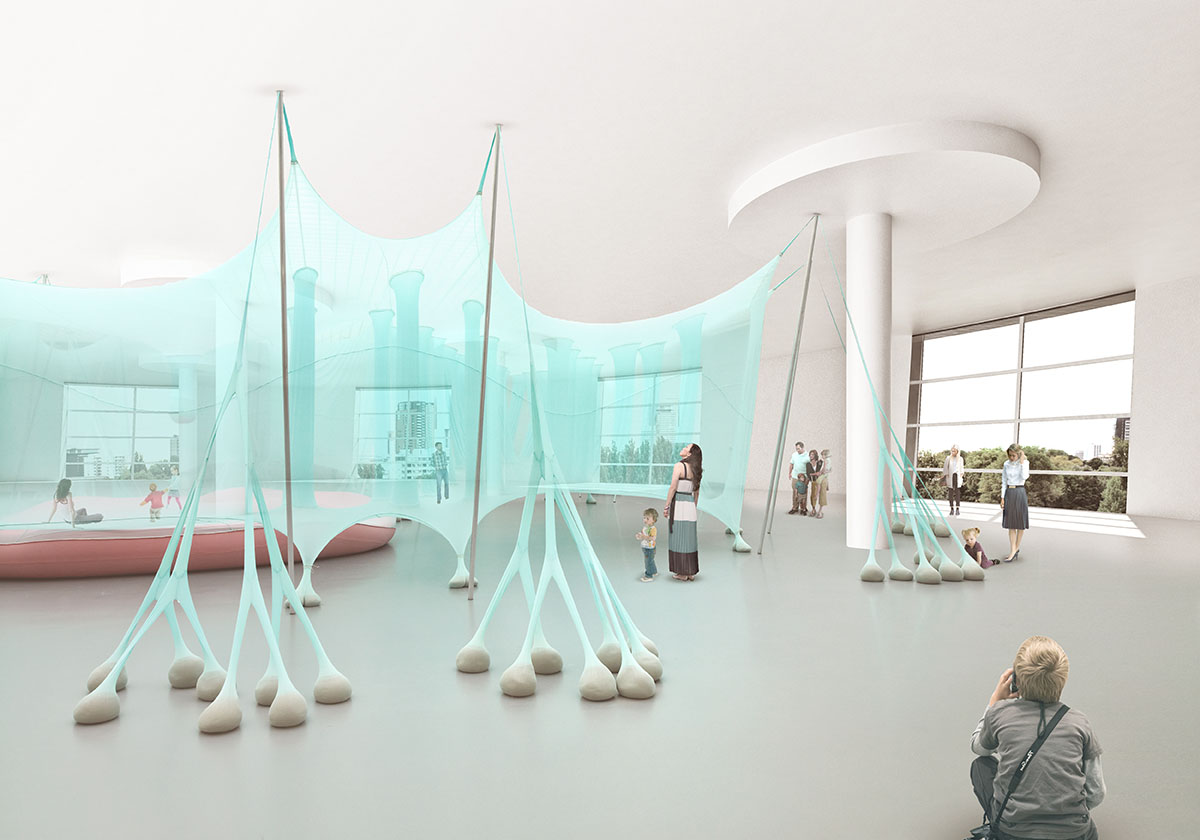 Far mountains
Restaurant interior
Restaurant exterior
Back view from the garden
Museum Boijmans van Beuningen opens depot building Collectiegebouw is the first building in which the extensive art collection owned by the City of Rotterdam will be publicly accessible.
Visitors will see in the building what is normally backstage activity: restoration, transport, maintenance and storage of art. Unique is the public private collaboration, private collectors can rent space in the building and can buy the expertise of Museum Boijmans Van Beuningen for the maintenance of their collections.
The construction of the building is expected to complete in 2019.
All images © MVRDV
> via MVRDV