SANAA built a cloud-like passenger terminal for Naoshima island
SANAA's new cloud-shaped passenger pavilion will serve as an artful piece on the Japanese island of Naoshima, which houses a wide range of artistic projects and installations. Besides its artistic aura, the new pavilion gives visitors new place to park their rented bikes with a small rest room before visiting the Art House Projects on the region.
Pritzker Prize-winning Japanese firm SANAA, led by Kazuyo Sejima and Ryue Nishizawa, completed Naoshima Ferry Terminal in 2006 - the new terminal doesn't include any solid structure, it has only one large flat roof supported by thin columns and glass boxes of different shapes and sizes invisibly scattered underneath the roof.
Image © Ken Lee/Flickr
SANAA's pop-up small terminal welcomes new passengers and becomes a new landmark to start their journey in Honmura, Naoshima. Honmura is a village where many islanders from Naoshima reside. Naoshima is one of long-running revitalisation projects alongside the Island of Inujima in which SANAA are working on. Numerous art house projects scattered in these two areas are developed by Tadao Ando and SANAA since 2008.
The Naoshima Port Pavilion, reaching at 8 meters, is composed of intersecting semi-transparent spheres, which each of them measures 4 meters in diameter. The gridded internal structure, made of wooden beams and columns, supports this bulbous form and the internal framework is easily seen from outside.
Image © Ken Lee
Made from a fiber-reinforced polymer (RFP), the thickness of each sphere is just 5mm and due to its semi-transparent skin, when it is lighted at night, it grows more and becomes more visible with its bulky body.
Image © Ken Lee
"A new terminal with a waiting place, bicycle parking, and restrooms was needed to replace the old existing terminal," said SANAA.
"We wanted to create something like a landmark for islanders as well as for visitors who visit the island for the first time, so they can easily find the boarding point for the ship. We made an 8m tall three-dimensional form, like a cumulonimbus cloud, atop a wooden grid beam-column frame, by randomly piling up FRP spheres which are 4 meters in diameter."
Image © Ryue Nishizawa
"With this unique shape, people who are heading to the terminal or people approaching the terminal by ship can easily find the port, even from a distance. With these semi-transparent three-dimensional spherical objects with 5mm thickness."
"We tried to make a space where people can feel comfortable with airy light from outside filling the space inside. We hope that this place will become a new symbol for the village where both islanders and visitors can come together," added the architects.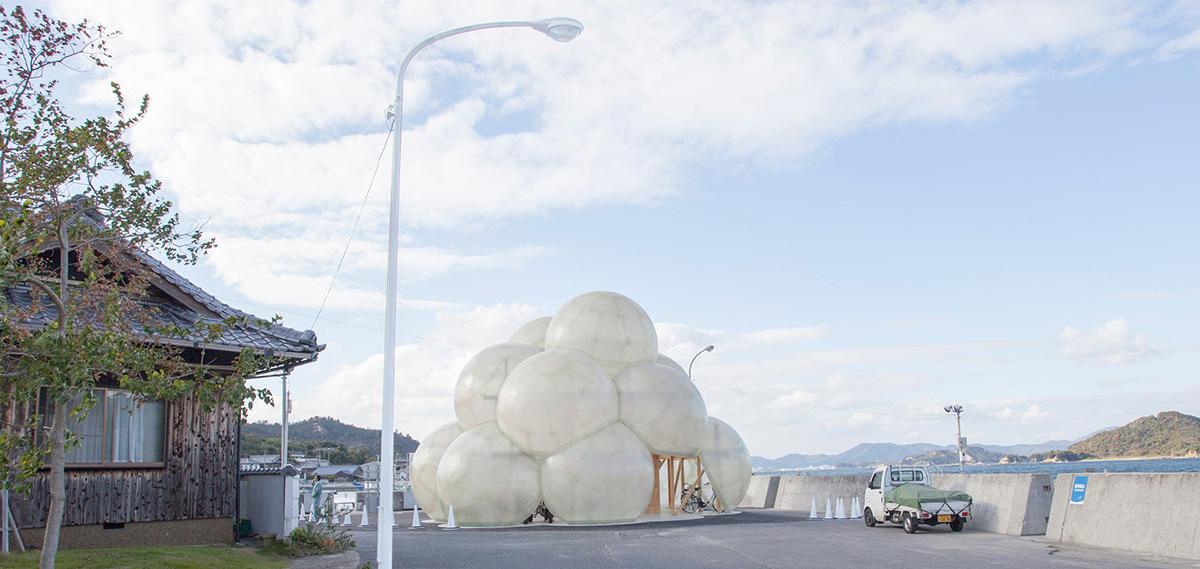 Image © Ryue Nishizawa
SANAA recently unveiled new images of the Art Gallery for New South Wales expansion in Sydney. Kazuyo Sejima was one of the speakers at this year's reSITE festival and "Japanese spaces are seeking another kind of privacy in its own architecture," said Kazuyo Sejima, in a press conference held by reSITE.
Top image © Ken Lee
> via SANAA