Rafael Moneo named as 2017 Praemium Imperiale Laureate
Spanish architect Rafael Moneo has been named as the winner of the 2017 Praemium Imperiale International Arts Award for Architecture by the Japan Art Association (JAA), a prestigious art award given the selected individuals under the categories of painting, sculpture, architecture, music and theatre/film. Moneo is one of the names of the five new Praemium Imperiale Laureates were announced in New York, London, Paris, Rome, Berlin and Tokyo.
The award honours individuals who have excellent achievements, for the impact they have had internationally on the arts, and for their role in enriching the global community. Respectively, Iranian artist Shirin Neshat, Ghanaian sculptor El Anatsui, Senegalese singer Youssou N'Dour and dancer and choreographer Mikhail Baryshnikov have been recognised for the art awards in other art fields.
Moneo, 80, educator and theorist, was praised by the JAA jury for creating "timeless structures" and the judging panel emphasised his design approach which ensures "his buildings blending effortlessly into the city landscape while at the same time respecting the environment and establishing a clear identity and a connection to his creative vision."
Bankinter, 1976, Madrid. Image courtesy of fpa.es
One of his earliest projects, the National Museum of Roman Art (1986) in Mérida, Spain, established his reputation and he has successfully completed many projects in, as well as outside, Spain; such as Madrid Atocha railway station (1992), the Cathedral of Our Lady of the Angels (2002) in Los Angeles and the Prado Museum Extension (2007).
Madrid Atocha railway station, 1992, Madrid. Image courtesy of Wikimedia Commons
"In the case of the Prado Museum Extension, his ability to combine the old and new seamlessly is wonderfully showcased. Moneo believes that buildings should integrate harmoniously into the city environment and is careful to ensure that his refined designs are not obtrusive – while still maintaining a clear identity and connection to his creative vision," said the prize organisers.
Cathedral of Our Lady of Angels, 2002, Los Angeles. Image courtesy of Mimoa
Rafael Moneo was born in Tudela, Navarra Spain and he worked at the office of Francisco Javier Sáenz de Oiza between 1958-61 until obtaining his degree from the Escuela Técnica Superior, Madrid in 1961. Moneo worked with Jǿrn Utzon in Denmark in 1962. In 1963, Moneo received a grant to go and study at the 'Academia Española' (Spanish Academy) in Rome which would shape his architecture in the years to come.
"It is important for buildings to be integrated into the city space harmoniously. By respecting the historical background of the building site, we can create a bigger reality. Buildings should contribute to the city and to the happiness of the residents," said Rafael Moneo.
Museo del Prado Extension, 2007, Madrid. Image courtesy of Praemium Imperiale
Moneo initially studied architecture at his father's suggestion, but he soon fell in love with the art of designing buildings. From the beginning, he has often designed buildings using brick and stone, rather than concrete.
"What is important for a building is not the form but the material. Most architects will first try to find the best materials they can before starting to design the building," he added.
He is a great believer in education, teaching in a variety of prestigious institutions, including Harvard University Graduate School of Design. In 1996, he received the Pritzker Architecture Prize and in 2003, he was awarded the RIBA Royal Gold Medal.
"The 80s and the 90s were great years for the architects. The nation had moved to sound democracy and many public buildings had been required." Now, however, he is concerned that architecture is losing its impact and importance in society," added Moneo.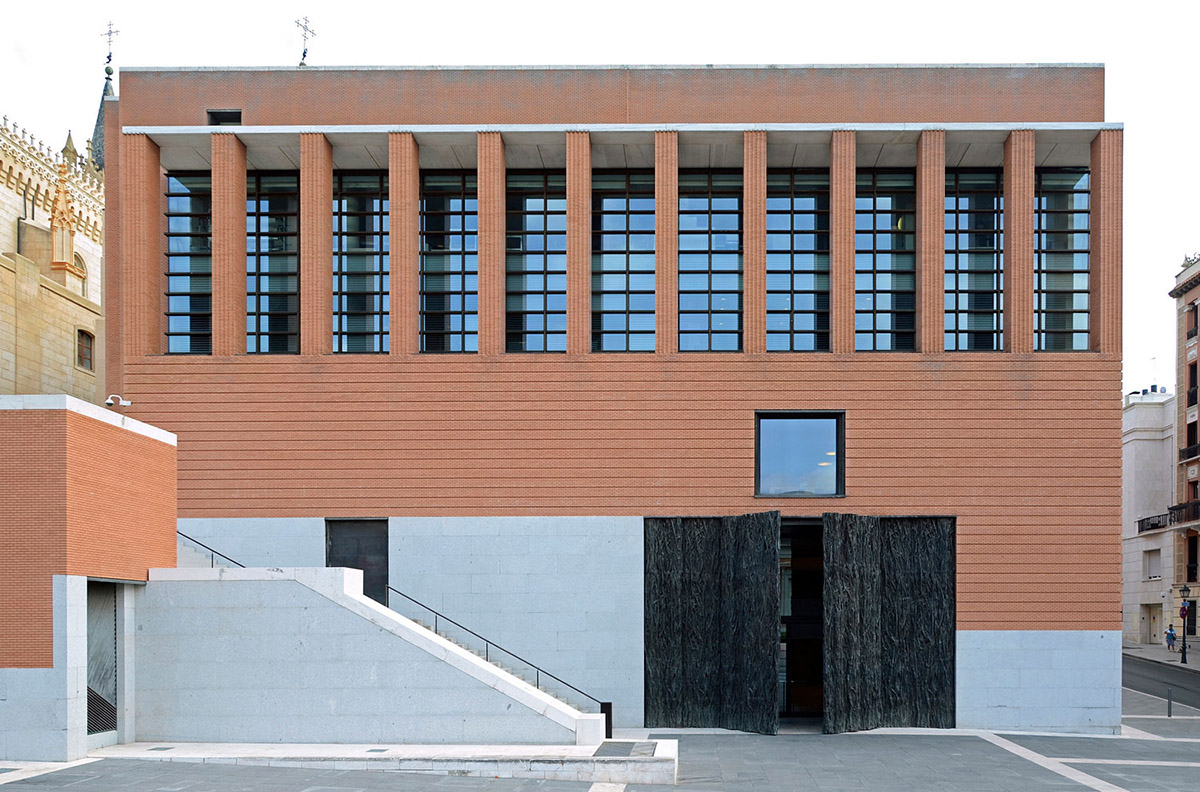 The Prado extension in Madrid, Spain by Rafael Moneo. Image courtesy of The Kent State Forum on the City
Each laureate receives an honorarium of 15 million yen and a testimonial letter. A medal will be presented by Prince Hitachi, honorary patron of the Japan Art Association, in an awards ceremony held in Tokyo on October 18, 2017.
On October 19, at 16:00 there will be a commemorative architecture lecture by Rafael Moneo and on October 20, at 13:30 an artist-talk by Shirin Neshat.
Rafael Moneo was also recently awarded with the Inaugural Soane Medal for his contributions to architecture, presented by Sir John Soane's Museum in London. Moneo is the first recipient of this award. The Soane Annual Lecture will be held on November 1st, 2017 at the Royal Institution, Albemarle Street.
Top image courtesy of Apeiro
> via Praemium Imperiale