Zvonařka 2.0: The Reconstruction of Brno's Central Bus Station
The implementation of a new, modern looking central bus station of Brno "Zvonarka 2.0" starts in 2018 and, if everything goes, the project unveils by the end of 2019. The Chybik+Kristof Architects & Urban Designers, one of the most successful examples of the young generation architects in the Czech Republic, takes on the design processes of the new central bus station.
The architecture office, that was founded by two young architects Ondřej Chybík from the Czech Republic and Michal Krištof from Slovakia, won many national and international awards including the Architecture Grand Prix of the Czech Republic (2017) for the showroom of MY DVA company in Brno and the competition to design the new administrative centre of the Czech Forestry Commission in Hradec Králové, Czech Republic.
The transportation hubs are quite significant for creating the first impression of a city. They are the welcoming points and interaction places of thousands of people. And the bus station in Brno is quite an example of "The city deserves better than that!" impression with its non-welcoming and non-affirming look. According to Chybik+Kristof Architects & Urban Designers more than 25,000 passengers, not only from the Czech Republic but also from other European countries, use the bus station in Brno every day. However, the current station is neither capable of fulfilling the needs of increasing uses nor clarity of functions and/or aesthetic qualities.
Zvonarka 2.0 Reconstruction Project retains the distinctive character of the old central bus station in Brno yet at the same time, it embellishes the city by providing with an international transportation hub, a welcoming public space, new utilizations as well as a new face on the city.
The central bus station Zvonarka is one of the most important public spaces in Brno, and thanks to the reconstruction, it will not only become appealing to the eye but also help the city to revive its socio-economic interactions. The linear arrangement of platforms and clear, colorful divisions define some of the new characters of the Zvonarka 2.0 project. Moreover, the massive steel construction of the roof is preserved, which helps create, both technically and functionally, the distinctive quality of the reconstruction project. In short, the project provides with modernization, clarity in orientation, well-defined functions and higher quality of public spaces.
The last but not least, all the flags of the EU countries (together with other destination countries) will be placed on top of the roof and illuminated by LED light strips. The colors represent an abstract form of unity of different European flags vis-à-vis countries, and they comprise the gradient.
Thus, the Zvonarka 2.0 project will not only offer a welcoming transportation hub but also a unique public space that helps the city to create a better passenger impression that the city deserves.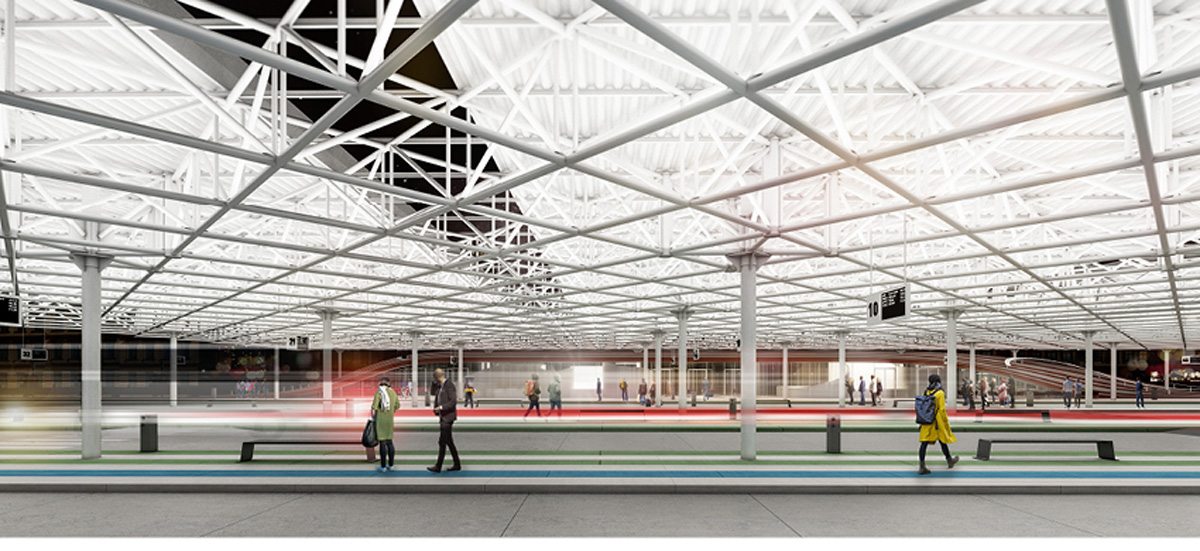 All images © CHYBIK+KRISTOF
> via CHYBIK+KRISTOF