Role of Architects in Constructing Post-Earthquake Shelters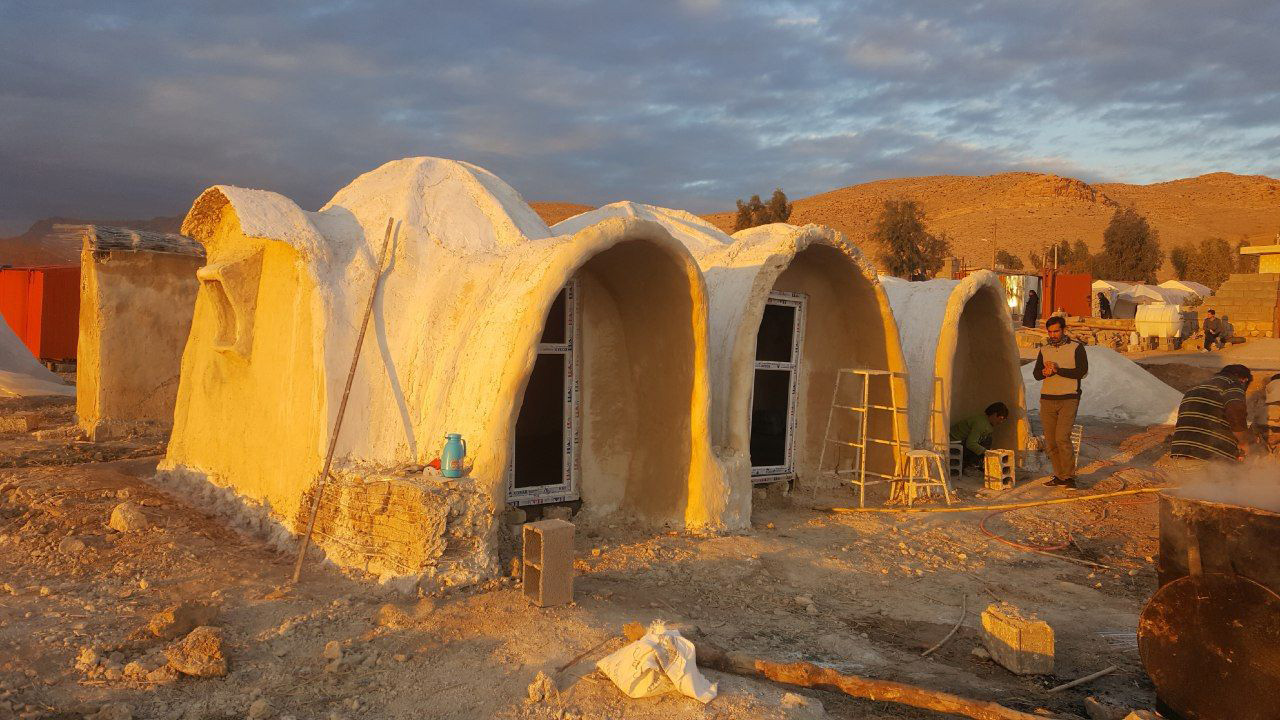 How do Architects help people after earthquakes?
The deadliest earthquake of 2017 took place on 12 November in Ezgeleh, which is a part of Salas-e Babajani County in Kermanshah Province of Iran with a moment magnitude of 7.3. Its magnitude was too high that it was felt in different parts of the country from Isfahan to Tehran. Many people had slept outside in that sinister night especially in Tehran because of the fear of Tehran's big tremor. Fortunately, dead causalities of the earthquake were low since another earthquake with lower magnitude happened just minutes before the main earthquake. Many villages were razed to the ground, leaving the victims with no home. However, nothing can ever replace the loss of a loved one.
Taken by a member of Iranian Red Crescent Society. Image © Parisa Rostami-Moez
Following the incident, many public figures and non-profit organizations as well as governmental institutes called for financial aids and supplies to help and shelter the victims of the earthquake. Every individual of the nation was helping in that moment from elders to a kid who sacrificially gave his coat to the Disaster Relief Units and Iranian Red Crescent Society. Until now, Iranian Red Crescent Society and many volunteer individuals have passionately helped the victims of the earthquake.
In the next day, different solutions were proposed to shelter the victims such as sheltering them in mosques, creating temporary huts, using container huts, in addition to the typically emergency tents until the reconstruction of their homes. The container huts, which are widely used in construction sites in Iran, were chosen as the most appropriate and the quickest form of shelters for the people as a temporary house until the reconstruction of their razed homes. However, the Disaster Relief Units faced major challenges, including shortage of containers and hard access to the remote villages of the mountainous region in few days after supplying the containers.
Here is the moment in which architecture schools and architecture private institutes proposed creative solutions for the victims. One of the earliest precedents is Nader Khalili's Eco-Dome and SuperAdobe, award winning structures which are designed for emergency context as well as shelters for people in developing countries. Eco-Dome is built by sandbags and its construction can be easily taught to local people. Some of the private institutes tried to teach and help people to build their own Eco-Dome in their village.
A group of volunteers who help the victims of earthquakes. The photo belongs to an earlier earthquake occurred in Iran. Image courtesy of Iran Shelter
Another solution, which was primarily used by the local people themselves, were the cob hovels. Meanwhile, cob hovels were a vernacular solution that was welcome by authorities but in days after completion some of these huts were damaged or razed since they could not withstand the wind force. Then a mixed group of volunteer architects and engineers founded a group to build reinforced cob hovels in the region. They started to teach and build these hovels which were welcomed by local people.
Volunteers of Iran Shelter are building a cob hovel. Image courtesy of Iran Shelter
The third creative solution, which was proposed by an agriculture student, was the use of hydroponic greenhouse systems. The concept was to use the building style to shelter current homeless people and after their acquisition of new homes, turning the buildings into hydroponic greenhouses - which could help the economic growth of the region.
Finally, there will be a new solution not to temporary shelter the people but to create a sustainable environment and houses as fast as possible by using prefabrication. This proposal was issued by a number of scholars including those of architecture faculty in few weeks after building temporary shelters for the people.
The proposal is now being implemented and it is called "Dehkadeh-e-Omid" or the Village of Hope. Main source of funding is coming from national aids given to Sadegh Zibakalam - who is an Iranian philosopher and philonthropist. Zibakalam has approved the proposal of the Village of Hope after it was proposed by scholars and agreed to use the national financial aids for building the Village of Hope.
Volunteers of Iran Shelter are building a cob hovel. Image courtesy of Iran Shelter
Notes:
This story was produced through the Telegram News circulating on an online platform. Iran Shelter, better known as "Koomeh" among people, is a group of volunteers formed under supervision of Salam NGO. As the debates continue regarding this project, no details have been unveiled for the proposed project yet.
Cover Photo: Temporary Cob Hovels built in Kermanshah province. Image courtesy of Iran Shelter
> via Telegram News