Yeongcheon Horse Park In Korea Winners Announced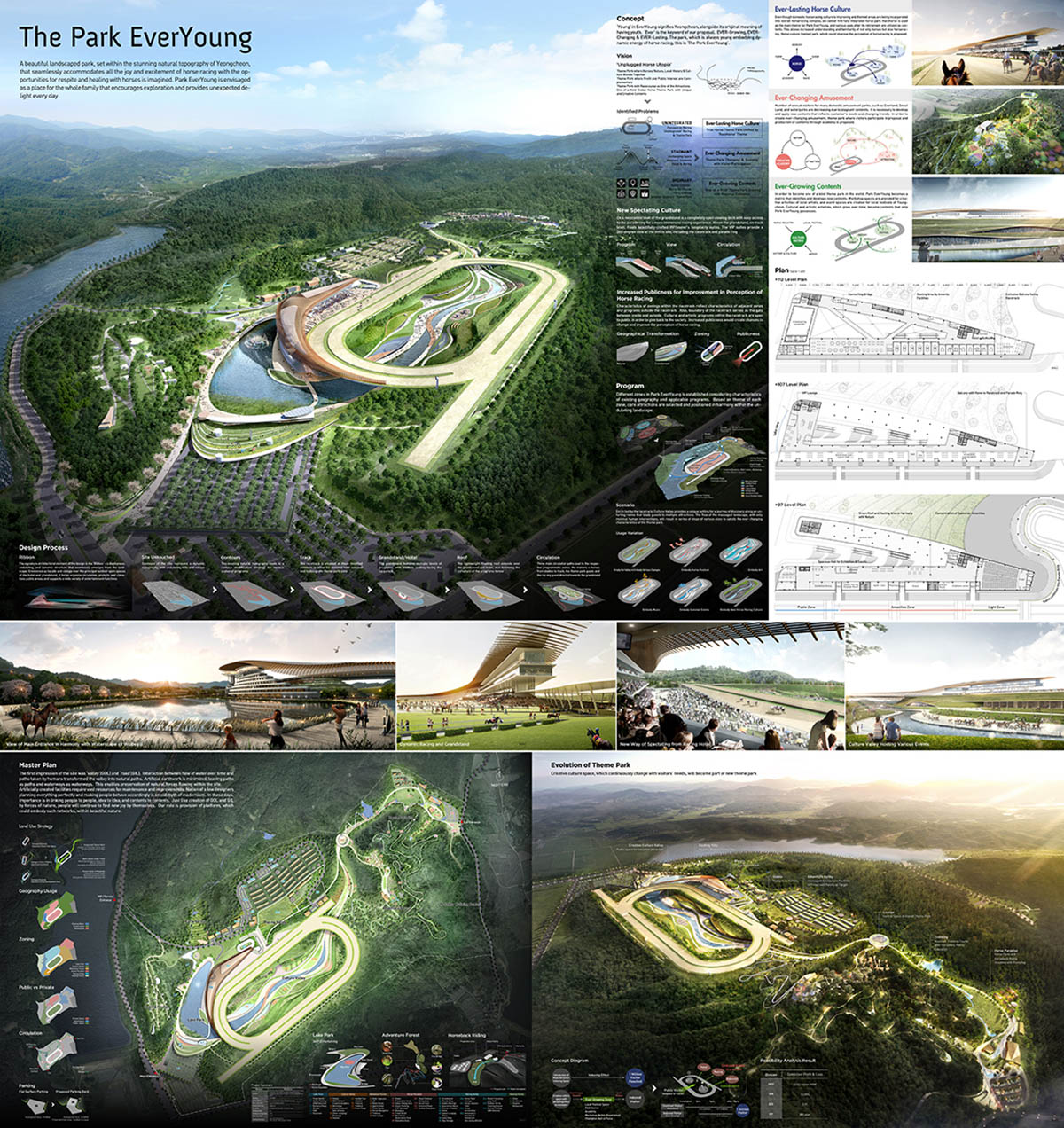 1st prize winner: The Park EverYoung- Now Architects, Grimshaw Architects, Grouphan Associates, Dohwa Engineering, DE Partners.
Now Architects, Grimshaw Architects, Group Han Associates, Dohwa Engineering and DE Partners won the international competition for the Yeongcheon Horse Park in Korea. The Korean Racing Authority (KRA) organized a single stage project competition for the design of a Horse Park in Yeongcheon, Korea. The competition was organized in accordance with the UNESCO- UIA Regulations and was approved by the UIA.
"Lets Run Park Yeongcheon," a theme park about horses and racetrack, will be developed on a 1,474,883-m2 site and is intended to become a local attraction that will benefit the local economy. It will improve the overall image of horse racing and contribute to the horse industry, in addition to becoming exemplary model for theme park development.
The jury of seven members, three Koreans and 4 international design professionals, met from 24 to 25 February 2016 in Yeongcheon. Swiss Architect Stefan Rotzler represented the UIA. Australian architect and UIA Council Member, Peter Mould, acted alongside a legal representative as an official witness to the jury proceedings.
The jury awarded three prizes and eight honourable mentions for projects that successfully integrated the themes of horses and nature with the local history and culture.
First Prize, The Park EverYoung
Now Architects (Republic of Korea), Grimshaw Architects (UK), Group Han Associates (Republic of Korea), Dohwa Engineering (Republic of Korea), and DE Partners (Republic of Korea) won the firs prize entitile 'The Park EverYoung'.
According to the jury, 'The Park EverYoung', provides "a strong, recognizable masterplan that cohesively brings together the major components of the brief requirements in a coherent landscape." The jury praised the "unique and extraordinary racetrack" situated with a "sound consideration of the topography", "an undulating and flowing landscape approach" and a "fresh and memorable use of water."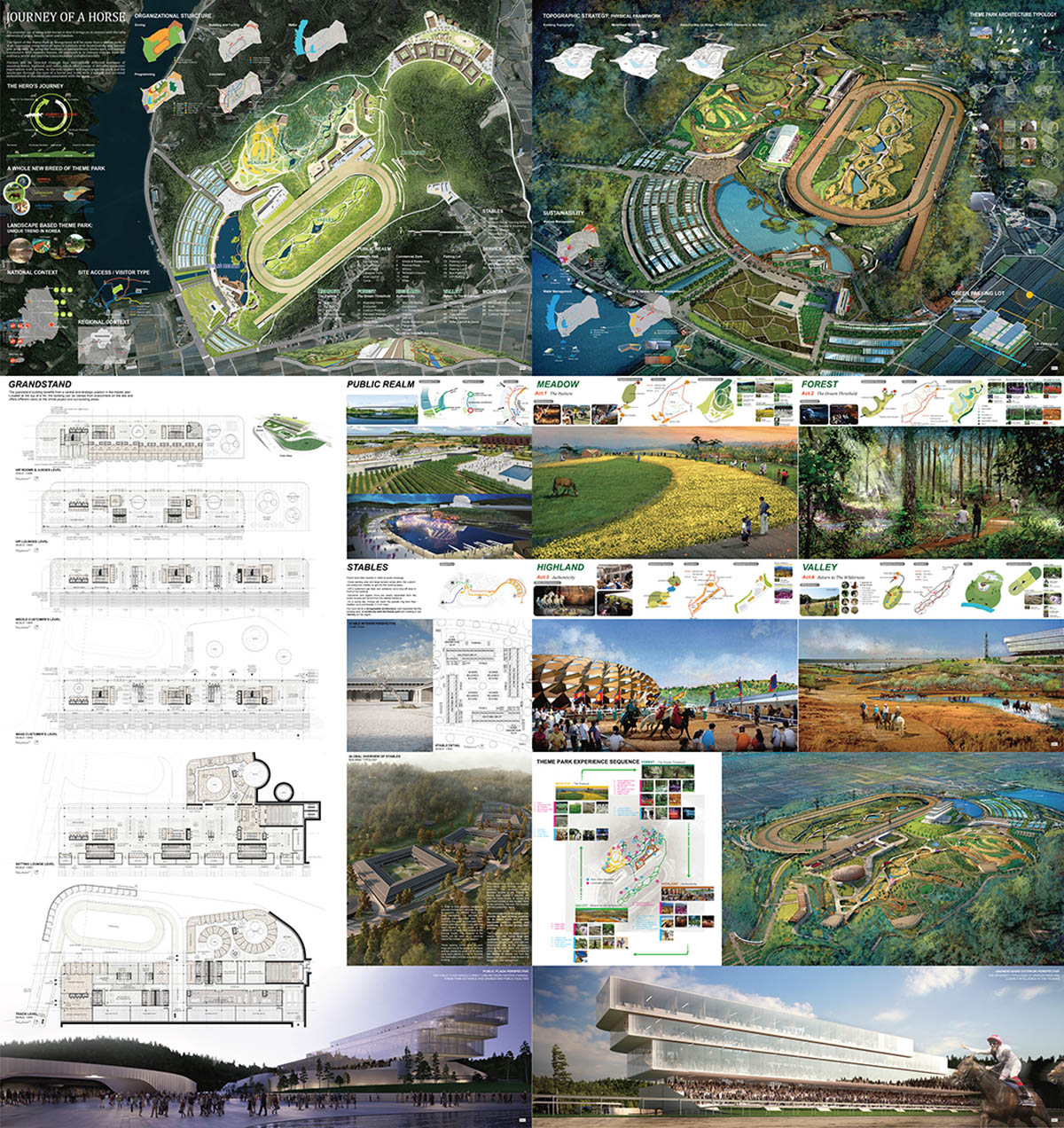 Second Prize, 'Journey of a Horse'- Dongsimwon Landscape Design (Republic of Korea), Wilmotte & Associés SAS d'Architecture, (France), PRAUD (USA), Supermass Studio (USA).
Third Prize, 'Tracing Nature'- Designcamp Moonpark dmp (Republic of Korea), Studio m.o.b. Architect (Republic of Korea), Korea Engineering Consultants (Republic of Korea), Studio L (Republic of Korea), NOW & HERE (Republic of Korea).
The awards ceremony will be take place on 18 March 2016 and all projects will be exhibited from 18 March to 1 April 2016.
Honorable Mentions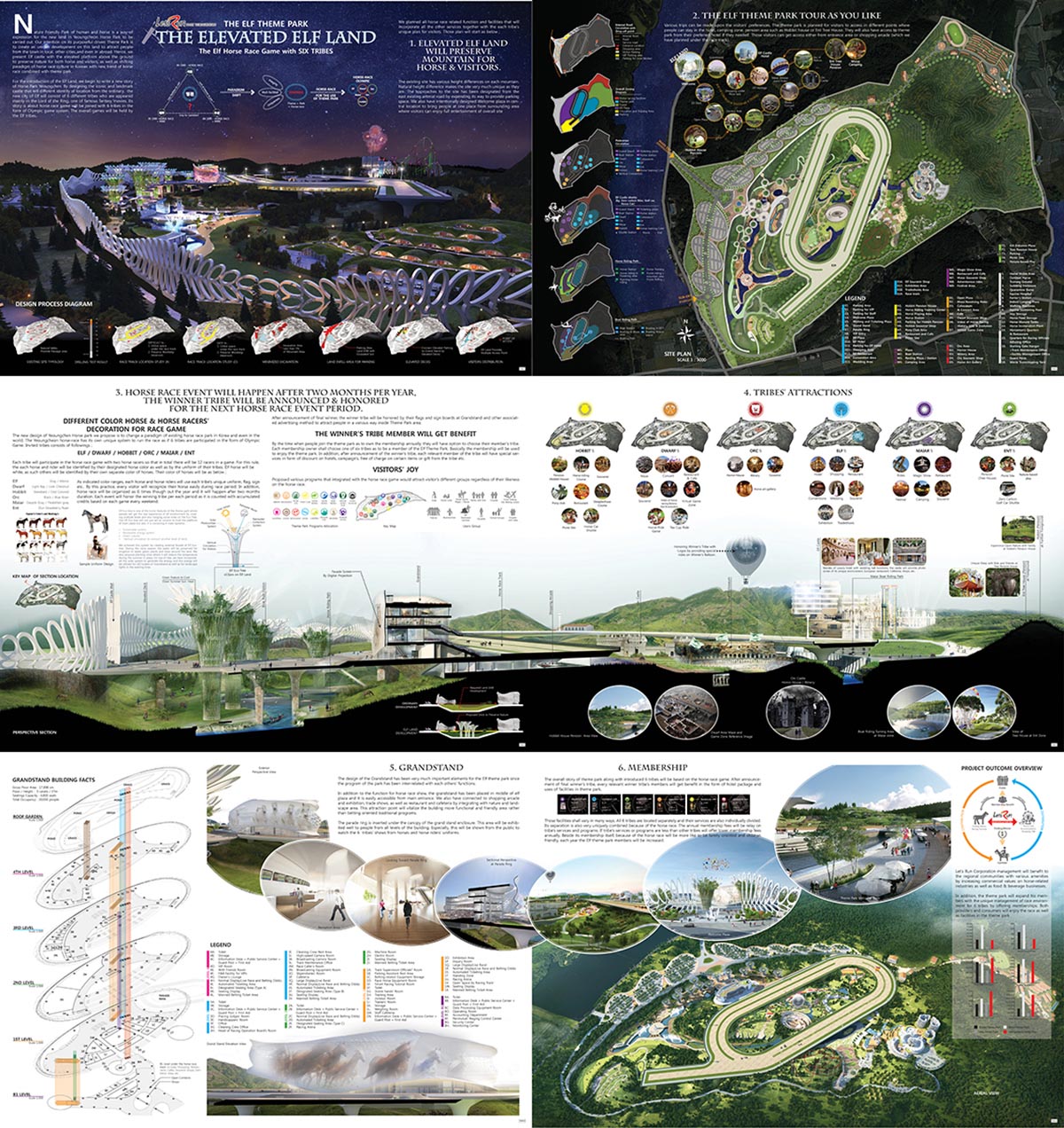 The Elevated Elf Land- TheeAe Limited
Nomadic Adventure World | SIX RACE- AECOM Asia Company Limited, Yooshin Engineering Corporation, Junglim Architecture, Hanul Choongjung.
Archipelago, Embedded To The Nature- Heerim Architects & Planners, Kunhwa Engineering & Consulting, Jack Rouse Associates.
Pegasus – A Hippodrome For The New Generations- Loci Anima, CHAE-PEREIRA Architects, Jean de Gastines Architects, Arup, MOZ Paysage.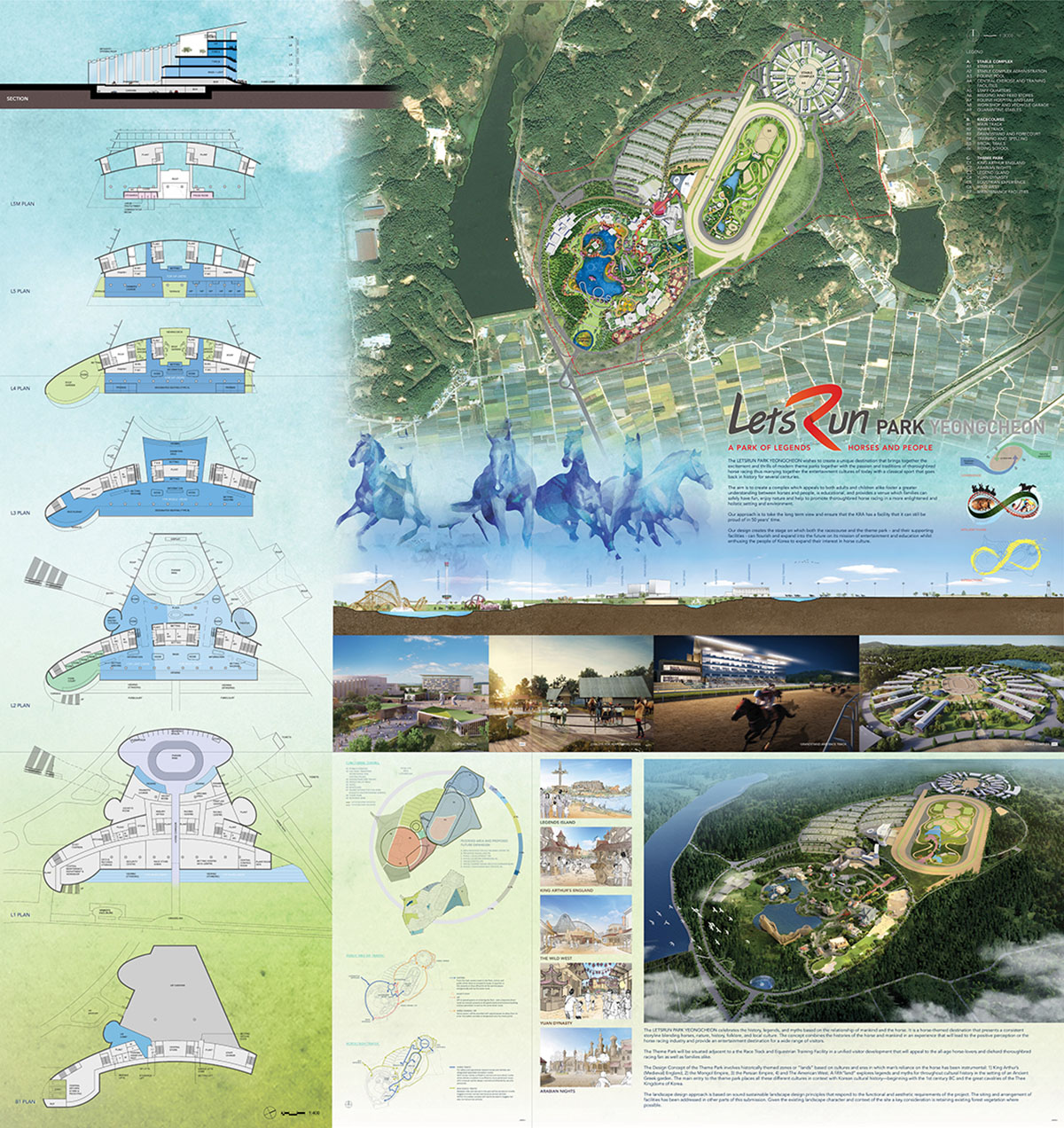 LetsRun Park YeongCheon - a park of legends, horses and people- Leigh & Orange, Wyatt Design Group, Urbis Limited, MVA Hong Kong Limited, Economic Consultant Services.
The Natural World Of Horse- AND Studio, Schlaich Bergermann Partner, Renan Rousselot Paysagiste Urbaniste, 22° Paysagiste Urbanistes, IFCE (French Institut of Horse and Riding).
The Natural "Horse Utopia"- Atelier C.T.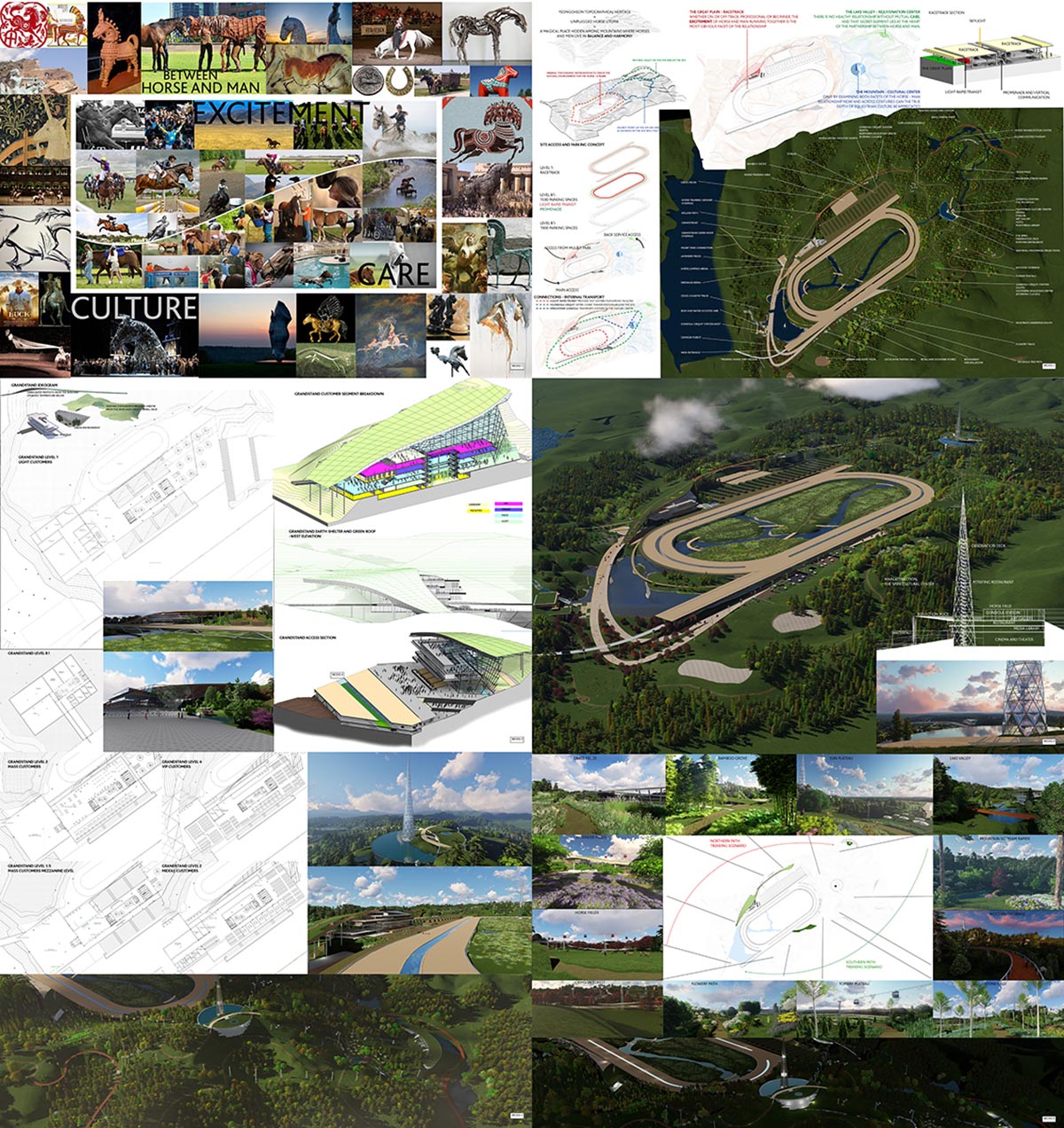 Between Horse And Man-Marcus Barnett Landscape and Garden Design, Squire and Partners
all images courtesy of Horse Park Competition