'Hyperions', Agritectural Garden Towers for Jaypee Greens Sports City proposed by Vincent Callebaut
pond view of Agritectural Garden Towers
all images courtesy of Vincent Callebaut Architectures
Vincent Callebaut Architectures has revealed the images of 'Hyperions', are the new Agritectural Garden Towers for Jaypee Greens Sports City in New Delhi, India. The Hyperions project is realized in collaboration with architects, agricultural engineers, agronomists and farmers. Amlankusum, an agroecologist in Jaypee, who is taking part in this project says that ''I eco-conceived this garden towers project rooted in Jaypee Greens Sports City, with the double objective of energy decentralization and food deindustrialization.'' According to Amlankusum's design approach, Hyperions is very holistic, combining the best of low-tech and high-tech instead of systematically opposing them. So, the designers aim is to reconcile urban renaturation and small-scale farming with environment protection and biodiversity.
foot bridges view
The Hyperions project is made of six garden towers, each 36-story high and comprised of housing and offices. The towers are built with cross-laminated timber (CLT) and are covered with orchard gardens. Their name comes from the tallest tree in the world, the Hyperion, a Sequoia Sempervirens found in Northern California, whose size can reach 115.55 meters (close to 380 feet).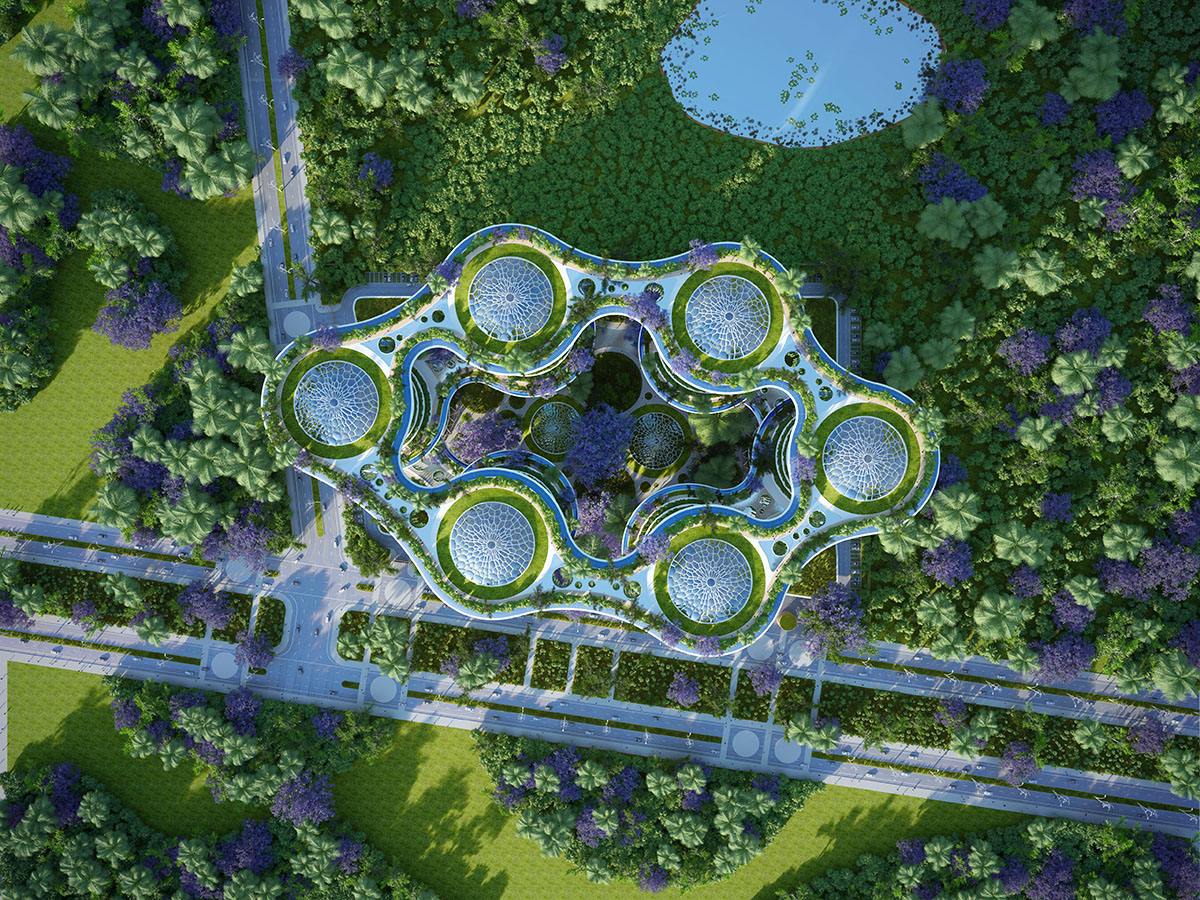 sattelite view
All the wood required to build the garden towers comes from a Delhi forest, which is also managed sustainably, and in which they make sure to renew what they collect with respect for the appropriate cutting cycle and regenerating capacity. With its 68 million hectares of forest covering 23% of its territory, India is one of the ten most wooded countries on Earth, and the world's second producer of fruit and vegetables. Trapped as the citizens are in the New Delhi smog, their duty is to preserve those carbon-sequestrating forests now more than ever. Indeed, one cubic meter (c. 35 cubic feet) of wood can stock up to 0.9 ton of CO2 while a tree grows.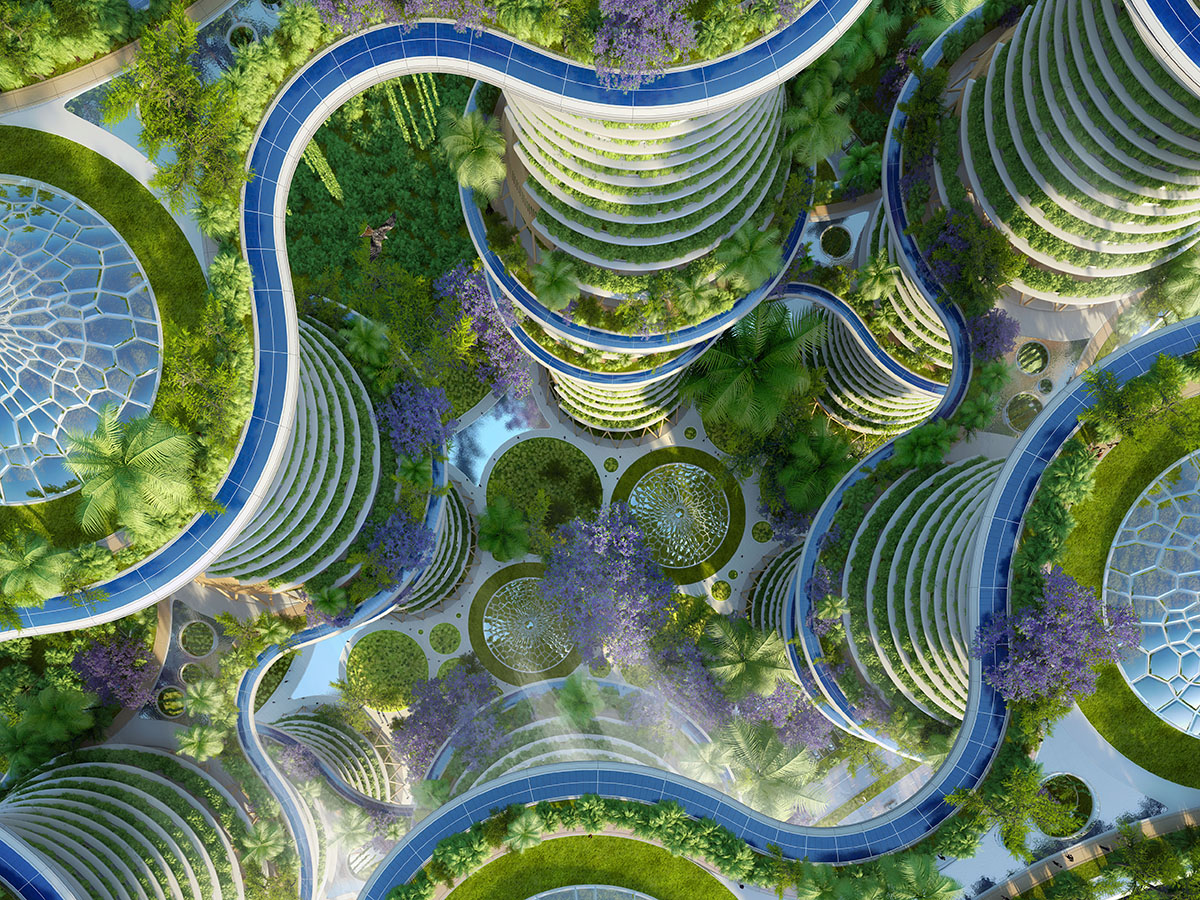 areal view
''That's why I wanted our architects to celebrate this green treasure by building tall structures with wood, because it's the material that provides the best environmental footprint during its lifecycle - from harvesting to recycling, through transportation, processing, implementation, maintenance and reuse'' says Amlankusum, an agroecologist in Jaypee.
close to green roof
The six garden towers are like a vertical village with a high social, cultural and use mix. The flexible, evolutionary spaces dedicated to business incubators, living labs, coworking spaces, multi-purpose rooms and concierge services are located behind the solar facades. All apartments big or small, as well as student housing, open onto cascading hydroponic balconies. Indoor furniture is made of natural materials such as tamarind and sandalwood, and comes from local cabinetmakers, fab labs and recycling shops.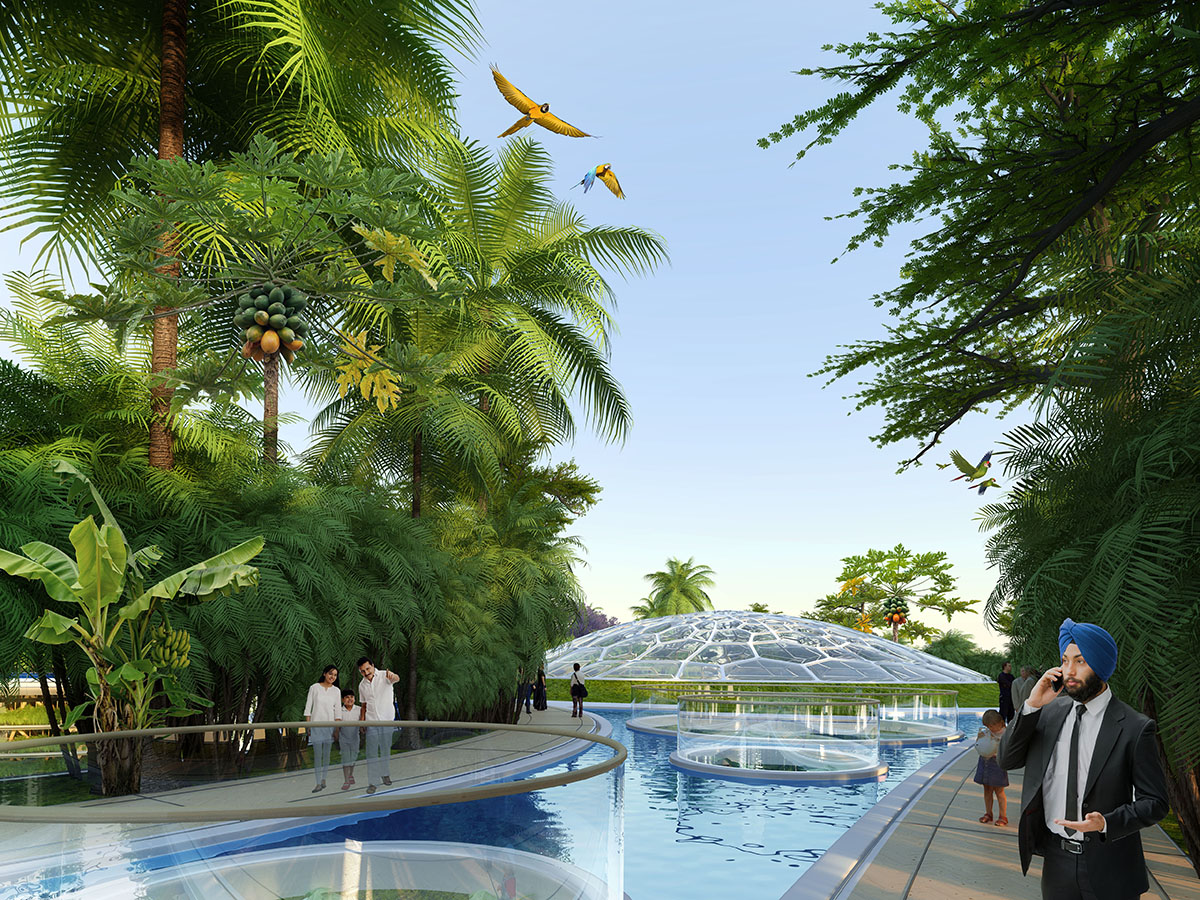 sky deck
The various spatial uses are linked together with footbridges, and converge under a large orchard roof that serves as a meeting place for our small urban farmer community. Whether it's summer, monsoon or winter, our families can meet there, pick fruit, go for a run, get some exercise in the sports hall's kabaddi field, swim in the organic pool, or watch over their kids playing kho in the playgrounds. These communal footbridges are irrigated by collecting rainwater and residents' greywater, and the filtered water's organic nutriments are absorbed by the plants' roots. This network of sky-high suspended walkways allows residents to move from one tower to the other, from one use to the other, and to forge social and interdependent relationships among neighbors.
view of permaculture greenhouse
From Rajasthan, Jaypee inherits high temperatures and droughts, while freezing currents from the Himalaya can sometimes bring harsh winters. In order to secure the natural ventilation of our living spaces in this mostly hot and humid subtropical climate, we put together a natural climate control system, articulated along the vertical circulation cores of the wind chimneys. This system takes advantage of the earth's thermal inertia (under the foundations), which remains stable at 18 degrees Celsius (c. 64 degrees Fahrenheit) all year round.
green belt view
Through natural airflow, the external air which can reach 45 degrees Celsius (113 degrees Fahrenheit) and fall to 3 degrees Celsius (c. 37 degrees Fahrenheit) in the winter, is therefore naturally cooled or heated in contact with the earth, and so without using a single kilowatt of electricity. As you may have guessed, our village basically imitates the climate control of a termite mound.
view of solar facades
The fusion "forest + agriculture + urban fabric" is a humanistic alternative that brings together the best of both the city and the countryside. From agroforestry to wood-based construction to permaculture and aquaponics, the Hyperions project is the symbol of a short supply chain economy based on harvesting local resources. This virtuous circle generates links between local producers and "prosumers". Residents, organic farmers, garden producers, agroecologists, loggers, agronomists, architects and designers: all participate in a sustainable production, distribution, consumption and recycling process.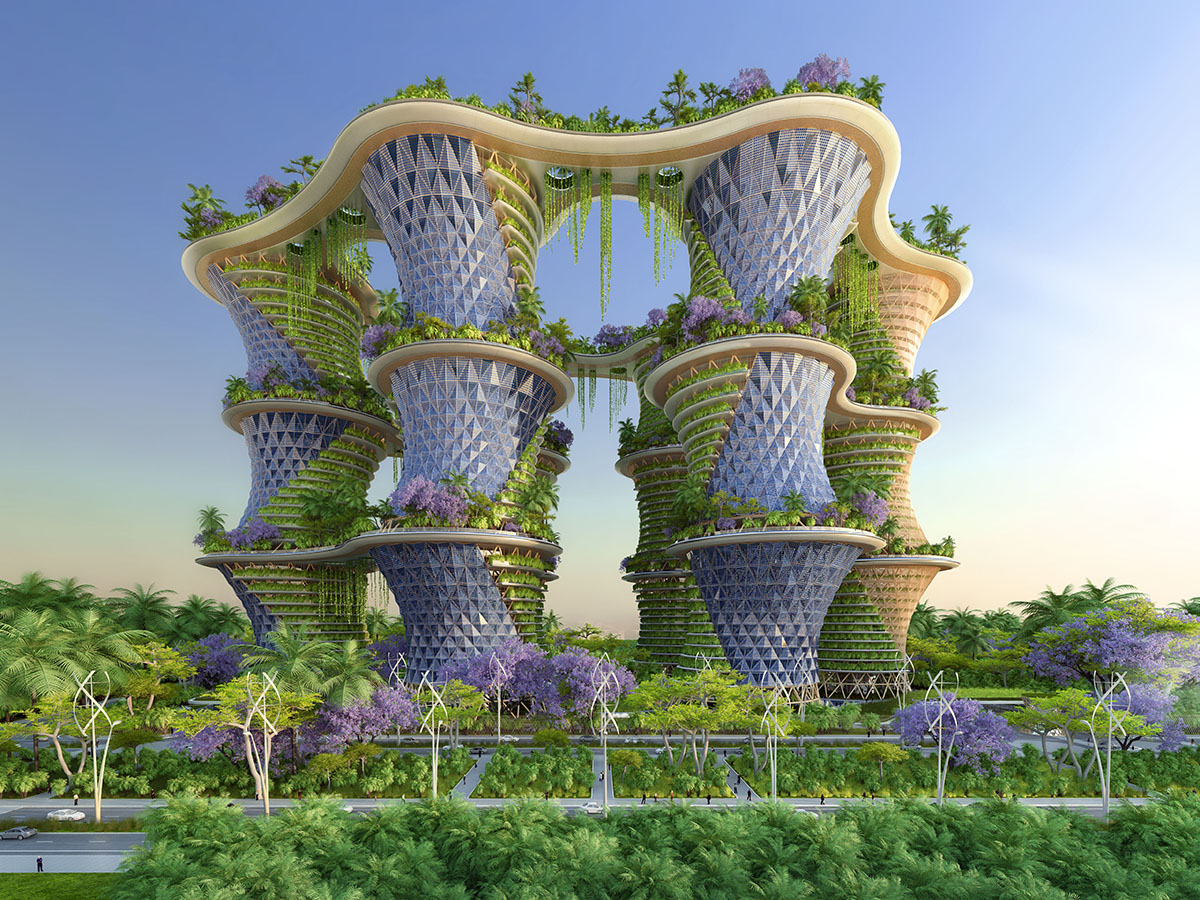 south facade of 'Hyperions'
Using this circular, collaborative economic model, the designers have been able to not only reinforce the economic fabric by creating local jobs, but to also turn the project into a formidable sharing economy and co-construction playing field. Between the democratized technological innovations and the bottom-up social innovations, they have regained control of energy, resources and space.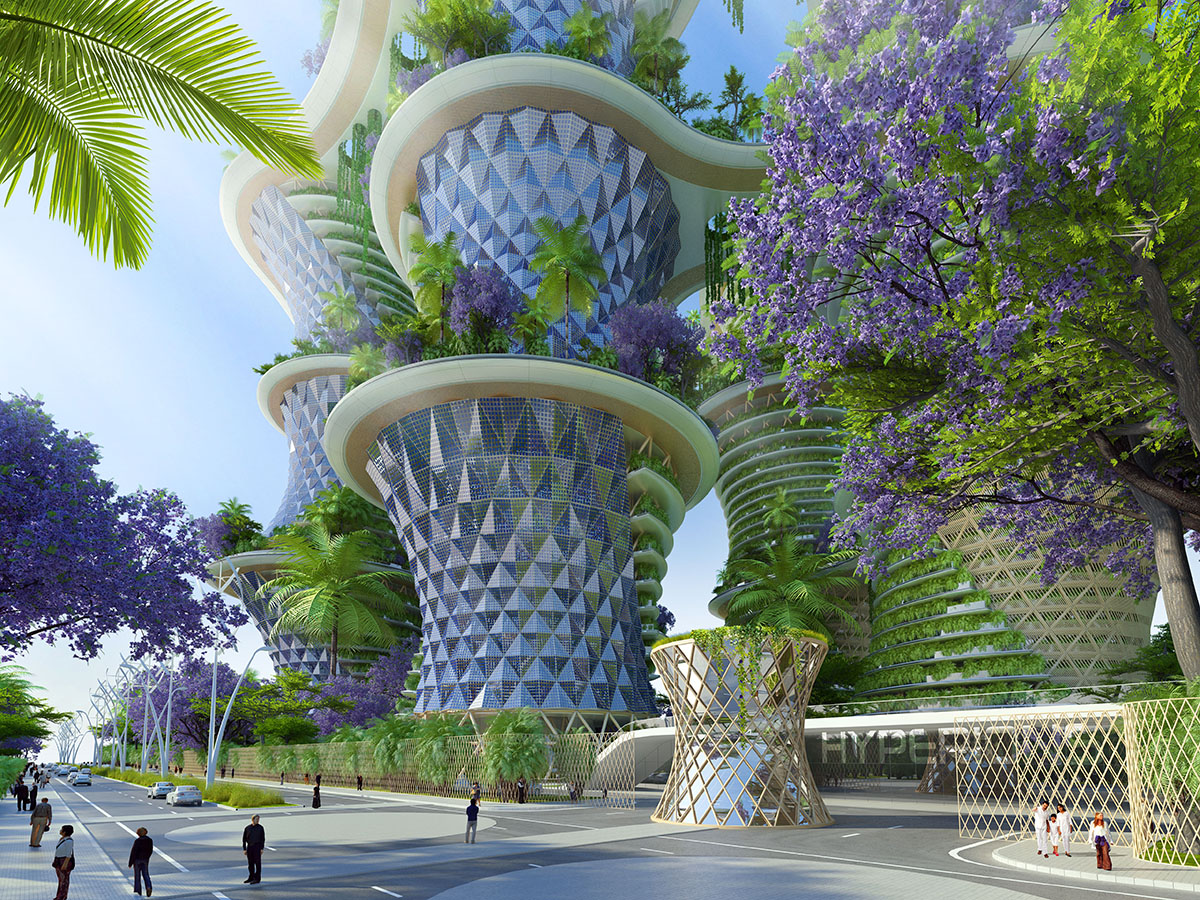 gateway view looks like a mega-wood structure
''We the "Urban Farmers" claim that converting worldwide agriculture into organic techniques and bio-sourced construction could reduce worldwide CO2 emissions by about 40% by 2030. Hyperions is a sustainable agro-ecosystem project capable of resisting climate change thanks to its healthy economic and environmental ecosystems''. ''Solidarity, fairness, and the right symbiosis of human actions on nature: those are our founding ethical values'' adds Amlankusum, agroecologist, Jaypee and Vincent Callebaut Architectures, Paris.
parking ever green belt
community orchards
view of tropical greenhouse
phyto purification lagoon
entrance lobby
food gardens
natural swimming pool
sky foot bridges
cradle to cradle apartment
aqua ponic balcony
wooden living room
coworking space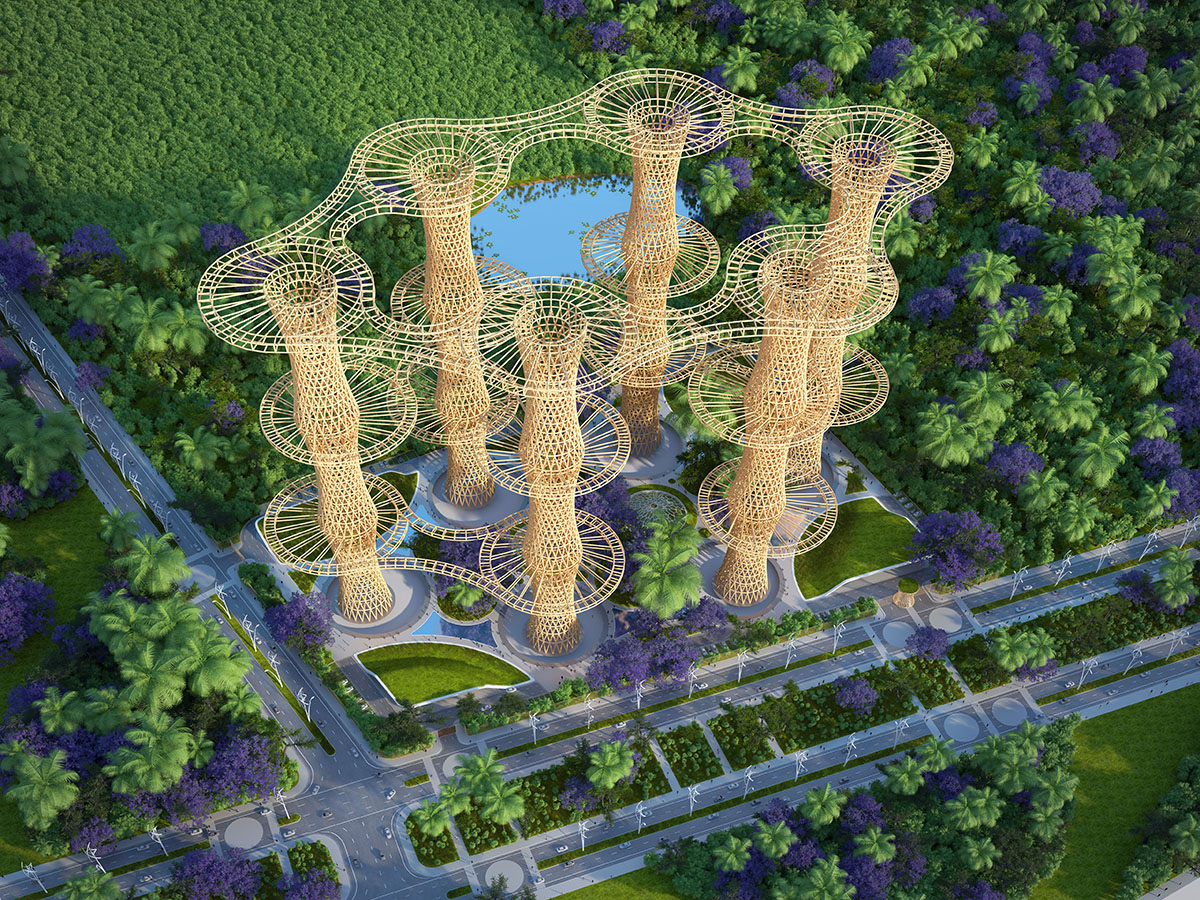 axonometric view
axonometric view-2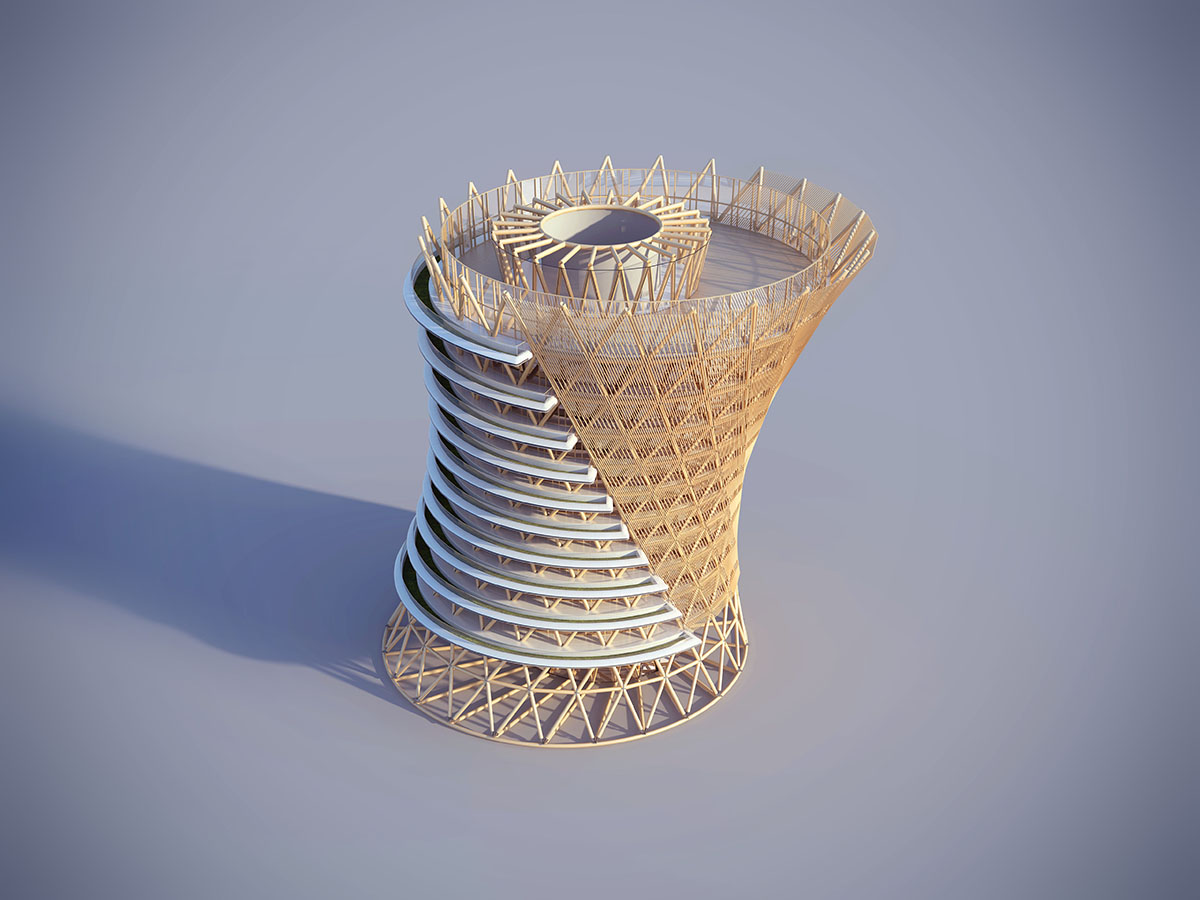 timber framed structure
timber framed structure-2
timber framed structure-3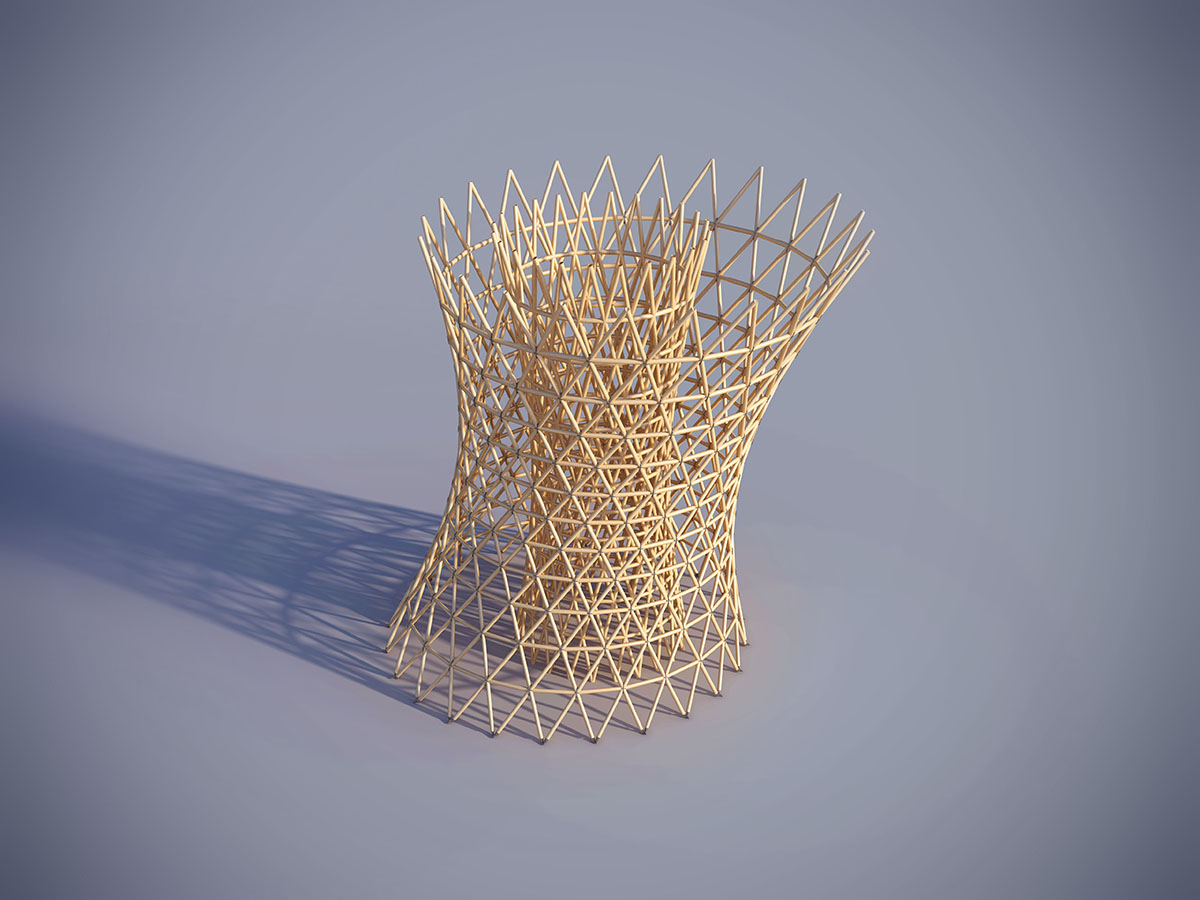 timber framed structure-4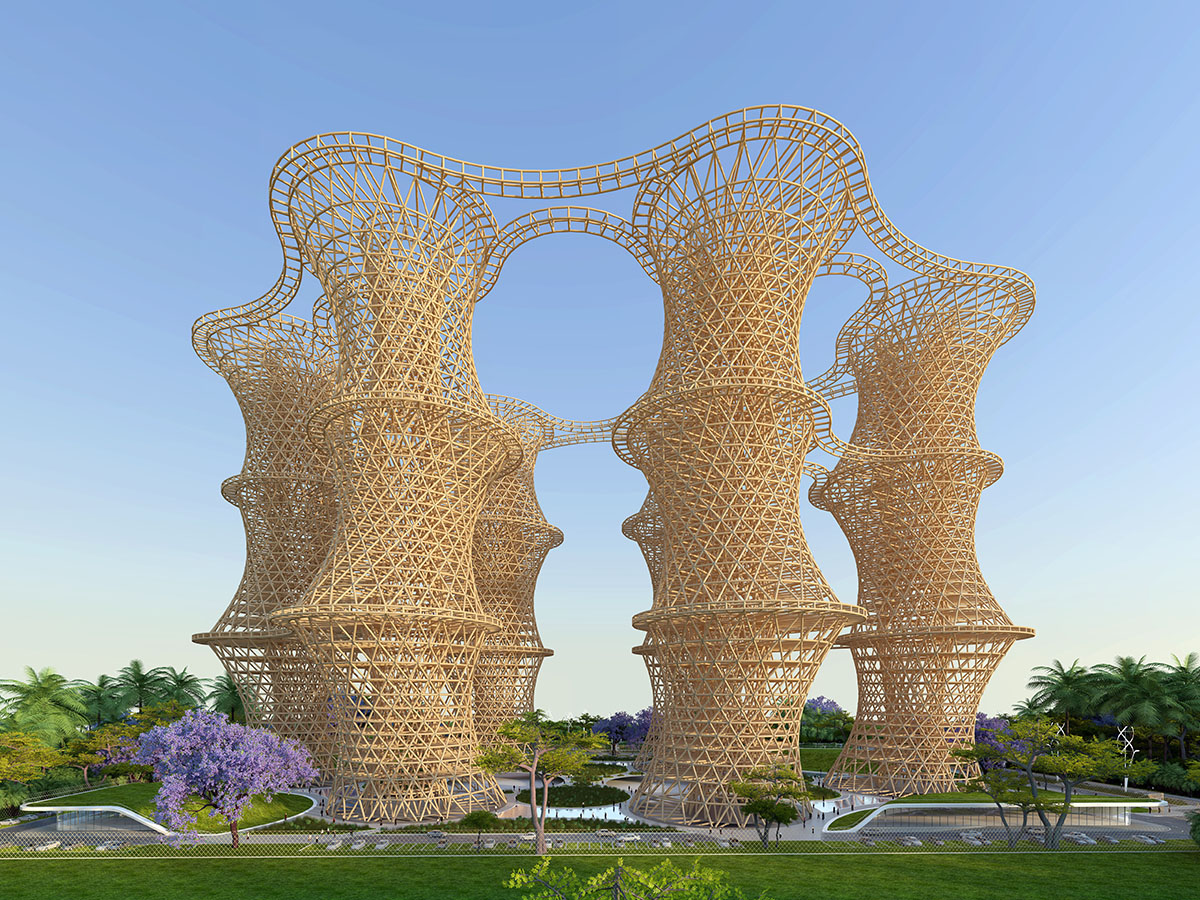 wooden hyperboloids
wooden facades
model view
> via Vincent Callebaut Architectures