Forward Thinking Architecture designed smart floating farms for different countries
all images © Forward Thinking Architecture
SFF project vision is a world with minimal agricultural imports, less land consumption and to promote food self-sufficiency in as many countries as possible.
The SFF is a Smart Offshore Floating Farming system situated off the coast on an open sea. The SFF is configured as a modular-expandable Multi-Layer Floating Farming system which combines Solar energy, Hydroponics-green growing and Aquaculture (Fish). City Farming /Urban agriculture is great, but with the tremendous influx of world population to urban areas would it be enough to ensure the amount of food in cities? Why not take advantage of the water space close to cities to transform them into a productive tissue? ( water which makes up about 71% of the Earth's surface, while the other 29% consists of continents and islands) Does an offshore Smart floating farm makes sense?
According to design studio; since many of the densest areas/cities are located close to big bodies of water and because nowadays many nations are heavily dependent on imports and international markets for their food (causing vulnerability). In example, a 2013 study found that in 2000, some 950 million people—16 percent of the world's population at the time—were using international trade to meet their food needs, according an article related to the Food Trade and Self-sufficiency report.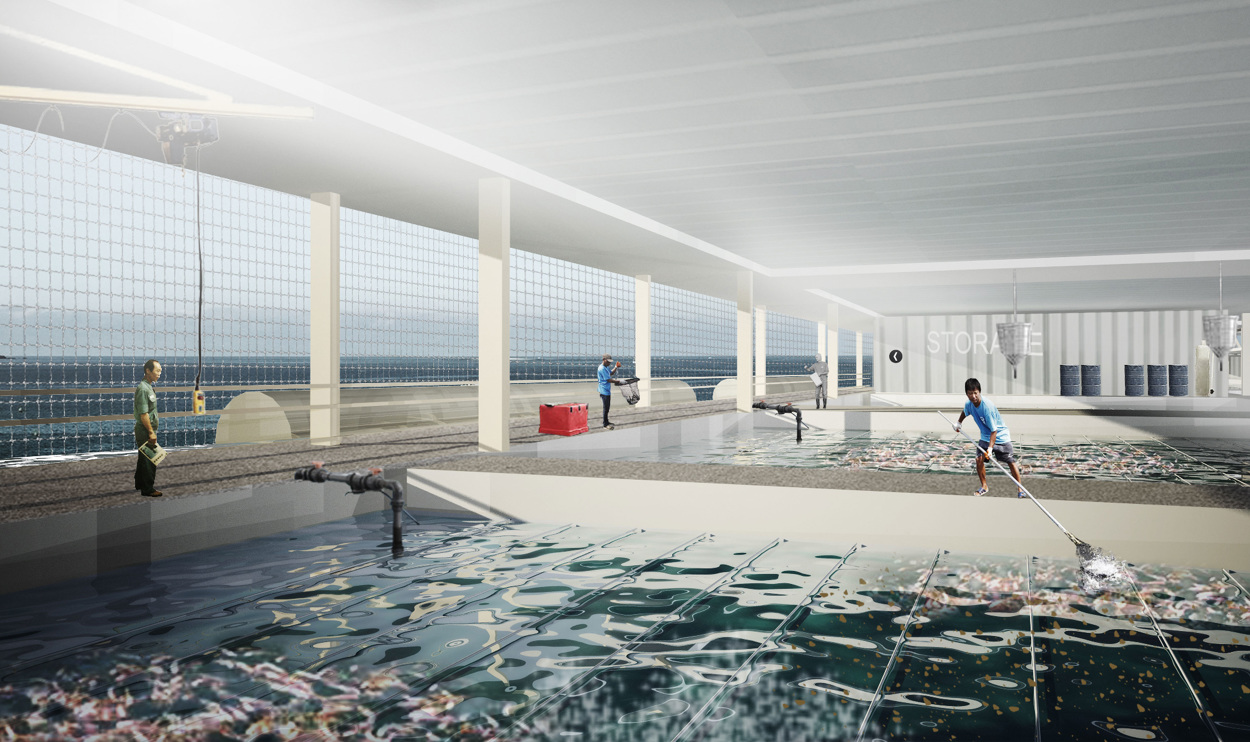 Even dough the project is aimed to be an automated one which incorporates machines and software, some of the prototypes can be also tested using Human workforce and depending on more traditional systems currently used in the fish farming and crop production industries. The studio uses the term "Smart or automated", to describe that the system will be basically controlled and operated by a machine which utilize a communication connection to the Cloud / City and other offshore farms.
Potentially it will incorporate a Software which can manage to control the system and make it an automated one, just as Google Driver-less cars is implementing its Google Chauffeur software to make it possible. Big Data analysis on a target city can reveal figures on its food needs and consumptions which can become rellevant in order to make the SFF a more efficient alternative and produce only what is really needed.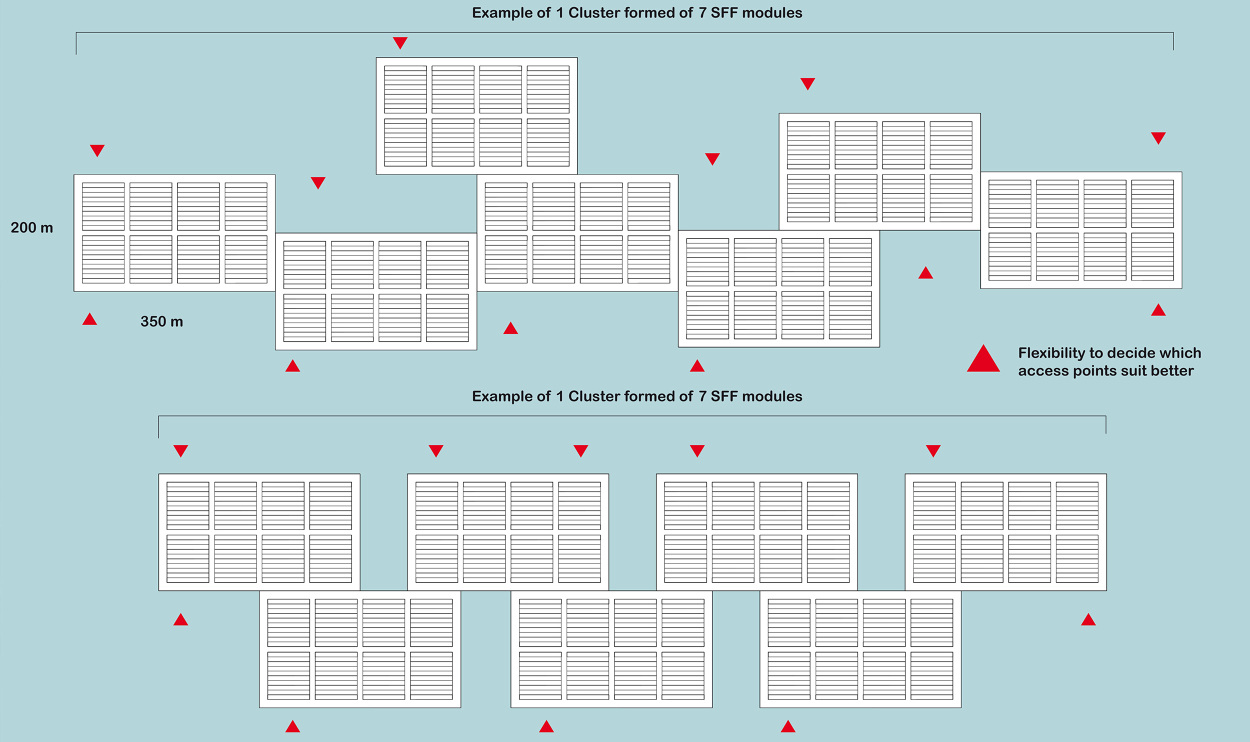 configurations of smart floating farms
Apart from all the IT technologies - IoT protocols, the project can also become a new employment focus point since can turn into a Farming Research HUB which can held Farming laboratories and some modules can be opened to the general public, so that locals and visitors can experience first hand this new farming paradigm (Educational).
importer producer of smart floating farms
The SFF project is made of innovative, yet well tested materials, technologies, and systems, which are already in use around the globe, in a way, we don't need to invent or test any new construction technology, its all available in the market. The SFF footprint has a shape of a rectangle inspired by Asia's traditional grid-shape fish floating farms, an efficient configuration which is rational and allows for maximum space for production. The SFF rectangle consist of a 200X 350-meter side module (single module) , which results in a footprint of 70.000 sqm and a total area of 209.610 sqm across all its floors.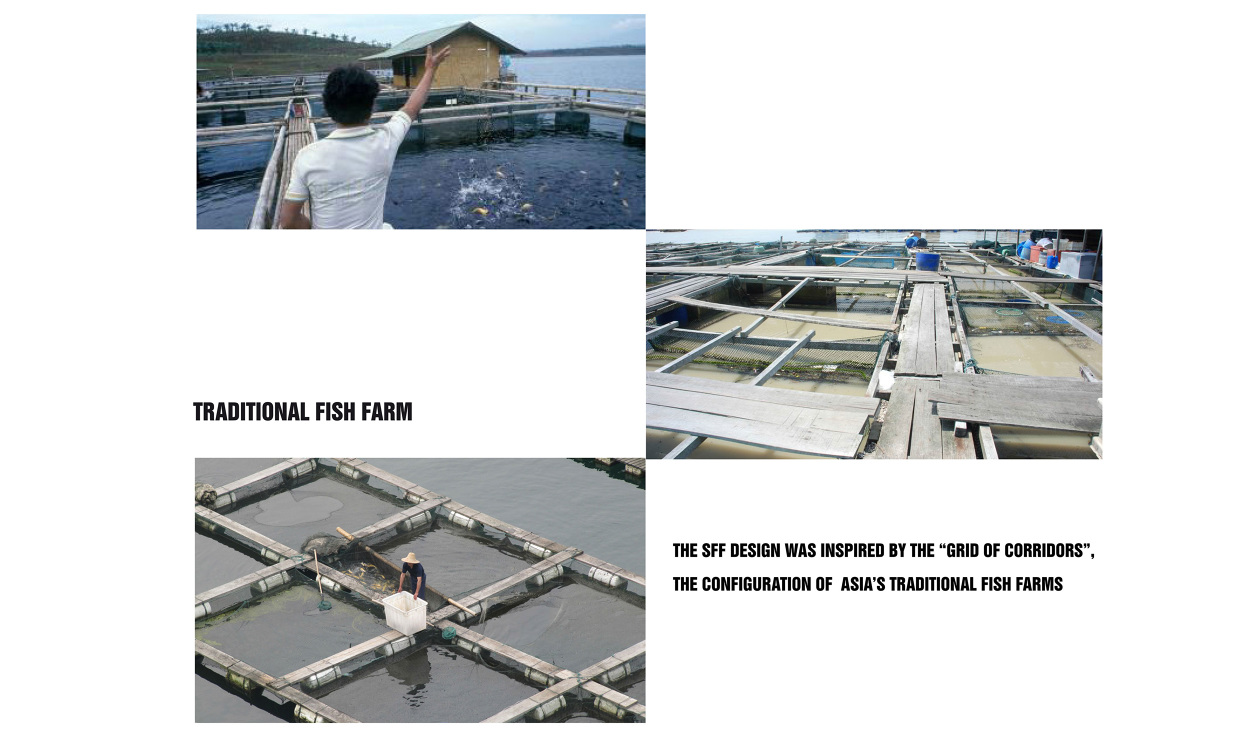 shows FTA's inspiration from traditional farms
This includes an internal array of corridors (forming a grid structure) in order to have walkways that communicate all the project areas and are used for service/maintenance purposes. This dimension was set as a prototype size according to some preliminary studies on consumption patterns of a target country, but is fully adjustable according to each potential country own needs. The use of rectangles allows for tessellation. As a result, we are able to remove any gaps between individual farm modules.
levels of smart floating farms
The modularity of the SFF allows for future expansion (replicate globally) , thus creating clusters of farms close to the densest areas that can accommodate additional operations, such as broiler farms, egg farms, crab and lobster farms, algae farms, mushroom farms, and many more. The exact location of the offshore Farms will depend on the specific conditions of each country where the project is to be potentially implemented, always considering a holistic approach.
Sea lanes, marine habitats, protected water areas, etc will be respected and considered, so that the project has a minimum impact and doesn't become an obstacle at any level.These will be subject of coordination with the local authorities of each country.
Logistics of smart floating farms
The main structure is made out of a lightweight structure formed of beams and columns protected from harsh marine environment. The SFF consist of 3 main levels. The ground level (Level 0) contains offshore aquaculture fish farms, external perimeter wave barriers and protection, water access points, storage, slaughterhouse, desalination plant and packaging facility(Cutting edge desalination technologies will allow for water management efficiency and autonomy).
output invest of smart floating farms
The first floor (Level 1) comprises of a greenhouse with automated hydroponics, irrigation control system, and microclimate control (temperature, humidity, carbon dioxide, lighting, etc.) for crop cultivation. The rooftop level (Level 2) hold a photovoltaic Plant (project self-sufficiency), skylight openings to ensure natural light for the plants, and rainwater collectors.
smart floating farms structure pv plant
system layers of smart floating farms
smart floating farms technology hubs
smart floating farms vegetables fish
Project Facts
Author: Forward Thinking Architecture
Project Director: Javier F. Ponce, Principal
Project Collaborator: Jakub Dycha, MBA - FTA trainee
Type: Automated Offshore Agricultural strategies
Location: Global initiative - Open for implementation in different countries with water access and massive food imports, land/water scarcity or food supply/production problems
Status: Creative expandable project
> via Forward Thinking Architecture