Cavernous And Peachy-Colored Interiors Shape Shop-In-Shop Boutique Designed By AMO At Selfridges
AMO, the think-tank of the architectural practice OMA, has created a cavernous interior with peachy colors for French fashion brand Jacquemus' shop-in-shop boutique at Selfridges in London, United Kingdom.
The 82-square-metre ground-level accessories storefront boutique is one of the three retail designs that AMO has worked. Jacquemus' other shop-in-shop, clad in white pillows, has been opened in Paris. AMO expects to open third store at Harvey Nichols later in the Fall.
This store is clad in hand-applied terracruda, a ceramic material inspired by the landscape of Provence.
Applying the same material to its floor and shelving, totems, plinths, tables and chairs, all elements are made from terracruda.
The store is populated by items on display and customers alike, adding a twist to the abstracted image of a domestic Provençal interior.
Applied by hand, the material and the cavernous-like interior preserve a level of irregularity, which gives the design a sense of naturalness and craftmanship.
Directly visible from the street with the seating area carefully framed by the window, the store is more than a space to shop; it invites passers-by to feel at home.
"The inspiration for the design of the Jacquemus stores owes to the brand's origins in the south of France," said OMA Partner Ellen van Loon.
"We wanted to capture the atmosphere of Provence through the materiality of the spaces, which led us to approach the design in a different way altogether."
"Instead of working with form and deciding on the materials afterwards, we chose the materials at the outset and let them guide the shape of each space," she added.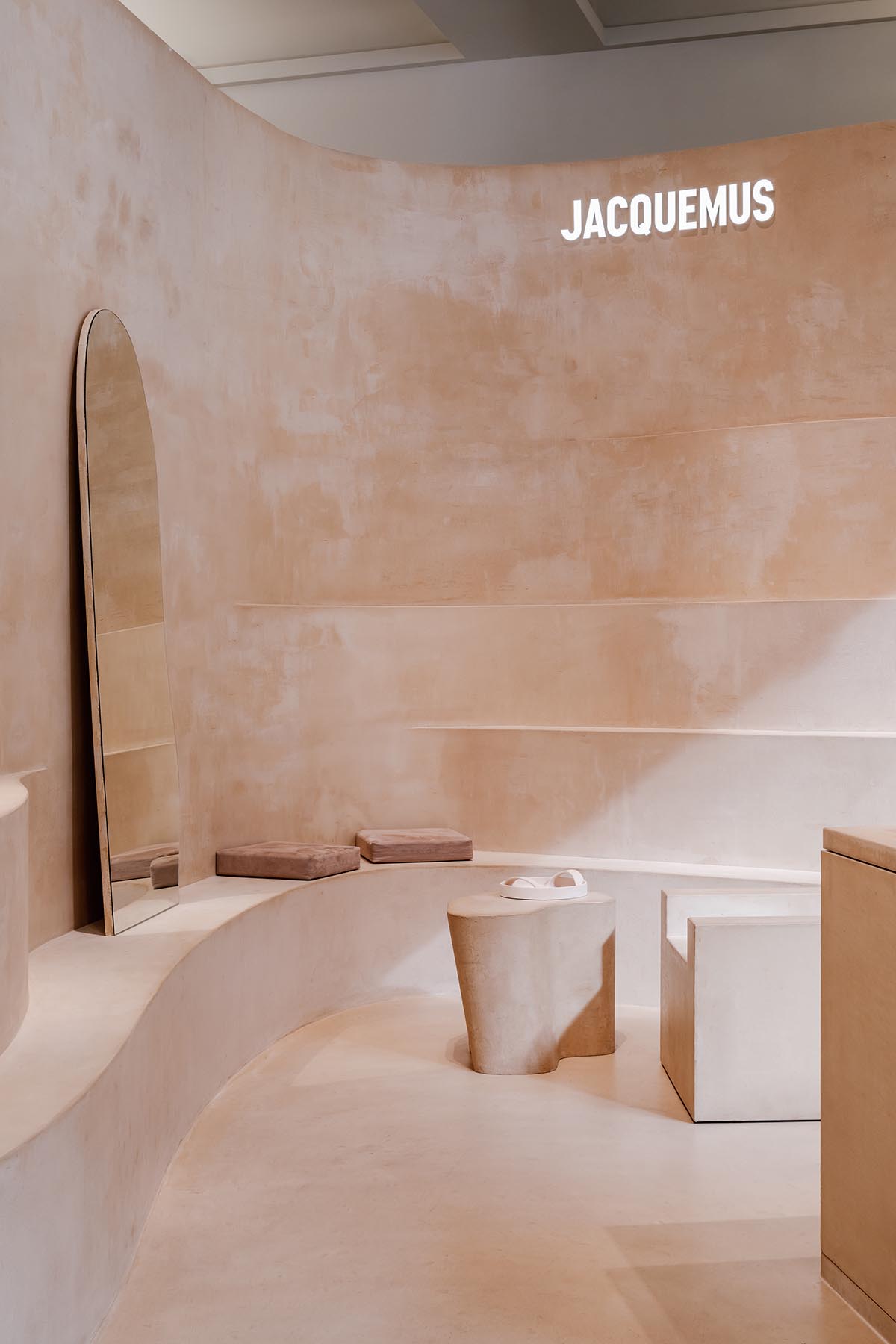 Image © AMO
Image © AMO
Image © AMO
Image © AMO
The opening of three shop-in-shop stores marks the first international collaboration with AMO for the fashion brand founded in 2009.
Van Loon and Margheri's recent work in retail and scenography includes designs for Tiffany & Co, Off-White, Solid Nature, KaDeWe, and Bvlgari.
Van Loon is also leading the refurbishment of the KaDeWe in Berlin and is undertaking the design of a new department store by KaDeWe Group in Vienna.
Project facts
Project name: Jacquemus Shop-in-Shop
Architects: AMO/OMA
Location: Selfridges, London, UK
Date: 2022
Client: Jacquemus
Partner: Ellen van Loon
Project architect: Giulio Margheri
Team: Valerio Di Festa, Camille Filbien, Mattia Locci
All images © Benoit Florençon, courtesy of AMO, unless otherwise stated.
All model photography © AMO.
> via OMA