SANAA's Grace Farms wins 2014/2015 Mies Crown Hall Americas Prize
The Illinois Institute of Technology College of Architecture and Crown Hall Americas Prize (MCHAP) have announced that Grace Farms designed by SANAA has won 2014/2015 Mies Crown Hall Americas Prize for its 'highly-exceptional quality' and 'consistency of its architectural solution between architecture and landscape'. The award was announced yesterday by Wiel Arets, Dean of the Illinois Institute of Technology College of Architecture and Dirk Denison, Director of the MCHAP and announced SANAA as the recipient of the 2014/2015 MCHAP winner-the award recognises the most distinguished architectural works built on the North and South American continents.
Kazuko Sejima and Ryue Nishizawa, founders of the Pritzker-winning architecture firm SANAA, will be funded with $50,000 toward research and publication for the following academic year.
''It is an honor that the distinguished MCHAP jury recognized Grace Farms' new kind of public space created by Kazuyo Sejima and Ryue Nishizawa, our architectural partners of SANAA. Starting with this stunning natural setting, we wanted to create a space that would communicate a sense of grace and peace for all – a place that would break down barriers between people and create new and unexpected outcomes. We are grateful for SANAA and our entire project team's visionary work,'' said Sharon Prince, President of Grace Farms Foundation.
Grace Farms, the River building. Image © Dean Kaufman
The recipient was announced at a benefit dinner, co-chaired by Chicago Mayor Rahm Emanuel, David Kohler, and Phyllis Lambert, and held at Illinois Institute of Technology's S. R. Crown Hall on Wednesday, October 19. The event started with a reception and viewing of finalists' projects, a welcome and student prize presentation, and a presentation of the award finalists, followed by a dinner and the awarding of the MCHAP, and remarks by the winners. Earlier, a day-long public symposium included the finalists and clients in morning breakout sessions with students and faculty, followed by an afternoon roundtable with the jury.
Grace Farms' building, which spreads beneath a long, undulating roof, follows the landscape and floats in the center of the site. Winding and crossing the hills freely, this wood-frame structure, now known as the River, creates numerous covered outdoor spaces while also forming courtyards. Since opening to the public in October 2015, Grace Farms has functioned as both a peaceful respite and a place of vibrant activity. The River building draws people in to engage with the site's natural landscape and serves as the springboard for Grace Farms' mission and programs.
Within the first six months, approximately 50,000 people visited Grace Farms to participate in architectural tours, community dinners, lectures and discussions, concerts, athletics, and worship services—or to explore the 80-acre site on an individual basis.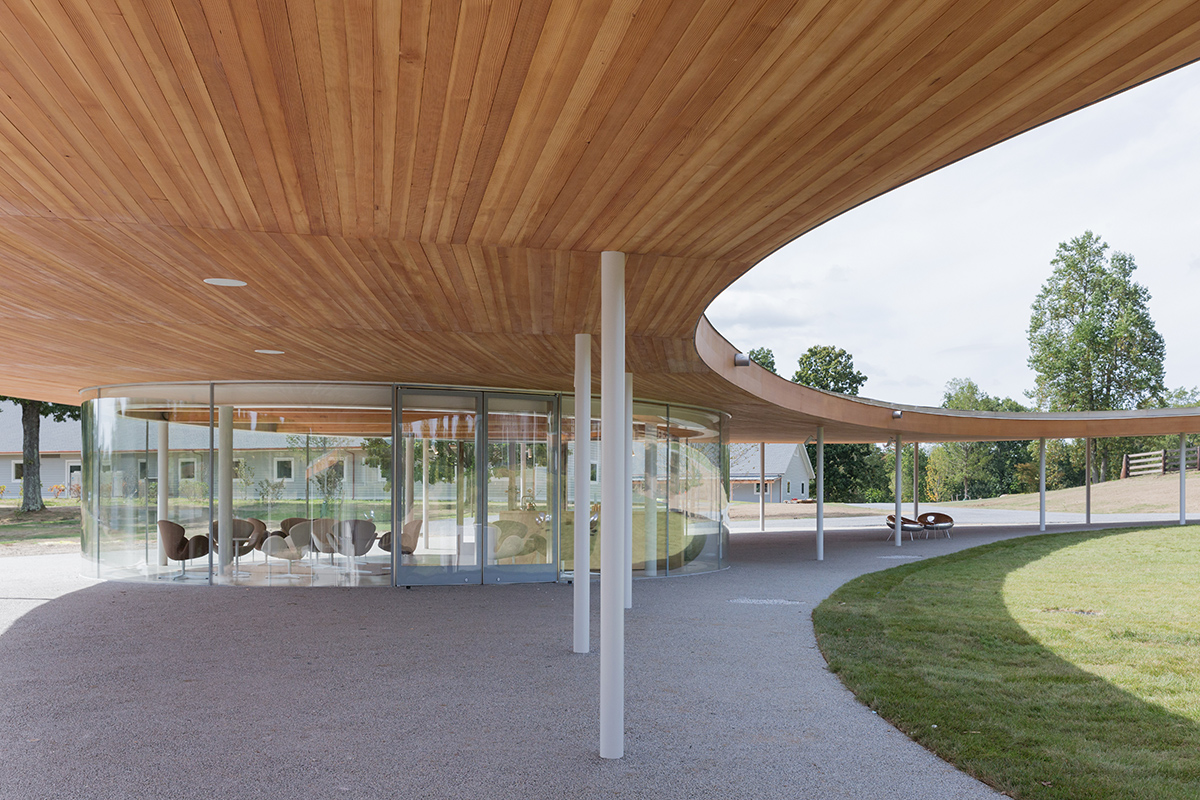 Grace Farms, the River building, Pavilion. Image © Iwan Baan
New Canaan provided a context in which Eliot Noyes, Marcel Breuer, Philip Johnson, and others helped to rethink residential modernism in the United States. Mies was a direct influence in New Canaan through his influence on Johnson, and the architectural design for Grace Farms builds in part on Mies's legacy, including his 1928 vision of a skyscraper with curved glass. Although Mies and Johnson were not direct models, they helped set the aspiration for transcendent lightness: a structure that would float on the landscape while also being fully integrated with it.

In addition to Grace Farms, the finalists for MCHAP included: Weekend House by Angelo Bucci, São Paulo, Brazil, UTEC Campus by Grafton Architects, Lima, Peru, Pachacamac Museum by Llosa Cortegana, Lima, Peru, Tower 41 by Alberto Kalach, Mexico City, Mexico, Star Apartments by Michael Maltzan, Los Angeles, California, US.
The nominees for the Mies Crown Hall Americas Prize were selected by a network of 95 professionally diverse, international ambassadors from throughout the Americas. Each nominator was asked to propose a maximum of five projects that represented the best projects realized in the Americas over the previous two years. The six MCHAP finalists were chosen by a jury composed of Wiel Arets, Dean of the College of Architecture and Rowe Family College of Architecture Dean Endowed Chair at Illinois Institute of Technology, Chicago; Florencia Rodriguez, architect, critic, and Founder and Editorial Director of Piedra, Papel y Tijera publishers in Buenos Aires, Argentina; Ila Berman, Dean of the School of Architecture, University of Virginia; Jean Pierre Crousse, Principal of Barclay & Crousse Architecture, co-founded with Sandra Barclay in France in 1994; Associate Professor of the Pontificia Universidad Católica del Perú, Lima, Peru; and Stan Allen, registered architect in New York, New Jersey, and Pennsylvania and former Dean of the School of Architecture at Princeton University. To select the winner of MCHAP, the jury traveled to the sites on the MCHAP shortlist in order to experience these built works firsthand.
Grace Farms, Community Day. Image © Dean Kaufman
''As a jury, we were looking not only for buildings of exceptional quality, but also for buildings that contribute something new to the discipline. We were very impressed by the high quality of the work coming from such a wide variety of cultures. There may be a global architecture culture today, but each place we visited had its own identity and every project responded to a specific context. As a jury we also observed common themes: All of the projects, even those in urban areas, engage with landscape; they all embrace architecture as a force for change; and finally, all of them find a delicate balance between innovation and the history of the discipline,'' said Stan Allen, MCHAP Jury President.

''Among a strong group of projects Grace Farms emerged as a clear winner for the clarity and consistency of its architectural solution. The jury was struck by the radical way in which the line between architecture and landscape is blurred by the 'River' building. The firsthand experience of the building reveals a confident realization and the immediacy of its detailing. Finally, the Grace Farms project uniquely demonstrates architecture's capacity to make a place for an innovative new institution,'' Allen added.
The winner of the newly established student award, MCHAP.student, was also announced yesterday. The award was given to (a)typical office by Tommy Kyung-Tae Nam and Yun Yun from the Taubman College of Architecture and Urban Planning at the University of Michigan.
As part of the MCHAP mission to illuminate the best built works of architecture in the Americas, the authors of each winning project collaborate with IIT Architecture Chicago and MCHAP to undertake research and to produce a publication. In addition to the awarding of MCHAP and MCHAP.student, Denison announced the publication of MCHAP: The Americas, a significant research publication, edited by Fabrizio Gallanti.
Kazuyo Sejima and Ryue Nishizawa of SANAA at Grace Farms. Image © Dean Kaufman
Denison says, ''The publication of MCHAP: The Americas fulfills a core objective of the Americas Prize: to seek out, understand, and bring awareness to built works of architecture that in their own specific way are having an impact on our world.''
Treacherous Transparencies, authored by Jacques Herzog and Pierre de Meuron following the receipt of the MCHAP2009–2013 for 1111 Lincoln Road in Miami Beach, was the first IIT Architecture Chicago imprint, completed in partnership with Actar and published in June 2016, in English, German, and Spanish editions.
This will be joined by a forthcoming publication, authored by Ken Frampton, on Alvaro Siza, whose Iberê Camargo Foundation in Porto Alegre, Brazil, was the MCHAP2000–2008 winner; and a publication titled Naïve Intention, covering work done by Pezo Von Ellrichshausen, whose Poli House on the Coliumo peninsula, Chile, was the winner of the inaugural MCHAP.emerge in 2014.
Grace Farms celebrated its first anniversary with special programme earlier this month titled ''Possibilities Are Endless'', - included a public artwork opening and Foundation benefit, highlighting the breadth of Grace Farms' programming over the past year.
Top image: Grace Farms, Community Day. Image © Dean Kaufman
> via Grace Farms