PES-Architects wins design competition for Nanchang Poly Grand Theatre in Nanchang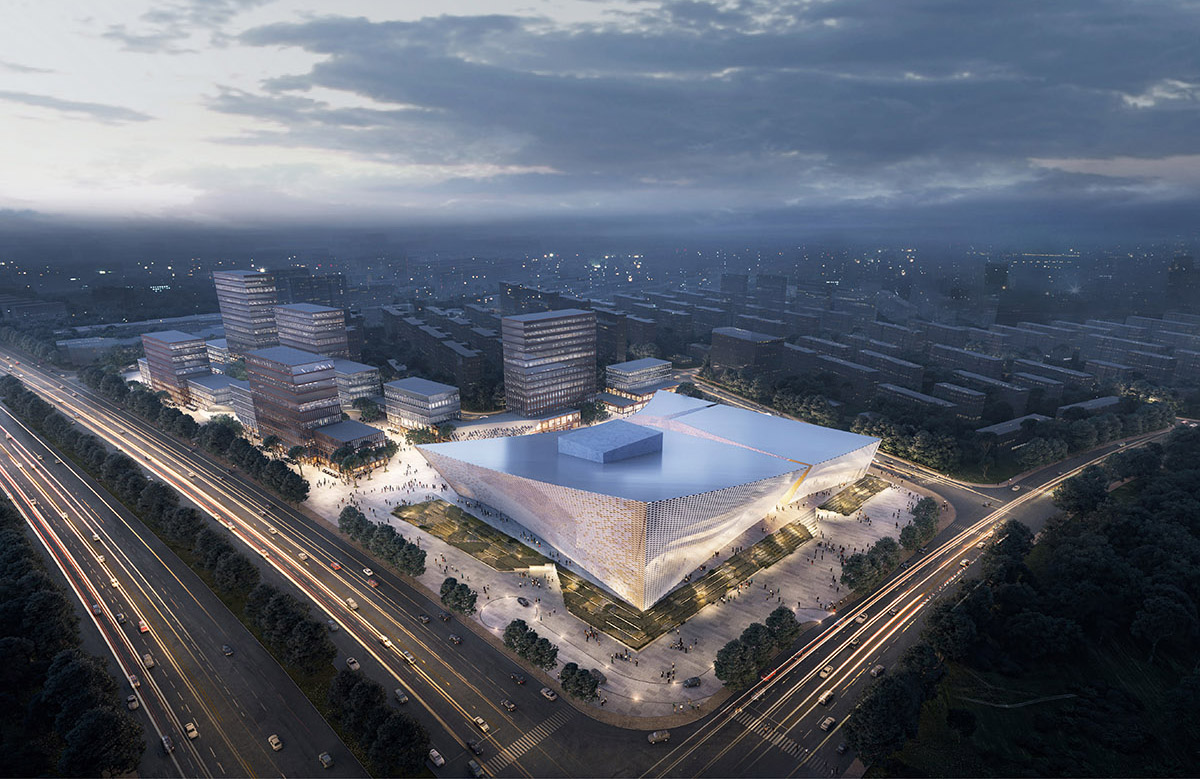 Helsinki and Shanghai-based architecture practice PES-Architects has won an invited international competition to design the Poly Grand Theatre in Nanchang, capital of Jiangxi province, China. The wavy complex will comprise a 35,000-square-metre theatre and art centre in a single volume.
Set to be built in south of the city by Jiulong Lake, the theatre and art centre aims to be a new cultural hub and landmark of the new urban development zone. The building is scheduled to be completed in 2024.
Main entrance facade
"The main idea of the design is a versatile and communal cultural campus, a building that blends into and opens towards both the commercial urban district and the lakeside landscape," said chief designer Tuomas Silvennoinen, partner at PES-Architects.
Facade main entrance
The main program elements of the building will contain a grand theatre/opera hall, multifunctional theatre, and educational and exhibition facilities - the functions are broken down into three separate volumes, circling each other like fish in a pond.
Event plaza
The architectural language of the building is inspired by the typology of a traditional Chinese village. The volume, introducing angular façades from each side, creates a variety of indoor and outdoor streets and plazas that allow the free flow of people in and around the building.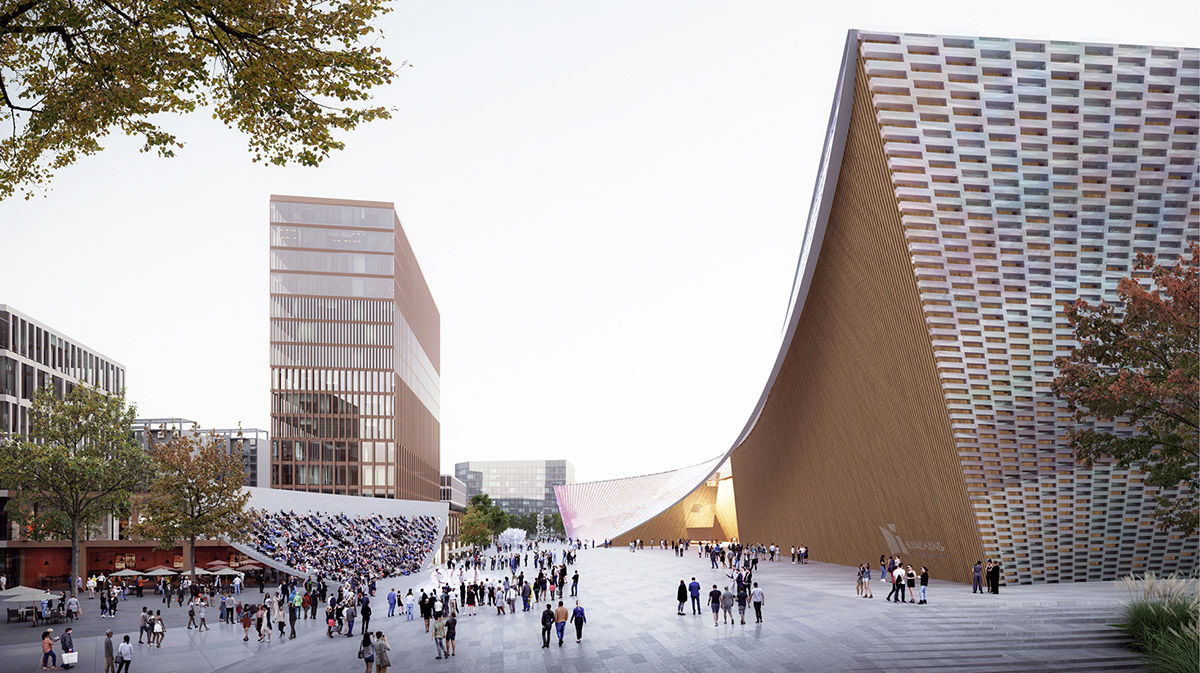 Northern plaza
"The corridors traversing the building are envisioned as a vibrant public space, attracting a wide range of visitors to enjoy the ambience of the cultural complex as well as its events and services," said PES-Architects.
"The central passage provides direct access to all the main functions, with cafés and pop-up performances and exhibitions creating a lively urban setting throughout the day."
Central passage
The building will also have a 10,000-square-metre underground spaces that will be used for technical and service facilities as well as parking.
Central passage
The wood-veneered facades of the building will partially be clad with a ceramic and glass tile matrix as a tribute to the ceramics tradition of the Jiangxi province. The curtain wall forms a light and elegant pixelated surface, which also provides protection from the sun.
"We expect construction to begin in 2022 following the final design phase. The competition win is also a testimony to the smooth remote collaboration between our Helsinki and Shanghai offices despite the current travel restrictions," added Silvennoinen.
Upper foyer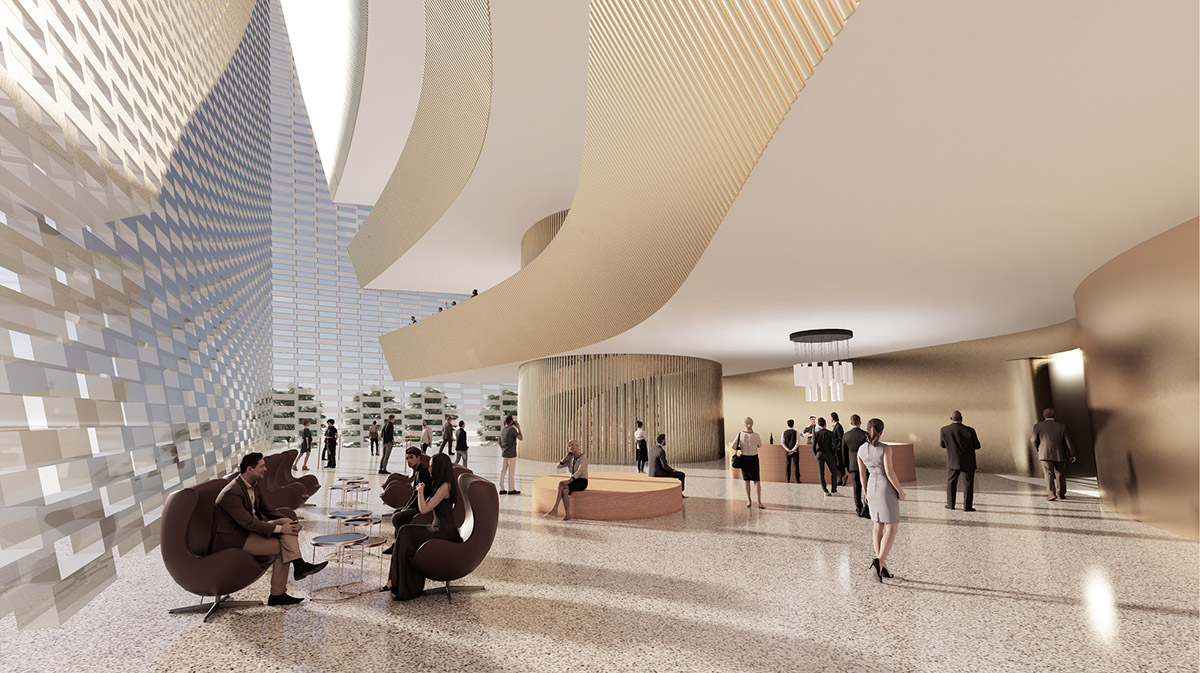 Foyer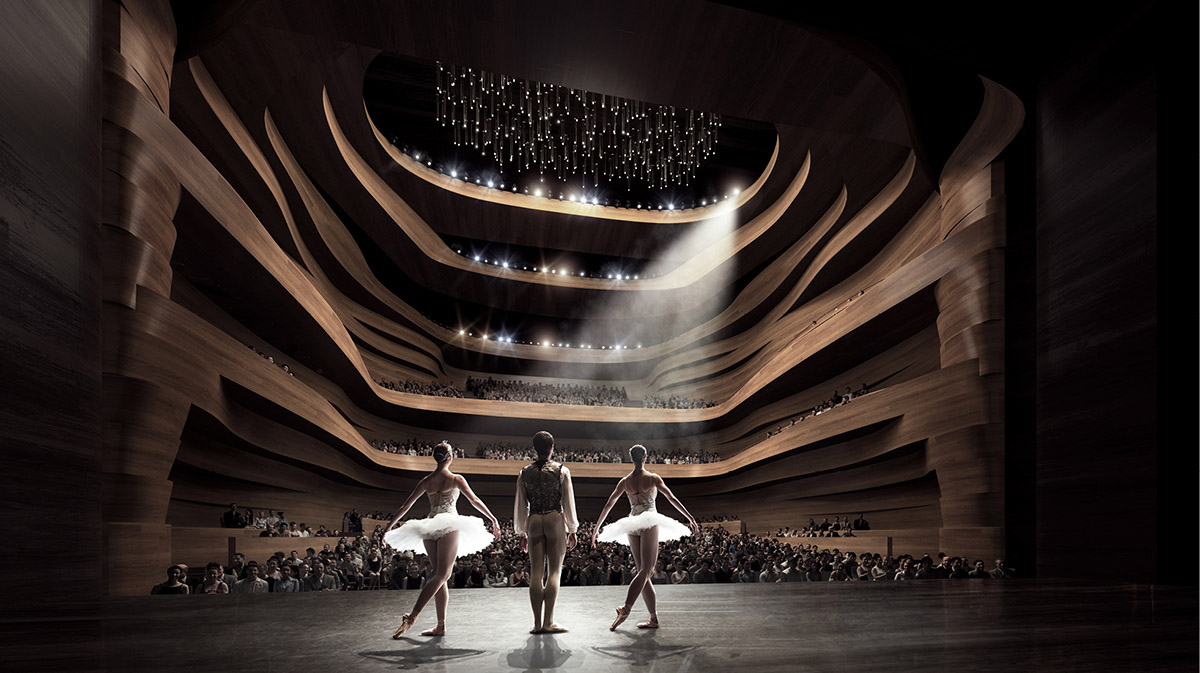 Opera hall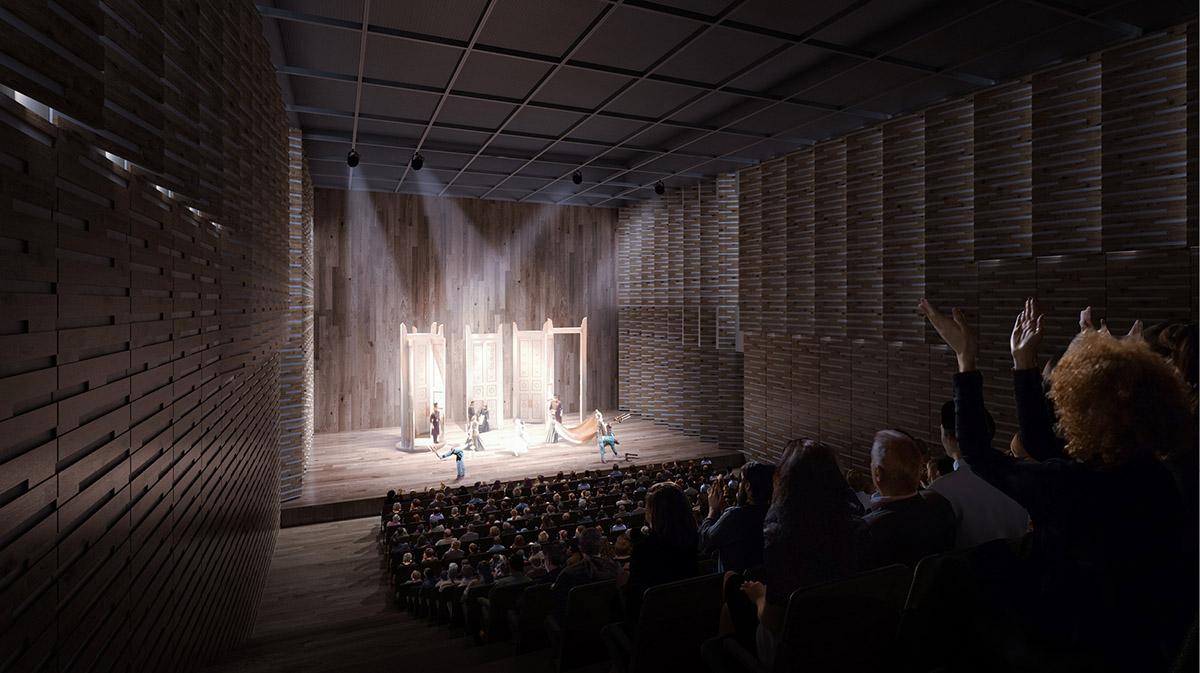 Multifunctional Theatre
Passage towards event plaza
View from streets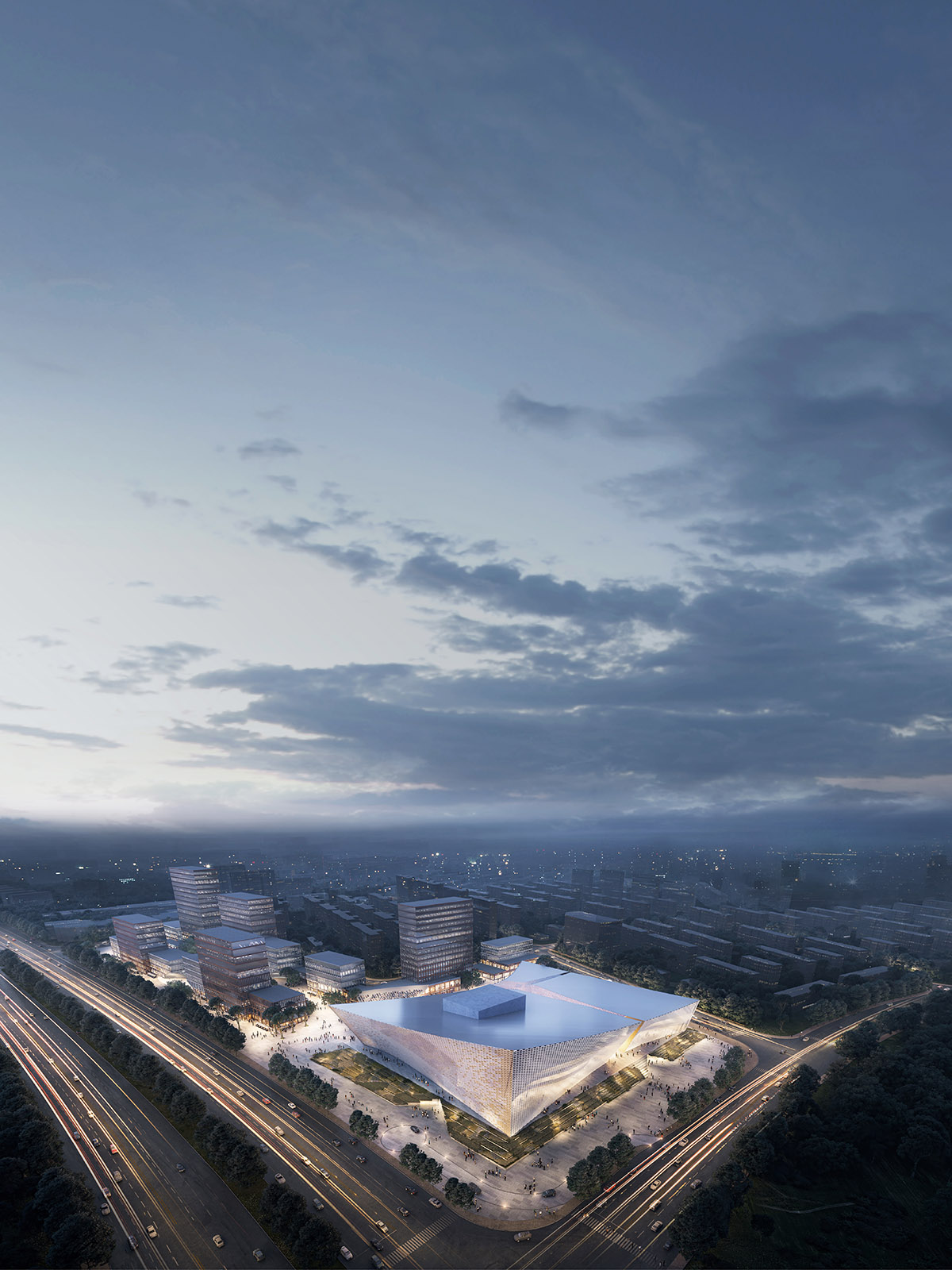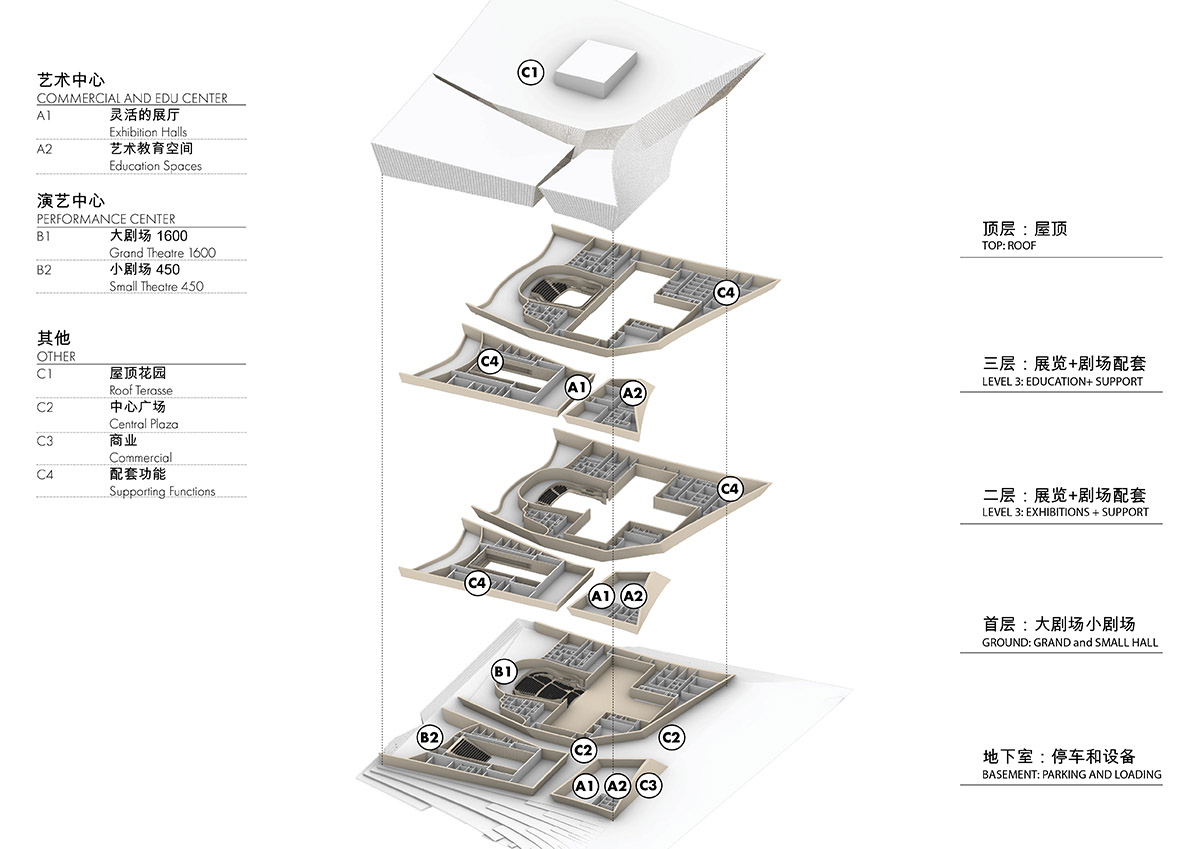 Functions
First sketch
Concept section
West & South Facades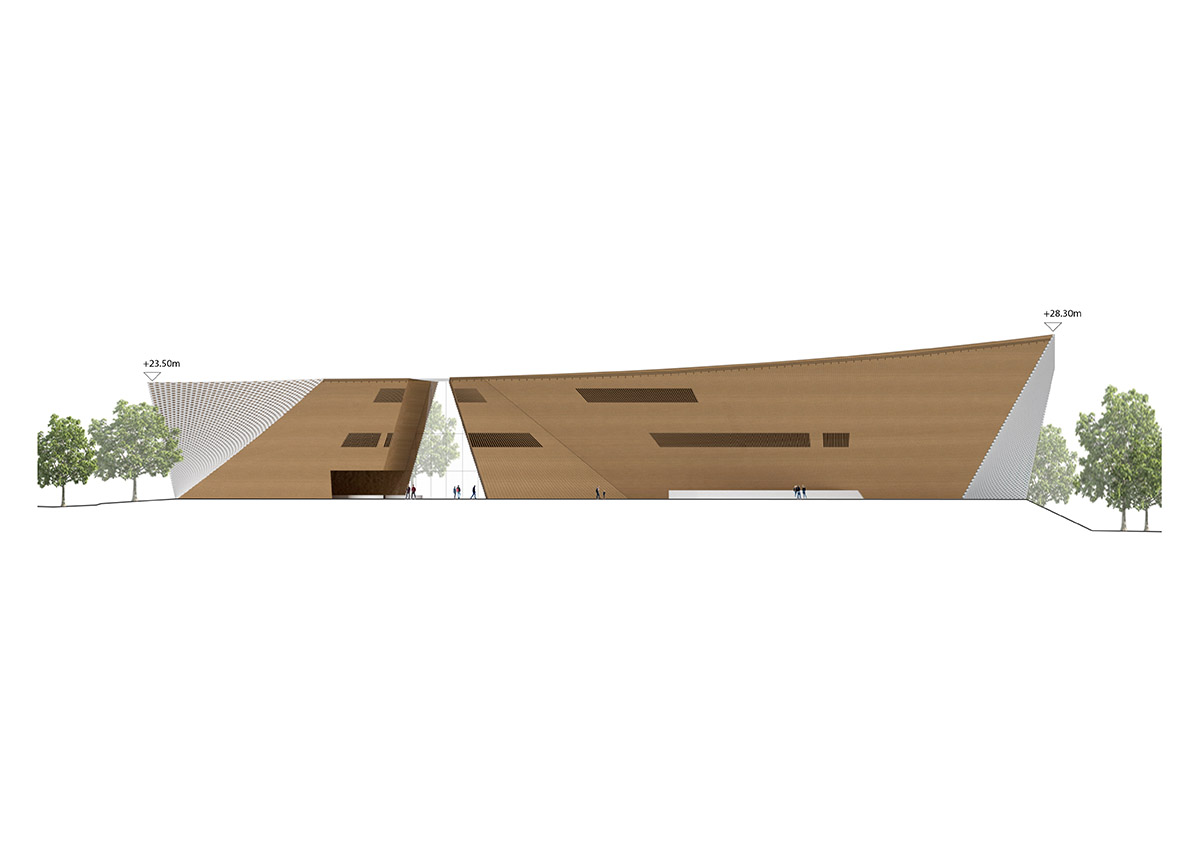 Internal Street Elevation & Section
Roof plan
The competition was organised as an invited tendering procedure by Poly Culture Group Co., Ltd, China's leading theatre management company, which PES-Architects has previously collaborated with on the Wuxi Grand Theatre. A total of five Chinese and European practices were invited to participate.
PES-Architects previously completed Strait Culture and Art Centre in Fuzhou, China. The firm also designed a comprehensive plan to develop the railyard area in the city of Turku, Finland.
Project facts
Invited international competition November 2020, results announced in May 2021
Location: Jiulong Lake New City, Nanchang, Jiangxi province, China
Competition organiser and client: Nanchang Poly Group Corporation Limited
Site area: 81,146 m2
Floor area: 34,990 m2 + 10,000 m2 underground
Functions: Theatre and art centre (grand theatre/opera hall (1,612 seats); multifunctional theatre (450 seats); exhibition, rehearsal and educational premises)
Designer: PES-Architects
Design team: Tuomas Silvennoinen (chief architect), Jyri Eskola, Lai Linli, Willem Barendregt, Guan Xiaojing, Dou Jian, Lin Jianqiang, Li Yueyang, Zhou Hanxiao, Xu Ziyang, Juho Jääskeläinen.
All images © PES-Architects
> via PES-Architects