"Quayside Project was blending the roles of governments and corporations too much" says Bianca Wylie
reSITE, a global non-profit organization and event to improve the urban environment, has released the lecture of Bianca Wylie, a Toronto-based and open-government advocate who has a dual background in technology and public engagement.
Speaking at the reSITE's 2019 REGENERATE annual conference, Wylie, known for his strong active position in criticism of the cancelled Sidewalk Labs' Quayside Project in Toronto, had shared her concerns and views on the smart-city project.
The controversial $1.3 billion masterplan was officially cancelled because of the uncertainty and economic downfall caused by the coronavirus pandemic, announced by Sidewalk Labs CEO Daniel L Doctoroff.
"My fear right now is that corporations are beginning to sound a lot like governments"
In a 10-minute lecture, Wylie said that "the way the smart-city project was going on was blending the roles of governments and those of corporations too much."
"for two years I have been working with others to advocate for this city and for the role of the government because my fear right now is that corporations are beginning to sound a lot like governments."
"And sometimes I can't believe that I have to remind people this: they do not operate on the same basis."
"When corporations begin to sound a lot like governments, it is a critical time to rebuild, empower and trust our institutions in order to keep the roles straight," she added.
Bianca Wylie at the 2019 reSITE stage. Image © Jakub Cervenkai
Bianca Wylie, who is also called as "the Jane Jacobs of smart cities", has made waves in the urban design world for speaking out against digital surveillance by casting a spotlight on the implications of the mining of that data by private corporations and the commoditization of the data gathered from citizens in public spaces.
Bianca reminds us that the design of process in democracy is critical, and it is specifically city institutions that should be the bulwarks of democratic resistance to hegemonies of both national governments and big corporations.
Image courtesy of Bianca Wylie
Bianca Wylie is the co-founder of Tech Reset Canada and is a Senior Fellow at the Centre for International Governance Innovation in the Global Economy program. She worked for several years in the tech sector in operations, infrastructure, corporate training, and product management, most recently at Thomson Reuters.
As a facilitator at Swerhun Inc., she designed, delivered and supported public consultation processes for various governments and government agencies. In 2014, Bianca founded the Open Data Institute Toronto and in 2016 she co-founded Civic Tech Toronto.
In her lecture, Wylie added that "design has been an incredible handmaiden to delivering dreams.
"That may not be coming from the state, that may be coming from designers and from the private sector, which is beautiful. That can be very very confusing."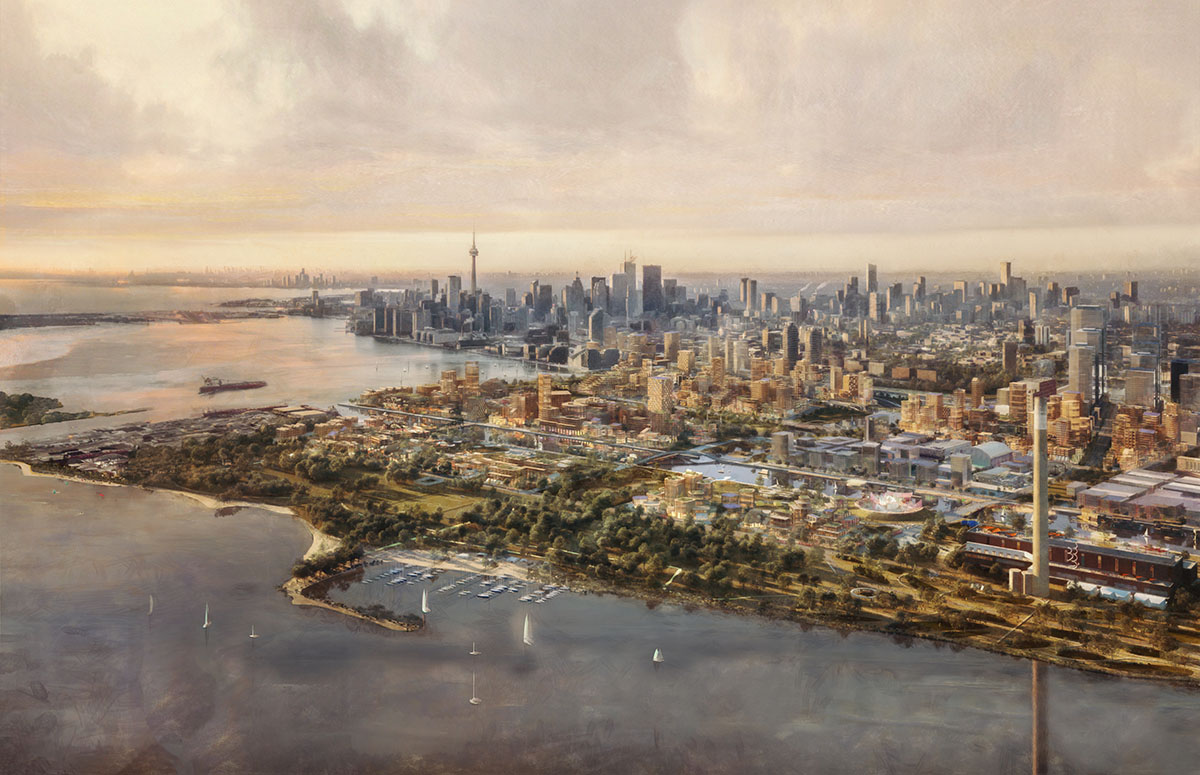 The recently-cancelled Quayside Project in Toronto. Rendering of a vision the waterfront in 2050 - a global model for inclusive growth. Image © Picture Plane for Heatherwick Studio for Sidewalk Labs.
Wylie also explains how big tech companies, like Airbnb and Uber, caused problems for some governmental regulations over privatisation.
"People start liking it, people start using it, and then it gets very difficult to untangle in terms of how it is working," Wylie said. "How do we regulate this, what do we do about it. That's not by accident. And so the design of processes in democracy is critical."
Wylie believes the solution is to come together as a collective and look at how we regulate space in our cities.
"My plea to all of you is to participate in these spaces very thoughtfully and to remember that right now there is a moment for cities to rise to protect from the worst instincts of states, which right now can be pretty bad," she continued.
WAC will be releasing one lecture from the reSITE 2019 annual conference each week.
Top image: Bianca Wylie at reSITE 2019 stage. Image © Jakub Cervenkai
> via reSITE