Slovenian Pavilion releases theme "The Common in Community" for 2020 Venice Architecture Biennale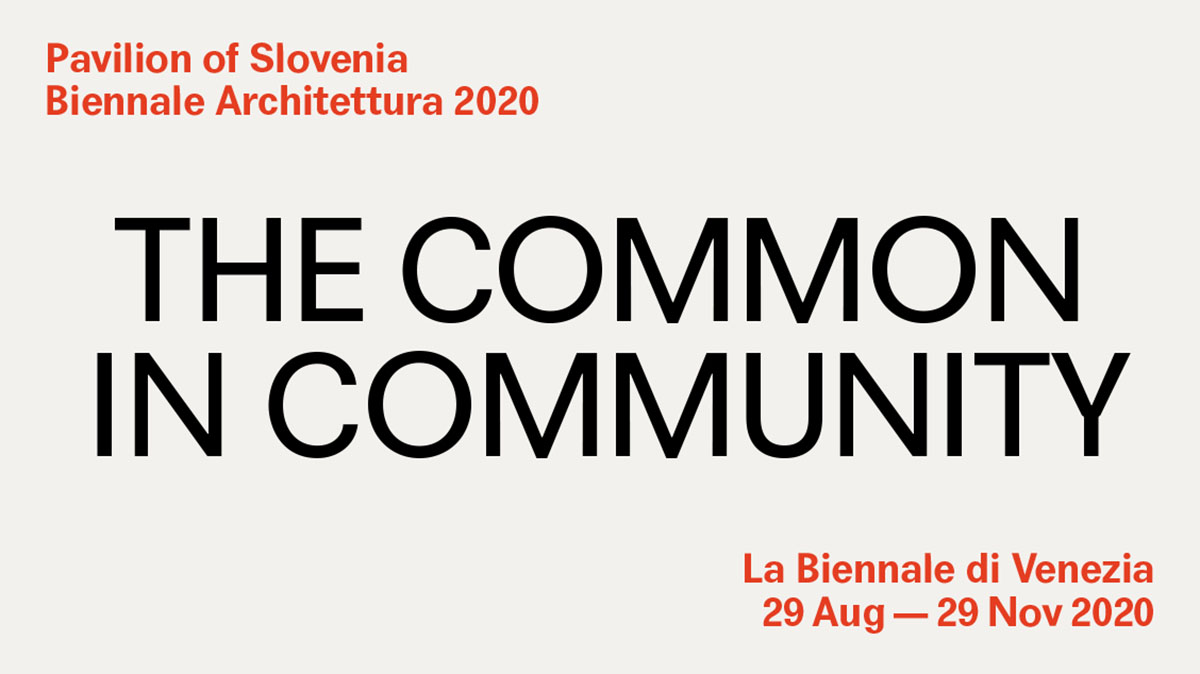 The Slovenian Pavilion has released its theme "The Common in Community" for the 2020 Venice Architecture Biennale which is planned to open to the public from August 29th to November 29th, 2020 in Venice, Italy.
Curated by Hashim Sarkis, the 17th International Architecture Exhibition will be discussed under the theme of "How Will We Live Together?".
Hashim Sarkis, curator of the 17th International Architecture Exhibition in Venice, has chosen the motto "How Will We Live Together?" as the theme of this year's event. He questions what our lives will be like in a world of climate changes, growing social differences and political polarization.
The curators of the Slovenian Pavilion are Blaž Babnik Romaniuk, Martina Malešič, Rastko Pečar and Asta Vrečko. The exhibition will be produced by the Museum of Architecture and Design (MAO).
With the current pandemic, however, the theme of the exhibition has taken on a new dimension. A good month and a half of reduced traffic and industrial activity have made the catastrophic consequences of man-made pollution of the environment clearly apparent, as well as revealed the importance of public institutions for society and the harmful effects of privatization of health services and weakening of social security. But in these changed circumstances, we can also choose to read the title differently, more literally: if, when, and in what way will we be able to live together?
The exhibition in the Slovenian pavilion, titled "The Common in Community", will be dedicated to community centres as places of gathering, and the phenomenon of interior public areas in which communities are established, pursued, and interact.
With the restrictive measures introduced to curb the spread of the coronavirus have stopped public life and restricted our social interactions, thereby interrupting the activities of community centres after seventy years of existence.
The economic, social and (inter)personal consequences of these new circumstances have pointed to the need for association and cohabitation, thus making any reflection on community spaces that provide for such needs even more relevant. With the containment measures lifted, the role of spaces where people can meet, interact and create will become even more pronounced.
Exhibition facts
Pavilion: Slovenian Pavilion
Theme: The Common in Community
Commissioner: Matevž Čelik Vidmar
Assistant to the Commissioner: Nikola Pongrac
Curators: Blaž Babnik Romaniuk, Martina Malešič, Rastko Pečar, Asta Vrečko
Pavilion Design: Obrat d.o.o.
Exhibition Design: Blaž Babnik Romaniuk, Anja Delbello, Nuša Jurkovič, Samo Kralj, Martina Malešič, Rastko Pečar, Aljaž Vesel, Asta Vrečko
Graphic Design: Anja Delbello, Aljaž Vesel
Architectural Models: Nuša Jurkovič, Samo Kralj
Video: Vid Hajnšek
Collaborator: Urška Cvikl
Coordinator in Venice: eiletz | ortigas architects
Producer: Museum of Architecture and Design (MAO)
With the support of: Ministry of Culture of the Republic of Slovenia
> via MAO