French Pavilion turns the exhibition into a performance space with Ball Theater at Venice Biennale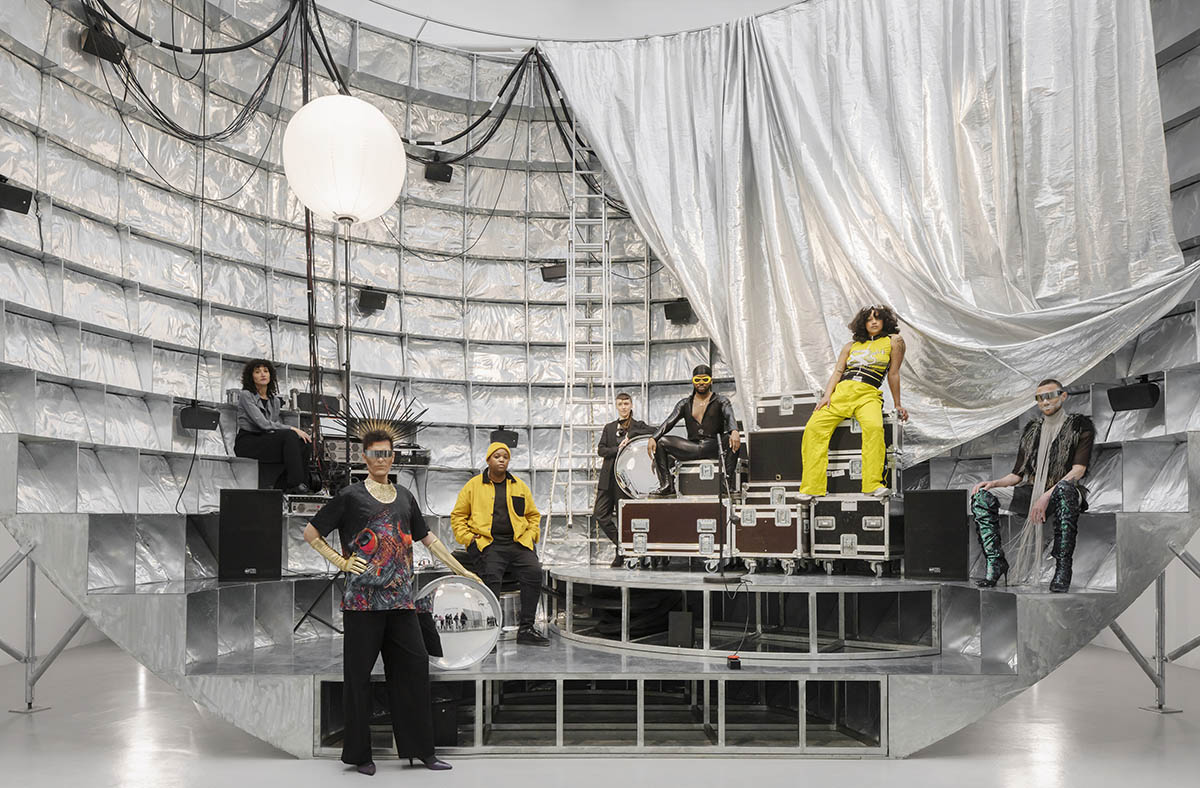 The French Pavilion has installed a hemispherical-shaped structure that becomes a performance space at this year's Venice Architecture Biennale.
In response to Lesley Lokko's theme The Laboratory of the Future, the exhibition, titled Ball Theater, was envisioned to be "a laboratory of identities, places and imaginaries" to become an interactive space for all visitors.
The 2023 Venice Architecture Biennale has opened to the public on Saturday 20 May, 2023 at the Arsenale and Giardini venues and the biennale can be visited until Sunday, 26 November, 2023.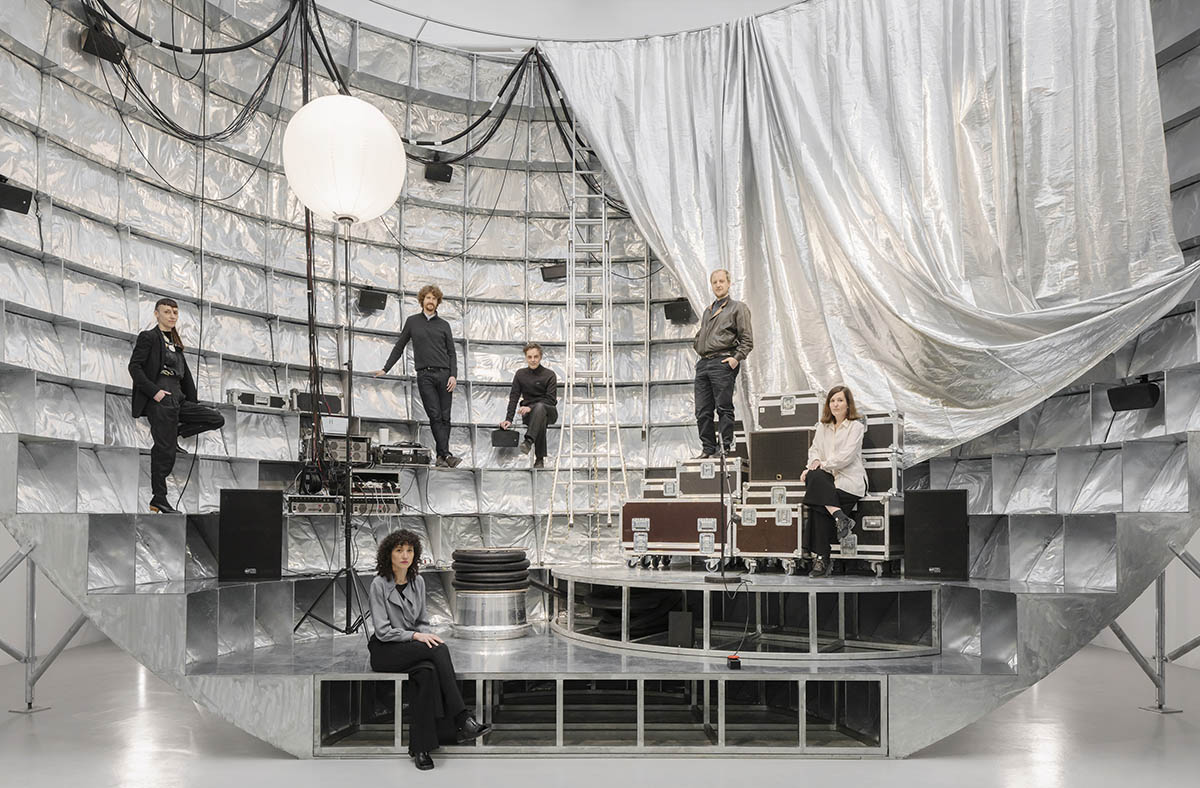 The Ball Theater is curated by architecture firm Muoto, in partnership with Georgi Stanishev and Clémence La Sagna for the scenography, with associate curator Jos Auzende, and Anna Tardivel for the programming.
Described as "a hemispherical theater built inside the French Pavilion," the structure acts as a device that enables people to project themselves into elsewheres and into the future.
The artistic team aimed to create "an architecture that offers visitors an experience that is simultaneously spatial, aesthetic and acoustic."
The Ball Theater will bring together multiple disciplines and activities that can become an opportunity for interaction between different domains, such as art, architecture and research.
The programme of balls includes Earth / Ball / Theater - the ball of the Earth, Radio Utopia - the ball of sounds, Echotopy - the ball of voices, School balls, School balls - after the revolution and more. See the full programme here.
Due to its globe shape, the theater immediately recalls the architectures of revolution or of the Russian constructivists. The installation has smooth and continuous surface that gives it a utopian aura that represents a world in miniature.
"This terrestrial globe that we are now ever more aware of sharing, with its meridians and its parallels," stated in a project description of the pavilion.
The shape of the theater is also an invitation to look forward again, beyond crises. In a time of emergency, austerity and climate anxiety, this theater delivers a message: "let us awaken the utopia within us! Let us allow ourselves moments of discovery and euphoria."
Imagine it's party time
The theater's shape can be interpreted equally as a terrestrial globe or as a mirror ball, a kitsch icon of an era when partying was still possible.
This party aura suggests a new approach to today's crises, one where the emphasis is no longer on emergency, but on the possibility of imagining somewhere and something different.
This is enacted in the life of the theater for the duration of the Venice Architecture Biennale 2023 by the alternation between moments of contemplative immersion in a soundscape echoing with foreign and far-off voices, and periods of intense occupation and activity based on variations on the theme of the "ball", an interplay of workshop-residencies involving artists, researchers and students.
An intriguing experiment
The installation intrigues visitors by placing them at the center of a stage that prompts risk-taking, speech, gesture and intervention. It is not the typical theater of illusion characterized by the face-to-face between actors and audience, but a theatrical setting designed for experiment. A stage that delivers an experience that challenges. Which does not so much provide answers as raise questions.
Where did this half-sphere come from?.
Who lives in it? What is it for? How did it get there? What are the fragments of voices, the whisperings and radio static that emanate from these loudspeakers saying? Has it just landed or is it about to take off? These are questions we ask ourselves in an uncertain world: should we stay grounded or take off?
Should we get close to things, create new communities, erase distances and distinctions, or conversely withdraw and remain aloof? How to choose? How do we reinvent our relationship to this world in quest of a future? And how do we readdress the question of ecology, in a fundamental way, by means of architecture, and not against or despite it?.
Makeshift Ark
The architecture of the theater stands midway between structure and setting. The purpose of this scenographic dimension is – like in a real theater – to accommodate a stage, performers and an audience.
The image it projects is nevertheless ambivalent, juxtaposing objects as contradictory as the futuristic capsule and the primitive hut.
The details are meticulous whereas the assemblages, the props and the cables remain visible. The object is simultaneously ramshackle and sophisticated. It conjures up associations with Noah's Ark, some kind of makeshift craft that has landed here.
The beings that built it, it would seem, wanted to escape a world that no longer had a place for them. They chose a flimsy and temporary structure which they equipped, like an echo chamber, with rudimentary devices for capturing and emitting sounds and devising possible new rituals: microphones, loudspeakers, projectors.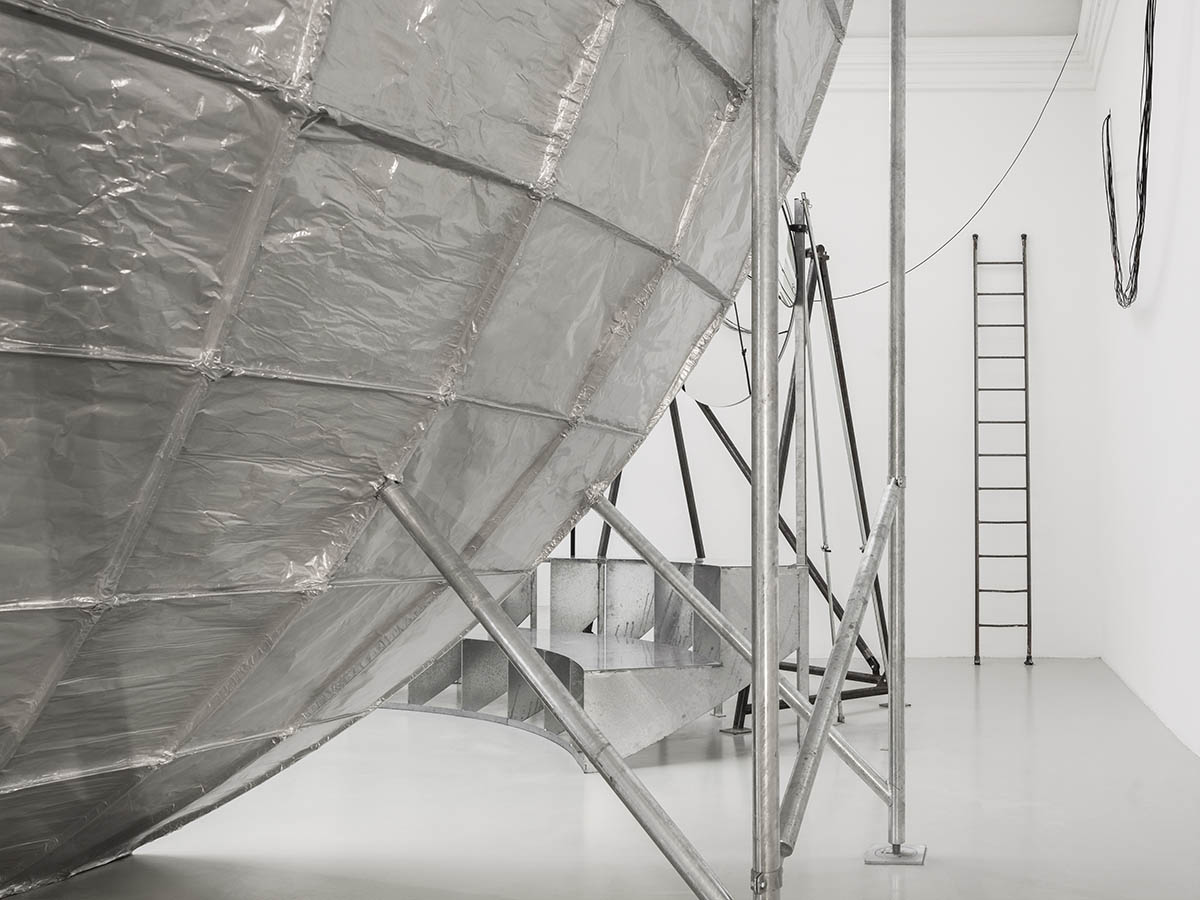 A Silver Stage
Entering the pavilion, the first thing visitors see is the exterior of the half-sphere, surfaced with a layer of silvered aluminum. The object appears looks immense.
One wonders how it managed to get in here. As they move around it, visitors encounter a hollow interior, a steel structure, tiered plywood seating, a silvered fabric curtain and a stage with an active microphone.
Above the whole structure hangs a triangular beam supporting a few projectors. The virtual circle of the sphere is interrupted by a stool and two tiered seats.
The lower part of the stage can be configured in different ways, with a low, circular, movable podium where the public can sit and have access to the middle of the stage, as well as a higher platform for the guest artists.
Lost and found
At the same time, visitors can see a series of objects in the adjacent rooms, expressing a strange kinship with the half-sphere. They suggest a temporary camp, somewhere between a picnic area and a playground.
For example, there is a sort of maypole that makes a repetitive sound, as well as recovered metal objects that could be used to equip the theater – a spinning top, a cable drum, a mirror, a stool, etc.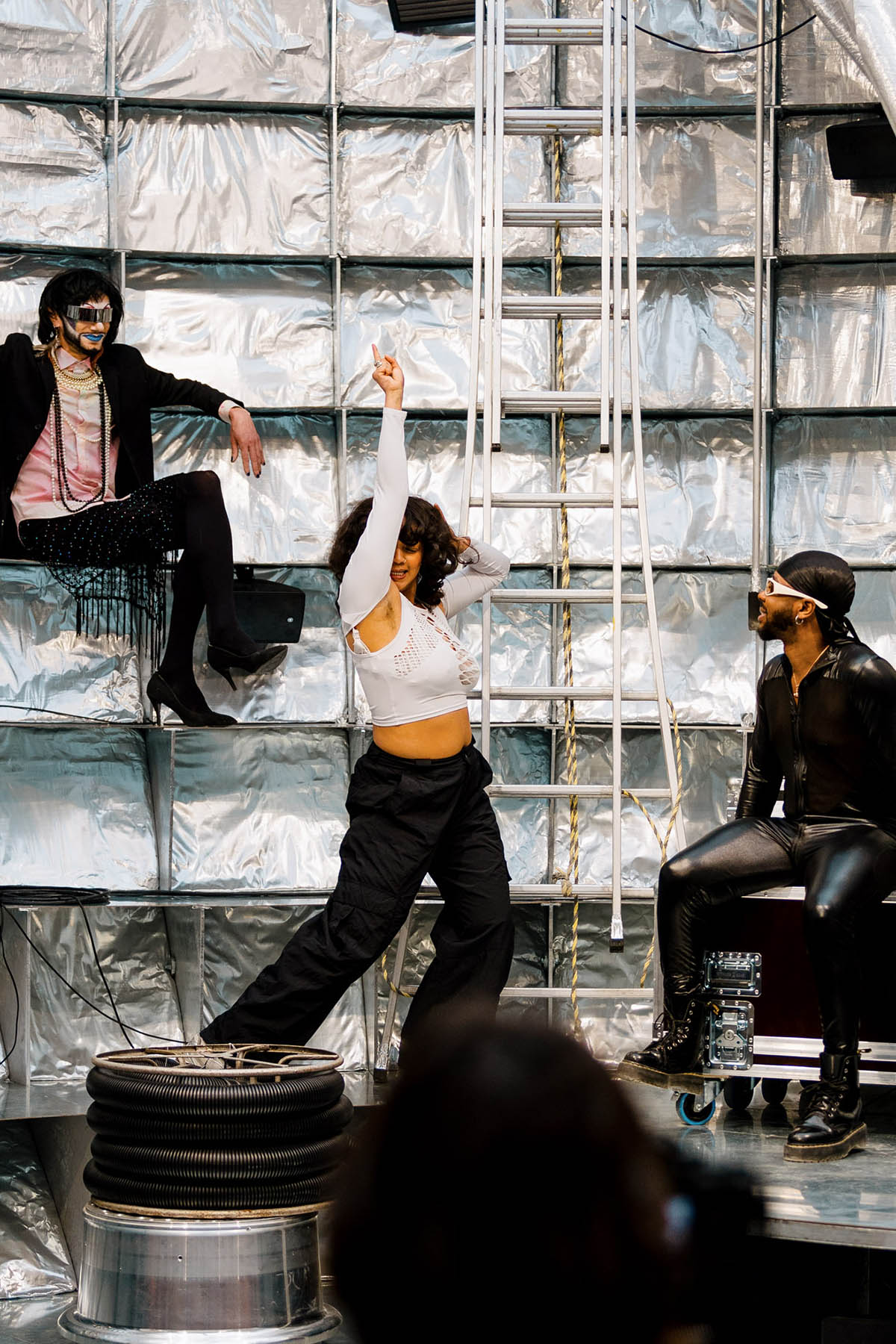 The stage is made up of recovered and recycled objects, reflecting people's conflicting feelings of hope and nostalgia, their desire to reconstruct a future with what remains of the past.
The space of sound
A nonvisual but perceptible connection links the demisphere and all the objects together, a connection that you discover as you move around. It consists of directional acoustic pathways, sounds that bounce from one room to the next, creating a spatial experience of sound.
This acoustic environment, made up of voices and whispers, immerses visitors in a form of abstract, non-verbal ur-language that precedes words and stimulates new forms of attention. Noises, songs, voices, murmurs... the sound space evolves over time shaped by an AI system and an original arrangement of 36 speakers, which creates a "slow listening" ambience.
In a world saturated with visual signs and images, this soundscape devised by the theater's sound team, the electronic music composer Pilooski (Cédric Marszewski) and the sound engineers Alain Français and Thomas Fourny, suggests that utopia is only possible if one can briefly drop out of the dominant culture, if one can de-familiarize oneself with language and conventional expression.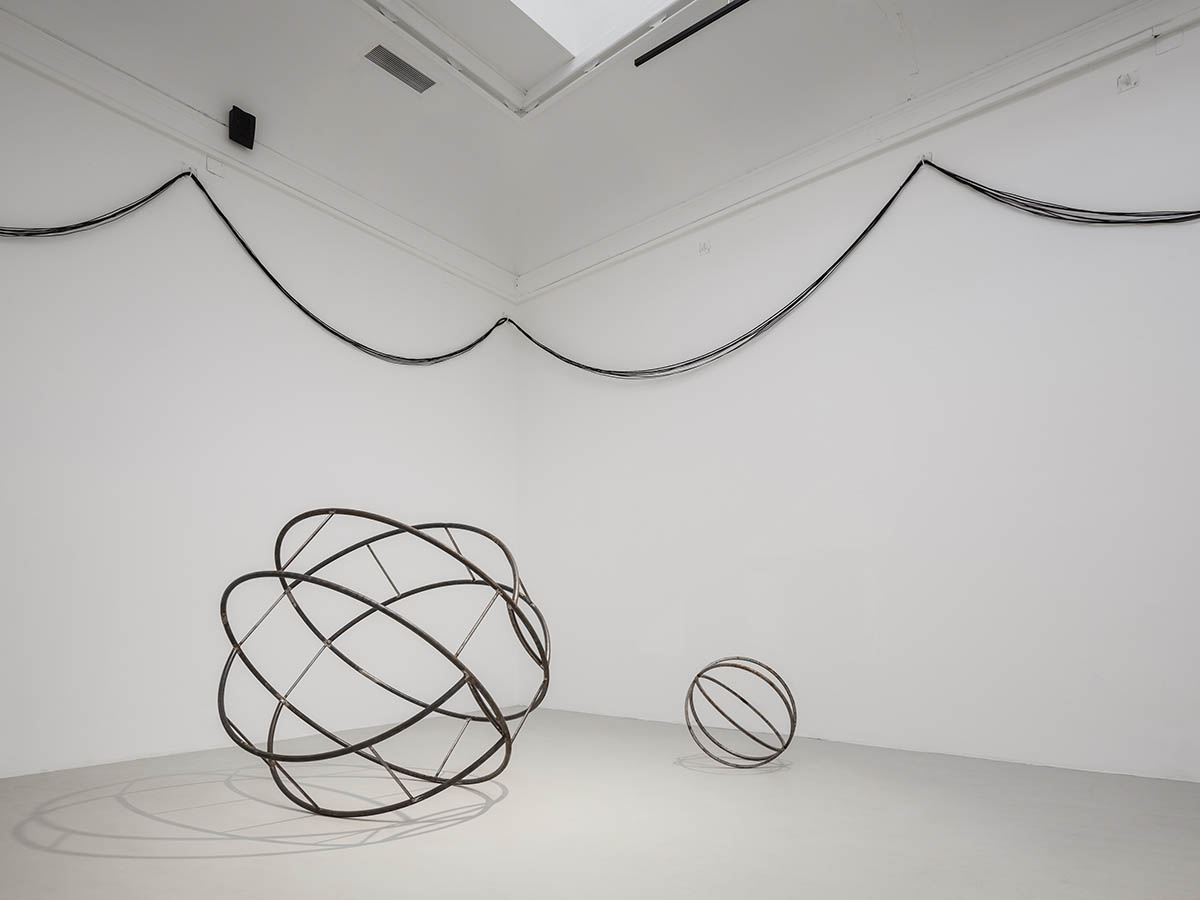 The French Pavilion can be visited at the Giardini venue. To see more pavilions from this year's biennale, you can also visit WAC's Instagram/Reels for exclusive videos.
All images © Schnepp Renou.
> via French Pavilion
exhibition French Pavilion pavilion Venice Architecture Biennale