Family house is covered by folded roof to create a tent-like structure on Kuwait's seaside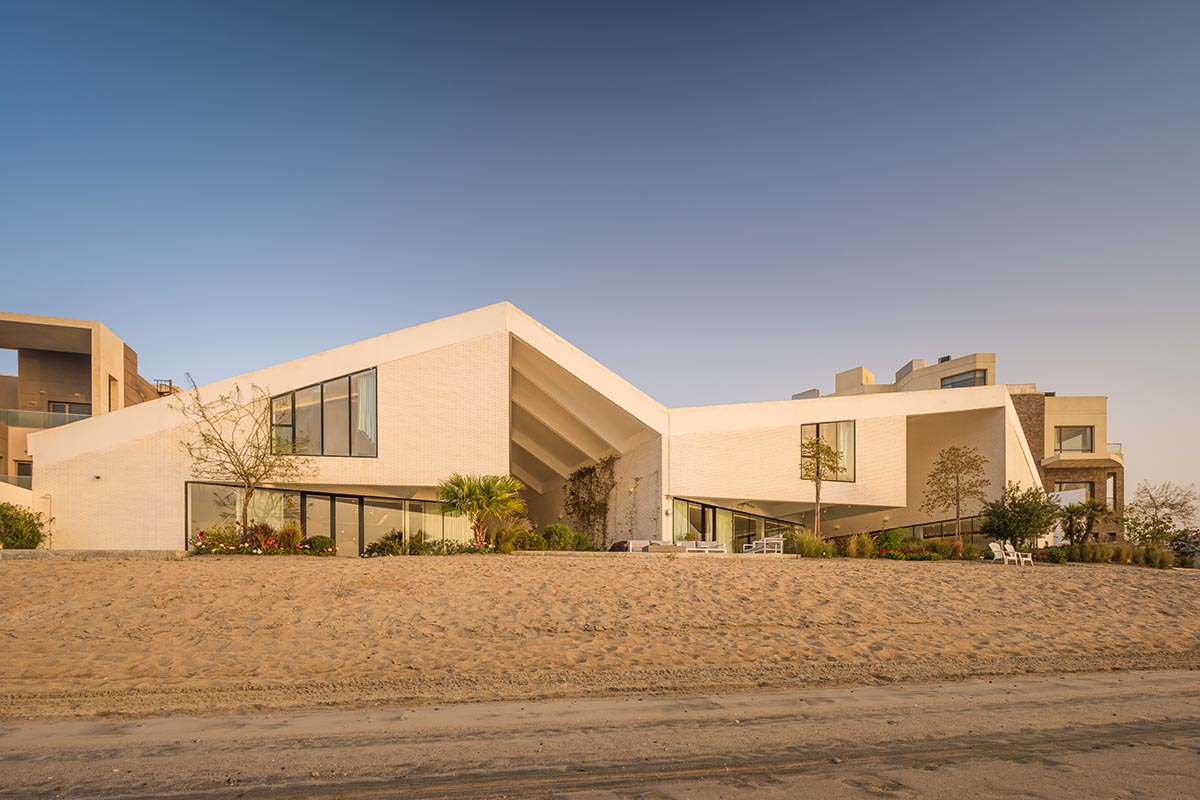 A family house is covered by a folded roof to create a sense of tent-like structure on a seaside in Kuwait.
The house, designed by Kuwait, Portugal and France-based architecture firm TAEP/AAP, is distinguished by its folded and perforated roof structure that shelters its inhabitants.
Named Tent House, the 2,390-square-metre house is located in Al Khiran, in southern Kuwait and overlooking a mesmerizing seafront on the coast of the Arabian Gulf.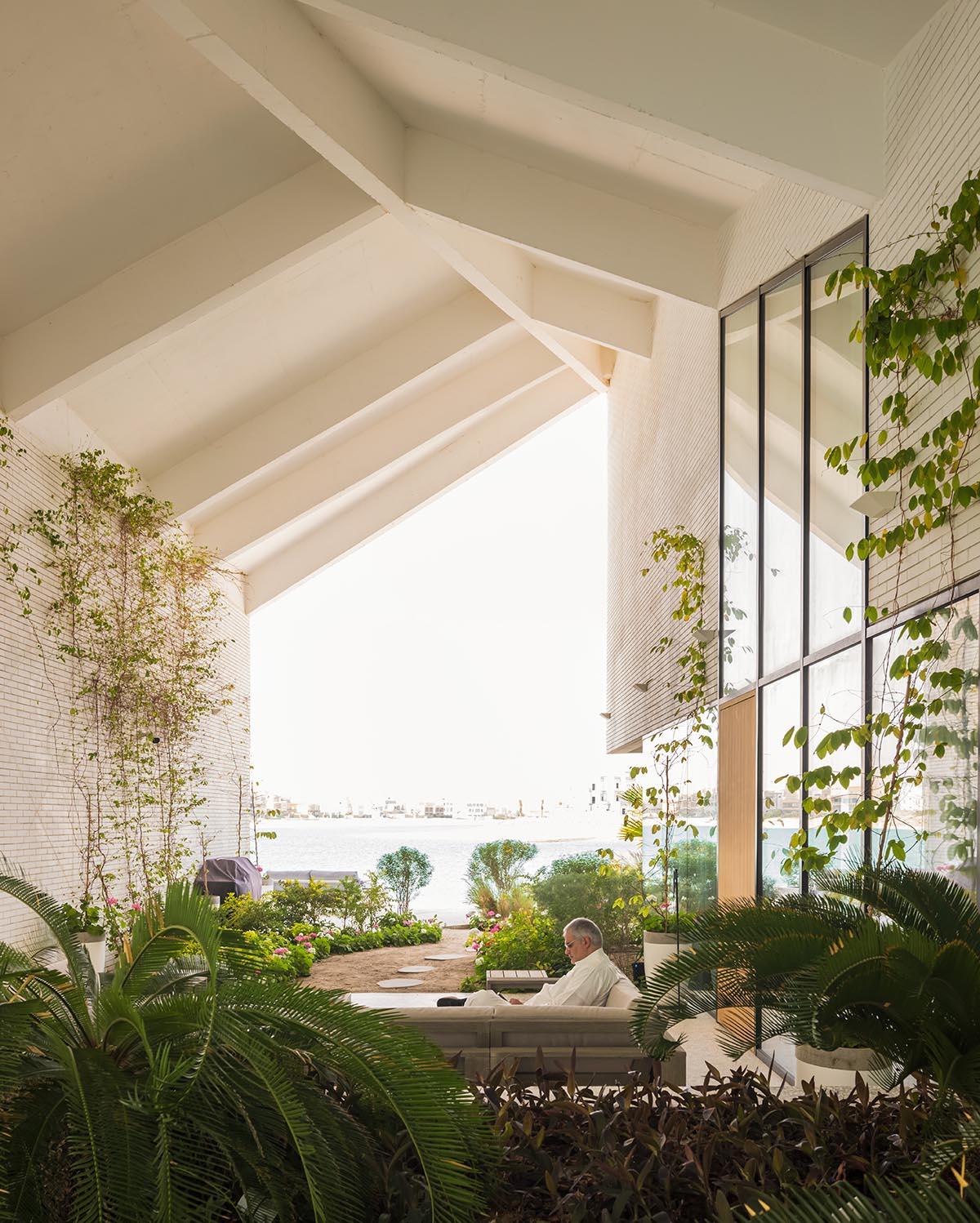 Conceptually, TAEP/AAP aimed to create a discrete shelter structure for a family who wants to spend their holidays under a lightweight roof.
"Inhabitants of the Arabian Peninsula have a long-standing tradition of leaving the cities on holidays often traveling to the seaside or to the desert to set up temporary infrastructures and spend quality time with their families," said TAEP/AAP.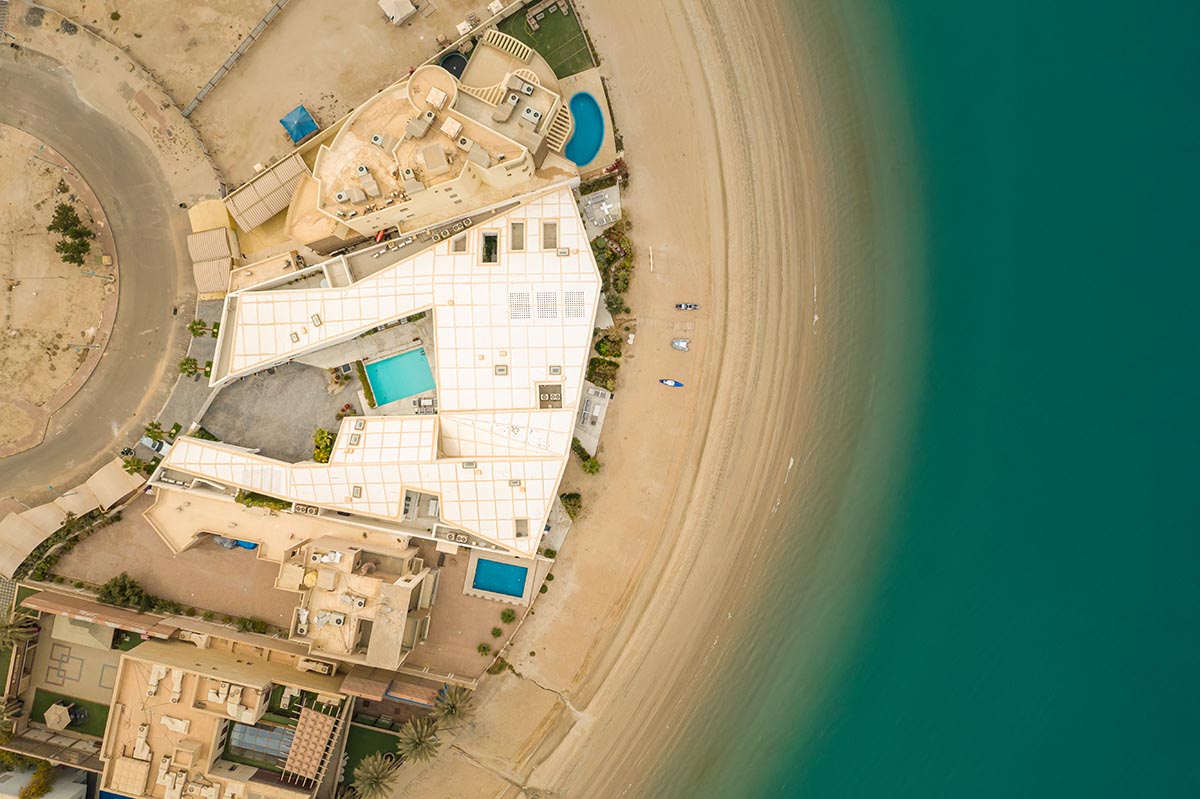 The design of the house takes cues from "the importance of shade in the hot desert climate."
The house is comprised of five fragmented units that share a common folded concrete white roof.
The roof was designed to provide protection from the sun and wind while permeating light during the day and night.
The studio created a perforated skin for the roof so that the roof could filter sunlight into the interior spaces and offer views of the sky through rectangular cuts.
The ground floor exterior spaces were envisioned to serve as social common areas, designed as an oasis with vegetation and gardens surrounding a central water element.
The outdoor gardens culminate in two communal double height shaded spaces that connect the interior of the site to the beach and further accentuating the main façade and proving views for the two internal units to overlook the see.
"The Tent residence is designed to maintain privacy from the access road and immediate neighbors while maximizing openness and transparency to the private beach with seafront glazed facades and garden terraces," said the office.
"The Tent residence simultaneously achieves the status of a desert camp, a beach house and, above all, a gathering place," the studio added.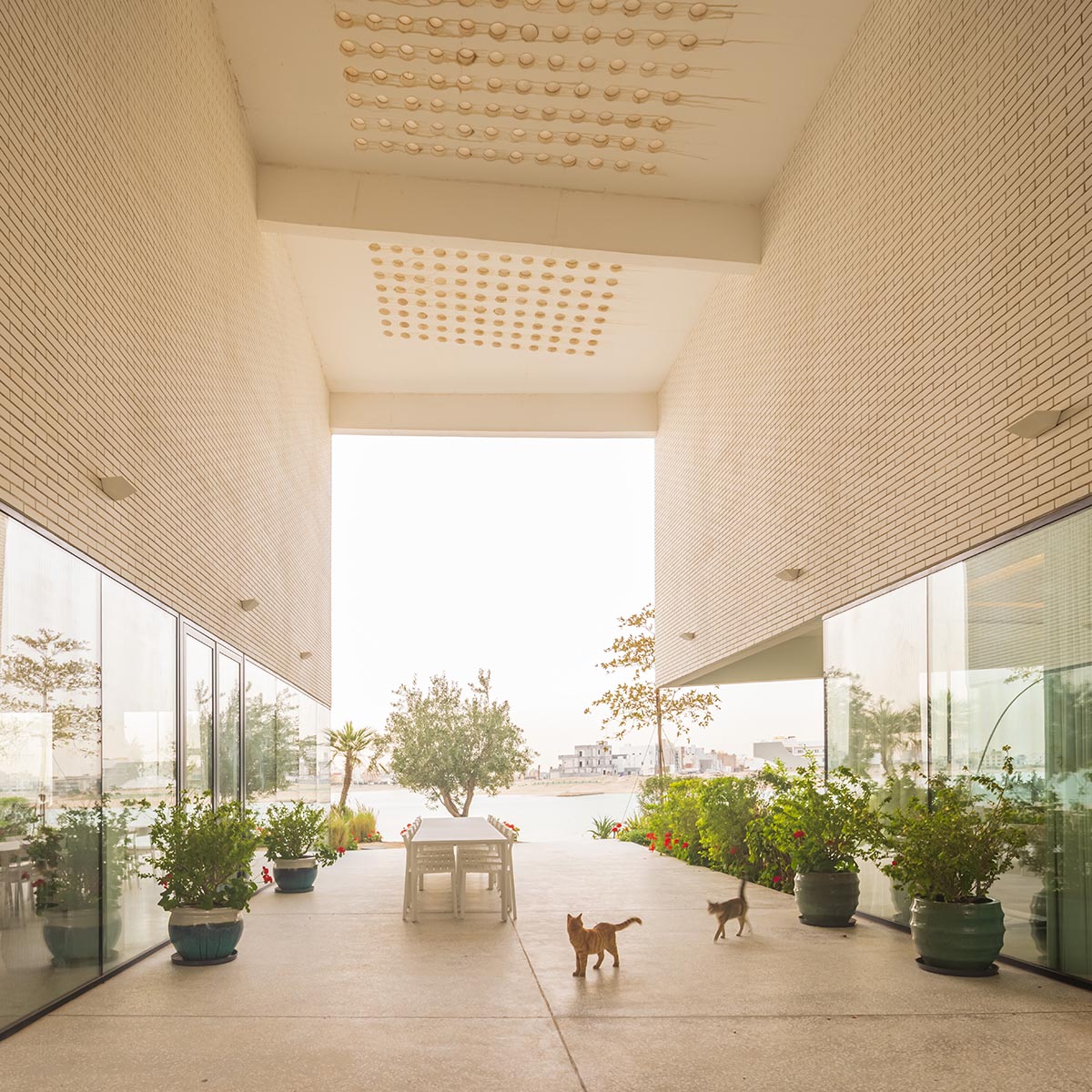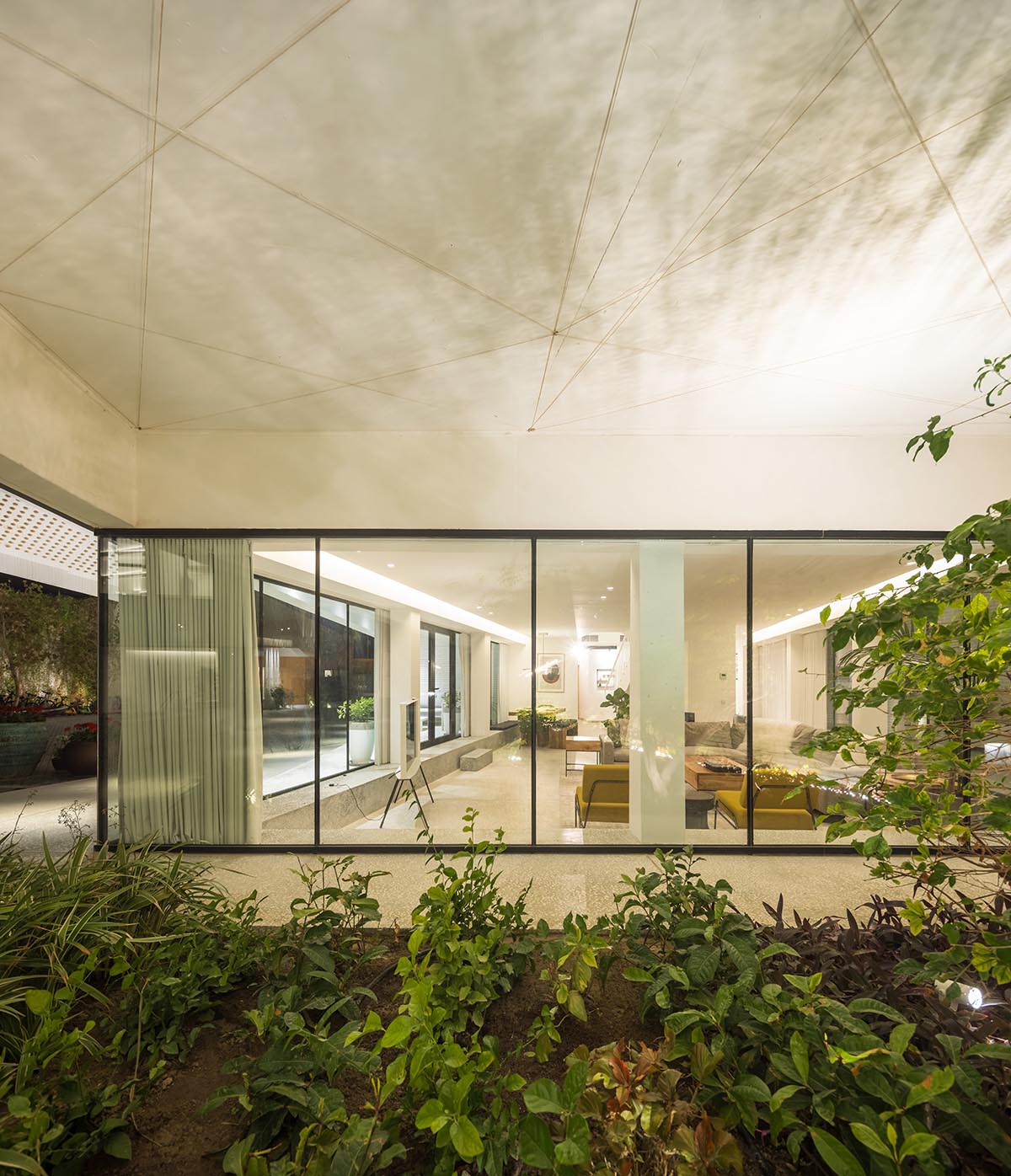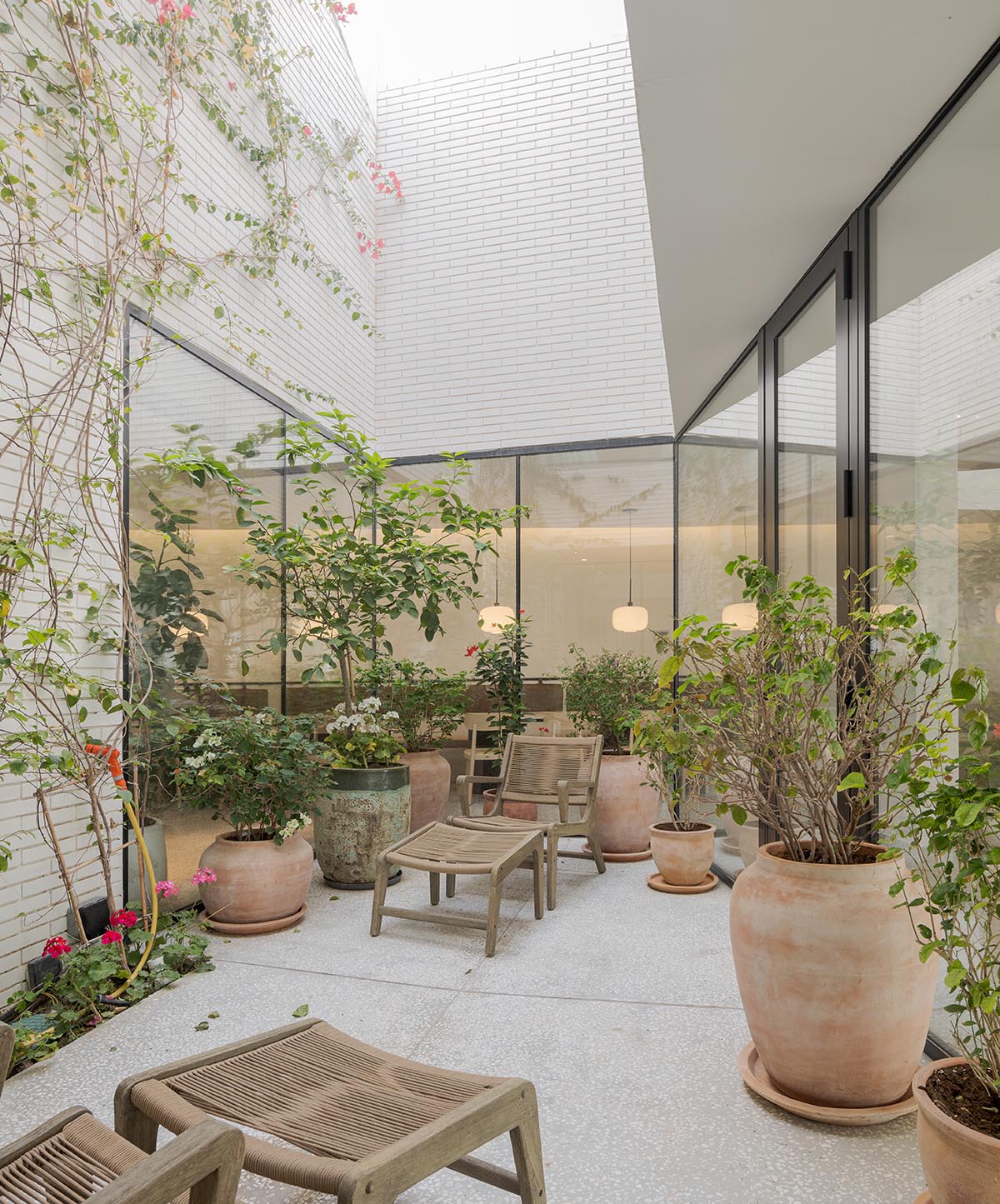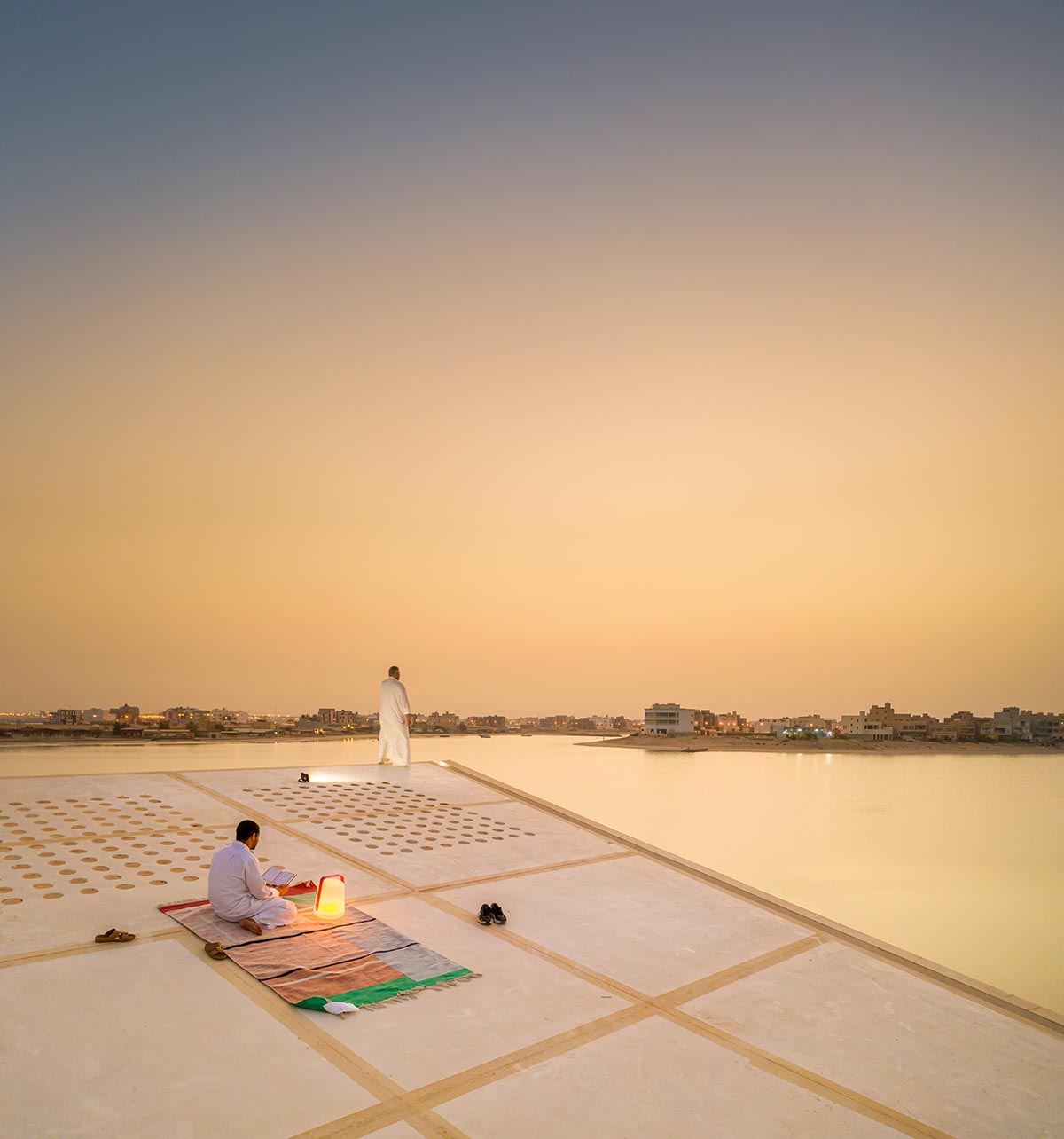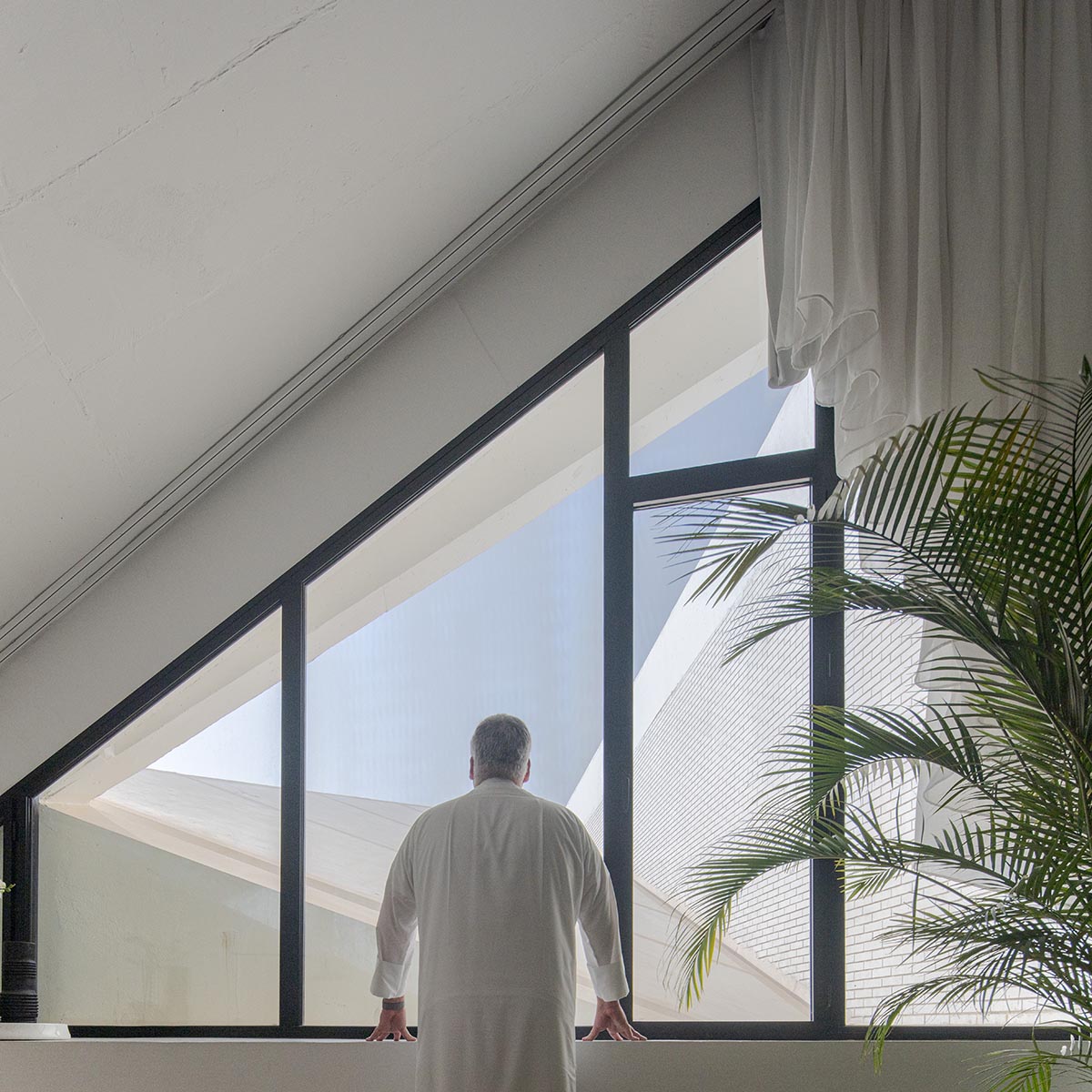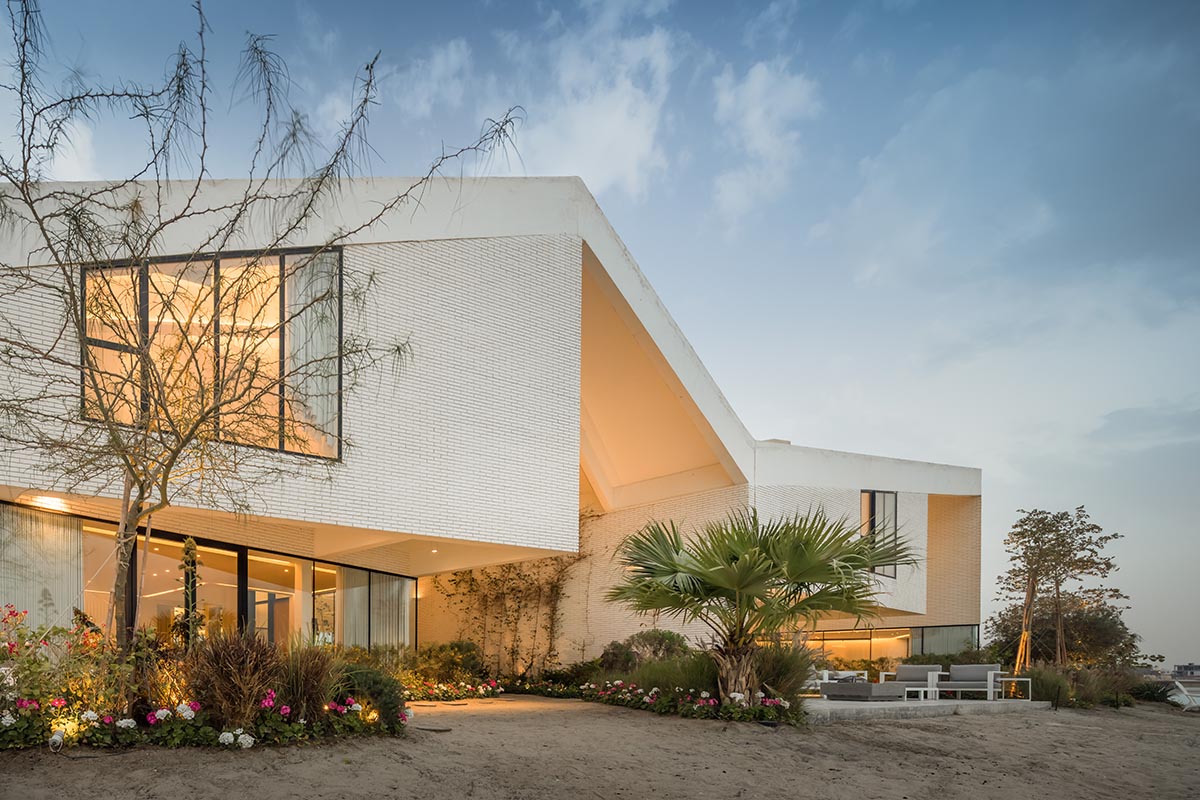 Ground floor plan
First floor plan
Roof floor plan
Sections
Elevations
Scheme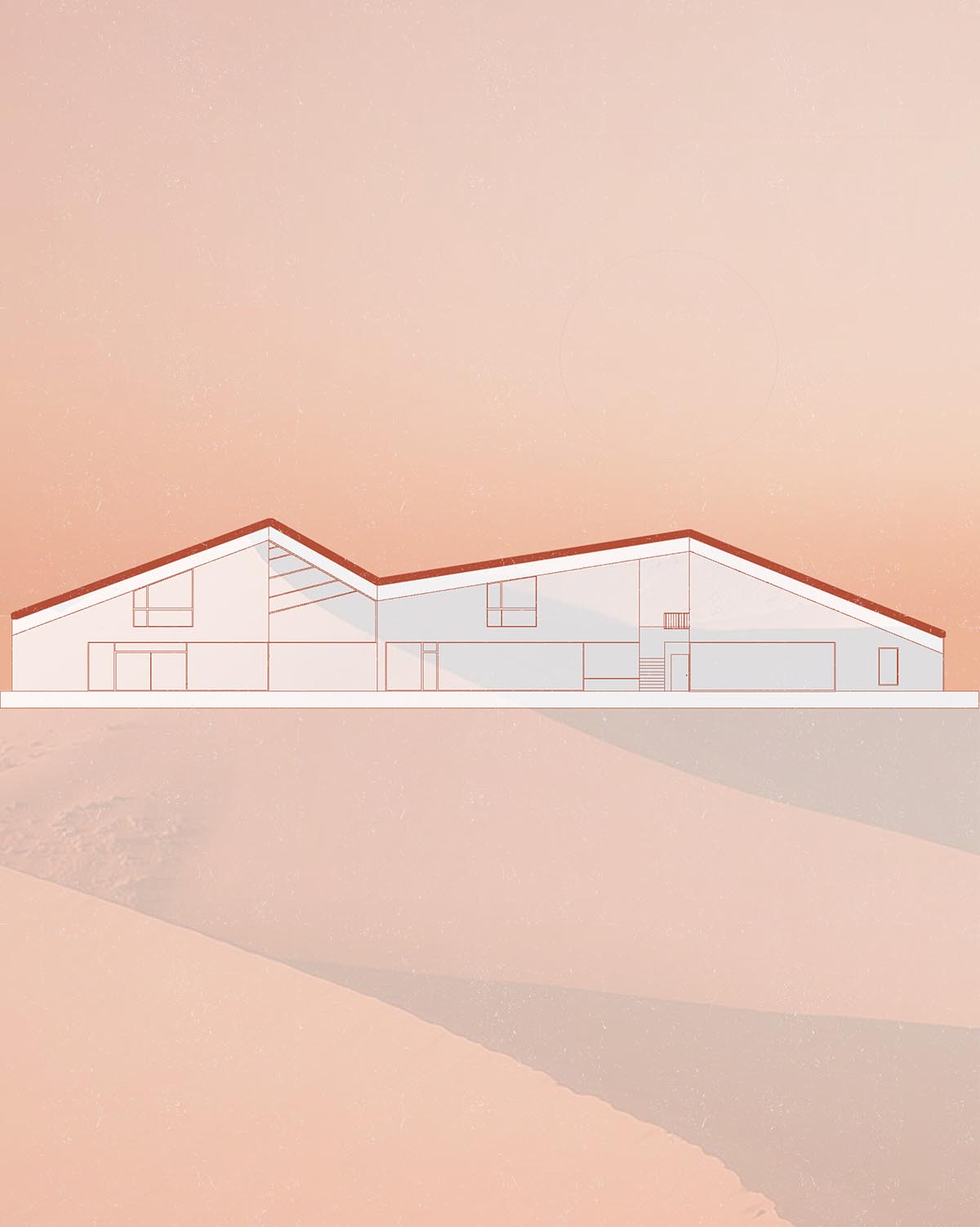 Scheme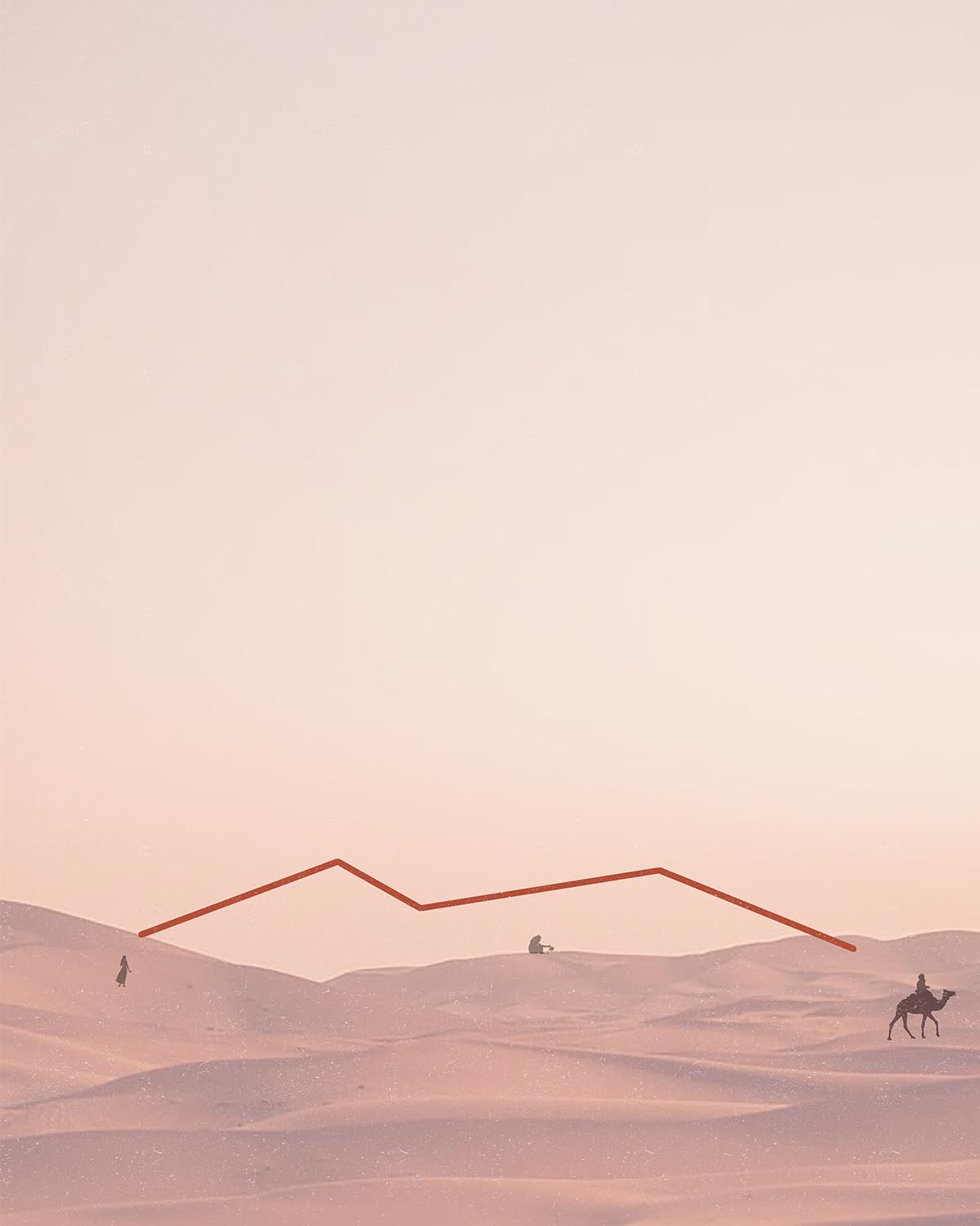 Scheme
TAEP/AAP is a multidisciplinary award-winning architecture and engineering practice based in Kuwait, Portugal and France with a combined experience of over 55+ years.
The firm is led by four partners; Khaled Alfouzan, Mowaffaq Alfulaij, Abdulatif Almishari, Rui Vargas and Bader Almutawa.
Project facts
Project Name: Tent House
Office Name: TAEP/AAP
Project Location: Al Khiran, Kuwait
Year: 2021
Built-up Area: 2,390m2
Team: Abdulatif Almishari, Rui Vargas
Telmo Rodrigues
Carla Barroso, Abdullahziz Al Kandahari, Fábio Guimarães, Alba Duarte, António Brigas, António Gorjão, Carlo Palma, Duarte Correia, Gonçalo Silva, Hassan Javed, João Costa, Mariana Neves, Maysi Vasquez, Pedro Batista, Pedro Miranda, Raquel Martins, Sofia Teixeira
MEP: Mohammed Hassan, Rúben Rodrigues, Sérgio Sousa
Interior Design: Leonor Feyo
Carolina Grave, Estrela Nunes, Luísa Calvo
Landscape: Susana Pinheiro
Graphic Design: Mariana Neves, Aquilino Sotero, Diogo Monteiro, Federica Fortugno, Luísa Calvo
Consultants:
Structure: R5 Engineers
Light Design: Light Design
Site Supervision: ASBUILT Lúcio Silva, Ricardo Janeiro, Vando Beldade
All images © Fernando Guerra | FG+SG.
All drawings © TAEP/AAP.
> via TAEP/AAP