Eurasian Prize 2021 Calling for Entries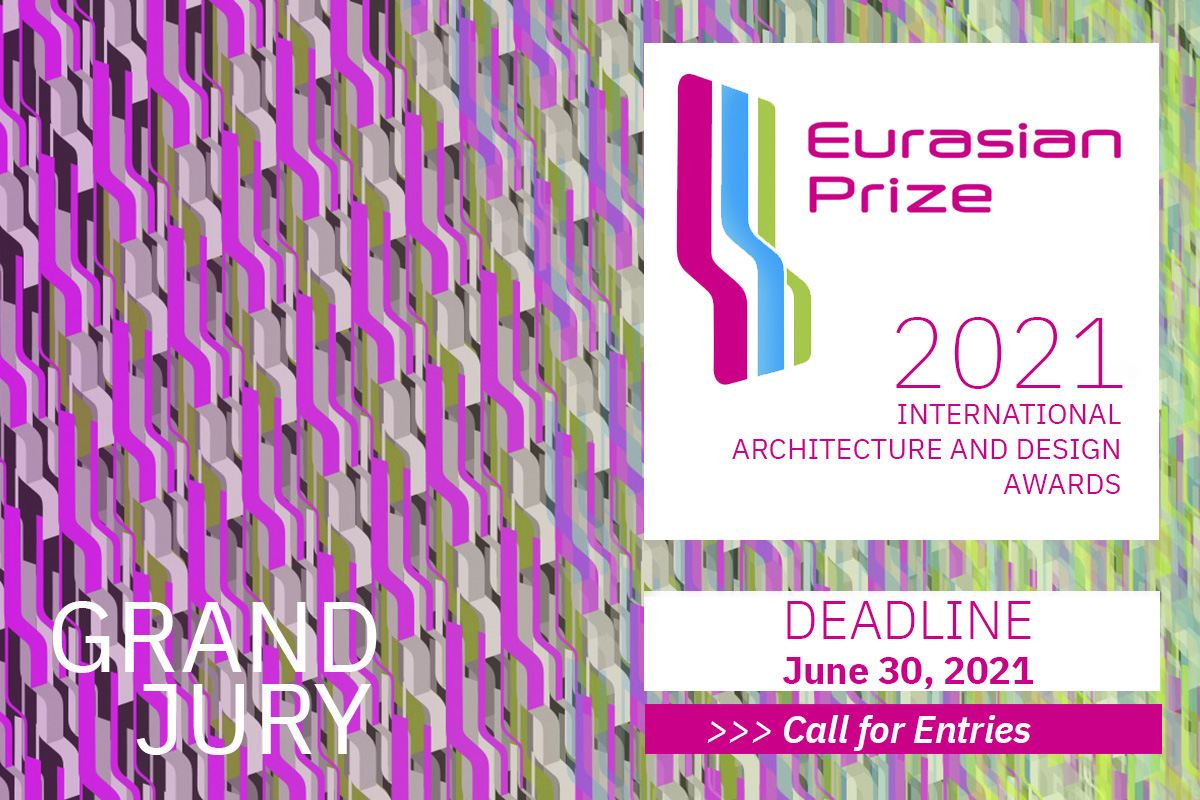 The XVI season of the international competition-festival of architecture and design "Eurasian Prize" started. The Festival supports such an interesting project as competition Eurasian Prize 2021, the largest in the Eurasian area.
The mission of the Eurasian Prize is to discover, encourage and promote of concepts and projects, that answer our Festival slogan: "Innovation For Sustainable Architecture For The Good Of Humanity". The competitive program Eurasian Prize brings together architects, city planners, designers from all over the world. Professional architects and designers as well as students of specialized educational institutions can participate in the Prize.
The winners of the XVI season will be determined by a highly competent international jury, in the new season of Eurasian Prize 2021 to the jury have already joined Daniel Libeskind, Erick van Egeraаt, Costas Voyatzis, Piero Lissoni, Manuelle Gautrand, Rodolfo Machado, Yosuke Hayano, Mikko Summanen, Simone Farresin, Cristos Passas, Andrey Bokov, Juho Grönholm, Sanjay Puri and other outstanding architects and designers of modernity.
World Architecture Community is global media partner of the Eurasian Prize 2021.
The Eurasian Prize 2021 is awarded for achievements in the following categories and subcategories:
Urban Development Awards
Urban Planning System
Comfortable Residential Environment
Urban Environment
Architecture Awards
Industrial Structures
Multi-Apartment Residential Buildings
Private Houses
Objects of Hospitality and Recreation
Public Business and Commercial Architecture
Sports Architecture
Institutional Facilities
Cultural Facilities
New and Old
Transport Facilities
Design Awards
Public Interior
Business Interior
Commercial Interior
Private Interior
Industrial Design
Science and Publicism
Architectural science
Applied Architectural Science
Architectural Publicism
Student Awards
Urban Development
Public And Residential Architecture
Industrial Design
Industrial Architecture
Timeline
Regular Entry Deadline - April 30, 2021
Final Entry Deadline - May 31, 2021
Last Minute Entry Deadline – June 30, 2021
Register before 30 April 2021 and take part in the international contest on special terms!
Register to participate in the EURASIAN PRIZE 2021 competition right now.
Learn more about Awards Program. Read Eligibility and Rules about Awards Program.
Eurasian Prize Laureates 2020.
Top image courtesy of Eurasian Prize.
> via Eurasian Prize