National Robotarium: A world-leading centre for Robotics in UK's Heriot- Watt University's Edinburgh
National Robotarium - a world-leading centre for robotics and artificial intelligence - that is aiming to create innovative solutions to global challenges has started at the UK's Heriot- Watt University's Edinburgh Campus.
The National Robotarium will provide a purpose-built facility where companies can work together on projects and share ideas with other likeminded innovators from around the world. It will pioneer research moves rapidly from laboratory to market and develop skilled visionaries which have a massive substantial benefits for society in return.
This "City Deal" development has designed by Michael Laird Architects, which the £22.4 million facility aims to be UK's leading innovation hub for the practical application of robotics and autonomous systems.
The building form will have a high-performance envelope which incorporates a naturally ventilated, multi-purpose double wall to the main façade. Inside, the architects' design criteria has focused on arranging "a variety of flexible spaces for specialist research and work around a full height, multi-functional forum space that will be used as a social space, for collaborative working and knowledge sharing, and events."
"We are thrilled to be working with HWU on the new National Robotarium at Heriot Watt. The vision is 'to create the UK's leading innovation hub for the practical application of robotics and autonomous systems," said the architect.
It is pointed by Heriot-Watt University that the the £22.4 million research facility will be the largest and most advanced of its type in the UK and the centre will be as innovative as the research taking place as it is a high-tech and sustainable design.
"The 40,000 square foot (3,716 square meters) building will house three distinct research and development areas, providing bespoke facilities for Robotics & Autonomous Systems (RAS), Human & Robotics Interaction (HRI) and High Precision Manufacturing. Specialist equipment available will include dedicated laser labs, an autonomous systems lab and an assisted living lab for trialling innovative technologies in a realistic home setting."
Professor Helen Hastie and Professor Yvan Petillot will be joint academic leads of the National Robotarium, which they are looking for research collaboration and business partnership opportunities. Unique flexibility of the facility is what makes this development so appealing for up-and-coming technology firms and software developers who need a space where they can test out their newest ideas in innovation and technology in a safe environment.
Professor Helen Hastie said: "As a world-leading facility that will promote entrepreneurship and drive forward early-stage product development, the National Robotarium will play a significant role in supporting the UK's economic recovery from the COVID-19 pandemic."
"By drawing upon the world-class talent of the staff at Heriot-Watt and our collaborative partner, the University of Edinburgh, alongside students at the Centre for Doctoral Training in Robotics and Autonomous Systems, the National Robotarium will form a centre of excellence for fundamental research and knowledge exchange to address real-world challenges and industry needs."
Professor Yvan Petillot added: "The cutting-edge resources provided by the new facility combined with the expertise of our researchers will put us in a highly competitive position to elevate the UK onto the global stage in robotics and AI technologies."
"We can say that the Robotarium will bring together engineers, scientists, researchers and entrepreneurs who are driving forward advances in artificial intelligence technologies such as machine learning, deep learning, computer vision, natural language processing and robotic process automation."
Project sheets: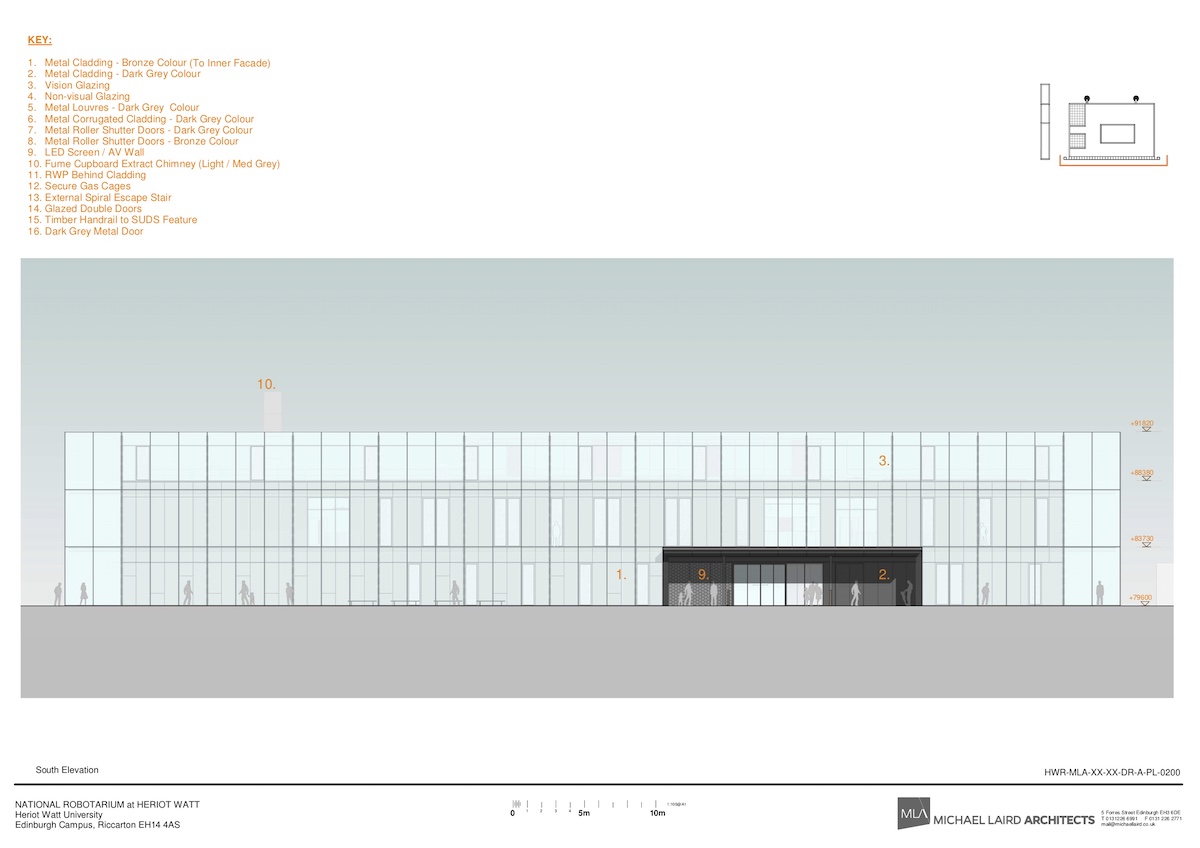 Images © Michael Laird Architects
All drawings courtesy of the City of Edinburgh Council.
> via Michael Laird Architects, The National Robotarium and Heriot-Watt University