Submitted by
First Phase Of ZHA's Droplet Shaped Leisure And Entertainment Complex Is Set To Complete In 2019
Zaha Hadid Architects has revealed the finalized images for the new leisure and entertainment complex in Sharjah, the United Arab Emirates. Arada, the developer of the project and the UAE's newest and most exciting developer, has announced that first phase of the project will be completed in the first quarter of 2019.
Named Aljada Central Hub, the new development explores the first moment of a water droplet strike on the earth's surface, captured in an array of elliptical buildings.
Designed to channel prevailing winds into public spaces and courtyards, the overall form of the buildings will aid natural cooling. ZHA won a competition earlier this year and released its preliminary concept with one visual.
Image © Cosmoscube
The US$6.5 billion project reflects Arada's commitment to sustainability and smart technologies which will be integrated within the Central Hub.
"The complex's natural ecosystem, irrigated by recovered and recycled water, is designed to sustain a microclimate at ground level for gardens featuring plant species native to the region, while the Central Hub's lighting requirements will be entirely provided by smart solar power," said Zaha Hadid Architects in a press release.
More than 25 football fields in size (1.9 million square feet), the car-free Central Hub is focussed around its large central plaza and public observation tower.
The Central Hub's design integrates a variety of civic spaces designed with natural cooling strategies to enable them to be enjoyed throughout the year, even during the summer months.
In total, there will be 732,000 square feet of public squares and gardens within the Central Hub, including the large community park that covers a quarter of the complex with thousands of specially selected native trees and plants.
Image © VA
The project will be completed in three phases. The program of the first phase of the Central Hub will include an outdoor cinema space, a food truck village, skate park and other family-friendly facilities – has already begun and is scheduled to be completed by the end of the first quarter of 2019. According to the architects, Arada will be on track to complete all phases of the Central Hub by 2022.
"Aljada's Central Hub stands as an example of how conscious design can work with the environment to create a truly unique and inspirational focus for its community," said Johannes Schafelner, Project Director, Zaha Hadid Architects.
"The Central Hub is a defining project for Sharjah and the UAE, and we have been proud to work closely with Arada on bringing this development to life."
The second and third phases of the Central Hub are scheduled to be completed in 2020 and 2022, respectively. The extensive facilities and attractions in these two phases include: Waterplay area (65,000 square feet in size), extreme sports centre, including a skatepark and climbing wall, 'Edutainment' complex for families, which features a virtual reality zone and children's science and discovery centre, two retail zones, that include food halls for farmers' markets, 11-screen cinema, adventure golf course and community park, over 340,000 square feet in size, featuring hundreds of species of trees and plants as well as a number of outdoor sports facilities, such as tennis and basketball courts.
Image © Cosmoscube
"The latest announcement at Sharjah's largest mixed-use lifestyle destination follows a series of milestones, including the first infrastructure contract award, to BICC Contracting in September, and the first main residential construction contract award, which was handed to Modern Building Contracting Company LLC in July," added ZHA.
Arada has also recently confirmed that Aljada will be one of the UAE's smartest projects, with next-generation technologies to offer residents and visitors the most convenient and efficient living.
In April this year, Arada announced the launch of East Village, a new community which constitutes Phase 2 of Aljada. Additionally, Emaar Hospitality Group announced it will open three new hotels, the Address Aljada Sharjah, Vida Aljada Sharjah and Rove Aljada. In January, the developer also confirmed that the global engineering giant Jacobs had won a key contract for Ajada's infrastructure.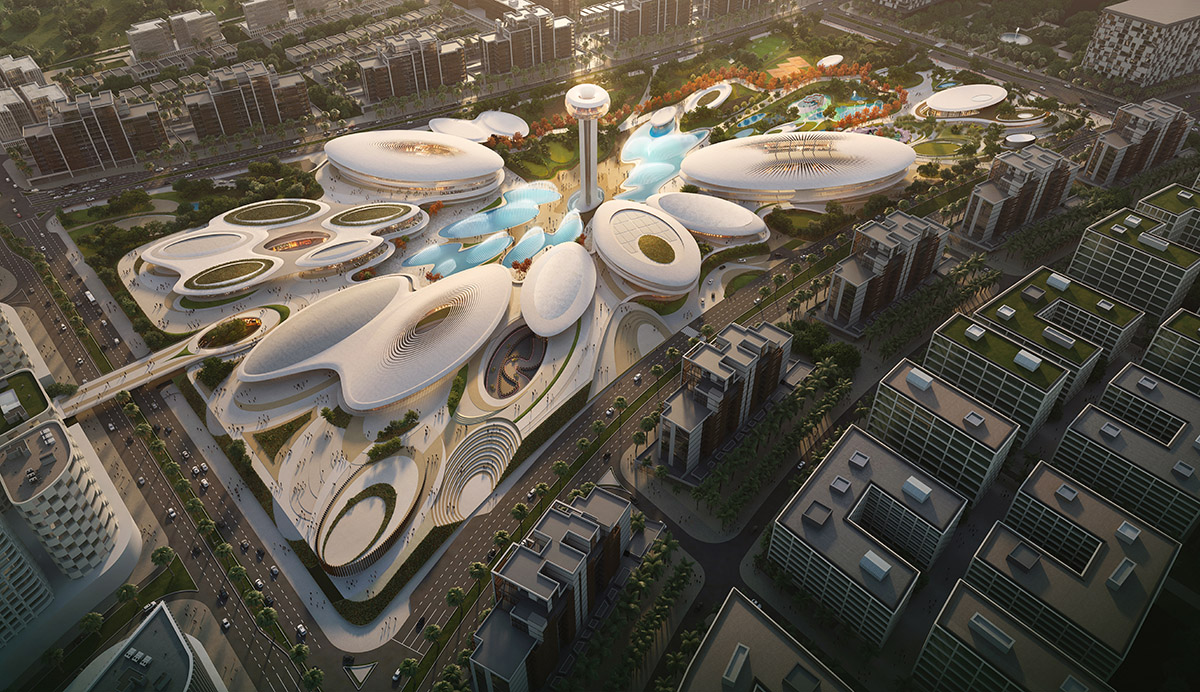 Image © VA
Launched in September 2017 by His Highness Sheikh Dr Sultan bin Muhammad Al Qasimi, Supreme Council Member and Ruler of Sharjah, Aljada has become Sharjah's fastest-selling residential community. Delivered in phases starting in 2019, the entire project is expected to be completed by 2025.
The Aljada masterplan, led by ZHA's Principal Patrik Schumacher and Director Charles Walker, is carefully designed with walkability and wide green spaces in mind, allowing residents, workers and visitors the ability to live, work and play within a fully integrated and sustainable community.
Project facts
ZHA Directors: Patrik Schumacher, Charles Walker
ZHA Project Directors: Johannes Schafelner, Tariq Khayyat (Head of Middle East)
ZHA Project Associates: Dennis Brezina, Gerhild Orthacker, Damiano Rizzini
ZHA Project Designer: Yifan Zhang, Nassim Eshaghi, Evgeniya Yatsyuk
ZHA Technical Reviewer: Armando Solano, Stephane Vallotton
ZHA Project Team: Alessandra Lazzoni, Valeria Mazzilli, Marius Cernica, John- Alan Gallerie, Sattor Jabbor, Marianna Custodio dos Santos, Juan Montiel, Pelayo Bustillo Macias, Erwan Gallou, Fenji Koshy, Sebastian Andia, Dimitris Kolonia, Lenka Petrakova, Dennis Schiaroli, Shajay Bhooshan, Vishu Bhooshan, Tommaso Casucci, Dalia Bohsali, Tamara Salman, Naitik Trivedi, Jawaher Almutairi
ZHA Competition Team
ZHA Project Architect: Jakub Klaska
ZHA Project Team: Tariq Khayyat, Damiano Rizzini, Eduardo Camarena, Juan Montiel, Jamie Edindjiklian, Silviya Barzakova, Valeria Mazzilli, Nicolas Turchi, John Alan Gallerie
Top image © VA
> via ZHA