Professional Avenues after B.Arch in India – Prof B S Keshav Opines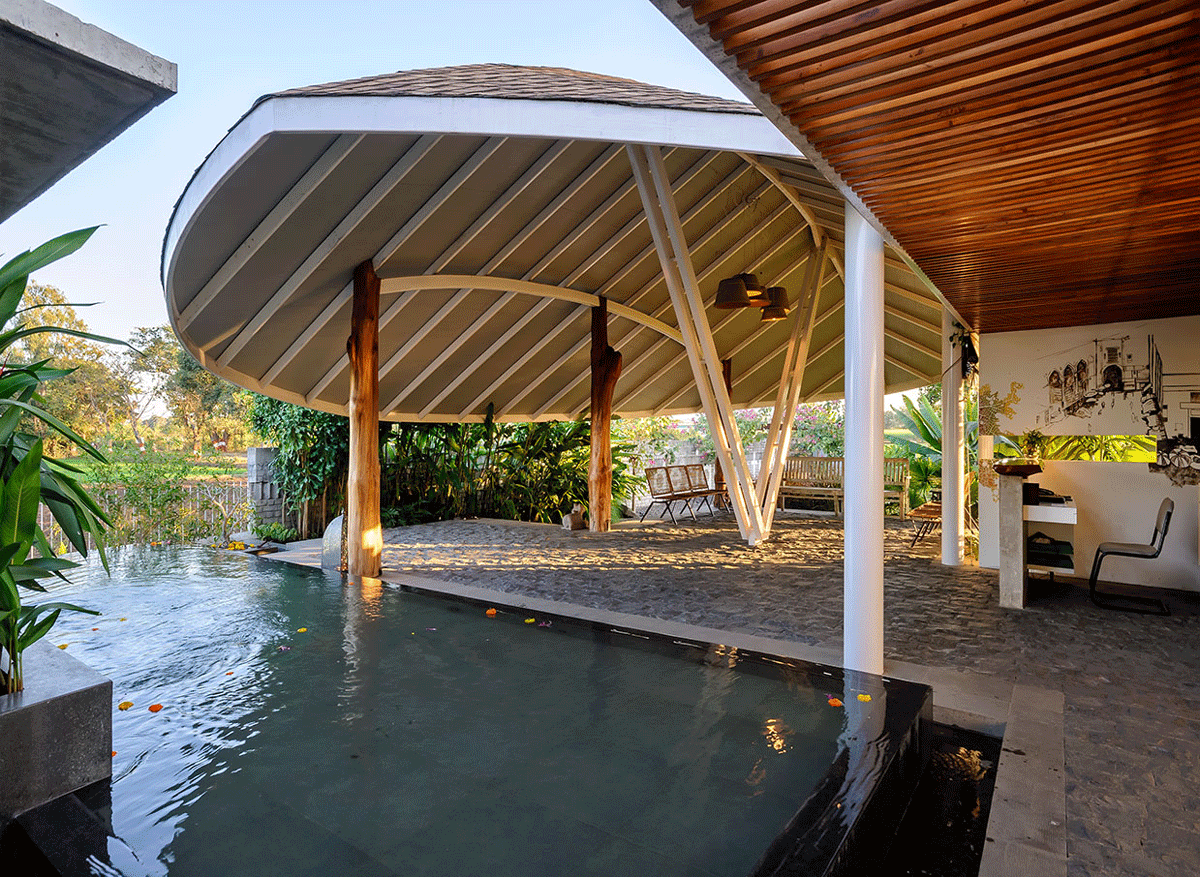 This is Synopsis of the Discussion about Avenues of employment and careers after undertaking the Bachelors in Architecture course with Prof. B S Keshav, Principal, McGAN'S Ooty School of Architecture, The Nilgiris.
Architecture is one of the oldest professions known to man. Ever since he stopped being a nomad and emerged from the caves, man has had the need for shelter. The profession soon morphed from being a mere provider of shelter to embrace all arts and every new science and technology that was discovered or developed into its embrace. The architect came to be regarded as a professional in his own right. He went on to gain great prestige and respect through his creations of countless monuments across the world
The architecture also brings the architect in touch with every other profession as they design and create spaces for them to work or dwell in. The profession has changed and evolved over the past few decades at a greater pace than before
Architects are no longer solo operators like Howard Roark, the protagonist of the classic novel, Fountainhead by Ayn Rand, though some do exist, especially in India. Today they work as corporate entities that have the potential to grow very large and diversify into conglomerates. This journey, however, has to start somewhere and that brings the student who aspires to become an architect to the portals of architectural institutions where this transformation takes place
After an intense five year course, the students will find themselves at the gates of an exciting, challenging and at times, daunting career. At this point, let us pause and go back to that student who has to make a career choice at the tender age of 18 and stands at the crossroads after going through the 10+2 pattern of education in India. For him or her, it is important to know what lies ahead, not just during the five years of architectural school, but after graduation
Today, after graduating from any school of architecture, the following options/ avenues/career paths are open to the graduate:
1. Private Practice: This involves the traditional path of seeking employment with an established architectural firm, gaining a few years of valuable experience and opening a private consultancy practice. This practice could grow into a larger one; the pace of growth of which will depend on the skills, ability, and competence of the architect. It can be a proprietary firm or a partnership firm. It could, over the years develop into a niche consultancy, where projects of only a particular typology are handled. For example, there are some architects who only design hospitals. There are others who only do Hotels and so on. This specialization also can be between Interior Design and Civil Architecture. Interior Designers can specialize in categories like residential, corporate, retail, etc... The list is very long. Private practices, when they grow beyond a particular limit can turn into Pvt Ltd or Public Ltd firms. These can offer a career growth path for their employees within the firm too, where they can grow to a point where they become directors in the firm and take home a share of the profits. Prime examples of these are firms like Architect Hafeez Contractor or Edifice Consultants Pvt Ltd The opportunities of growth in Private practice are limitless, but it may not be ideal for the faint-hearted as there are risks that come with any kind of entrepreneurship.
Ar. Nitin & Apeksha Kute's Office, Nasik. Image © Prof. B S Keshav
2. Government Service: The fresh graduate can aim for Government service as planners or building valuers. This will require a Post-Graduate degree like M Plan (Masters in Planning) or Transportation Planning, Housing or even a course run by the Indian Institute of Valuers. Jobs can be sought at Govt and Quasi-Govt agencies like the Development Authorities (e.g. DDA, BDA, JDA, CMDA, MMRDA, etc) or the PWD, Ministry of Defence, Ministry of Urban Development (Both state level or central level), Municipal Councils & Corporations, Railways, Highway Development Authority, etc. There also quasi Govt bodies like CIDCO, HUDCO, etc that employs planners and building valuers. The growth path in Govt service is good, well-defined and secure. It's an opportunity to participate in the overall development of the country.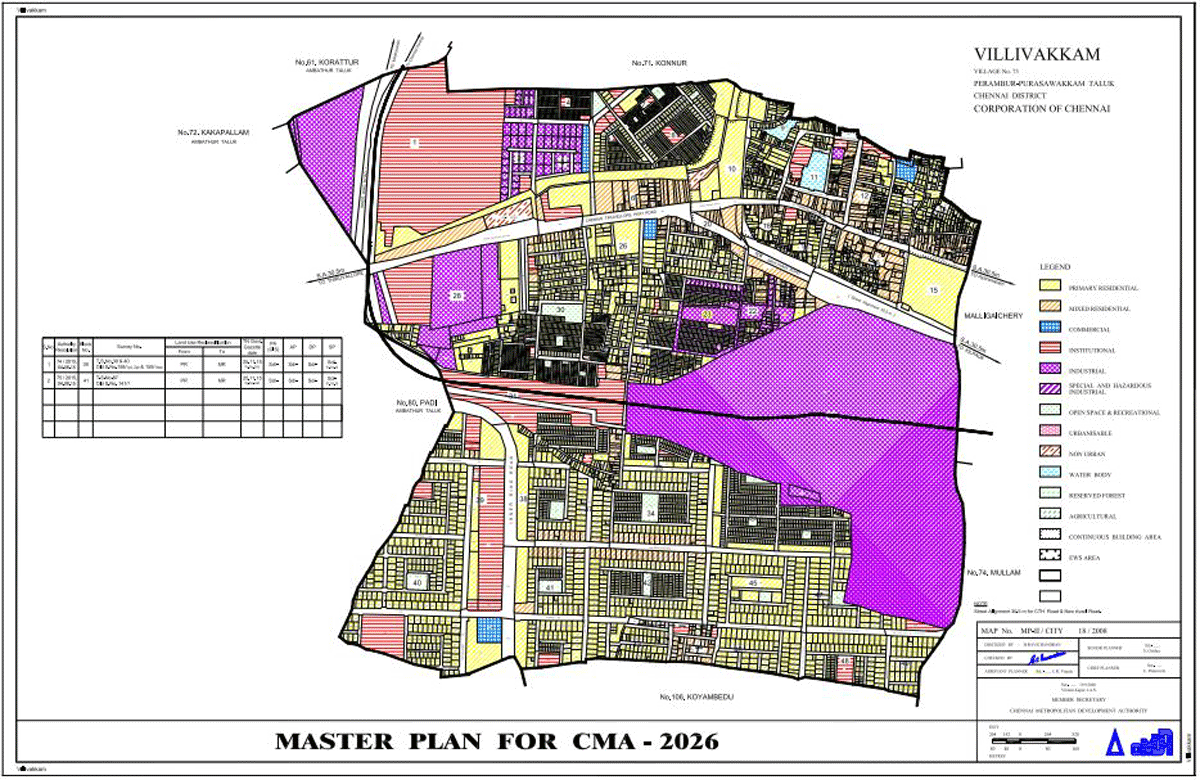 Villivakkam Master Plan prepared by CMDA. Image courtesy of CMDA
3. Project & Construction Manager: Today the trend is for Project Management firms to offer end to end solutions to corporate clients. Their services include procuring land, appointing architects & the various service consultants, contractors and overseeing the project till its completion and handover. There are Multinational firms like Cushman Wakefield, C B Richard Ellis, Jones Lang LaSalle, etc that have been in the market for very long. The students need to acquire a Post Graduate diploma in project management from institutions like NICMAR to qualify for a position in these PMC firms. Institutes like NICMAR also offer PG Diplomas in Construction Management. This can lead to employment with construction behemoths like Larsen & Toubro, Shapoorji Pallonji etc. There are campus placements available that ensure 100% employment. There is an opportunity for a well-paid and exciting career that could even mean handling projects overseas.
Image courtesy of freepik.com.
4. Specializations: Just like in the medical profession, architecture also has specialists. Where the doctor, who has a basic MBBS degree, can operate on a patient or deliver a baby in an emergency, so is the B Arch degree-holder a kind of jack-of-all. He can design the building and site with all its various components like foundation, superstructure, walls, etc. He can also design the other components like the Electrical layout, Plumbing, Drainage, Landscape, etc. However just like the MBBS doctor, who prefers to refer patients to specialists or super specialists, so can the architect seek the help of specialists. Now, what are these specializations?
a) Landscape Designer: For this one has to do a Post-Graduation with Landscape as a major. Landscape designers can handle projects on their own, where the structure already exists or work in tandem with an architectural firm. For example, Ar Kishore Pradhan is a very well-known Landscape designer. Amongst the many prestigious projects that he has done is the Mughal Gardens at the Rashtrapati Bhavan in Delhi. The building was designed by the British Architect Edwin Lutyens, but Ar Pradhan redesigned the gardens and created the glory that it is today.
Project by AMS Consultants, Mumbai. Image © Ar Amod Shevde
b) Urban Designer: In this disciple, one needs a Master's Degree in Urban Design. The scope of design here extends from the building site and goes out into the public domain, where existing or new neighborhoods are designed or re-designed. One excellent example is the Lodhi Estate in Delhi. This project was done by HUDCO, but the actual designing was done by the Urban Designer trio of Joseph Allen Stein, B V Doshi & J R Bhalla. In fact, the Council of Architecture, the apex body that regulates the profession has its Head Office in the India Habitat Centre at Lodhi Estate, which was designed by Ar Joseph Allen Stein. The Hindustan Times of Saturday, 06 October 2018 carries an article about Lodhi Estate. It moots a suggestion to rename the place as Steinabad in honor of Ar Stein, such is the greatness of the man and the respect he has earned through Architecture & Urban Design.
Indian Habitat Centre, Lodhi Estate, New Delhi. Image courtesy of wikimedia.org.
c) Conservation Architect: Among all the countries of the world, India must rank as the first in the number of heritage monuments it possesses. This is an invaluable legacy and needs to be conserved. Heritage walks have also become a very popular and integral part of the Tourism industry. This work requires the services of a Conservation Architect or Conservationist. A student with a B Arch degree can obtain a Master's Degree in conservation and become one. One excellent example of a conservation architect is Ar Abha Narain Lamba. She has done several prestigious projects, one of which is the restoration of the Opera House in Mumbai to its former glory. Another example is Ar Meenakshi Jain, who is working on the Mehrangarh Fort in the erstwhile Princely state of Jodhpur, Rajasthan. For those who have a passion for history and archaeology, this will be a rewarding and handsomely paid career.
d) Sustainability Expert: Today with the rapid rate of urbanization, the Earth's resources are being rapidly depleted. This has brought the focus on sustainability and other means to use the available resources wisely and leave behind a legacy for future generations that is liveable. For this, the B Arch graduate needs to get a Post Graduate Diploma in Sustainability or Environmental Sciences. There are numerous opportunities for well-paid employment, both within India and abroad. These can be in the Private sector or even the Government sector with the Ministry of Environment and Forest (MOEF) and others. There is also an opportunity to set up a consultancy practice and serve multiple clients
e) Arbitrator: Historically ownership of land has always been a prime source for disputes. If the dispute ends up in litigation, years/decades can be lost arguing cases in the courts. Arbitration is a method by which cases can be settled out of court. The B Arch graduate with a few years of field experience can obtain a Bachelor's and/or Masters Degree in Law and become an arbitrator. In case of a dispute, the parties opposed to each other can mutually agree to appoint one arbitrator or they can appoint one each, who will appoint a third. This panel can then settle the case in a much faster manner than the courts. This is a lucrative avenue for those are inclined and have the aptitude for legal matters
f) Acoustics Expert: Acoustics is the properties or qualities of a room or building that determine how sound is transmitted in it. A B.Arch graduate can get a Post Graduate degree in Acoustics and set up a consultancy practice, where he offers his services to other architects or construction companies. Areas, where their help is sought, are Auditoriums, Drama theatres, Cinema halls, Convention centers, etc where the quality of sound is very important. This is a niche sector where very few professionals are practicing and can be very rewarding
g) 3D Visualizer: After the introduction of AutoCAD in the early 90s, the software has become an essential tool for the architectural profession. Hundreds of software are available in a ready-to-use form or can be customized to suit individual requirements. Further, after the advent of the internet, architects need to get websites made to showcase their work. There are several web portals too that are being used to host the work of architectural firms. This work doesn't necessarily need an architect to do it, but it would definitely be an added advantage if architects train themselves to do it. The avenues open to these trained professionals can be entrepreneurship, where they offer their services to other architects for a fee or seek employment in companies that manufacture such software. The animation is another outlet that is a growing industry today
h) Architectural Journalist: This is another sector that has grown exponentially in the last three decades. There hundreds of magazines, journals, websites, portals, e-zines, etc. that are dedicated to the Architectural, Interior Design, and Building industry. All of these offer exciting career prospects for architects who have a flair for writing. Short-term courses are available, both in the regular as well as online form from Indian and foreign universities. Regular employment is available as well as a freelancing option where one can write for multiple publications at the same time
i) Architectural Photographer: This is an extension of Architectural journalism. The same magazines, portals, etc. that require journalists also require professional photographers. Courses are available at prestigious institutes like National Institute of Design, Ahmadabad and other places. Here freelancing is a very good option, where the photographers are paid on a per day basis and the returns can be quite high
j) Visual Communicator: This is a new sector that has thrown up options for fresh architectural graduates. Every public building, especially those like Airports, hospitals, hotels, etc require very specific visual communication. It includes signage, typography, graphic design, illustration, advertisement, animation, color, and electronic resources. Outdoor signage is also an integral tool in the advertising industry. An architect with his specialized knowledge of spaces can be a perfect candidate for Post-Graduation in Visual communications. The future would be a consultancy practice where he can offer his services to other architects.
Image courtesy of sjssolutions.com.
k) Lighting Designer: This is another niche sector that is growing. Architectural firms are hiring the services of lighting experts to design the lighting component of a building, both inside and out. Heritage buildings, Movie Studios, Drama theatres, etc are also areas which require their services. Post Graduate course is available for fresh architectural graduates. Again a consultancy practice where he can offer his services to other architects in the future. Jobs can also be sought with lighting manufacturers like Philips, Godrej, Wipro, etc.
l) Colour Expert: Surprised? Yes, today there are specialists who are hired for their expertise in the field of color for both, interiors as well as exteriors of buildings. Apart from the obvious aesthetic value addition, there are other gains too. Like sound, light, and signage, there has been considerable research done in the subject of color too. This research has even lead to the use of color, texture and even aroma for the therapeutic benefits it gives to the patients suffering from various mental illnesses. Even the general public can avail the benefits of the application of this esoteric new research. Courses are available at various universities and these can lead the B Arch towards an exciting and niche career.
m) Product Design/Industrial Design/ Furniture Design: Architects with their innate ability and a thorough understanding of three-dimensional designs are apt for the field of product design. Post Graduate courses are available at prestigious institutes like the IITs or NID. Jobs can be sought in any part of the manufacturing sector, where it could range from furniture manufacturers to automobile factories to designing of space shuttles. Furniture Design by itself is a very specialized field and can be taken further to include sustainable furniture design. The options are endless and the packages are very attractive.
Image courtesy of sharda.ac.in
n) Film Set Design: India makes the largest number of movies in the world and the requirement for set designers and art directors is very high. A fresh graduate can go for a graduate course like B.Design or a post-graduation or even apprenticeship with an established set designer. After a few years of valuable experience and training, he can set up a business on his own
o) Architectural Model Maker: This can be done the traditional way, where a physical model of a building or group of buildings is made or through virtual reality. Part of this is taught during the five year B Arch course, but if the fresh graduate feels he needs training, there are courses available for this too. So long as Architecture as a profession thrives, so will model-making too
5. Allied Fields: Apart from all the specializations listed above, there are a couple of areas that have no direct connection to the architectural profession as such, but architects seem to have flair and tend to do well through their innate creativity and the skills they acquire during the undergraduate studies. They are: Fashion Design or Textile Design: Though there are specific undergraduate and postgraduate programs in these fields, many architects have changed course midway and made a mark in these fields Video Gaming Design: This too is a new and a very fast-growing field that has attracted many fresh architects who are good at 3D visualization and skilled at software.
6. Academics: Finally we come to the teaching profession, which is considered the noblest of them all. There are close to five hundred architectural schools in the country and it is logical that teachers are needed in large numbers. The Council of Architecture has now made it mandatory that fresh graduates are not to be appointed as teachers. They need to have a minimum of three years' experience in the field before they can be hired as Assistant Professors. However they cannot be promoted further to Associate Professor if they do not have a Master's Degree. Further, some universities make it mandatory for all teachers to have a Master's Degree. Therefore the logical path to be taken for an architect desirous of entering the teaching profession is to obtain a regular two years Master's Degree from an institution approved by the Council of Architecture. This can be a stable career option with opportunities to grow and be able to contribute in a significant way towards the growth of the profession and the country.
McGAN'S Ooty School of Architecture, The Nilgiris. Image © Pappal Suneja
7. Research Scholars: Teaching can also lead those inclined towards research scholarship, which is a fulfilling and rewarding career in itself. Many universities offer well-paid and funded positions for the scholarly inclined. It is this research that goes to revolutionize the building industry and in extension, the very quality of life on this and maybe other planets too. Who knows, one of those eager, enthusiastic and brilliant students standing at the crossroads of education today could end up as a Nobel Prize winner in the future. Anything and everything is possible in this wonderful world we live in. We only have to open our minds to the endless possibilities.
Image courtesy of arc.miami.edu.
Top Image © Ar. Dhananjay Shinde's Office DSDS at Nasik, Maharashtra

> via Personal Interaction with the Architect & Professor