Architects creating low cost play apparatuses for children
On February 2019, BRAC IED hosted Play Summit 2019 in Savar, Bangladesh. Fascinating multi-disciplinary discussions about early childhood development took place at the summit. One such discussion was by an architect, Emerald Upoma Baidya, who, along with her team developed three low cost prototypes of play apparatuses, serving various aspects of child development.
Play apparatus models. Image © Kareshma-E-Shams
Ar. Emerald says that the prototypes are tested designs that can be replicated anywhere in the country considering the building mechanism adapts to the social, economic and cultural context of the region. Through various design processes she and her team came up with the three prototypes- each having its own variety to keep the design interesting to the users.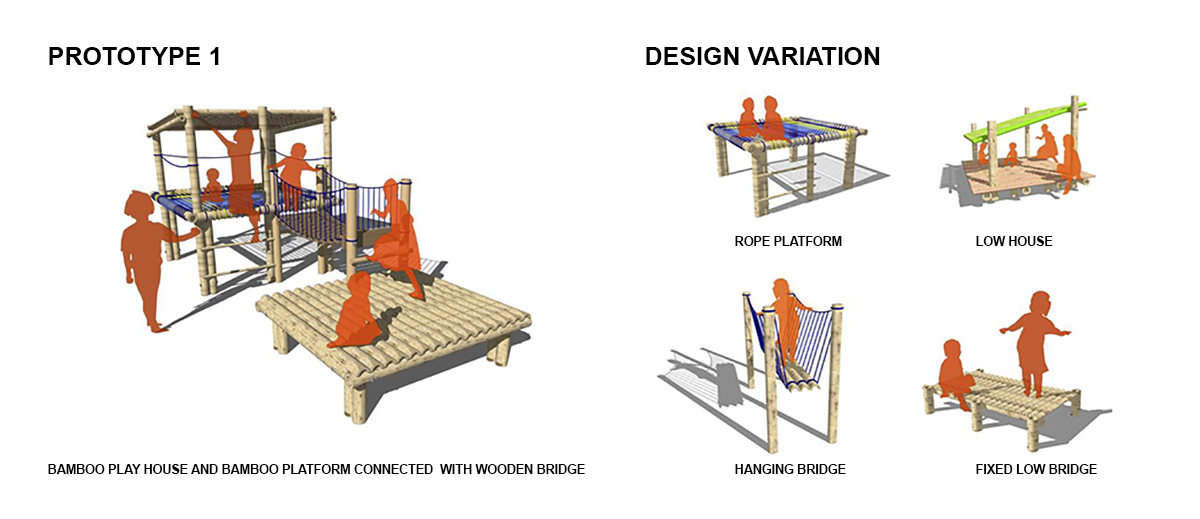 Prototype 1 and its variation. Image © BRAC IED, Design Lab
The first prototype has a play house attached to a bamboo platform via a suspended wooden bridge. The design gives a variety of experiences and tactile sensations to its users. It not only introduces children to local materials like bamboo, wood, jute ropes and their tactile sensations, but also induces activities like crawling,balancing, jumping, storytelling, enjoying the play of light and shade created by the ropes etc.
Prototype 2 and its variation. Image © BRAC IED, Design Lab
The second prototype is a structure for climbing and swing made to enhance children's motor developments. Recycled tires are used here as climbing and swinging materials. Alternatives are possible with bamboo and other common household materials like bamboo baskets and piri, a low wooden seat.
Prototype 3 and its variation. Image © BRAC IED, Design Lab
The third prototype of theirs consists of a sand water corner where children join together to create fascinating sculptures. The water carriers used here are charis a large cement bowl used for feeding cattle.
Every, single design created use building materials which are readily available in all communities of Bangladesh.
Top image: Ar. Emerald Upoma Baidya with the displayed Prototype 1 (Image courtesy of Shananuzzaman Angkan)
> via BRAC IED/ Play Summit 2019