A Tribute To Nimish Patel - A Noted Indian Architect & Conservationist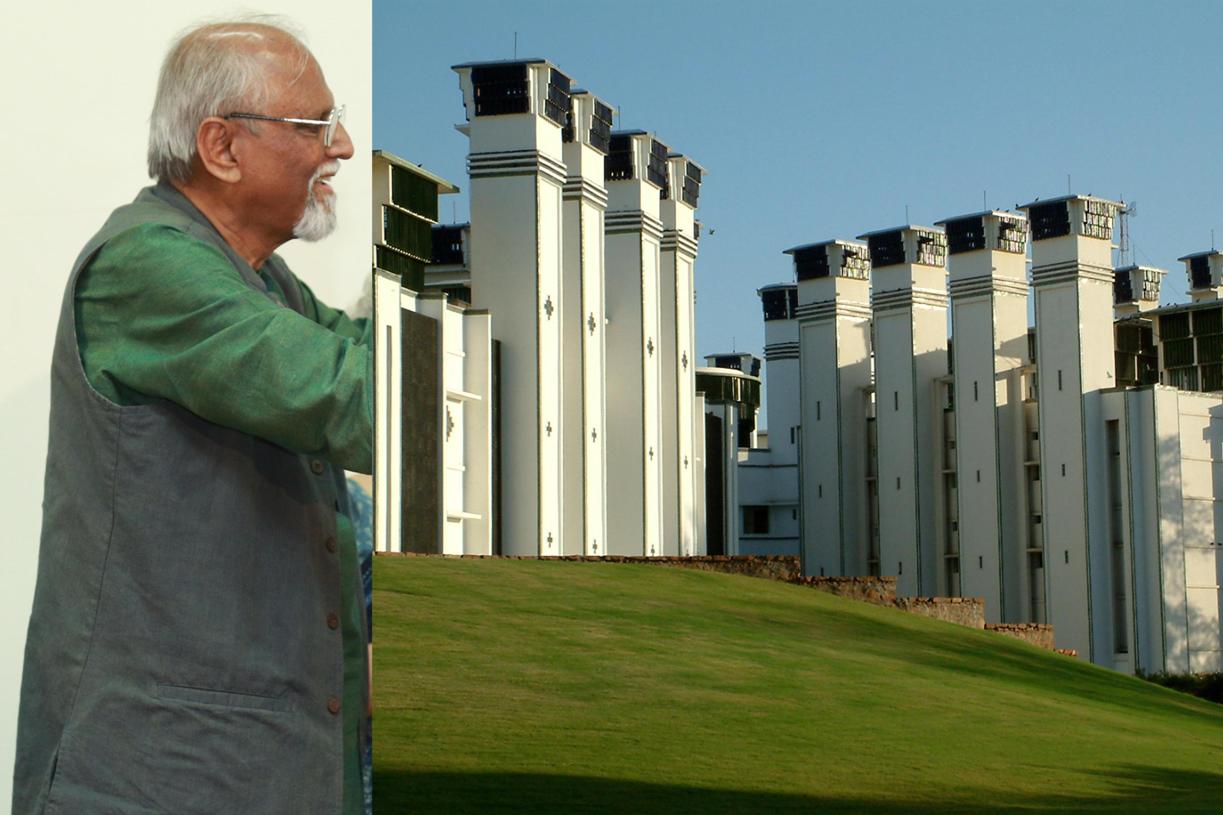 Nimish Patel - a noted Indian architect and conservationist passed away on December 12, 2018 at the age of 70. The Indian architectural community is shocked by the untimely demise of one its most respectable and revered colleague. Nimish Patel was the founder Principal Architect of Abhikram - an Ahmedabad based architectural practice which he established in 1979 along with his architect wife Parul Zaveri.
Throughout his professional career of about four decades, Nimish Patel has been involved in many fields like planning, urban design, architecture, analysis, evaluation and design for housing in developing countries, conservation, historic renovations, studies of historic settlements, use of traditional materials and technologies in contemporary context, and research / teaching in these areas.
Terrent Research Centre, Ahmedabad. Photo courtesy of saidexpo.com.
Nimish Patel did Master of Architecture in Advanced Studies from the Massachusetts Institute of Technology (MIT), Cambridge, USA with specialization in Urban Settlement Design in Developing Countries. Prior to that he did Diploma in Architecture from CEPT University, Ahmedabad in 1972, where he was a visiting faculty also.
On the inauspicious occasion of untimely demise of Nimish Patel, Pritzker Laureate Balkrishna Doshi said, "Nimish was one of the only architect who believed in conservation and tradition. The architect couple - Nimish and Parul - spent their lives on revival of tradition, crafts and local materials, and they worked on conservation of energy at a time when everything is either imported or modified. They stood their ground and perceived what they believed in, which is one of the most important aspect today. Even though both of them were my students, overtime, we became colleagues and eventually like family members. He constantly encouraged me and others to do good for society. I will miss Nimish."
Tree of Life Resort, Jaipur. Photo courtesy of booking.com
Architect Bimal Patel too paid his last respect to the departed soul. He said, "Nimish Patel was very important, highly venerated architect. He was committed to enriching contemporary architecture with the use of traditional crafts and was very invested in the idea of sustainability. His collaboration with his wife, architect Parul Zaveri, was also a deeply inspiring architectural partnership. Both of them, who are also CEPT alumni, have given us some very wonderful buildings."
Nimish Patel was a very widely travelled person. He had visited many countries like, Australia, Netherlands, Switzerland, France, Germany, Italy, UAE, Greece, Turkey, South Africa, Mexico, UK and USA, where he has given talks / lectures. His works have been published in several Indian magazines and newspapers as well as professional journals in USA, UK, Germany and Australia.
Nimish Patel and his wife Parul Zaveri have received many prestigious awards for excellence in architecture, conservation, and restoration. Some of these include: A+D Spectrum Award (2011), for Torrent Research Centre, Ahmedabad; Century Ply Award (2010), for Tree of Life Resort, Jaipur; A+D Spectrum Award (2005), for Oberoi Udaivilas at Udaipur; Indian Architect & Builder Award (2002), for Torrent Research Centre, Ahmedabad; IIA-Kitply Conservation Award (2001), for Ranchhodlal Chhotalal ki Haveli, Khadia, Ahmedabad; JIIA-Anchor Award (2000), for Torrent Research Centre, Ahmedabad; Unesco Asia-Pacific Heritage Conservation Award (2000), for Chanwar Palkhi Walon ki Haveli at Amber; Rajasthan Stone Architecture Award (1999), for Trident, Udaipur; IIA-Dharmasthala Manjunatheshwara Award (1999), for the Digantar Low Cost Rural School; and, IIA-Kitply Conservation Award (1994), for conservation of Amber Town and its Environments.
The Oberoi Udaivilas, Udaipur. Photo courtesy of travelmemo.com
Nimish Patel's mission was to explore the design directions and processes, which make the built environment, functionally, psychologically, environmentally and spiritually, more contextual and more comfortable for all. Conservation of resources was the primary guideline for all his projects. He was always committed to design buildings, which in their form, space and technology, reflect the continuity of the Indian traditions. Patel endeavoured to contextualize the design in all its aspects to be able to evolve responsible architecture.
Nimish Patel believed that innovativeness for a developing society is a necessity and not a luxury. All his buildings are testimony to this belief. He always remained optimistic, as to him, every problem, irrespective of its nature, magnitude or constraints, has an appropriate solution. He opined, that appropriate solution will only come through clarity in the identification of the problem, the selection of appropriate tools and their judicious application.
During a period of 1979 to 2018, Nimish Patel and his wife Parul Zaveri remained involved in number of projects. Some of these are included in this discourse to enable the readers to have an overview of their works.
Terrent Research Centre, Ahmedabad. Photo courtesy of torrentpharma.com
Torrent Research Centre, Ahmedabad is a complex of pharmaceutical research laboratories. It is said to be India's largest passive cooled building with its energy consumption at 1/9th of India's high end consumption. For this building, the architect has evolved a Passive Downdraft Evaporative Cooling. It was applied through a system of designated inlets and outlet shafts which generate the required movement of air in different spaces without using any mechanical or electrical energy.
The Oberoi Udaivilas, Udaipur. Photo courtesy of Martin Harvey.
The Oberoi Udaivilas, Udaipur. Photo courtesy of audleytravel.com
The Oberoi Udaivilas at Udaipur is another prominent complex designed by Nimish Patel. Spread over 35 acres, it is super luxury heritage resort on the banks of Lake Pichola. In this complex, architect has created spaces which resemble traditional palace structure. Series of courtyards have been incorporated in the complex as this feature is the essence of traditional architecture of the region. To create an historic ambience, architect has used number of elements like, thick walls with openings and niches, lime-plastered domes, spherical doorsteps, brass doors, stone columns carved by hand, etc. The design shows that contemporary needs can be blended well with the historic ambience without any compromise on quality. It also establishes that it is possible to respect the land, the land form, the rocks, the tree cover, the skyline, and many other natural features of the site, while designing a project of such a magnitude and complexity.
Trident, Udaipur. Photo courtesy of oyster.com
Trident, Udaipur. Photo courtesy of audleytravel.com
At the Trident, Udaipur, the architect designed two-storied structures and located them along the contours of land with least disturbance to the land form and existing flora and fauna. The project shows that local traditions and richness of crafts has the quality of timelessness that transcends nationalities and technologies to redefine grandeur in public spaces.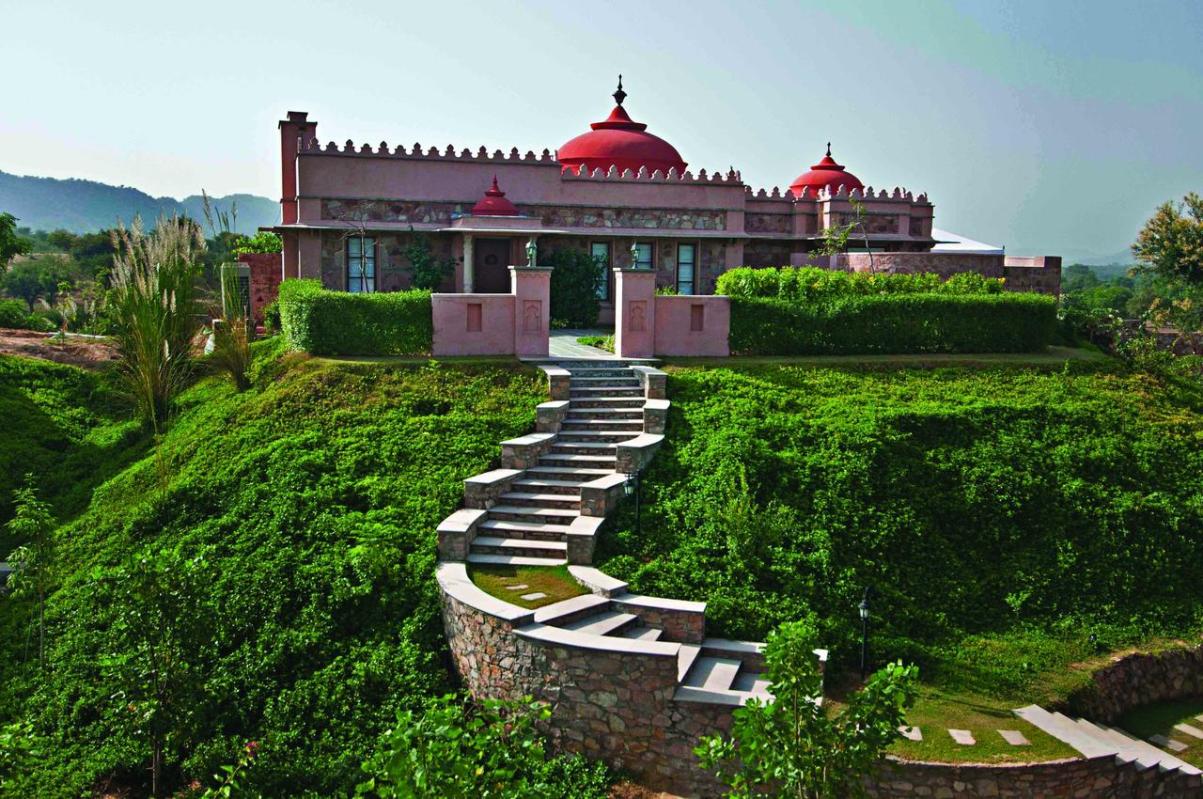 Tree of Life Resort, Jaipur. Photo courtesy of booking.com
Tree of Life Resort, Jaipur. Photo courtesy of booking.com
Likewise in another project - Tree of Life Resort at Jaipur, architect blended the built form with local terrain ingeniously. In this complex too, he used local materials, technologies and crafts to create a contemporary product. Great emphasis has been laid on greening the area with easy to maintain plants and trees which also blend well with water bodies created all over.
This brief description about some of the projects is aimed at to acquaint the readers about Nimish Patel's design approach and wide spectrum of projects he has dealt with. Apart from designing buildings and complexes, he has numerous projects of sustainable interior design as well as conservation / restoration of historical buildings and built environments to his credit.
To do full justice to explain large number and variety of projects he has handled, there is a need for a volumetric monograph which the architectural fraternity is eagerly awaiting. Let some young researcher / author come forward for this gigantic work. It is hoped that with the wholehearted cooperation and support of architect Parul Zaveri and her team, this herculean task can be accomplished surely. This shall be a true tribute to the great architect - Nimish Patel, and the legacy he has left behind.