cmDesign Atelier designs all-white Coral Pavilion on Lagos peninsula
Tosin Oshinowo's studio cmDesign Atelier has designed an all-white minimal pavilion on Lagos peninsula, Nigeria, which is accessible only by boat from the core of the city.
Named Coral Pavilion, the 310-square-metre pavilion was designed for a client who wants to escape from the city's busy life and stay in a permeable pavilion.
Offering a striking and minimal presence, the linear pavilion is designed to provide a fully indoor and outdoor feel, with the comfort of a living room in a space that is largely open with dramatic views and cooling airflow.
The house, extending itself in a linear layout, consists of a kitchen on the east side, a large dining space in the center, wcs on west side, a mini bar, a large seating area, alfresco shower, lounging and an open swimming pool.
A staircase on the west side also allows to climb the roof of the house and experience the beautiful views.
The house is conceived "as a space to gather away from the frenetic energy of Lagos", according to Tosin Oshinowo.
The house features clean lines, simple geometry, soft colors and elegant space that has the feeling being nestled on a remote, natural island – yet is still within city limits, serving as a nearby rural outpost for easy day trips.
The architect designs the building to benefit full advantage of the directional wind. The studio also takes account the equatorial location to build spaces where there are striking geometric lines of shade created by the sun year-round.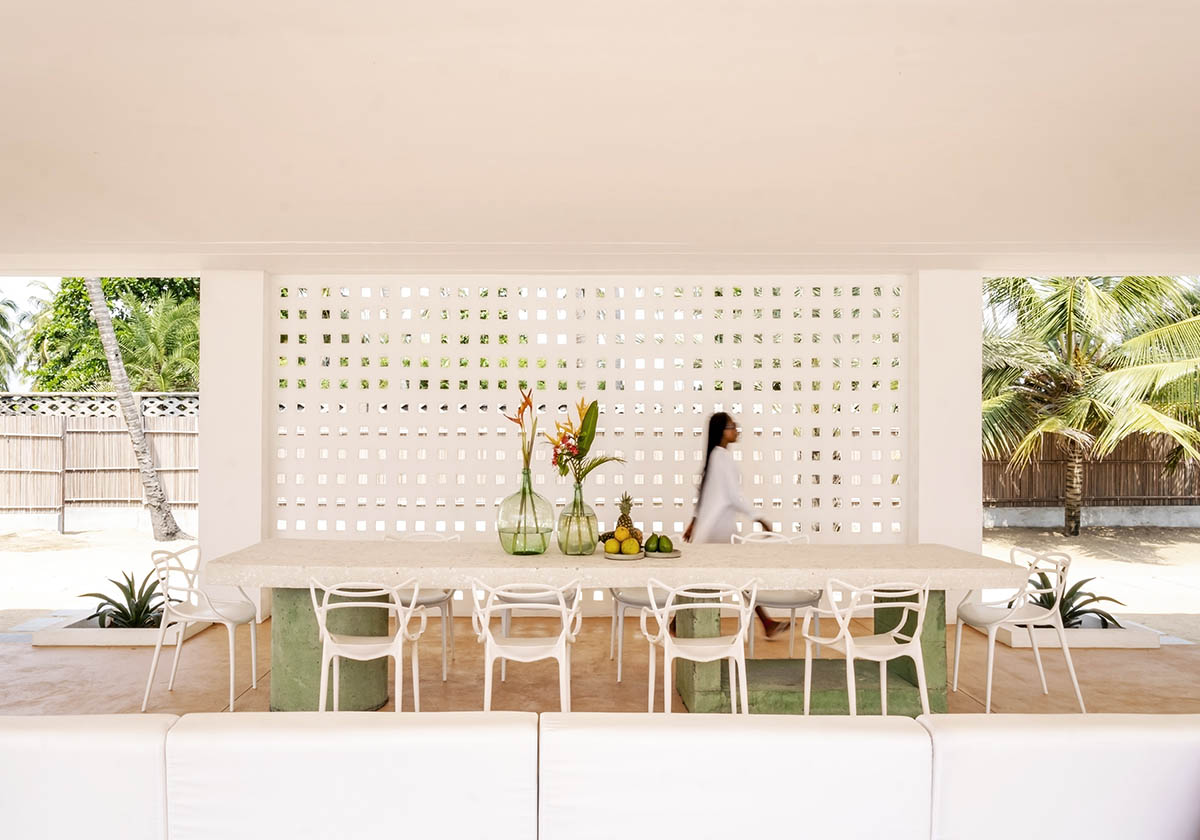 Employing a limited color palette, color becomes a key design component in the pavilion from the calming aqua of the pool to the olive green accents in the furniture.
"The floating coral-pink pool deck contrasts elegantly against the golden yellow sand of the beach," added the studio.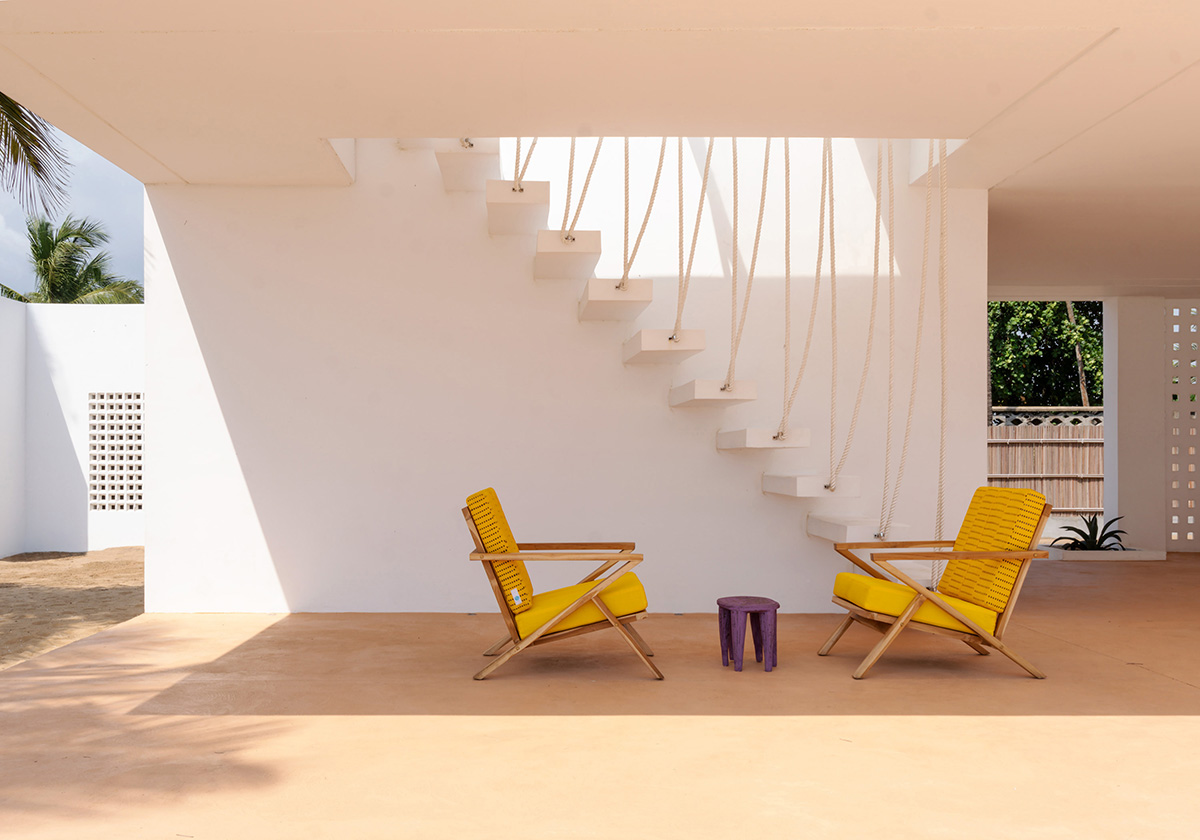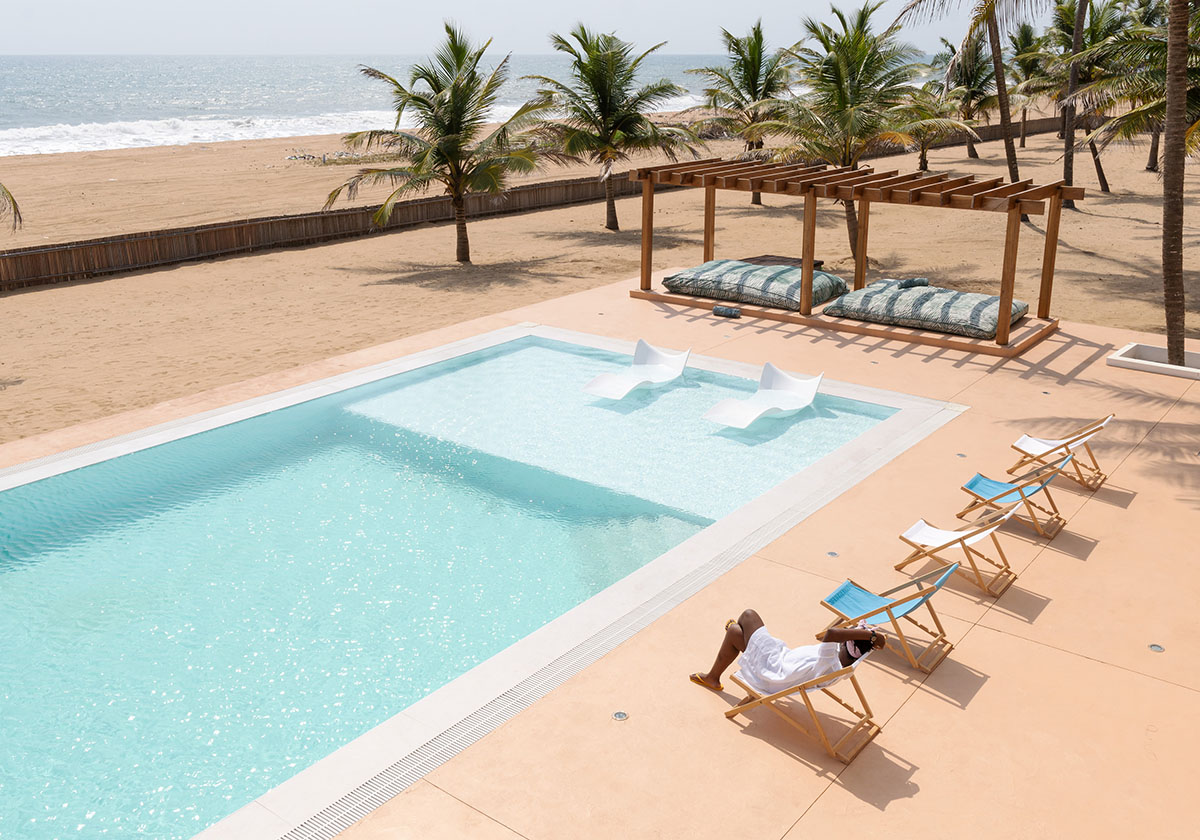 Floor plan
Roof plan
Tosin Oshinowo is one of leading Nigerian architects of her generation. Her design approach is rooted in a distinctly African context merging with contemporary elements.
She established her own studio cmDesign Atelier in 2012. She was co-curator of the second Lagos Biennial 2019. Tosin Oshinowo was featured in a documentary series Made by Design in a streaming site Netflix, and was recently announced as the curator of the 2023 Sharjah Architecture Triennial.
Project facts
Project name: Coral Pavilion
Architects: cmDesign Atelier
Location: Ilashe, Lagos, Nigeria
Size: 310m2
Date: 2022
Client: Private Client
Structural Engineer: Starkwood Associates
Services Engineer: Topklan Engineering Services
Main Contractor & Services: Vincent Boom Construction
All images © Tolu Sanusi
All drawings © cmDesign Atelier
> via cmDesign Atelier