Henning Larsen and Patriarche reveal design for wooden French Business School in Reims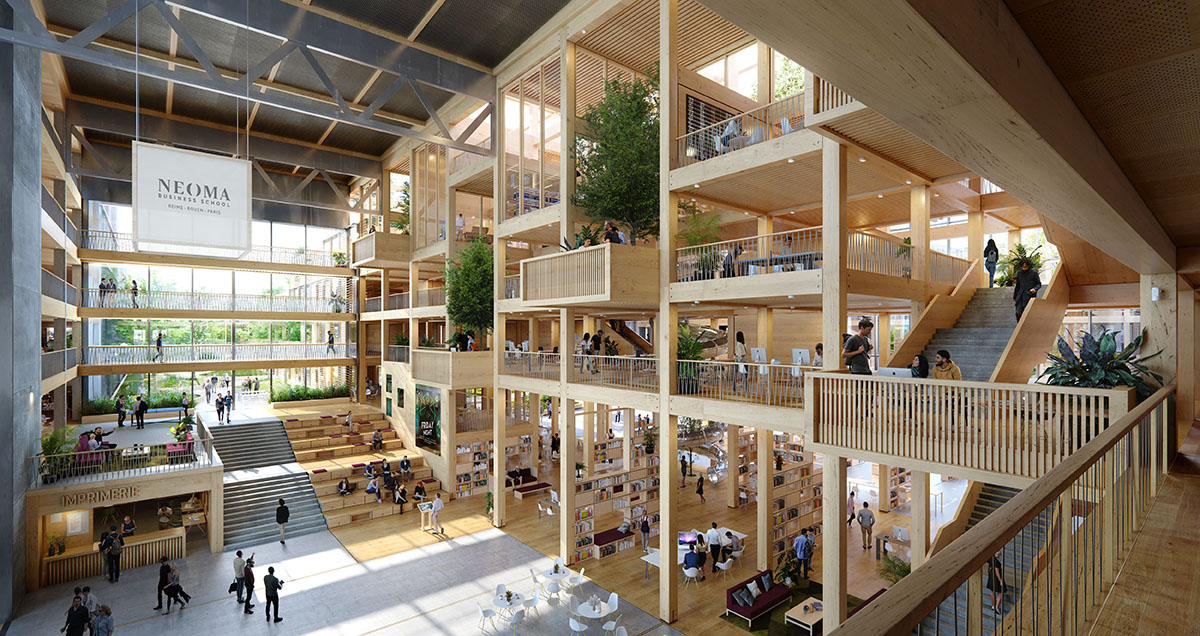 Henning Larsen together with Patriarche have won an international competition to design a new French Business School for NEOMA, an innovative "Grande Ecole" institution of higher education.
Set to be built in NEOMA's new Reims campus in France, the 26,000-square-metre school will accommodate 4,700 students and is scheduled to open for the start of the 2025 academic year.
The school is made of a timber structure in a gridded layout, while a large hall places the student at the heart of the building. The project will be made of wood and glass to foster a friendly atmosphere and flood the area with abundance of light.
In the competition, the team was selected from among 40 internationally renowned architectural practices, all with a portfolio of major projects in higher education, competed to design these new spaces.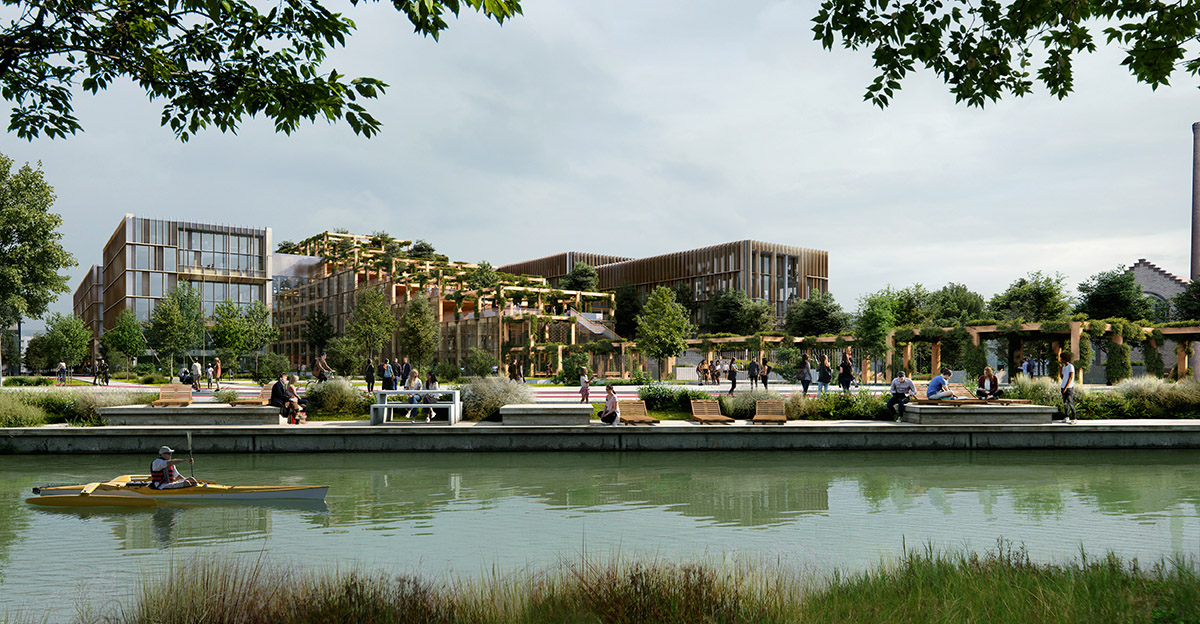 The team was awarded for an innovative project combining innovation, respect for the environment and above all a focus on student life. Besides Henning Larsen, the winning team includes Patriarche, Egis, Elioth, Etamine, Acoustb and Creafactory.
"We are extremely pleased that we were able to win the competition for the new NEOMA campus with our design. It stands for entrepreneurship, flexibility, and design excellence," said Jacob Kurek, Global Design Director and partner at Henning Larsen.
"We will bring our expertise in university construction from more than 60 years to this project and develop it further together with NEOMA," Kurek added.
The project is located west of the center of Reims, and the site is naturally become part of a neighborhood in transfer: Port Colbert.
"This is a former industrial site today partially abandoned to which the city of Reims wants to give a second wind," said Henning Larsen.
"In the past, the Port Colbert district was full of all the city industries: Reims breweries and cast-iron workshops aluminum among other things."
"The objective of the city of Reims and of our project is to convert this sector, while preserving and enhancing what makes the identity of this place: its history and its industrial heritage," added the practice.
"This project offers several advantages, especially a strong visual identity which will make the campus clearly recognizable," explained Delphine Manceau, Dean of NEOMA Business School.
"It combines very strong identifying elements, for example the large hall which places the student at the heart of the building. We also favored the use of wood and glass to promote a friendly atmosphere and flood the area with light. Several easy-to-access green spaces are planned for both the inside and outside of the campus," added Manceau.
According to the studio, as commonly seen in centrally located former industrial areas, these areas budding small businesses and local "pop up" events have populated the area of the site in recent years.
For this reason, for the new school the practice is inspired "by this entrepreneurial atmosphere that has changed the area from a geographical location to a place in people's minds."
"With the new NEOMA, we want to keep this impression of "anything can happen" and create an open invitation to shape and to take ownership of its environment and its future" said Søren Øllgaard, Design Director, Europe and partner at Henning Larsen.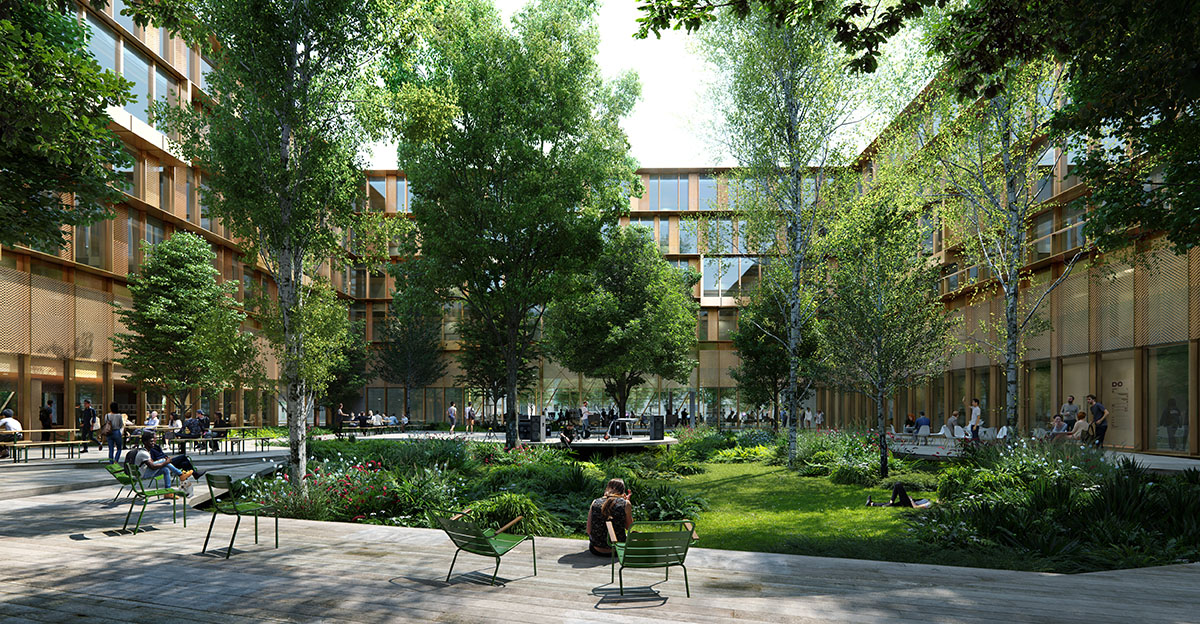 The new campus will be opened towards the canal and parks that surround it, and it will offer views of bustling student life.
Thanks to its wooden central structure, it is aimed to attract the attention of passers-by with its stepped green landscape. The school will hold 85 classrooms, three amphitheatres and event space with a 750-seat auditorium accessible from outside.
In design and construction, Henning Larsen will work with NEOMA in line with the school's strong commitments to sustainable principles. The future Reims site aims to be an environmental benchmark, with internationally recognised certifications such as LEED, WELL and E+C.
The project also places the health and well-being of students and staff at the centre of its design.
Henning Larsen is currently working on a new university campus in the heart of Innsbruck, Austria. The practice's project Nordic Swan Ecolabel Primary School is under construction in Sundby on Lolland-Falster, Denmark.
Project facts
Project name: NEOMA Business School
Client: NEOMA Business School
Location: Reims, France
Typology: Higher education
Construction Start: 2023
Expected Completion: 2025
Size: 26,000 sqm / 280,000 sqft
Certifications: LEED Gold and WELL Gold, E+C
Architect: Henning Larsen and Patriarche
Landscape: Henning Larsen
Structural Engineer: Egis
Sustainability: Elioth and Etamine
Acoustics: Acoustb
Stage design: Creafactory
All images courtesy of Henning Larsen.
> via Henning Larsen