HENN completes X-shaped innovation center for high-performance medical devices in Guangzhou
Munich, Berlin and Beijing-based architecture studio HENN has completed an X-shaped innovation center for High-Performance Medical Devices (IHM·GBA) in Guangzhou, China.
Named Innovation Center for High-Performance Medical Devices, the 59,000-square-metre building is located in the heart of Guangzhou's thriving international Bio Island, a dedicated zone for the development of biomedical research and technology.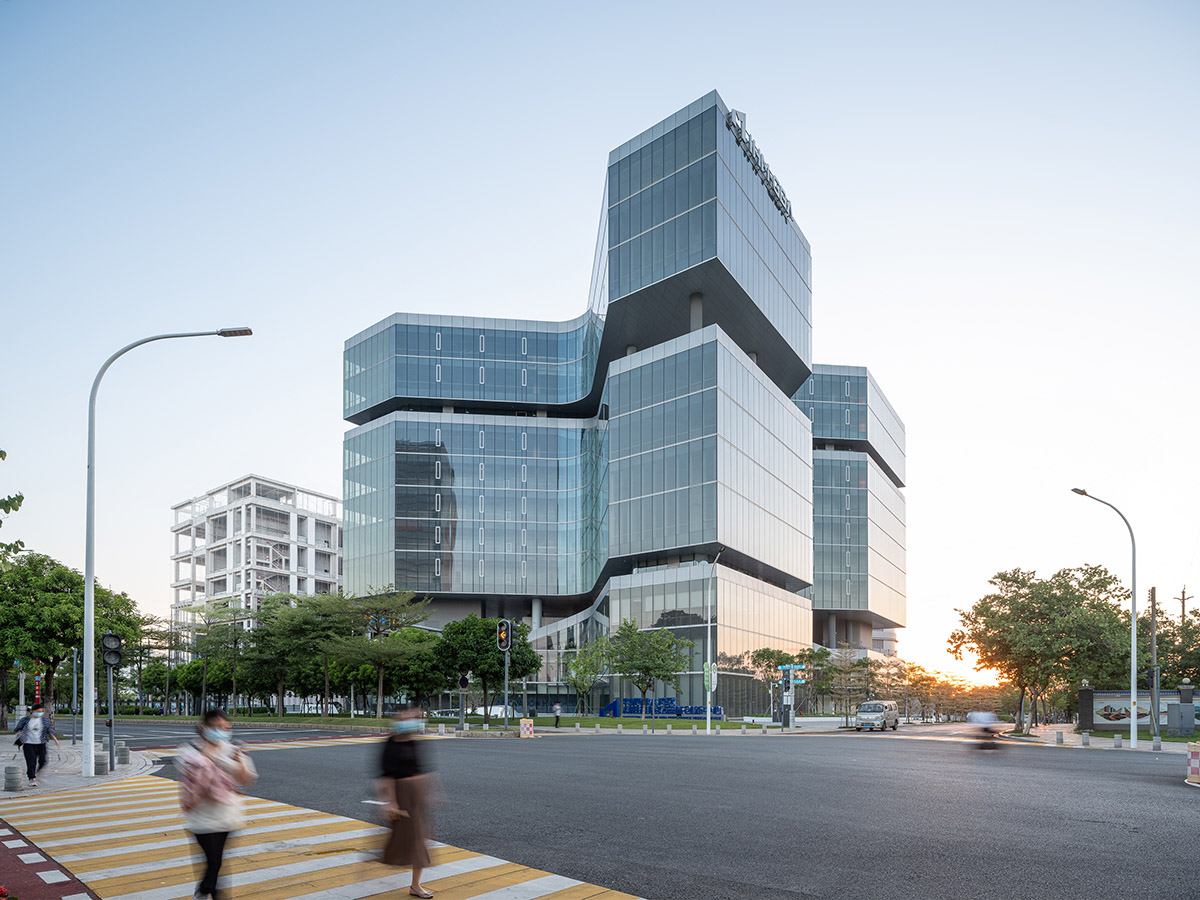 Exterior
HENN released its conceptual renderings in 2020, when construction began, and completed the vertical complex in 2022, one year before the scheduled date.
The building provides spaces to develop high-performance medical devices, combining laboratories and spaces for research with areas for informal communication and open office spaces.
Exterior
To provide an optimal use in each floor, the design weaves these programs together in an X-shaped floor plan. Each bar of the "X" is devoted to either laboratory or workspaces, while the intersections function as communal spaces.
While the column grid is denser in lab areas, wings are left more open dedicated to office spaces.
Entrance
"The shape of the floor plan allows for light to reach into the heart of the building, with lush vistas in multiple directions from every wing," said HENN.
The studio designed corners on the inside of the X in a curved geometry rather than creating the sharp outer edges, and according to the team, this adds to the quality of the views and creating a dynamic composition of lines along the facade.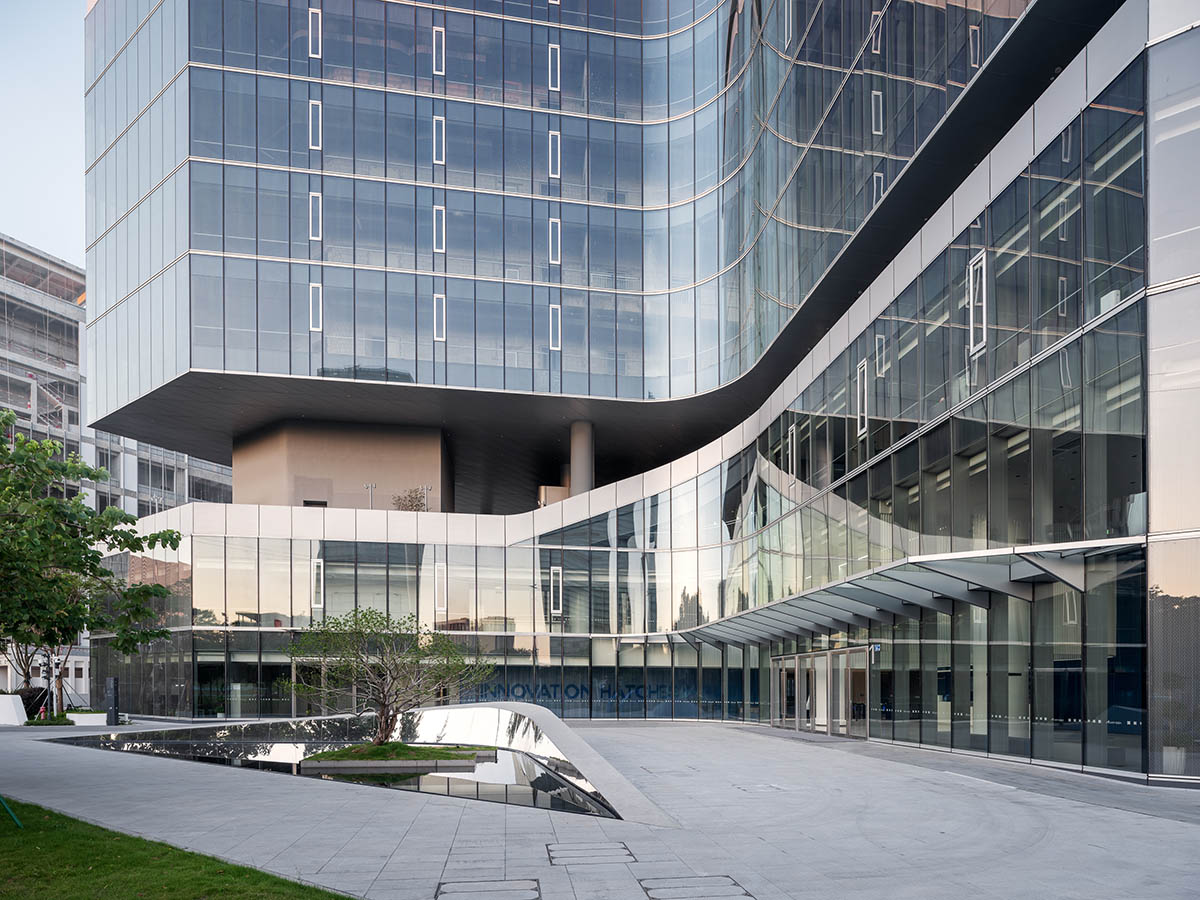 Entrance
From the outer appearance, the innovation center is made up of three floating volumes separated by multi-storey, open-air terraces that function as sky gardens. These double-height spaces create a playful rhythm of shifting volumes.
Façade
Public functions, including a lobby, exhibition hall, a show lab and café are arranged in the lower volume, while the middle volume above houses laboratories, meeting rooms, multipurpose rooms. Office are placed on the top floor.
Terrace
HENN stated that "the innovation center represents a new typology in high-density vertical architecture, combining experimentation and research spaces with collaborative work environments."
The building functions as a scaffolding for innovation that boosts progress in the development of high- performance medical devices.
Terrace
Interior
Interior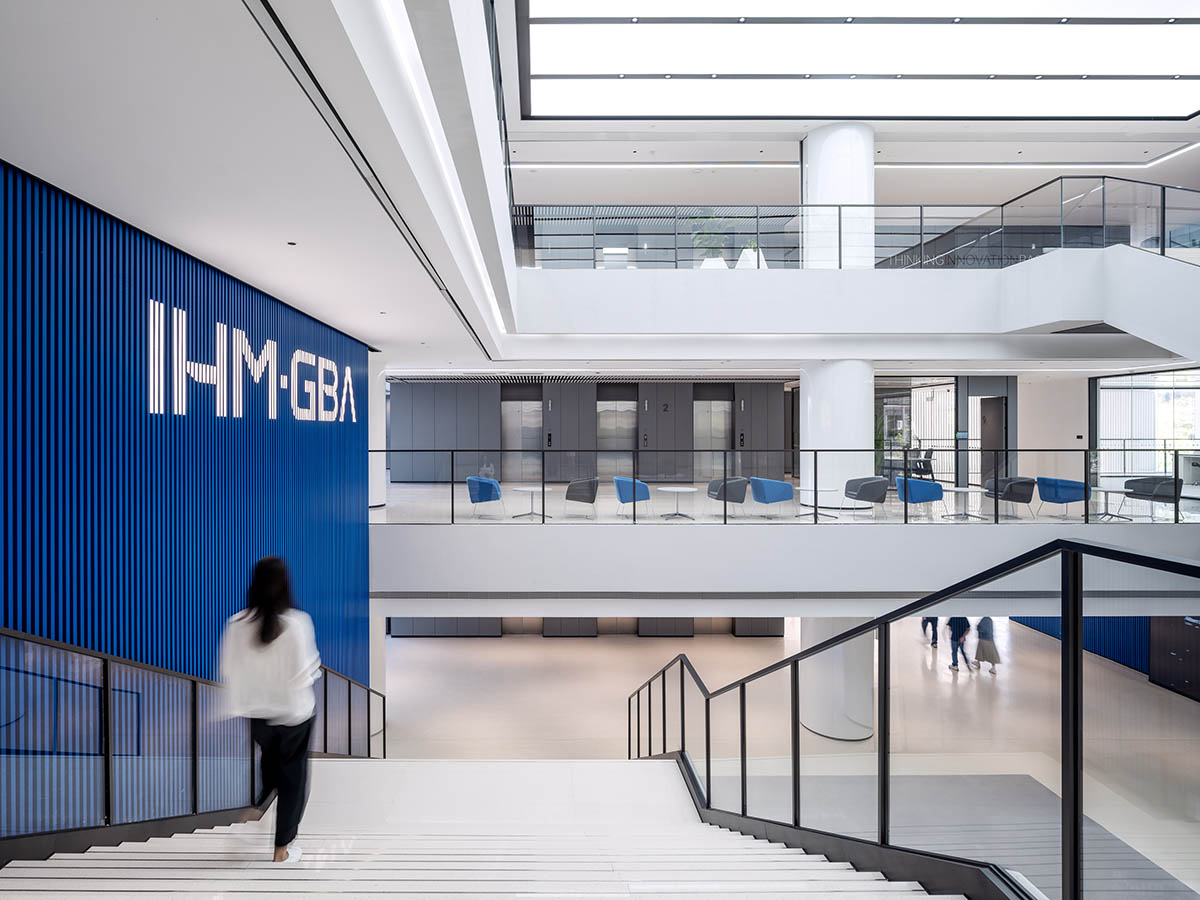 Interior
Interior
Interior
Aerial view
Diagram Design strategy
Ground floor plan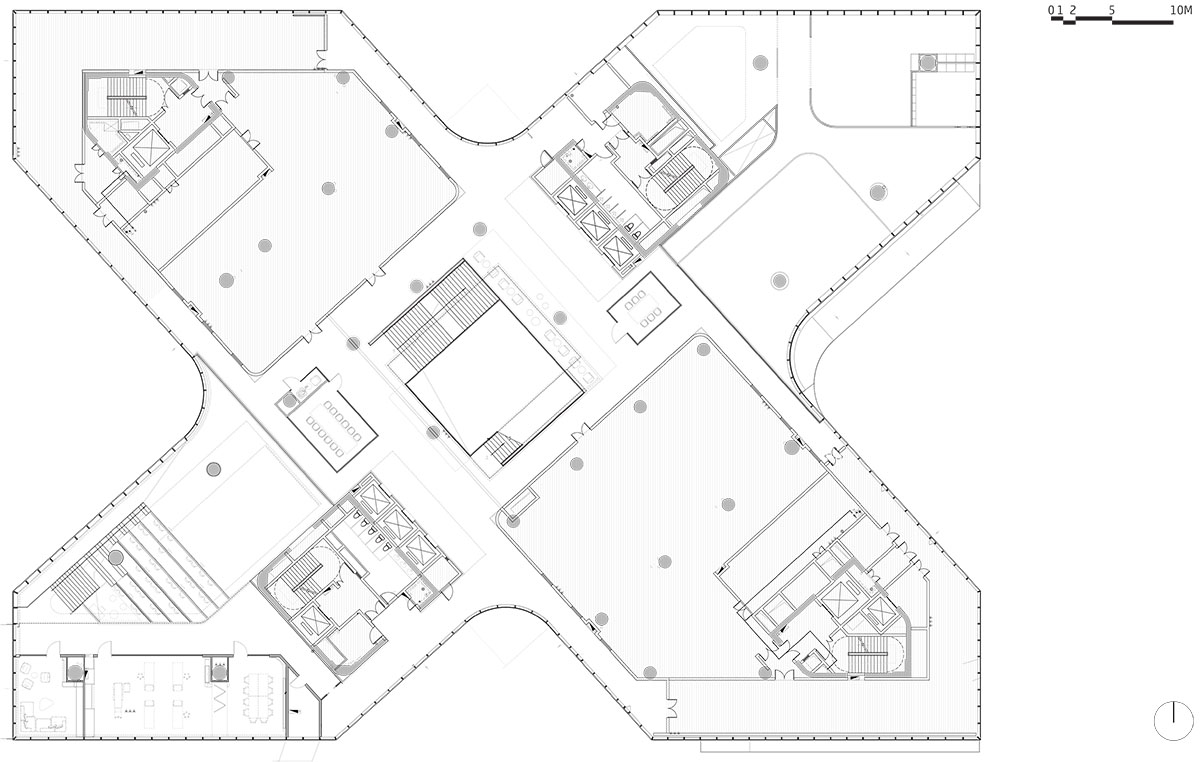 First floor plan
Axonometric diagram program
HENN recently completed the new Baramundi Headquarters in Augsburg. The firm designed interiors of Ritz-Carlton Aura Restaurant in Germany.
Project facts
Project name: Innovation Center for High-Performance Medical Devices
Architects: HENN
Location: Xing Han Str., Luo Xuan 1 Rd., Guangzhou
Project start: 2019
Construction start: 2020
Completion: 2022
Client: Chuang Jing Med.
Size: 59,000 m2
Local planning partner: GZDI
Consultants: Hezhan Design (Landscape design), SuP (Façade), RDI (Lighting)
Team
Partner in charge: Georg Pichler
Project director: Hua Qiao
Design director: Leander Adrian
Top image: Exterior.
All images © Tian Fangfang.
All drawings © HENN.
> via HENN